Others titles
Codes for GP Branch Surgeries in England
General Practitioners Working in English Branch Surgeries
List of Registered Medical Surgical Practitioners UK
Registered Medical Surgical Practitioner Definition UK
Keywords
General Medical Practitioners (GPs)
GP Practices
General Practitioner
General Practice Doctor
General Doctor
GP Branch Surgeries
National Health Service (NHS)
National Administrative Codes Service (NACS)
Clinical Commissioning Groups (CCGs)
Government Office Region (GOR)
General Practitioner Branch Surgeries in England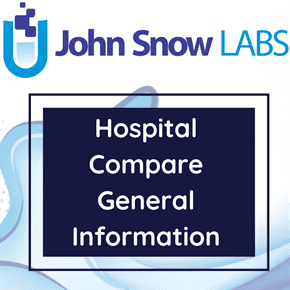 This dataset comprises of Codes for General Practitioner (GP) branch surgeries in England. It includes information about Government Office Region and Parent Organization Code, Joined and Left Parent Organization Date information and Telephone Number for several branch surgeries in England.
Log in to download
Complexity
Get The Data
For getting access to data download links please read and accept the end-user license agreement.
Your Data License
Research

Non-Commercial, Share-Alike, Attribution

Free Forever

Commercial

Commercial Use, Remix & Adapt, White Label Log in to download
Description
The Organization Data Service (ODS) is provided by the Health and Social Care Information Centre (HSCIC). It is responsible for the publication of all organization and practitioner codes and national policy and standards with regard to the majority of organization codes, and encompasses the functionality and services previously provided by the National Administrative Codes Service (NACS).
These code standards form part of the NHS data standards. The HSCIC is also responsible for the day-to-day operation of the ODS and for its overall development.
Data for General Medical Practices, General Medical Practitioners (GPs), Prescribing Cost Centres and Dispensaries are supplied by the NHS Prescription Services and are used to facilitate their remit to remunerate dispensing contractors and provide the NHS with financial, prescribing and drug information.
Data for GPs and GP Surgeries has traditionally been supplied by the NHS Prescription Service of the NHS Business Services Authority; however this data only includes main surgeries – the more peripheral branch surgeries that these practices often run are not included in the NHS Prescription Service data. The NHS Prescription Service relies on their contacts within Clinical Commissioning Groups (CCGs) to inform them of updates and additions to GP Practices within their area.
About this Dataset
Data Info
| | |
| --- | --- |
| Date Created | 2017 |
| Last Modified | 2022-11-25 |
| Version | 2022-11-25 |
| Update Frequency | Quarterly |
| Temporal Coverage | N/A |
| Spatial Coverage | England |
| Source | John Snow Labs; Data.Gov.UK, (National Health Service, England NHS Digital); |
| Source License URL | |
| Source License Requirements | N/A |
| Source Citation | N/A |
| Keywords | General Medical Practitioners (GPs), GP Practices, General Practitioner, General Practice Doctor, General Doctor, GP Branch Surgeries, National Health Service (NHS), National Administrative Codes Service (NACS), Clinical Commissioning Groups (CCGs), Government Office Region (GOR) |
| Other Titles | Codes for GP Branch Surgeries in England, General Practitioners Working in English Branch Surgeries, List of Registered Medical Surgical Practitioners UK, Registered Medical Surgical Practitioner Definition UK |
Data Fields
| Name | Description | Type | Constraints |
| --- | --- | --- | --- |
| Organization_Code | Refers to the GP practice code. | string | required : 1 |
| Branch_Surgery_Name | It identifies the name of the specific branch surgeries or the doctors working there. | string | required : 1 |
| National_Grouping | A three digit alpha-numeric code that identifies the National Grouping of the specific branch surgeries. | string | required : 1 |
| High_Level_Health_Geography | A specific code that denotes the high level health geography of a particular branch surgeries. | string | required : 1 |
| Address_Line1 | Main Address of the branch surgeries. | string | required : 1 |
| Address_Line2 | Secondary address of the branch surgeries. | string | - |
| Address_Line3 | Remaining part of the address where the branch surgery is located. | string | - |
| Address_Line4 | Remaining part of the address where the branch surgery is located. | string | required : 1 |
| Address_Line5 | Remaining part of the address where the branch surgery is located. | string | - |
| Post_Code | The postal code of the branch surgeries. | string | required : 1 |
| Open_Date | The opening date of the branch surgeries. | date | required : 1 |
| Close_Date | The closing date of the branch surgeries. | date | - |
| Parent_Organization_Code | A code for the GP Practice that runs the Branch Surgery. | string | required : 1 |
| Joined_Parent_Organization_Date | Date when the organization joined the parent organization. | date | required : 1 |
| Left_Parent_Organization_Date | Date when the organization left the parent organization. | date | - |
| Contact_Telephone_Number | The telephone number to contact the branch surgery. | string | - |
| Is_Record_Amended | Indicates whether the record is amended or not. | boolean | required : 1enum : Array ( [0] => true [1] => false ) |
| Government_Office_Region | Refers to the Government Office Regions in England which is linked geographically to the branch surgeries. | string | - |
Data Preview
| | | | | | | | | | | | | | | | | | |
| --- | --- | --- | --- | --- | --- | --- | --- | --- | --- | --- | --- | --- | --- | --- | --- | --- | --- |
| Organization Code | Branch Surgery Name | National Grouping | High Level Health Geography | Address Line1 | Address Line2 | Address Line3 | Address Line4 | Address Line5 | Post Code | Open Date | Close Date | Parent Organization Code | Joined Parent Organization Date | Left Parent Organization Date | Contact Telephone Number | Is Record Amended | Government Office Region |
| A0A1X | ROWCROFT MEDICAL CENTRE - COVID LOCAL VACCINATION SERVICE 2 | Y58 | QR1 | ROWCROFT RETREAT | | | STROUD | | GL5 3BE | 2020-10-01 | | L84039 | 2020-10-01 | | | False | K |
| A0A9Z | ACORN GROUP PRACTICE - COVID LOCAL VACCINATION SERVICE 3 | Y56 | QWE | 29-35 HOLLY ROAD | | | TWICKENHAM | | TW1 4EA | 2021-04-01 | | H84007 | 2021-04-01 | | | False | H |
| A0B0C | ROWCROFT MEDICAL CENTRE - COVID LOCAL VACCINATION SERVICE | Y58 | QR1 | ROWCROFT RETREAT | | | STROUD | | GL5 3BE | 2020-10-01 | | L84039 | 2020-10-01 | | | False | K |
| A0B0G | LEIGHTON BUZZARD HEALTH CENTRE | Y61 | QHG | 25 BASSETT ROAD | | | LEIGHTON BUZZARD | | LU7 1AR | 2022-04-01 | | E81004 | 2022-04-01 | | | False | G |
| A0C2L | ALL SAINTS MEDICAL CENTRE - COVID LOCAL VACCINATION SERVICE 2 | Y60 | QHL | 2A VICARAGE ROAD | KINGS HEATH | | BIRMINGHAM | | B14 7RA | 2020-10-01 | | M85063 | 2020-10-01 | | | False | F |
| A0D3Y | PUTNEYMEAD SURGERY - COVID LOCAL VACCINATION SERVICE 2 | Y56 | QWE | 266 UPPER RICHMOND ROAD | | | LONDON | | SW15 6TQ | 2020-10-01 | | H85012 | 2020-10-01 | | | False | H |
| A0E4R | ALL SAINTS MEDICAL CENTRE - COVID LOCAL VACCINATION SERVICE | Y60 | QHL | 2A VICARAGE ROAD | KINGS HEATH | | BIRMINGHAM | | B14 7RA | 2020-10-01 | | M85063 | 2020-10-01 | | | False | F |
| A0E7R | ALWOODLEY MEDICAL CENTRE - COVID LOCAL VACCINATION SERVICE 2 | Y63 | QWO | SAXON MOUNT | MOORTOWN | | LEEDS | | LS17 5DT | 2020-10-01 | | B86008 | 2020-10-01 | | | False | D |
| A0F6I | CRAWCROOK PRACTICE - COVID LOCAL VACCINATION SERVICE | Y63 | QHM | PATTINSON DRIVE | | | RYTON | | NE40 4US | 2022-04-01 | | A85014 | 2022-04-01 | | | False | A |
| A0F8T | PUTNEYMEAD SURGERY - COVID LOCAL VACCINATION SERVICE | Y56 | QWE | 266 UPPER RICHMOND ROAD | | | LONDON | | SW15 6TQ | 2020-10-01 | | H85012 | 2020-10-01 | | | False | H |