Others titles
Geographic Indices Physician GPCI Data
Geographic Index Repricing of Fee For Service Medicare Claims
Repricing of Medicare Fee For Service Insurance Geographic Index
Keywords
Geographic Indices Physician GPCI
Geographic Indices IPPS Wage Index
Geographic Indices IPPS Provider Index
Medicare Payment Adjustments
Medicare Service Payment Rates
Medicare Payment Structure
Medicare Fee for Service
Medicare Spending for Beneficiaries
Fee for Service Reimbursement
Aged Cost Contracts
Geographic Indices Physician GPCI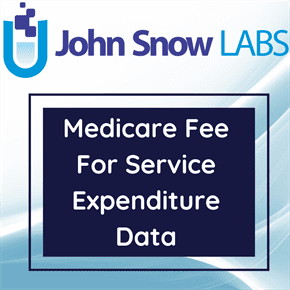 The dataset has information on the Medicare payment adjustments of Geographic Practice Cost Indices (GPCI) for calendar years 2015-2021. The Medicare System adjusts fee for service payment rates for hospitals and practitioners according to the geographic location in which providers practice, recognizing that certain costs beyond the providers' control vary between metropolitan and nonmetropolitan areas and also differ by region.
Log in to download
Complexity
Get The Data
For getting access to data download links please read and accept the end-user license agreement.
Your Data License
Research

Non-Commercial, Share-Alike, Attribution

Free Forever

Commercial

Commercial Use, Remix & Adapt, White Label Log in to download
Description
Geographic adjustments are intended to ensure that the Medicare Program does not overpay hospitals and practitioners in certain areas and underpay in other as a result of geographic difference in price for resources such as clinical and administrative staff salaries and benefits, office or hospital space (rent), malpractice insurance (premiums), and other resources that are part of the cost of providing care. As a result, Medicare's Inpatient Prospective Payment System (IPPS), other Institutional Prospective Payment Systems (PPSs), and the Medicare Physician Fee Schedule (PFS, or fee schedule), all employ geographic adjustments factors (GAFs). The two geographic adjustments applied to Medicare payments for care provided by hospitals and practitioners are the hospital wage index (HWI) and three geographic practice cost indexes (GPCI). The index compares difference in price or quantity for a group of goods and services relative to an average value derived from a standard baseline geographic area or time period. The fundamental rationale for geographic adjustment is to create a payment structure that adjusts payments for the input price difference, such as employee compensation, that providers face when they provide care.
GPCIs helps to standardize the differences in resource costs incurred across geographic areas when those costs are compared with the national average costs for the physician work, practice expense and malpractice insurance components of the fee schedule. Specifically, the three adjustments are provided for the following: 1) Physician work reflects the time, skill, effort, judgement, and stress associated with providing one service relative to other services according to the Healthcare Common Procedure Coding System (HCPCS) codes. On average, as of 2011, work accounted for 52.5 % of the geographic adjustment factor within the fee schedule. 2) Practice expense considers certain price for maintaining a clinical practice, including salaries and benefits for administrative and clinical employees, rent, equipment, and supplies. Practice expense (PE) associated with supplies and equipment are not adjusted geographically because they are purchased in a national market in which prices are similar across the country. On average as of 2011, the PE GPCI accounted for 43.7 % of the geographic adjustment. 3) Professional liability insurance (PLI) represents payment for professional liability malpractice expenses and on average, account for 3.9 % of the geographic adjustment.
A Medicare carrier, or Medicare Administrative Contractor (MAC), serves as the primary point of contact for Medicare providers, oversees the administration and processing of both Medicare part A and part B policies, also acts as the provider's chief source for coverage, billing, and enrollment questions. In addition, Medicare carriers also handle claims appeals, identify billing errors, and answer any beneficiary inquiries. Medicare carriers vary by state and work with their area's assigned providers to ensure they meet enrollment requirements.
The current Physician Fee Schedule (PFS) locality structure was developed and implemented in 1997. There are currently 89 total PFS localities; 34 localities are statewide areas.
About this Dataset
Data Info
| | |
| --- | --- |
| Date Created | 2016-04-04 |
| Last Modified | 2022-03-23 |
| Version | 2022-03-23 |
| Update Frequency | Annual |
| Temporal Coverage | 2016-2022 |
| Spatial Coverage | United States |
| Source | John Snow Labs; Centers for Medicare and Medicaid Services; |
| Source License URL | |
| Source License Requirements | N/A |
| Source Citation | N/A |
| Keywords | Geographic Indices Physician GPCI, Geographic Indices IPPS Wage Index, Geographic Indices IPPS Provider Index, Medicare Payment Adjustments, Medicare Service Payment Rates, Medicare Payment Structure, Medicare Fee for Service, Medicare Spending for Beneficiaries, Fee for Service Reimbursement, Aged Cost Contracts |
| Other Titles | Geographic Indices Physician GPCI Data, Geographic Index Repricing of Fee For Service Medicare Claims, Repricing of Medicare Fee For Service Insurance Geographic Index |
Data Fields
| Name | Description | Type | Constraints |
| --- | --- | --- | --- |
| County_FIPS_Code | The 5 digits county Federal Information Processing Standard (FIPS) code | string | - |
| State | The full name of the state | string | - |
| County | Name of County | string | - |
| Carrier_2022 | The 2022 carrier number | string | - |
| Locality_2022 | The 2021 locality number | string | - |
| GPCI_Work_2016 | The GPCI physician work is the GPCIs adjust payments for geographic variation in the costs of providing services, for the calendar year 2016 | number | level : Ratio |
| GPCI_Work_2017 | The GPCI physician work is the GPCIs adjust payments for geographic variation in the costs of providing services, for the calendar year 2017 | number | level : Ratio |
| GPCI_Work_2018 | The GPCI physician work is the GPCIs adjust payments for geographic variation in the costs of providing services, for the calendar year 2018 | number | level : Ratio |
| GPCI_Work_2019 | The GPCI physician work is the GPCIs adjust payments for geographic variation in the costs of providing services, for the calendar year 2019 | number | level : Ratio |
| GPCI_Work_2020 | The GPCI physician work is the GPCIs adjust payments for geographic variation in the costs of providing services, for the calendar year 2020 | number | level : Ratio |
| GPCI_Work_2021 | The GPCI physician work is the GPCIs adjust payments for geographic variation in the costs of providing services, for the calendar year 2021 | number | level : Ratio |
| GPCI_Work_2022 | The GPCI physician work is the GPCIs adjust payments for geographic variation in the costs of providing services, for the calendar year 2022 | number | level : Ratio |
| GPCI_Practice_Expense_2016 | The GPCI practice expense is the GPCIs adjust payments for geographic variation in the costs of providing services, for the calendar year 2016 | number | level : Ratio |
| GPCI_Practice_Expense_2017 | The GPCI practice expense is the GPCIs adjust payments for geographic variation in the costs of providing services, for the calendar year 2017 | number | level : Ratio |
| GPCI_Practice_Expense_2018 | The GPCI practice expense is the GPCIs adjust payments for geographic variation in the costs of providing services, for the calendar year 2018 | number | level : Ratio |
| GPCI_Practice_Expense_2019 | The GPCI practice expense is the GPCIs adjust payments for geographic variation in the costs of providing services, for the calendar year 2019 | number | level : Ratio |
| GPCI_Practice_Expense_2020 | The GPCI practice expense is the GPCIs adjust payments for geographic variation in the costs of providing services, for the calendar year 2020 | number | level : Ratio |
| GPCI_Practice_Expense_2021 | The GPCI practice expense is the GPCIs adjust payments for geographic variation in the costs of providing services, for the calendar year 2021 | number | level : Ratio |
| GPCI_Practice_Expense_2022 | The GPCI practice expense is the GPCIs adjust payments for geographic variation in the costs of providing services, for the calendar year 2022 | number | level : Ratio |
| GPCI_Malpractice_Insurance_2016 | The GPCI malpractice insurance is the GPCIs adjust payments for geographic variation in the costs of providing services, for the calendar year 2016 | number | level : Ratio |
| GPCI_Malpractice_Insurance_2017 | The GPCI malpractice insurance is the GPCIs adjust payments for geographic variation in the costs of providing services, for the calendar year 2017 | number | level : Ratio |
| GPCI_Malpractice_Insurance_2018 | The GPCI malpractice insurance is the GPCIs adjust payments for geographic variation in the costs of providing services, for the calendar year 2018 | number | level : Ratio |
| GPCI_Malpractice_Insurance_2019 | The GPCI malpractice insurance is the GPCIs adjust payments for geographic variation in the costs of providing services, for the calendar year 2019 | number | level : Ratio |
| GPCI_Malpractice_Insurance_2020 | The GPCI malpractice insurance is the GPCIs adjust payments for geographic variation in the costs of providing services, for the calendar year 2020 | number | level : Ratio |
| GPCI_Malpractice_Insurance_2021 | The GPCI malpractice insurance is the GPCIs adjust payments for geographic variation in the costs of providing services, for the calendar year 2021 | number | level : Ratio |
| GPCI_Malpractice_Insurance_2022 | The GPCI malpractice insurance is the GPCIs adjust payments for geographic variation in the costs of providing services, for the calendar year 2022 | number | level : Ratio |
Data Preview
| | | | | | | | | | | | | | | | | | | | | | | | | | |
| --- | --- | --- | --- | --- | --- | --- | --- | --- | --- | --- | --- | --- | --- | --- | --- | --- | --- | --- | --- | --- | --- | --- | --- | --- | --- |
| County FIPS Code | State | County | Carrier 2022 | Locality 2022 | GPCI Work 2016 | GPCI Work 2017 | GPCI Work 2018 | GPCI Work 2019 | GPCI Work 2020 | GPCI Work 2021 | GPCI Work 2022 | GPCI Practice Expense 2016 | GPCI Practice Expense 2017 | GPCI Practice Expense 2018 | GPCI Practice Expense 2019 | GPCI Practice Expense 2020 | GPCI Practice Expense 2021 | GPCI Practice Expense 2022 | GPCI Malpractice Insurance 2016 | GPCI Malpractice Insurance 2017 | GPCI Malpractice Insurance 2018 | GPCI Malpractice Insurance 2019 | GPCI Malpractice Insurance 2020 | GPCI Malpractice Insurance 2021 | GPCI Malpractice Insurance 2022 |
| 1000 | ALABAMA | Autauga | 10112 | | 1 | 1 | 1 | 1 | 0.985 | 1 | 1 | 0.8859999999999999 | 0.888 | 0.89 | 0.89 | 0.889 | 0.888 | 0.888 | 0.611 | 0.552 | 0.49200000000000005 | 0.49200000000000005 | 0.7070000000000001 | 0.9209999999999999 | 0.9209999999999999 |
| 1010 | ALABAMA | Baldwin | 10112 | | 1 | 1 | 1 | 1 | 0.985 | 1 | 1 | 0.8859999999999999 | 0.888 | 0.89 | 0.89 | 0.889 | 0.888 | 0.888 | 0.611 | 0.552 | 0.49200000000000005 | 0.49200000000000005 | 0.7070000000000001 | 0.9209999999999999 | 0.9209999999999999 |
| 1020 | ALABAMA | Barbour | 10112 | | 1 | 1 | 1 | 1 | 0.985 | 1 | 1 | 0.8859999999999999 | 0.888 | 0.89 | 0.89 | 0.889 | 0.888 | 0.888 | 0.611 | 0.552 | 0.49200000000000005 | 0.49200000000000005 | 0.7070000000000001 | 0.9209999999999999 | 0.9209999999999999 |
| 1030 | ALABAMA | Bibb | 10112 | | 1 | 1 | 1 | 1 | 0.985 | 1 | 1 | 0.8859999999999999 | 0.888 | 0.89 | 0.89 | 0.889 | 0.888 | 0.888 | 0.611 | 0.552 | 0.49200000000000005 | 0.49200000000000005 | 0.7070000000000001 | 0.9209999999999999 | 0.9209999999999999 |
| 1040 | ALABAMA | Blount | 10112 | | 1 | 1 | 1 | 1 | 0.985 | 1 | 1 | 0.8859999999999999 | 0.888 | 0.89 | 0.89 | 0.889 | 0.888 | 0.888 | 0.611 | 0.552 | 0.49200000000000005 | 0.49200000000000005 | 0.7070000000000001 | 0.9209999999999999 | 0.9209999999999999 |
| 1050 | ALABAMA | Bullock | 10112 | | 1 | 1 | 1 | 1 | 0.985 | 1 | 1 | 0.8859999999999999 | 0.888 | 0.89 | 0.89 | 0.889 | 0.888 | 0.888 | 0.611 | 0.552 | 0.49200000000000005 | 0.49200000000000005 | 0.7070000000000001 | 0.9209999999999999 | 0.9209999999999999 |
| 1060 | ALABAMA | Butler | 10112 | | 1 | 1 | 1 | 1 | 0.985 | 1 | 1 | 0.8859999999999999 | 0.888 | 0.89 | 0.89 | 0.889 | 0.888 | 0.888 | 0.611 | 0.552 | 0.49200000000000005 | 0.49200000000000005 | 0.7070000000000001 | 0.9209999999999999 | 0.9209999999999999 |
| 1070 | ALABAMA | Calhoun | 10112 | | 1 | 1 | 1 | 1 | 0.985 | 1 | 1 | 0.8859999999999999 | 0.888 | 0.89 | 0.89 | 0.889 | 0.888 | 0.888 | 0.611 | 0.552 | 0.49200000000000005 | 0.49200000000000005 | 0.7070000000000001 | 0.9209999999999999 | 0.9209999999999999 |
| 1080 | ALABAMA | Chambers | 10112 | | 1 | 1 | 1 | 1 | 0.985 | 1 | 1 | 0.8859999999999999 | 0.888 | 0.89 | 0.89 | 0.889 | 0.888 | 0.888 | 0.611 | 0.552 | 0.49200000000000005 | 0.49200000000000005 | 0.7070000000000001 | 0.9209999999999999 | 0.9209999999999999 |
| 1090 | ALABAMA | Cherokee | 10112 | | 1 | 1 | 1 | 1 | 0.985 | 1 | 1 | 0.8859999999999999 | 0.888 | 0.89 | 0.89 | 0.889 | 0.888 | 0.888 | 0.611 | 0.552 | 0.49200000000000005 | 0.49200000000000005 | 0.7070000000000001 | 0.9209999999999999 | 0.9209999999999999 |