Others titles
World Bank Health Data
World Bank Health Statistics
World Bank Health, Nutrition and Population Statistics
Keywords
Health and Nutrition
Health and Population
Population
Population Statistics
Population Dynamics
Population Projection
Health Financing
Health Lending
Health Statistics
World Bank Data
Health Nutrition and Population Statistics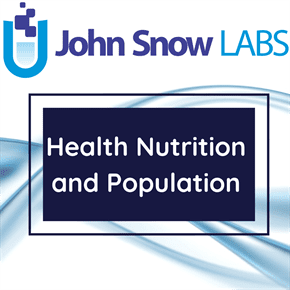 This time-series dataset includes data on countries worldwide and information on indicators pertaining to health and population by each country from 1960 to 2021.
Log in to download
Complexity
Get The Data
For getting access to data download links please read and accept the end-user license agreement.
Your Data License
Research

Non-Commercial, Share-Alike, Attribution

Free Forever

Commercial

Commercial Use, Remix & Adapt, White Label Log in to download
Description
This time-series dataset is from the data catalog of the World Bank. The Health Nutrition and Population Statistics provides data on key health, nutrition, and population statistics gathered from different international sources. Indicators included are the following: population dynamics, nutrition, reproductive health, health financing, medical resources and usage, immunization, infectious diseases, HIV/AIDS, disability-adjusted life year (DALY), population projections and lending and health, nutrition and population statistics by wealth quintiles.
About this Dataset
Data Info
| | |
| --- | --- |
| Date Created | 2017-07-01 |
| Last Modified | 2022-07-06 |
| Version | 2022-07-06 |
| Update Frequency | Annual |
| Temporal Coverage | 1960 to 2021 |
| Spatial Coverage | World |
| Source | John Snow Labs; World Bank Data Catalog; |
| Source License URL | |
| Source License Requirements | N/A |
| Source Citation | N/A |
| Keywords | Health and Nutrition, Health and Population, Population, Population Statistics, Population Dynamics, Population Projection, Health Financing, Health Lending, Health Statistics, World Bank Data |
| Other Titles | World Bank Health Data, World Bank Health Statistics, World Bank Health, Nutrition and Population Statistics |
Data Fields
| Name | Description | Type | Constraints |
| --- | --- | --- | --- |
| Country_Name | Name of countries worldwide with information on health, nutrition, and population statistics and indicators by the World Bank | string | - |
| Country_Code | Three-letter code of the countries worldwide with information on health, nutrition, and population statistics and indicators by the World Bank | string | - |
| Indicator_Name | Available health, nutrition, and population indicators by the World Bank which are divided into three groups: i) Health: Population dynamics, ii) Population: Population dynamics, iii) Wealth Quintiles (Childhood Diseases; Mortality; Nutrition; Other Determinants of Health; Reproductive health; Sexual and Reproductive Health) | string | - |
| Indicator_Code | Unique indicator codes on the available health, nutrition, and population indicators by the World Bank | string | - |
| Year_1960 | Available health, nutrition, and population data from countries worldwide in the year 1960 | number | level : Ratio |
| Year_1961 | Available health, nutrition, and population data from countries worldwide in the year 1961 | number | level : Ratio |
| Year_1962 | Available health, nutrition, and population data from countries worldwide in the year 1962 | number | level : Ratio |
| Year_1963 | Available health, nutrition, and population data from countries worldwide in the year 1963 | number | level : Ratio |
| Year_1964 | Available health, nutrition, and population data from countries worldwide in the year 1964 | number | level : Ratio |
| Year_1965 | Available health, nutrition, and population data from countries worldwide in the year 1965 | number | level : Ratio |
| Year_1966 | Available health, nutrition, and population data from countries worldwide in the year 1966 | number | level : Ratio |
| Year_1967 | Available health, nutrition, and population data from countries worldwide in the year 1967 | number | level : Ratio |
| Year_1968 | Available health, nutrition, and population data from countries worldwide in the year 1968 | number | level : Ratio |
| Year_1969 | Available health, nutrition, and population data from countries worldwide in the year 1969 | number | level : Ratio |
| Year_1970 | Available health, nutrition, and population data from countries worldwide in the year 1970 | number | level : Ratio |
| Year_1971 | Available health, nutrition, and population data from countries worldwide in the year 1971 | number | level : Ratio |
| Year_1972 | Available health, nutrition, and population data from countries worldwide in the year 1972 | number | level : Ratio |
| Year_1973 | Available health, nutrition, and population data from countries worldwide in the year 1973 | number | level : Ratio |
| Year_1974 | Available health, nutrition, and population data from countries worldwide in the year 1974 | number | level : Ratio |
| Year_1975 | Available health, nutrition, and population data from countries worldwide in the year 1975 | number | level : Ratio |
| Year_1976 | Available health, nutrition, and population data from countries worldwide in the year 1976 | number | level : Ratio |
| Year_1977 | Available health, nutrition, and population data from countries worldwide in the year 1977 | number | level : Ratio |
| Year_1978 | Available health, nutrition, and population data from countries worldwide in the year 1978 | number | level : Ratio |
| Year_1979 | Available health, nutrition, and population data from countries worldwide in the year 1979 | number | level : Ratio |
| Year_1980 | Available health, nutrition, and population data from countries worldwide in the year 1980 | number | level : Ratio |
| Year_1981 | Available health, nutrition, and population data from countries worldwide in the year 1981 | number | level : Ratio |
| Year_1982 | Available health, nutrition, and population data from countries worldwide in the year 1982 | number | level : Ratio |
| Year_1983 | Available health, nutrition, and population data from countries worldwide in the year 1983 | number | level : Ratio |
| Year_1984 | Available health, nutrition, and population data from countries worldwide in the year 1984 | number | level : Ratio |
| Year_1985 | Available health, nutrition, and population data from countries worldwide in the year 1985 | number | level : Ratio |
| Year_1986 | Available health, nutrition, and population data from countries worldwide in the year 1986 | number | level : Ratio |
| Year_1987 | Available health, nutrition, and population data from countries worldwide in the year 1987 | number | level : Ratio |
| Year_1988 | Available health, nutrition, and population data from countries worldwide in the year 1988 | number | level : Ratio |
| Year_1989 | Available health, nutrition, and population data from countries worldwide in the year 1989 | number | level : Ratio |
| Year_1990 | Available health, nutrition, and population data from countries worldwide in the year 1990 | number | level : Ratio |
| Year_1991 | Available health, nutrition, and population data from countries worldwide in the year 1991 | number | level : Ratio |
| Year_1992 | Available health, nutrition, and population data from countries worldwide in the year 1992 | number | level : Ratio |
| Year_1993 | Available health, nutrition, and population data from countries worldwide in the year 1993 | number | level : Ratio |
| Year_1994 | Available health, nutrition, and population data from countries worldwide in the year 1994 | number | level : Ratio |
| Year_1995 | Available health, nutrition, and population data from countries worldwide in the year 1995 | number | level : Ratio |
| Year_1996 | Available health, nutrition, and population data from countries worldwide in the year 1996 | number | level : Ratio |
| Year_1997 | Available health, nutrition, and population data from countries worldwide in the year 1997 | number | level : Ratio |
| Year_1998 | Available health, nutrition, and population data from countries worldwide in the year 1998 | number | level : Ratio |
| Year_1999 | Available health, nutrition, and population data from countries worldwide in the year 1999 | number | level : Ratio |
| Year_2000 | Available health, nutrition, and population data from countries worldwide in the year 2000 | number | level : Ratio |
| Year_2001 | Available health, nutrition, and population data from countries worldwide in the year 2001 | number | level : Ratio |
| Year_2002 | Available health, nutrition, and population data from countries worldwide in the year 2002 | number | level : Ratio |
| Year_2003 | Available health, nutrition, and population data from countries worldwide in the year 2003 | number | level : Ratio |
| Year_2004 | Available health, nutrition, and population data from countries worldwide in the year 2004 | number | level : Ratio |
| Year_2005 | Available health, nutrition, and population data from countries worldwide in the year 2005 | number | level : Ratio |
| Year_2006 | Available health, nutrition, and population data from countries worldwide in the year 2006 | number | level : Ratio |
| Year_2007 | Available health, nutrition, and population data from countries worldwide in the year 2007 | number | level : Ratio |
| Year_2008 | Available health, nutrition, and population data from countries worldwide in the year 2008 | number | level : Ratio |
| Year_2009 | Available health, nutrition, and population data from countries worldwide in the year 2009 | number | level : Ratio |
| Year_2010 | Available health, nutrition, and population data from countries worldwide in the year 2010 | number | level : Ratio |
| Year_2011 | Available health, nutrition, and population data from countries worldwide in the year 2011 | number | level : Ratio |
| Year_2012 | Available health, nutrition, and population data from countries worldwide in the year 2012 | number | level : Ratio |
| Year_2013 | Available health, nutrition, and population data from countries worldwide in the year 2013 | number | level : Ratio |
| Year_2014 | Available health, nutrition, and population data from countries worldwide in the year 2014 | number | level : Ratio |
| Year_2015 | Available health, nutrition, and population data from countries worldwide in the year 2015 | number | level : Ratio |
| Year_2016 | Available health, nutrition, and population data from countries worldwide in the year 2016 | number | level : Ratio |
| Year_2017 | Available health, nutrition, and population data from countries worldwide in the year 2017 | number | level : Ratio |
| Year_2018 | Available health, nutrition, and population data from countries worldwide in the year 2018 | number | level : Ratio |
| Year_2019 | Available health, nutrition, and population data from countries worldwide in the year 2019 | number | level : Ratio |
| Year_2020 | Available health, nutrition, and population data from countries worldwide in the year 2020 | number | level : Ratio |
| Year_2021 | Available health, nutrition, and population data from countries worldwide in the year 2021 | number | level : Ratio |
Data Preview
| | | | | | | | | | | | | | | | | | | | | | | | | | | | | | | | | | | | | | | | | | | | | | | | | | | | | | | | | | | | | | | | | | |
| --- | --- | --- | --- | --- | --- | --- | --- | --- | --- | --- | --- | --- | --- | --- | --- | --- | --- | --- | --- | --- | --- | --- | --- | --- | --- | --- | --- | --- | --- | --- | --- | --- | --- | --- | --- | --- | --- | --- | --- | --- | --- | --- | --- | --- | --- | --- | --- | --- | --- | --- | --- | --- | --- | --- | --- | --- | --- | --- | --- | --- | --- | --- | --- | --- | --- |
| Country Name | Country Code | Indicator Name | Indicator Code | Year 1960 | Year 1961 | Year 1962 | Year 1963 | Year 1964 | Year 1965 | Year 1966 | Year 1967 | Year 1968 | Year 1969 | Year 1970 | Year 1971 | Year 1972 | Year 1973 | Year 1974 | Year 1975 | Year 1976 | Year 1977 | Year 1978 | Year 1979 | Year 1980 | Year 1981 | Year 1982 | Year 1983 | Year 1984 | Year 1985 | Year 1986 | Year 1987 | Year 1988 | Year 1989 | Year 1990 | Year 1991 | Year 1992 | Year 1993 | Year 1994 | Year 1995 | Year 1996 | Year 1997 | Year 1998 | Year 1999 | Year 2000 | Year 2001 | Year 2002 | Year 2003 | Year 2004 | Year 2005 | Year 2006 | Year 2007 | Year 2008 | Year 2009 | Year 2010 | Year 2011 | Year 2012 | Year 2013 | Year 2014 | Year 2015 | Year 2016 | Year 2017 | Year 2018 | Year 2019 | Year 2020 | Year 2021 |
| Africa Eastern and Southern | AFE | Adolescent fertility rate (births per 1,000 women ages 15-19) | SP.ADO.TFRT | 140.12 | 140.59 | 141.13 | 141.32 | 141.51 | 141.67 | 141.88 | 141.98 | 142.02 | 142.01 | 142.03 | 142.28 | 142.63 | 142.47 | 142.29 | 142.05 | 141.73 | 141.4 | 140.77 | 140.15 | 139.51 | 138.8 | 138.07 | 137.06 | 136.06 | 135.09 | 134.1 | 133.15 | 132.01 | 130.87 | 129.72 | 128.56 | 127.4 | 126.97 | 126.5 | 125.97 | 125.4 | 124.77 | 123.66 | 122.56 | 121.52 | 120.55 | 119.65 | 118.45 | 117.29 | 116.15 | 114.99 | 113.83 | 112.2 | 110.53 | 108.81 | 107.05 | 105.26 | 103.39 | 101.54 | 99.72 | 97.92 | 96.15 | 94.7 | 93.23 | 91.74 | |
| Africa Eastern and Southern | AFE | Adults (ages 15+) and children (0-14 years) living with HIV | SH.HIV.TOTL | | | | | | | | | | | | | | | | | | | | | | | | | | | | | | | | | | | | | | | | | | | | | | | | | | | | | | | | | | | | | | |
| Africa Eastern and Southern | AFE | Adults (ages 15+) and children (ages 0-14) newly infected with HIV | SH.HIV.INCD.TL | | | | | | | | | | | | | | | | | | | | | | | | | | | | | | | | | | | | | | | | | | | | | | | | | | | | | | | | | | | | | | |
| Africa Eastern and Southern | AFE | Adults (ages 15+) living with HIV | SH.DYN.AIDS | | | | | | | | | | | | | | | | | | | | | | | | | | | | | | | | | | | | | | | | | | | | | | | | | | | | | | | | | | | | | | |
| Africa Eastern and Southern | AFE | Adults (ages 15-49) newly infected with HIV | SH.HIV.INCD | | | | | | | | | | | | | | | | | | | | | | | | | | | | | | | | | | | | | | | | | | | | | | | | | | | | | | | | | | | | | | |
| Africa Eastern and Southern | AFE | Age at first marriage, female | SP.DYN.SMAM.FE | | | | | | | | | | | | | | | | | | | | | | | | | | | | | | | | | | | | | | | | | | | | | | | | | | | | | | | | | | | | | | |
| Africa Eastern and Southern | AFE | Age at first marriage, male | SP.DYN.SMAM.MA | | | | | | | | | | | | | | | | | | | | | | | | | | | | | | | | | | | | | | | | | | | | | | | | | | | | | | | | | | | | | | |
| Africa Eastern and Southern | AFE | Age dependency ratio (% of working-age population) | SP.POP.DPND | 88.06 | 89.01 | 89.75 | 90.3 | 90.64 | 90.77 | 91.51 | 91.92 | 92.12 | 92.21 | 92.26 | 92.88 | 93.35 | 93.67 | 93.82 | 93.8 | 94.27 | 94.49 | 94.56 | 94.58 | 94.56 | 95.06 | 95.38 | 95.52 | 95.48 | 95.28 | 95.62 | 95.71 | 95.59 | 95.28 | 94.78 | 94.62 | 94.23 | 93.67 | 93.0 | 92.28 | 92.2 | 91.99 | 91.68 | 91.25 | 90.73 | 90.62 | 90.35 | 89.99 | 89.59 | 89.19 | 89.08 | 88.9 | 88.63 | 88.27 | 87.81 | 87.44 | 86.94 | 86.33 | 85.64 | 84.9 | 84.24 | 83.49 | 82.67 | 81.79 | 80.85 | 79.99 |
| Africa Eastern and Southern | AFE | Age dependency ratio, old | SP.POP.DPND.OL | 5.81 | 5.84 | 5.85 | 5.85 | 5.83 | 5.81 | 5.84 | 5.85 | 5.84 | 5.83 | 5.8 | 5.84 | 5.87 | 5.88 | 5.88 | 5.86 | 5.89 | 5.91 | 5.92 | 5.93 | 5.93 | 5.94 | 5.94 | 5.92 | 5.89 | 5.85 | 5.87 | 5.88 | 5.88 | 5.87 | 5.85 | 5.87 | 5.87 | 5.87 | 5.86 | 5.85 | 5.86 | 5.87 | 5.87 | 5.84 | 5.8 | 5.79 | 5.76 | 5.72 | 5.67 | 5.61 | 5.62 | 5.62 | 5.6 | 5.59 | 5.56 | 5.58 | 5.59 | 5.6 | 5.6 | 5.6 | 5.63 | 5.66 | 5.68 | 5.7 | 5.72 | 5.76 |
| Africa Eastern and Southern | AFE | Age dependency ratio, young | SP.POP.DPND.YG | 82.05 | 82.94 | 83.66 | 84.19 | 84.52 | 84.66 | 85.38 | 85.77 | 85.97 | 86.08 | 86.16 | 86.74 | 87.18 | 87.48 | 87.62 | 87.62 | 88.03 | 88.22 | 88.27 | 88.27 | 88.25 | 88.74 | 89.07 | 89.24 | 89.23 | 89.07 | 89.4 | 89.48 | 89.36 | 89.06 | 88.59 | 88.39 | 87.97 | 87.38 | 86.68 | 85.91 | 85.75 | 85.48 | 85.11 | 84.64 | 84.1 | 83.93 | 83.62 | 83.24 | 82.83 | 82.45 | 82.3 | 82.1 | 81.85 | 81.52 | 81.1 | 80.74 | 80.25 | 79.65 | 78.98 | 78.27 | 77.59 | 76.84 | 76.03 | 75.15 | 74.22 | 73.34 |