Others titles
Healthy People 2020 Goals for Cessation of Tobacco Use and Secondhand Smoke Exposure
Cessation of Tobacco Use and Secondhand Smoke Exposure 2020 Goals
Keywords
Tobacco Control
CDC STATE System Data
Tobacco Legislation
Tobacco Use Statistics
Healthy People 2020 Tobacco Use Objectives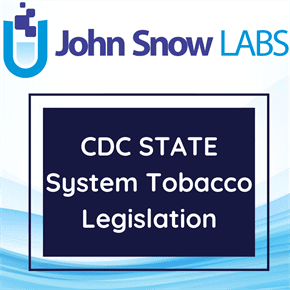 Healthy People 2020 dataset provides a framework for action to reduce tobacco use to the point that it is no longer a public health problem for the Nation. This dataset includes information related to the Healthy People 2020 Tobacco Use objectives, operational definitions, baselines, and targets. Baseline years may vary by objective. Targets represented correspond to the year 2020.
Log in to download
Complexity
Get The Data
For getting access to data download links please read and accept the end-user license agreement.
Your Data License
Research

Non-Commercial, Share-Alike, Attribution

Free Forever

Commercial

Commercial Use, Remix & Adapt, White Label Log in to download
Description
Tobacco use is the single most preventable cause of disease, disability, and death in the United States, yet more deaths are caused each year by tobacco use than by all deaths from human immunodeficiency virus (HIV), illegal drug use, alcohol use, motor vehicle injuries, suicides, and murders combined.
In 2009, an estimated 20.6% of all American adults age 18 and older—46.6 million people—smoked, and every day another 850 young people age 12 to 17 began smoking on a daily basis. As a result of widespread tobacco use, approximately 443,000 Americans die from tobacco-related illnesses, such as cancer and heart disease, each year. An estimated 49,000 of these deaths are the result of secondhand smoke exposure. For every person who dies from tobacco use, another 20 suffer from at least one serious tobacco-related illness.
Tobacco use poses a heavy burden on the U.S. economy and medical care system. Each year, cigarette smoking costs more than $193 billion in medical care costs, while secondhand smoke costs an additional $10 million. Tobacco use is thus one of the Nation's deadliest and most costly public health challenges.
Healthy People 2020 includes over 1,200 objectives to monitor and improve the health of all Americans over the decade. The objectives are organized into 42 Topic Areas, each representing an important public health area. To determine the success of Healthy People, it is important to track and measure progress for the objectives over the decade. Healthy People relies on many diverse data systems including:
– National censuses of events (like the National Vital Statistics System)
– Nationally representative sample surveys (like the National Health Interview Survey)
– Other valid and reliable data sources (like the Bicycle Helmet Safety Institute)
Healthy People 2020 provides a framework for action to reduce tobacco use to the point that it is no longer a public health problem for the Nation. Research has identified effective strategies that will contribute to ending the tobacco use epidemic, including:
– Increasing the price of tobacco products
– Enacting comprehensive smoke-free policies
– Expanding cessation treatment in clinical care settings and providing access to proven cessation treatment to all smokers
– Implementing hard-hitting anti-tobacco media campaigns
– Fully funding tobacco control programs at CDC-recommended levels
– Controlling access to tobacco products, including e-cigarettes and combustible and non-combustible products
– Reducing tobacco advertising and promotion directed at children
The Healthy People 2020 Tobacco Use objectives are organized into 3 key areas:
– Tobacco Use Prevalence: Implementing policies to reduce tobacco use and initiation among youth and adults.
– Health System Changes: Adopting policies and strategies to increase access, affordability, and use of smoking cessation services and treatments.
– Social and Environmental Changes: Establishing policies to reduce exposure to secondhand smoke, increase the cost of tobacco, restrict tobacco advertising, and reduce illegal sales to minors.
Preventing tobacco use and helping tobacco users quit can improve the health and quality of life for Americans of all ages. People who stop smoking greatly reduce their risk of disease and premature death. Benefits are greater for people who stop at earlier ages, but quitting tobacco use is beneficial at any age.
About this Dataset
Data Info
| | |
| --- | --- |
| Date Created | 2014-06-05 |
| Last Modified | 2023-08-25 |
| Version | 2023-08-25 |
| Update Frequency | Irregular |
| Temporal Coverage | 2005-2011 |
| Spatial Coverage | United States |
| Source | John Snow Labs; U.S. Department of Health and Human Services (HHS), Centers for Disease Control and Prevention (CDC), Office of Disease Prevention and Health Promotion (ODPHP); |
| Source License URL | |
| Source License Requirements | N/A |
| Source Citation | N/A |
| Keywords | Tobacco Control, CDC STATE System Data, Tobacco Legislation, Tobacco Use Statistics |
| Other Titles | Healthy People 2020 Goals for Cessation of Tobacco Use and Secondhand Smoke Exposure, Cessation of Tobacco Use and Secondhand Smoke Exposure 2020 Goals |
Data Fields
| Name | Description | Type | Constraints |
| --- | --- | --- | --- |
| Main_Objective_Area | One of the 1,200 objectives to monitor and improve the health of all Americans over the decade | string | required : 1 |
| Specific_Objective_Area | One of the 42 topic areas in which 1200 objectives have been divided | string | required : 1 |
| Objective_Number | Identificaton number assigned to the objective | string | required : 1 |
| Is_Leading_Health_Indicator | Whether or not the objective is a Leading Health Indicator (LHI). Leading Health Indicators are a subset of Healthy People 2020 objectives selected to communicate high-priority health issues. | boolean | - |
| Is_Developmental_Objective | Whether or not it is a developmental objective | boolean | - |
| Description_of_Main_Objective_Area | Describes what the main objective area covers | string | required : 1 |
| Description_of_Specific_Objective_Area | Describes what the specific objective area covers | string | required : 1 |
| Percent_Target_Value_For_2020 | Percentage of Target value set for 2020 goal | number | level : Ratio |
| Percent_Baseline_Value | Percentage of baseline value for the data collection year | number | level : Ratio |
| Baseline_Value_Description | Description of the baseline value | string | - |
| Baseline_Year | Baseline Year, month and date respectively | datetime | - |
| Target_Setting_Methodology | Methodology that was used to set the targets for 2020 | string | - |
| Data_Source | Source of data Collection | string | - |
| Website_Link_to_Objective_Details | Link to the website containing all the relevant details to the 2020Healthy people Objectives | string | - |
Data Preview
| | | | | | | | | | | | | | |
| --- | --- | --- | --- | --- | --- | --- | --- | --- | --- | --- | --- | --- | --- |
| Main Objective Area | Specific Objective Area | Objective Number | Is Leading Health Indicator | Is Developmental Objective | Description of Main Objective Area | Description of Specific Objective Area | Percent Target Value For 2020 | Percent Baseline Value | Baseline Value Description | Baseline Year | Target Setting Methodology | Data Source | Website Link to Objective Details |
| Tobacco Use | Social and Environmental Changes | TU-13.17 | | | Establish laws in States, District of Columbia, Territories, and Tribes on smoke-free indoor air that prohibit smoking in public places and worksites | Establish laws in States and the District of Columbia on smoke-free indoor air that prohibit smoking in College/university campuses | 51.0 | 1.0 | 1 State had a smoke-free indoor air law prohibiting smoking on college and university campuses in 2009 | 2009-01-01T00:00:00 | Total coverage | Increase | State Tobacco Activities Tracking and Evaluation System (STATE), CDC, NCCDPHP, OSH |
| Tobacco Use | Social and Environmental Changes | TU-13.10 | | | Establish laws in States, District of Columbia, Territories, and Tribes on smoke-free indoor air that prohibit smoking in public places and worksites | Establish laws in States and the District of Columbia on smoke-free indoor air that prohibit smoking in Multiunit housing | 51.0 | 0.0 | 0 States or the District of Columbia had smoke-free indoor air laws that prohibit smoking in multiunit housing in 2009 | 2009-01-01T00:00:00 | Total coverage | Increase | State Tobacco Activities Tracking and Evaluation System (STATE), CDC, NCCDPHP, OSH |
| Tobacco Use | Social and Environmental Changes | TU-11.3 | | | Reduce the proportion of nonsmokers exposed to secondhand smoke | Reduce the proportion of adults aged 18 years and older exposed to secondhand smoke | 33.8 | 37.6 | 37.6 percent of nonsmoking adults aged 18 years and older were exposed to secondhand smoke in 2005–08 (age adjusted to the year 2000 standard population) | | 10 percent improvement | Decrease | National Health and Nutrition Examination Survey (NHANES), CDC, NCHS |
| Tobacco Use | Tobacco Use Prevalence | TU-3.7 | | | Reduce the initiation of tobacco use among children, adolescents, and young adults | Reduce the initiation of the use of smokeless tobacco products by adults aged 18 to 25 years | 0.2 | 2.2 | 2.2 percent of young adults aged 18 to 25 years who had not previously used smokeless tobacco in their lifetime first used smokeless tobacco products in the previous 12 months in 2008 | 2008-01-01T00:00:00 | 2 percentage point improvement | Decrease | National Survey on Drug Use and Health (NSDUH), SAMHSA |
| Tobacco Use | Health Systems Changes | TU-10.3 | | | Increase tobacco cessation counseling in health care settings | Increase tobacco cessation counseling in dental care settings | 39.3 | 35.7 | 35.7 percent of general practice dentists reported that they or their dental team usually or always personally counsel patients who use tobacco products on tobacco cessation in 2010 | 2010-01-01T00:00:00 | 10 percent improvement | Increase | Survey of Dental Practice, American Dental Association (ADA) |
| Tobacco Use | Tobacco Use Prevalence | TU-2.2 | True | | Reduce tobacco use by adolescents | Reduce use of cigarettes by adolescents (past month) | 16.0 | 19.5 | 19.5 percent of adolescents in grades 9 through 12 smoked cigarettes in the past 30 days in 2009 | 2009-01-01T00:00:00 | Retain Healthy People 2010 target of 16 percent | Decrease | Youth Risk Behavior Surveillance System (YRBSS), CDC, NCCDPHP |
| Tobacco Use | Tobacco Use Prevalence | TU-7 | | | Increase smoking cessation attempts by adolescent smokers | Increase smoking cessation attempts by adolescent smokers | 64.0 | 58.5 | 58.5 percent of adolescent smokers in grades 9 through 12 tried to stop smoking in the past 12 months in 2009 | 2009-01-01T00:00:00 | Retain Healthy People 2010 target of 64 percent | Increase | Youth Risk Behavior Surveillance System (YRBSS), CDC, NCCDPHP |
| Tobacco Use | Tobacco Use Prevalence | TU-3.8 | | | Reduce the initiation of tobacco use among children, adolescents, and young adults | Reduce the initiation of the use of cigars by adults aged 18 to 25 years | 4.3 | 6.3 | 6.3 percent of young adults aged 18 to 25 years who had not previously smoked cigars in their lifetime first smoked cigars in the previous 12 months in 2008 | 2008-01-01T00:00:00 | 2 percentage point improvement | Decrease | National Survey on Drug Use and Health (NSDUH), SAMHSA |
| Tobacco Use | Tobacco Use Prevalence | TU-3.6 | | | Reduce the initiation of tobacco use among children, adolescents, and young adults | Reduce the initiation of the use of cigarettes by adults aged 18 to 25 years | 6.4 | 8.4 | 8.4 percent of young adults aged 18 to 25 years who had not previously smoked cigarettes in their lifetime first smoked cigarettes in the past 12 months in 2008 | 2008-01-01T00:00:00 | 2 percentage point improvement | Decrease | National Survey on Drug Use and Health (NSDUH), SAMHSA |
| Tobacco Use | Social and Environmental Changes | TU-20.2 | | True | Increase the number of States and the District of Columbia, Territories, and Tribes with comprehensive evidence-based tobacco control programs. | Increase the number of Territories with sustainable and comprehensive evidence-based tobacco control programs | | | TBD | | TBD | | State Tobacco Activities Tracking and Evaluation System (STATE), CDC, NCCDPHP, OSH |