Others titles
CDC Heart Disease State-based Surveillance System
Cardiovascular Risk Factors Data
CDC Heart Disease and Stroke Prevention
Behavioral Risk Factor Data: Heart Disease and Stroke Prevention
Keywords
Surveillance System
Heart Disease
Heart Attack
Stroke
Hypertension
Heart Failure
Heart Failure Mortality
Heart Disease Surveillance System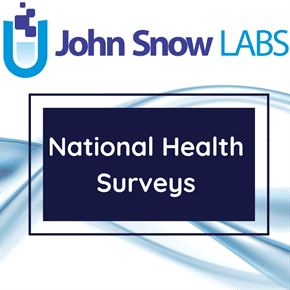 This dataset shows the heart disease surveillance system survey. The Behavioral Risk Factor Surveillance System (BRFSS) collects surveys through phone calls related to health-related risk behaviors, chronic diseases and use of preventive services in the US, the data covers all 50 states, the District of Columbia and three US from more than 400,000 adults.
Log in to download
Complexity
Get The Data
For getting access to data download links please read and accept the end-user license agreement.
Your Data License
Research

Non-Commercial, Share-Alike, Attribution

Free Forever

Commercial

Commercial Use, Remix & Adapt, White Label Log in to download
Description
This data is used as a tool for developing health promotion activities. The Cardiovascular Disease Surveillance System, part of the BRFSS, arose from the need to quantify and track the magnitude of the burden of cardiovascular diseases monitoring outbreaks and tracking national health statistics of health disease, stroke and their risk factors. It consists of an integration of different health indicators from different data sources to assess the burden of cardiovascular diseases and their risk factors in public health in the US. The data is presented in a manner that permitted to develop an online data trend and maps, containing location and indicators as cardiovascular diseases, risk factors and biomarkers, stratifying the data by age group, sex and race.
Behavioral Risk Factor Surveillance System is a continuous, state-based surveillance system that collects information about modifiable risk factors for chronic diseases and other leading causes of death. Indicators from this data source have been computed by personnel in CDC's Division for Heart Disease and Stroke Prevention (DHDSP). This dataset is one of the datasets provided by National Cardiovascular Disease Surveillance System. The system is designed to integrate multiple indicators from many data sources to provide a comprehensive picture of the public health burden of CVDs and associated risk factors in the United States. The data are organized by location (national, state, county, and selected sites) and indicator, and they include Cerebro-Vascular Diseases (CVDs, e.g., heart failure) and risk factors (e.g., hypertension). The data can be plotted as trends and stratified by age group, sex, and race/ethnicity.
About this Dataset
Data Info
| | |
| --- | --- |
| Date Created | 2016-06-23 |
| Last Modified | 2021-06-24 |
| Version | 2021-06-24 |
| Update Frequency | Irregular |
| Temporal Coverage | 2011 to 2018 |
| Spatial Coverage | United States |
| Source | John Snow Labs; Centers for Disease Control and Prevention; |
| Source License URL | |
| Source License Requirements | N/A |
| Source Citation | N/A |
| Keywords | Surveillance System, Heart Disease, Heart Attack, Stroke, Hypertension, Heart Failure, Heart Failure Mortality |
| Other Titles | CDC Heart Disease State-based Surveillance System, Cardiovascular Risk Factors Data, CDC Heart Disease and Stroke Prevention, Behavioral Risk Factor Data: Heart Disease and Stroke Prevention |
Data Fields
| Name | Description | Type | Constraints |
| --- | --- | --- | --- |
| Row_Id | The unique identification of the data row. | string | - |
| Year | Year of survey | date | - |
| Location_Abbreviation | US State Abbreviations | string | - |
| Location_Description | Location, US area. | string | - |
| Data_Source | Survey that generated the data | string | - |
| Priority_Area_1 | National Public Health and Health Care Collaborative | string | - |
| Priority_Area_2 | National Public Health and Health Care Collaborative. Million Hearts/Active Bacterial Core Surveillance (ABCS)/Healthy People 2020 | string | - |
| Priority_Area_3 | National Public Health and Health Care Collaborative. Million Hearts/Active Bacterial Core Surveillance (ABCS)/Healthy People 2020 | string | - |
| Category | The category covered by the survey. | string | - |
| Topic | Disease or condition covered by the survey | string | - |
| Indicator | Objective outcome determined by through the survey. | string | - |
| Data_Value_Type | | string | - |
| Data_Value | Indicator value for demographic group | number | level : Ratio |
| Data_Value_Alt | Indicator value for demographic group | number | level : Ratio |
| Data_Value_Footnote_Symbol | The specific symbol to identify the data value footnote. | string | - |
| Data_Value_Footnote | Footnote on data value | string | - |
| Confidence_Limit_Low | 95% confidence interval lower limit | number | level : Ratio |
| Confidence_Limit_High | 95% confidence interval upper limit | number | level : Ratio |
| Break_Out_Category | Demographic variables covered by the survey | string | - |
| Break_Out | Demographic group covered by the survey | string | - |
| Category_Id | Code for category. | string | - |
| Topic_ID | Code for Topic | string | - |
| Indicator_ID | Code for Indicator | string | - |
| Data_Value_Type_ID | Data value type lookup value | string | - |
| Breakout_Category_ID | Break out category lookup value | string | - |
| Break_Out_ID | Break out group lookup value | string | - |
| Location_ID | Location lookup value | integer | level : Ratio |
| Latitude | Latitude to be provided for formatting GeoLocation or Geocode in the format | number | - |
| Longitude | Longitude to be provided for formatting GeoLocation or Geocode in the format | number | - |
Data Preview
| | | | | | | | | | | | | | | | | | | | | | | | | | | | | |
| --- | --- | --- | --- | --- | --- | --- | --- | --- | --- | --- | --- | --- | --- | --- | --- | --- | --- | --- | --- | --- | --- | --- | --- | --- | --- | --- | --- | --- |
| Row Id | Year | Location Abbreviation | Location Description | Data Source | Priority Area 1 | Priority Area 2 | Priority Area 3 | Category | Topic | Indicator | Data Value Type | Data Value | Data Value Alt | Data Value Footnote Symbol | Data Value Footnote | Confidence Limit Low | Confidence Limit High | Break Out Category | Break Out | Category Id | Topic ID | Indicator ID | Data Value Type ID | Breakout Category ID | Break Out ID | Location ID | Latitude | Longitude |
| BRFSS~2014~58~BR021~AGE07~Crude | 2014 | USM | Median of all states | BRFSS | | | Healthy People 2020 | Risk Factors | Obesity | Prevalence of healthy weight among US adults (20+); BRFSS | Crude | 28.7 | 28.7 | | | | | Age | 35+ | C2 | T13 | BR021 | Crude | BOC03 | AGE07 | 58 | | |
| BRFSS~2014~58~BR017~AGE07~Crude | 2014 | USM | Median of all states | BRFSS | | ABCS | | Risk Factors | Smoking | Prevalence of current smoking among US adults (18+); BRFSS | Crude | 16.9 | 16.9 | | | | | Age | 35+ | C2 | T15 | BR017 | Crude | BOC03 | AGE07 | 58 | | |
| BRFSS~2012~58~BR016~AGE04~Crude | 2012 | USM | Median of all states | BRFSS | | | | Risk Factors | Diabetes | Prevalence of diabetes among US adults (18+); BRFSS | Crude | 3.8 | 3.8 | | | | | Age | 25-44 | C2 | T11 | BR016 | Crude | BOC03 | AGE04 | 58 | | |
| BRFSS~2014~58~BR011~OVR01~Crude | 2014 | USM | Median of all states | BRFSS | | | Healthy People 2020 | Risk Factors | Hypertension | Prevalence of hypertension among US adults (18+); BRFSS | Crude | | -1.0 | - | Data not available | | | Overall | Overall | C2 | T9 | BR011 | Crude | BOC01 | OVR01 | 58 | | |
| BRFSS~2011~58~BR017~AGE08~Crude | 2011 | USM | Median of all states | BRFSS | | ABCS | | Risk Factors | Smoking | Prevalence of current smoking among US adults (18+); BRFSS | Crude | 5.3 | 5.3 | | | | | Age | 75+ | C2 | T15 | BR017 | Crude | BOC03 | AGE08 | 58 | | |
| BRFSS~2013~58~BR019~AGE04~Crude | 2013 | USM | Median of all states | BRFSS | | | Healthy People 2020 | Risk Factors | Obesity | Prevalence of obesity among US adults (20+); BRFSS | Crude | 29.8 | 29.8 | | | | | Age | 25-44 | C2 | T13 | BR019 | Crude | BOC03 | AGE04 | 58 | | |
| BRFSS~2011~58~BR016~RAC01~Crude | 2011 | USM | Median of all states | BRFSS | | | | Risk Factors | Diabetes | Prevalence of diabetes among US adults (18+); BRFSS | Crude | 9.0 | 9.0 | | | | | Race | Non-Hispanic White | C2 | T11 | BR016 | Crude | BOC04 | RAC01 | 58 | | |
| BRFSS~2015~58~BR016~RAC03~Crude | 2015 | USM | Median of all states | BRFSS | | | | Risk Factors | Diabetes | Prevalence of diabetes among US adults (18+); BRFSS | Crude | 5.6 | 5.6 | | | | | Race | Non-Hispanic Asian | C2 | T11 | BR016 | Crude | BOC04 | RAC03 | 58 | | |
| BRFSS~2016~27~BR016~AGE08~Crude | 2016 | MN | Minnesota | BRFSS | | | | Risk Factors | Diabetes | Prevalence of diabetes among US adults (18+); BRFSS | Crude | 19.4 | 19.4 | | | 17.3 | 21.6 | Age | 75+ | C2 | T11 | BR016 | Crude | BOC03 | AGE08 | 27 | -94.7942005 | 46.35564874 |
| BRFSS~2017~58~BR002~AGE05~Crude | 2017 | USM | Median of all states | BRFSS | | | | Cardiovascular Diseases | Coronary Heart Disease | Prevalence of coronary heart disease among US adults (18+); BRFSS | Crude | 4.0 | 4.0 | | | | | Age | 45-64 | C1 | T4 | BR002 | Crude | BOC03 | AGE05 | 58 | | |