Others titles
ICD-10-CM to ICD-9-CM Diagnosis Codes General Reimbursement Mappings Clinical Software
ICD-10-CM to ICD-9-CM Diagnosis Codes General Reimbursement Mappings CCS
ICD-10-CM to ICD-9-CM Diagnosis Codes General Reimbursement Mappings Clinical Classifications Software
Keywords
Clinical Software
CCS
Clinical Classifications Software
Clinical Classifications Software for Services and Procedures
Code Book
ICD-10-CM Definition
ICD-10-CM Book
ICD-10-CM Manual
ICD-10-CM and ICD-10-PCS Coding Handbook
ICD 10 Codes List
ICD 10 Procedure Code
ICD 10 Codes
ICD Codes
ICD-10 CM to ICD-9 CM Diagnosis Code GEM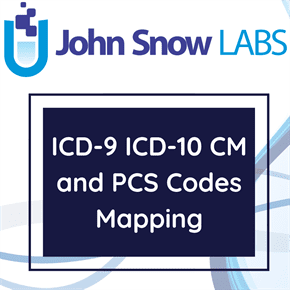 This dataset shows the ICD-10 (International Classification of Diseases), CM (Clinical Modification), 10th Edition (2016 to 2018) to ICD-9 CM Diagnosis Codes (GEM) General Reimbursement Mappings. These ICD-10-CM codes are to be used for services provided from October 1, 2016 through September 30, 2018.
Log in to download
Complexity
Get The Data
For getting access to data download links please read and accept the end-user license agreement.
Your Data License
Research

Non-Commercial, Share-Alike, Attribution

Free Forever

Commercial

Commercial Use, Remix & Adapt, White Label Log in to download
Description
The purpose of the GEMs is to create a useful, practical, code to code translation reference dictionary for both code sets, and to offer acceptable translation alternatives wherever possible.
The I-10 and I-9 GEMs are used to facilitate links between the diagnosis codes in I-9 volume 3 and the new I-10 code set. The GEMs are the raw material from which providers, health information vendors and payers can derive specific applied mappings to meet their needs. This is covered in more detail in section 2.
The I-10 to I-9 GEM contains an entry for every I-10 code. Not all I-9 codes are contained in the I-10 to I-9 GEM; the I-10 to I-9 GEM contains only those I-9 codes which are plausible translations of the I-10 codes. The translations given are based on the I-10 code looked up, the source system code in the I-10 to I-9 GEM.
The I-10 to I-9 GEM can be used to convert I-9 based systems or applications to I-10 based applications, or create one-to-one backward mappings (also known as a crosswalk) from incoming I-10 based records to I-9 based legacy systems. This is accomplished by using the I-10 to I-9 GEM, but looking up the target system code (I-9) to see all the source system possibilities (I-10). This is called reverse lookup.
Note:
An announcement was made at the September 2017 ICD-10 Coordination and Maintenance Committee meeting that FY 2018 would be the last GEMs file update.
About this Dataset
Data Info
| | |
| --- | --- |
| Date Created | 2015-05-05 |
| Last Modified | 2017-07-25 |
| Version | 2021-12-01 |
| Update Frequency | Never |
| Temporal Coverage | 2016-01-01 to 2018-12-31 |
| Spatial Coverage | United States |
| Source | John Snow Labs; Centers for Medicare and Medicaid Services; |
| Source License URL | |
| Source License Requirements | N/A |
| Source Citation | N/A |
| Keywords | Clinical Software, CCS, Clinical Classifications Software, Clinical Classifications Software for Services and Procedures, Code Book, ICD-10-CM Definition, ICD-10-CM Book, ICD-10-CM Manual, ICD-10-CM and ICD-10-PCS Coding Handbook, ICD 10 Codes List, ICD 10 Procedure Code, ICD 10 Codes, ICD Codes |
| Other Titles | ICD-10-CM to ICD-9-CM Diagnosis Codes General Reimbursement Mappings Clinical Software, ICD-10-CM to ICD-9-CM Diagnosis Codes General Reimbursement Mappings CCS, ICD-10-CM to ICD-9-CM Diagnosis Codes General Reimbursement Mappings Clinical Classifications Software |
Data Fields
| Name | Description | Type | Constraints |
| --- | --- | --- | --- |
| Year | Year or version of ICD-10 code when it was published. | date | - |
| ICD10CM_Code | ICD-10 code (3 to 7 characters) left justified in an 8-character field that uniquely identifies an illness. | string | - |
| ICD9CM_Code | International Classification of Diseases 9th Revision Clinical Modification (I-9) left justified in a 14-character field that uniquely identifies an illness. | string | - |
| General_Equivalence_Mapping | | string | - |
Data Preview
| | | | |
| --- | --- | --- | --- |
| Year | ICD10CM Code | ICD9CM Code | General Equivalence Mapping |
| 2016 | A000 | 10 | 0 |
| 2016 | A001 | 11 | 0 |
| 2016 | A009 | 19 | 0 |
| 2016 | A0100 | 20 | 10000 |
| 2016 | A0101 | 20 | 10000 |
| 2016 | A0102 | 20 | 10000 |
| 2016 | A0103 | 20 | 10000 |
| 2016 | A0104 | 20 | 10000 |
| 2016 | A0105 | 20 | 10000 |
| 2016 | A0109 | 20 | 10000 |