Others titles
ICH CAHPS Patient Survey By Facility Compare
In-Center Hemodialysis Consumer Assessment of Healthcare Providers and Systems
Patient Survey Statistics for Dialysis Facility Compare
CMS Quality Improvement Program
Keywords
Dialysis
Dialysis Facilities
Patient Survey
Consumer Assessment of Healthcare Providers and Systems (CAHPS)
Experiance of Care
Dialysis Facility Compare
Dialysis Facility Performance
Dialysis Centers
Renal Disease Clinical Measures
Quality Measures
ICH CAHPS Patient Survey Statistics By Facility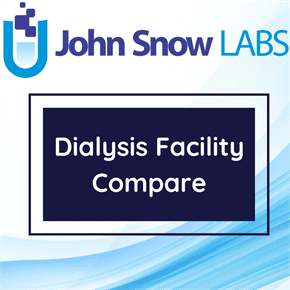 This dataset lists In-Center Hemodialysis Consumer Assessment of Healthcare Providers and Systems (ICH CAHPS) survey data used by End-Stage Renal Disease (ESRD) Quality Incentive Program (QIP) to assess dialysis facility performance. The CAHPS survey is designed to measure the experiences of people receiving In-Center Hemodialysis (ICH) care from Medicare-certified dialysis facilities.
Log in to download
Complexity
Get The Data
For getting access to data download links please read and accept the end-user license agreement.
Your Data License
Research

Non-Commercial, Share-Alike, Attribution

Free Forever

Commercial

Commercial Use, Remix & Adapt, White Label Log in to download
Description
ICH CAHPS (In-Center Hemodialysis Consumer Assessment of Healthcare Providers and Systems) Survey is the first national, standardized, and publicly-reported survey of patients' perspectives of dialysis care; it is also the first CAHPS survey focusing solely on a chronic disease. ICH CAHPS measures perceptions of patients with End-Stage Renal Disease (ESRD) receiving life-sustaining in-center hemodialysis care. In 2007, the National Quality Forum (NQF), an organization established to standardize health care quality measurement and reporting, formally endorsed measures from the ICH CAHPS. The ICH-CAHPS Survey is a national, standardized survey of in-center hemodialysis patients about their experiences with the facility, facility doctors and staff, and care received.
Questions in the ICH CAHPS survey encompass: nephrologists' communication and caring, staff communication and caring, operations of the dialysis facility, patient's knowledge of treatment options, handling of patient problems, and global ratings. There are three approved modes of administration: mail only, telephone only, and mixed (mail followed by telephone). Although ESRD patients spend a number of hours each week at their dialysis facility, the survey may not be administered by any facility staff person and may not be administered in the dialysis facility to avoid any bias in responses. Therefore, beginning in 2014 dialysis facilities will authorize CMS-approved survey vendors to conduct the survey of eligible patients on their behalf.
About this Dataset
Data Info
| | |
| --- | --- |
| Date Created | 2016-09-21 |
| Last Modified | 2023-06-23 |
| Version | 2023-06-23 |
| Update Frequency | Quarterly |
| Temporal Coverage | N/A |
| Spatial Coverage | United States |
| Source | John Snow Labs; Centers for Medicare and Medicaid Services; |
| Source License URL | |
| Source License Requirements | N/A |
| Source Citation | N/A |
| Keywords | Dialysis, Dialysis Facilities, Patient Survey, Consumer Assessment of Healthcare Providers and Systems (CAHPS), Experiance of Care, Dialysis Facility Compare, Dialysis Facility Performance, Dialysis Centers, Renal Disease Clinical Measures, Quality Measures |
| Other Titles | ICH CAHPS Patient Survey By Facility Compare, In-Center Hemodialysis Consumer Assessment of Healthcare Providers and Systems, Patient Survey Statistics for Dialysis Facility Compare, CMS Quality Improvement Program |
Data Fields
| Name | Description | Type | Constraints |
| --- | --- | --- | --- |
| Provider_Number | Identification number of the facility within the CMS dataset. | string | - |
| Facility_Network | Indicates the Network number of the facility. | integer | level : Ordinal |
| Facility_Name | The name of the Dialysis center or Facility. | string | - |
| Address_Line1 | The address of the dialysis center or facility. | string | - |
| Address_Line2 | The second address of the dialysis center or facility. | string | - |
| City | The city name in the location address of the facility being identified. | string | - |
| State_Abbreviation | The two-letter abbreviations of the state in the mailing address of the ambulatory center. This includes information on hospitals in different U.S. states. | string | - |
| Zip_Code | The postal code in the mailing address of the hospital. | integer | level : Ordinal |
| County | The name of the county in which the facility is located. | string | - |
| Phone_Number | The Phone Number of the provider or hospital. | string | - |
| Profit_Or_Non_Profit_Status | Identifies whether the facility or center is for profit or non-profit centre. | string | - |
| Is_Chain_Owned | Indicates whether the facility/chain of facilities is owned by some organization or is working independently. | boolean | - |
| Chain_Organization | Indicates the name of the organization which owns the facilities chain. | string | - |
| ICH_CAHPS_Start_Date | Indicates the start data collection date for the earlier ICH-CAHPS survey. | date | - |
| ICH_CAHPS_End_Date | Indicates the end data collection date for the earlier ICH-CAHPS survey. | date | - |
| ICH_CAHPS_Data_Availability_Code | Refers to whether the facility has sufficient ICH-CAHPS data available or the reason for why the data is not available. | integer | level : Ordinal |
| Lower_Box_Percent_of_Patients_Nephrologists_Communication_and_Caring | Indicates the percent of patients who reported "Sometimes" or "Never" nephrologists communication and caring. | integer | level : Ratio |
| Middle_Box_Percent_of_Patients_Nephrologists_Communication_and_Caring | Indicates the percent of patients who reported "Usually" nephrologists communication and caring. | integer | level : Ratio |
| Top_Box_Percent_of_Patients_Nephrologists_Communication_and_Caring | Indicates the percent of patients who reported "Always" nephrologists communication and caring. | integer | level : Ratio |
| Linearized_Score_of_Nephrologists_Communication_And_Caring | Indicates the linearized score of nephrologists' communication and caring for the facility. | integer | level : Ratio |
| Star_Rating_of_Nephrologists_Communication_And_Caring | Indicates the star ratings of nephrologists' communication and caring for the facility. | integer | level : Ratio |
| Lower_Box_Percent_of_Patients_Dialysis_Center_Care_and_Operations | Indicates the percent of patients who reported "Sometimes" or "Never" quality of dialysis center care and operations. | integer | level : Ratio |
| Middle_Box_Percent_of_Patients_Dialysis_Center_Care_and_Operations | Indicates the percent of patients who reported "Usually"-quality of dialysis center care and operations. | integer | level : Ratio |
| Top_Box_Percent_of_Patients_Dialysis_Center_Care_and_Operations | Indicates the percent of patients who reported "Always" quality of dialysis center care and operations. | integer | level : Ratio |
| Linearized_Score_of_Quality_of_Dialysis_Center_Care_And_Operations | Indicates the linearized score of quality of dialysis center care and operations for the facility. | integer | level : Ratio |
| Star_Rating_of_Quality_of_Dialysis_Center_Care_And_Operations | Indicates the star ratings of quality of dialysis center care and operations for the facility. | integer | level : Ratio |
| Lower_Box_Percent_of_Patients_Providing_Information_To_Patients | Indicates the percent of patients who reported "No" providing information to patients. | integer | level : Ratio |
| Top_Box_Percent_of_Patients_Providing_Information_To_Patients | Indicates the percent of patients who reported "Yes" providing information to patients. | integer | level : Ratio |
| Linearized_Score_of_Providing_Information_To_Patients | Refers to the linearized score of providing information to patients for the facility. | integer | level : Ratio |
| Star_Rating_of_Providing_Information_To_Patients | Refers to the star rating of providing information to patients for the facility. | integer | level : Ratio |
| Lower_Box_Percent_of_Patients_Rating_of_The_Nephrologist | Refers to the percent of patients who gave their nephrologist a rating of 6 or lower on a scale of 0 (lowest) to 10 (highest). | integer | level : Ratio |
| Middle_Box_Percent_of_Patients_Rating_of_The_Nephrologist | Refers to the percent of patients who gave their nephrologist a rating of 7 or 8 on a scale of 0 (lowest) to 10 (highest). | integer | level : Ratio |
| Top_Box_Percent_of_Patients_Rating_of_The_Nephrologist | Refers to the percent of patients who gave their nephrologist a rating of 9 or 10 on a scale of 0 (lowest) to 10 (highest). | integer | level : Ratio |
| Linearized_Score_of_Rating_of_The_Nephrologist | Refers to the linearized score of rating of the nephrologist fo the facility. | integer | level : Ratio |
| Star_Rating_of_The_Nephrologist | Refers to the star rating of the nephrologist for the facility. | integer | level : Ratio |
| Lower_Box_Percent_of_Patients_Rating_of_The_Dialysis_Center_Staff | Refers to the percent of patients who gave their dialysis center staff a rating of 6 or lower on a scale of 0 (lowest) to 10 (highest). | integer | level : Ratio |
| Middle_Box_Percent_of_Patients_Rating_of_The_Dialysis_Center_Staff | Refers to the the percent of patients who gave their dialysis center staff a rating of 7 or 8 on a scale of 0 (lowest) to 10 (highest). | integer | level : Ratio |
| Top_Box_Percent_of_Patients_Rating_of_The_Dialysis_Center_Staff | Refers to the percent of patients who gave their dialysis center staff a rating of 9 or 10 on a scale of 0 (lowest) to 10 (highest). | integer | level : Ratio |
| Linearized_Score_of_Rating_of_The_Dialysis_Center_Staff | Refers to the linearized score of rating of the dialysis center staff for the facility. | integer | level : Ratio |
| Star_Rating_of_The_Dialysis_Center_Staff | Refers to the star rating of the dialysis center staff for the facility. | integer | level : Ratio |
| Lower_Box_Percent_of_Patients_Rating_of_The_Dialysis_Facility | Refers to the percent of patients who gave their dialysis facility a rating of 6 or lower on a scale of 0 (lowest) to 10 (highest). | integer | level : Ratio |
| Middle_Box_Percent_of_Patients_Rating_of_The_Dialysis_Facility | Refers to the percent of patients who gave their dialysis facility a rating of 7 or 8 on a scale of 0 (lowest) to 10 (highest). | integer | level : Ratio |
| Top_Box_Percent_of_Patients_Rating_of_The_Dialysis_Facility | Refers to the percent of patients who gave their dialysis facility a rating of 9 or 10 on a scale of 0 (lowest) to 10 (highest). | integer | level : Ratio |
| Linearized_Score_of_Rating_of_The_Dialysis_Facility | Refers to the linearized score of rating of the dialysis facility. | integer | level : Ratio |
| Star_Rating_of_The_Dialysis_Facility | Refers to the star rating of the dialysis facility. | integer | level : Ratio |
| Total_Number_of_Completed_Interviews_From_The_Fall_And_Spring_Surveys | Refers to the total number of completed surveys across the two reported survey periods. | integer | level : Ratio |
| Overall_ICH_CAHPS_Survey_of_Patients_Experiences_Star_Rating | Refers to the ICH CAHPS (In-Center Hemodialysis Consumer Assessment of Healthcare Providers and Systems) survey of patients' experiences star rating for the facility. | integer | level : Ratio |
| ICH_CAHPS_Survey_Response_Rate | Refers to the ICH CAHPS (In-Center Hemodialysis Consumer Assessment of Healthcare Providers and Systems) survey response rate for the facility. | integer | level : Ratio |
Data Preview
| | | | | | | | | | | | | | | | | | | | | | | | | | | | | | | | | | | | | | | | | | | | | | | | |
| --- | --- | --- | --- | --- | --- | --- | --- | --- | --- | --- | --- | --- | --- | --- | --- | --- | --- | --- | --- | --- | --- | --- | --- | --- | --- | --- | --- | --- | --- | --- | --- | --- | --- | --- | --- | --- | --- | --- | --- | --- | --- | --- | --- | --- | --- | --- | --- |
| Provider Number | Facility Network | Facility Name | Address Line1 | Address Line2 | City | State Abbreviation | Zip Code | County | Phone Number | Profit Or Non Profit Status | Is Chain Owned | Chain Organization | ICH CAHPS Start Date | ICH CAHPS End Date | ICH CAHPS Data Availability Code | Lower Box Percent of Patients Nephrologists Communication and Caring | Middle Box Percent of Patients Nephrologists Communication and Caring | Top Box Percent of Patients Nephrologists Communication and Caring | Linearized Score of Nephrologists Communication And Caring | Star Rating of Nephrologists Communication And Caring | Lower Box Percent of Patients Dialysis Center Care and Operations | Middle Box Percent of Patients Dialysis Center Care and Operations | Top Box Percent of Patients Dialysis Center Care and Operations | Linearized Score of Quality of Dialysis Center Care And Operations | Star Rating of Quality of Dialysis Center Care And Operations | Lower Box Percent of Patients Providing Information To Patients | Top Box Percent of Patients Providing Information To Patients | Linearized Score of Providing Information To Patients | Star Rating of Providing Information To Patients | Lower Box Percent of Patients Rating of The Nephrologist | Middle Box Percent of Patients Rating of The Nephrologist | Top Box Percent of Patients Rating of The Nephrologist | Linearized Score of Rating of The Nephrologist | Star Rating of The Nephrologist | Lower Box Percent of Patients Rating of The Dialysis Center Staff | Middle Box Percent of Patients Rating of The Dialysis Center Staff | Top Box Percent of Patients Rating of The Dialysis Center Staff | Linearized Score of Rating of The Dialysis Center Staff | Star Rating of The Dialysis Center Staff | Lower Box Percent of Patients Rating of The Dialysis Facility | Middle Box Percent of Patients Rating of The Dialysis Facility | Top Box Percent of Patients Rating of The Dialysis Facility | Linearized Score of Rating of The Dialysis Facility | Star Rating of The Dialysis Facility | Total Number of Completed Interviews From The Fall And Spring Surveys | Overall ICH CAHPS Survey of Patients Experiences Star Rating | ICH CAHPS Survey Response Rate |
| 12306 | 8 | CHILDRENS HOSPITAL DIALYSIS | 1600 7TH AVENUE SOUTH | | BIRMINGHAM | AL | 35233 | Jefferson | (205)638-9275 | Non-profit | False | Independent | 2021-10-15 | 2022-07-26 | 102 | | | | | | | | | | | | | | | | | | | | | | | | | | | | | | | | |
| 12500 | 8 | FMC CAPITOL CITY | 255 S JACKSON STREET | | MONTGOMERY | AL | 36104 | Montgomery | (334)263-1028 | Profit | True | Fresenius Medical Care | 2021-10-15 | 2022-07-26 | 1 | 13.0 | 11.0 | 76.0 | 87.0 | 5.0 | 23.0 | 14.0 | 63.0 | 79.0 | 3.0 | 28.0 | 72.0 | 72.0 | 2.0 | 7.0 | 25.0 | 68.0 | 90.0 | 4.0 | 13.0 | 32.0 | 55.0 | 84.0 | 3.0 | 18.0 | 20.0 | 62.0 | 85.0 | 3.0 | 37.0 | 3.0 | 23.0 |
| 12501 | 8 | DaVita Gadsden Dialysis | 409 SOUTH FIRST STREET | | GADSDEN | AL | 35901 | Etowah | (256)547-2511 | Profit | True | DaVita | 2021-10-15 | 2022-07-26 | 101 | | | | | | | | | | | | | | | | | | | | | | | | | | | | | | | | |
| 12502 | 8 | DaVita Tuscaloosa University Dialysis | 220 15TH STREET | | TUSCALOOSA | AL | 35401 | Tuscaloosa | (205)345-6004 | Profit | True | DaVita | 2021-10-15 | 2022-07-26 | 101 | | | | | | | | | | | | | | | | | | | | | | | | | | | | | | | | |
| 12505 | 8 | DaVita PDI-Montgomery | 1001 FOREST AVENUE | | MONTGOMERY | AL | 36106 | Montgomery | (334)269-9416 | Profit | True | DaVita | 2021-10-15 | 2022-07-26 | 101 | | | | | | | | | | | | | | | | | | | | | | | | | | | | | | | | |
| 12506 | 8 | DaVita Dothan Dialysis | 216 GRACELAND DR. | | DOTHAN | AL | 36305 | Houston | (334)793-4077 | Profit | True | DaVita | 2021-10-15 | 2022-07-26 | 101 | | | | | | | | | | | | | | | | | | | | | | | | | | | | | | | | |
| 12507 | 8 | FMC MOBILE | 2620 OLD SHELL RD | | MOBILE | AL | 36607 | Mobile | (251)476-2762 | Profit | True | Fresenius Medical Care | 2021-10-15 | 2022-07-26 | 1 | 18.0 | 21.0 | 61.0 | 79.0 | 3.0 | 22.0 | 23.0 | 55.0 | 76.0 | 3.0 | 30.0 | 70.0 | 70.0 | 2.0 | 16.0 | 38.0 | 46.0 | 81.0 | 2.0 | 16.0 | 28.0 | 56.0 | 82.0 | 2.0 | 17.0 | 29.0 | 54.0 | 83.0 | 3.0 | 43.0 | 3.0 | 27.0 |
| 12508 | 8 | DaVita Birmingham East Dialysis | 1105 EAST PARK DRIVE | | BIRMINGHAM | AL | 35235 | Jefferson | (205)833-6003 | Profit | True | DaVita | 2021-10-15 | 2022-07-26 | 101 | | | | | | | | | | | | | | | | | | | | | | | | | | | | | | | | |
| 12509 | 8 | FMC NORTH ALABAMA | 1311 N MEMORIAL PKWY #200 | | HUNTSVILLE | AL | 35801 | Madison | (256)536-8571 | Profit | True | Fresenius Medical Care | 2021-10-15 | 2022-07-26 | 101 | | | | | | | | | | | | | | | | | | | | | | | | | | | | | | | | |
| 12512 | 8 | FMC SELMA | 905 MEDICAL CENTER PARKWAY | | SELMA | AL | 36701 | Dallas | (334)874-9021 | Profit | True | Fresenius Medical Care | 2021-10-15 | 2022-07-26 | 101 | | | | | | | | | | | | | | | | | | | | | | | | | | | | | | | | |