Others titles
National Downloadable File Free Data
National Downloadable File Enquiry
National Downloadable File Database Download
Keywords
Physician Compare
Group Practice Public Reporting
National Downloadable File
Physician Quality Report System (PQRS)
Medicare Physician Files
Public Reporting Files
Public Downloadable Files
Electronic Health Record Files
Medicare Physician National Downloadable File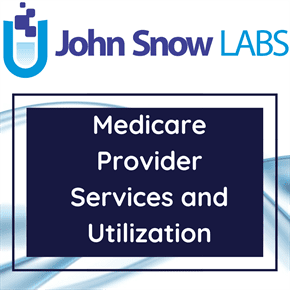 The National downloadable file is organized at the individual provider level; each line is unique at the provider/enrollment/organization/address level. Providers with multiple enrollments and/or single enrollments linking to multiple practice location addresses are listed on multiple lines.
Log in to download
Complexity
Get The Data
For getting access to data download links please read and accept the end-user license agreement.
Your Data License
Research

Non-Commercial, Share-Alike, Attribution

Free Forever

Commercial

Commercial Use, Remix & Adapt, White Label Log in to download
Description
These are the official datasets associated with the Medicare.gov Physician Compare Website provided by the Centers for Medicare & Medicaid Services (CMS). These data give useful information about the physicians and other healthcare professionals currently enrolled in Medicare. The Physician Compare National Downloadable file includes general information, such as demographic information and Medicare quality program participation, for individual eligible professionals (EPs). The Physician Compare 2013 Public Reporting downloadable file provides the 2013 Physician Quality Report System (PQRS) Group Practice Reporting Option (GPRO) performance rates for the three Diabetes Mellitus (DM) measures and one Coronary Artery Disease (CAD) measure now publicly reported on Physician Compare. Data are publicly available for the 139 group practices of 25 or more eligible professionals (EPs) that successfully reported data under the 2013 PQRS GPRO via the Web Interface. Also included in this file is information about which group practices participated in the eRx Incentive Program and the PQRS program. Because only Web Interface data are included, not all group practices that participated in PQRS under GPRO will have measure data in this file.
About this Dataset
Data Info
| | |
| --- | --- |
| Date Created | 2016-08-09 |
| Last Modified | 2023-08-31 |
| Version | 2023-08 |
| Update Frequency | Semimonthly |
| Temporal Coverage | 2021-2022 |
| Spatial Coverage | United States |
| Source | John Snow Labs; Centers for Medicare & Medicaid Services; |
| Source License URL | |
| Source License Requirements | N/A |
| Source Citation | N/A |
| Keywords | Physician Compare, Group Practice Public Reporting, National Downloadable File, Physician Quality Report System (PQRS), Medicare Physician Files, Public Reporting Files, Public Downloadable Files, Electronic Health Record Files |
| Other Titles | National Downloadable File Free Data, National Downloadable File Enquiry, National Downloadable File Database Download |
Data Fields
| Name | Description | Type | Constraints |
| --- | --- | --- | --- |
| NPI | Unique professional ID assigned by NPPES | string | required : 1 |
| PAC_ID | Unique individual professional ID assigned by PECOS | string | required : 1 |
| Professional_Enrollment_ID | Unique ID for the individual professional enrollment that is the source for the data in the observation | string | required : 1 |
| Last_Name | Individual professional last name | string | - |
| First_Name | Individual professional first name | string | - |
| Middle_Name | Individual professional middle name | string | - |
| Suffix | Individual professional suffix | string | - |
| Gender | Individual professional gender M/F | string | - |
| Credential | Medical credential such as MD, DO, DPM, etc. | string | - |
| Medical_School_Name | Individual professional's medical school | string | - |
| Graduation_Year | Individual professional's medical school graduation year | date | - |
| Primary_Specialty | Primary medical specialty reported by the individual professional in the selected enrollment | string | - |
| Secondary_Specialty_1 | First secondary medical specialty reported by the individual professional in the selected enrollment | string | - |
| Secondary_Specialty_2 | Second secondary medical specialty reported by the individual professional in the selected enrollment | string | - |
| Secondary_Specialty_3 | Third secondary medical specialty reported by the individual professional in the selected enrollment | string | - |
| Secondary_Specialty_4 | Fourth secondary medical specialty reported by the individual professional in the selected enrollment | string | - |
| All_Secondary_Specialties | All four secondary specialties reported by the individual professional in the selected enrollment, separated by commas | string | - |
| Is_Telehealth | Indicator for whether clinician offers telehealth services over video and/or audio Y = Medicare fee-for-service claims indicate that clinician offers telehealth services | boolean | - |
| Organization_Legal_Name | Legal name of the Group Practice that the individual professional works with- will be blank if the address is not linked to a Group Practice | string | - |
| Group_Practice_PAC_ID | Unique Group Practice ID assigned by PECOS to the Group Practice that the individual professional works with- will be blank if the address is not linked to a Group Practice | string | - |
| Number_of_Group_Practice_Members | Total number of individual professionals affiliated with the Group Practice based on Group Practice PAC ID Digits | integer | level : Ratio |
| Line_1_Street_Address | Group Practice or individual's line 1 address | string | - |
| Line_2_Street_Address | Group Practice or individual's line 2 address | string | - |
| Marker_of_Address_Line_2_Suppression | Marker that address as reported may be incomplete | string | - |
| City | Group Practice or individual's city | string | required : 1 |
| State | Group Practice or individual's state | string | required : 1 |
| Zip_Code | Group Practice or individual's zip code (9 digits when available) | string | required : 1 |
| Phone_Number | Phone number or a contact number | string | - |
| Clinician_Accepts_Medicare_Assignment | Indicator for whether clinician accepts Medicare approved amount as payment in full Y = Clinician accepts Medicare approved amount as payment in full M = Clinician may accept Medicare Assignment | string | - |
| Group_Accepts_Medicare_Assignment | Indicator for whether group accepts Medicare approved amount as payment in full Y = Group accepts Medicare approved amount as payment in full M = Group may accept Medicare Assignment | string | - |
| Address_ID | Unique identifier for the practice location; offices within the same building, but varied by suite or floor, will have the same Address ID aside from the final two characters | string | - |
Data Preview
| | | | | | | | | | | | | | | | | | | | | | | | | | | | | | | |
| --- | --- | --- | --- | --- | --- | --- | --- | --- | --- | --- | --- | --- | --- | --- | --- | --- | --- | --- | --- | --- | --- | --- | --- | --- | --- | --- | --- | --- | --- | --- |
| NPI | PAC ID | Professional Enrollment ID | Last Name | First Name | Middle Name | Suffix | Gender | Credential | Medical School Name | Graduation Year | Primary Specialty | Secondary Specialty 1 | Secondary Specialty 2 | Secondary Specialty 3 | Secondary Specialty 4 | All Secondary Specialties | Is Telehealth | Organization Legal Name | Group Practice PAC ID | Number of Group Practice Members | Line 1 Street Address | Line 2 Street Address | Marker of Address Line 2 Suppression | City | State | Zip Code | Phone Number | Clinician Accepts Medicare Assignment | Group Accepts Medicare Assignment | Address ID |
| 1114033073 | 42100109 | I20040319001256 | JONES | TAMMY | JO | | F | CNA | OTHER | 2003 | CERTIFIED REGISTERED NURSE ANESTHETIST (CRNA) | | | | | | False | UNITED HOSPITAL CENTER INC | 8123936010 | 190 | 327 MEDICAL PARK DR | | | BRIDGEPORT | WV | 263309006 | 6813423153 | Y | Y | WV263309006BR327XXDRXX400 |
| 1508823618 | 42100117 | I20050426000780 | GRIFFIN | DAVID | | | M | MD | VANDERBILT UNIVERSITY SCHOOL OF MEDICINE | 1996 | GYNECOLOGICAL ONCOLOGY | | | | | | False | BON SECOURS MEDICAL GROUP GREENVILLE SPECIALTY CARE LLC | 1850779976 | 215 | 1 SAINT FRANCIS DR | | | GREENVILLE | SC | 296013955 | 5138538520 | Y | Y | SC296013955GR1XXXXDRXX400 |
| 1508823618 | 42100117 | I20050426000780 | GRIFFIN | DAVID | | | M | MD | VANDERBILT UNIVERSITY SCHOOL OF MEDICINE | 1996 | GYNECOLOGICAL ONCOLOGY | | | | | | False | BON SECOURS MEDICAL GROUP GREENVILLE SPECIALTY CARE LLC | 1850779976 | 215 | 317 SAINT FRANCIS DR | SUITE 220 | | GREENVILLE | SC | 296013976 | 8642551901 | Y | Y | SC296013976GR317XXDRXX402 |
| 1508823618 | 42100117 | I20050426000780 | GRIFFIN | DAVID | | | M | MD | VANDERBILT UNIVERSITY SCHOOL OF MEDICINE | 1996 | GYNECOLOGICAL ONCOLOGY | | | | | | False | BON SECOURS MEDICAL GROUP GREENVILLE SPECIALTY CARE LLC | 1850779976 | 215 | 104 INNOVATION DR | SUITE 2000 | | GREENVILLE | SC | 296075253 | 8646036300 | Y | Y | SC296075253GR104XXDRXX303 |
| 1508823618 | 42100117 | I20050426000780 | GRIFFIN | DAVID | | | M | MD | VANDERBILT UNIVERSITY SCHOOL OF MEDICINE | 1996 | GYNECOLOGICAL ONCOLOGY | | | | | | False | ANMED HEALTH | 1951215243 | 263 | 2000 E GREENVILLE ST | | | ANDERSON | SC | 296211580 | 8645123076 | Y | Y | SC296211580AN2000XSTXX400 |
| 1508823618 | 42100117 | I20050426000780 | GRIFFIN | DAVID | | | M | MD | VANDERBILT UNIVERSITY SCHOOL OF MEDICINE | 1996 | GYNECOLOGICAL ONCOLOGY | | | | | | False | SPARTANBURG MEDICAL CENTER | 3072425297 | 811 | 101 E WOOD ST | | | SPARTANBURG | SC | 293033040 | 8645606193 | Y | Y | SC293033040SP101XXSTXX400 |
| 1477528776 | 42100133 | I20141211000153 | SPEAR | JEFFREY | M | | M | MD | JOHNS HOPKINS UNIVERSITY SCHOOL OF MEDICINE | 1979 | EMERGENCY MEDICINE | | | | | | False | SOUTHEASTERN EMERGENCY PHYSICIANS LLC | 2466364997 | 472 | 1808 W MAIN ST | | | RUSSELLVILLE | AR | 728012724 | 5019682841 | Y | Y | AR728012724RU1808XSTXX400 |
| 1154338044 | 42100190 | I20070620000051 | VERBRUGGE | JOHN | D | | M | | MICHIGAN STATE UNIVERSITY COLLEGE OF HUMAN MEDICINE | 1992 | EMERGENCY MEDICINE | | | | | | False | VISIONARY MEDICAL SERVICES, PC | 1951404185 | 48 | 100 MICHIGAN NE | | | GRAND RAPIDS | MI | 495032560 | 6163911680 | Y | Y | MI495032560GR100XXNEXX300 |
| 1154338044 | 42100190 | I20070620000051 | VERBRUGGE | JOHN | D | | M | | MICHIGAN STATE UNIVERSITY COLLEGE OF HUMAN MEDICINE | 1992 | EMERGENCY MEDICINE | | | | | | False | VISIONARY MEDICAL SERVICES, PC | 1951404185 | 48 | 1840 WEALTHY SE | | | GRAND RAPIDS | MI | 495062921 | 6167747444 | Y | Y | MI495062921GR1840XSEXX300 |
| 1982641247 | 42100273 | I20080721000028 | JOHN | SAJI | | | M | MD | OTHER | 1996 | HOSPITALIST | | | | | | False | TEXAS HEALTH PHYSICIANS GROUP | 4385535954 | 1132 | 1105 CENTRAL EXPY N | SUITE 235 | | ALLEN | TX | 750136135 | 9727476042 | Y | Y | TX750136135AL1105XNXXX401 |