Others titles
List of Drugs Causing Psychiatric Disorders
List of Drugs Causing Depression as a Side Effect
Prescription Drugs That Cause Depression
Prescription Drugs That Cause Psychiatric Disorders
Keywords
Depression
Psychiatric Disorders
Depression as Side Effect
Depression Causing Drugs
Suicidal Thoughts
Drugs Causing Suicidal Thoughts
Medication Correlated Suicide Risks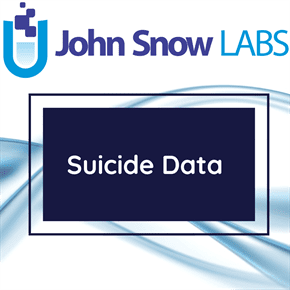 This dataset consists of a comprehensive list of prescription drugs which might cause depression or other psychiatric disorders as a side effect. If not treated, these side effects may lead to suicidal ideations and even attempts of failed or successful suicides. The side effects causing psychiatric disorders have further been categorized into very common, common, uncommon, rare and very rare based on their frequency of occurrence.
Log in to download
Complexity
Get The Data
For getting access to data download links please read and accept the end-user license agreement.
Your Data License
Research

Non-Commercial, Share-Alike, Attribution

Free Forever

Commercial

Commercial Use, Remix & Adapt, White Label Log in to download
Description
Many medications list depression as a side effect—but the evidence linking a particular medication to depression isn't always conclusive. And because depression is common in people who have certain chronic illnesses, it's often difficult for doctors to determine whether a particular medication is to blame or if a patient's depressed state results from the illness itself. Having said that, there are certain medications that do indeed cause depression in some patients. These medications should be used cautiously in people with current or prior depression, or those who are otherwise at high risk for depression, including
– Barbiturates
– Vigabatrin (Sabril)
– Topiramate (Topamax)
– Corticosteroids
– Mefloquine
– Efavirenz (Sustiva)
– Interferon-alpha
Some of these medications may cause depressive symptoms directly by altering levels of neurotransmitters in the central nervous system. Others may do so indirectly by causing fatigue, diminished appetite, sedation or other side effects, which can lead to depression. It's important for patients to let their doctors know if they experience a depressive episode while taking any of the medications on the list. If the doctor determines that the symptoms are related to a medication or combination of medications that the patient is taking, he or she may alter the dosage or switch to another drug or combination. Any psychiatric side effects reported to the FDA as a result of postmarketing surveillance have also been included in this dataset.
Classes of medications that may contribute to depression or depressive symptoms include:
– Alzheimer's disease drugs such as donepezil (Aricept) and rivastigmine (Exelon)
– Anti-androgens such as bicalutamide (Casodex) and nilutamide (Nilandron)
– Anti-convulsants such as carbamazepine (Tegretol), lamotrigine (Lamictal) and zonisamide (Zonegran)
– Benzodiazepines such as alprazolam (Xanax), diazepam (Valium), estazolam (ProSom) and lorazepam (Ativan)
– Beta-blockers such as atenolol (Tenormin), propranolol (Inderal) and timolol (Timoptic)
– Calcium channel blockers such as diltiazem (Cardizem, Tiazac and others) and verapamil (Calan)
– Hormone replacement therapies such as estrogen (Premarin) and medroxyprogesterone (Provera)
– Parkinson's disease medications such as amantadine and levodopa/carbidopa (Duopa, Sinemet)
– Other medications such as clonidine (Catapres, Duraclon), clopidogrel (Plavix) and raloxifene (Evista)
Even when depression is listed as a rare side effect of a medication, be aware that the risk of the medication triggering depression may increase with age because of changing body chemistry. Medication-related depression may lead to suicidal ideations or suicidal attempts in patients with a history of mood disorders and those who are taking multiple medications.
About this Dataset
Data Info
| | |
| --- | --- |
| Date Created | 2017-08-10 |
| Last Modified | 2017-08-10 |
| Version | 2017-08-10 |
| Update Frequency | Irregular |
| Temporal Coverage | N/A |
| Spatial Coverage | United States |
| Source | John Snow Labs; Drugs.com, U.S. Food and Drug Administration (FDA); |
| Source License URL | |
| Source License Requirements | N/A |
| Source Citation | N/A |
| Keywords | Depression, Psychiatric Disorders, Depression as Side Effect, Depression Causing Drugs, Suicidal Thoughts, Drugs Causing Suicidal Thoughts |
| Other Titles | List of Drugs Causing Psychiatric Disorders, List of Drugs Causing Depression as a Side Effect, Prescription Drugs That Cause Depression, Prescription Drugs That Cause Psychiatric Disorders |
Data Fields
| Name | Description | Type | Constraints |
| --- | --- | --- | --- |
| Nonproprietary_Name_of_Drug | Nonproprietary or generic name of the therapeutic drug which causes psychiatric side effects | string | required : 1 |
| Drug_Pharmacological_Class | Pharmacologoical classification of the drug | string | required : 1 |
| Proprietary_Name_of_Drug | Brand name of the drug | string | required : 1 |
| NDC_Product_Code | NDC (National Drug Code) product code of the drug (based on its proprietary name) | string | required : 1 |
| Indication_For_Use | Therapeutic use of the drug | string | required : 1 |
| General_Side_Effects | Most frequently occuring general side effects caused by the drug | string | - |
| Very_Common_Psychiatric_Side_Effects | Frequently reported psychiatric side effects of the drug (Frequency: 10% or more) | string | - |
| Common_Psychiatric_Side_Effects | Commonly reported psychiatric side effects of the drug (Frequency: 1% to 10%) | string | - |
| Uncommon_Psychiatric_Side_Effects | Psychiatric side effects of the drug which are uncommon (Frequency: 0.1% to 1%) | string | - |
| Rare_Psychiatric_Side_Effects | Rarely reported psychiatric side effects of the drug (Frequency: 0.01% to 0.1%) | string | - |
| Very_Rare_Psychiatric_Side_Effects | Very rarely reported psychiatric side effects of the drug (Frequency: less than 0.01%) | string | - |
| Postmarketing_Reports_of_Psychiatric_Side_Effects | Psychiatric side effects of the drug which are reported as a result of postmarketing surveillance | string | - |
| Frequency_Not_Reported_For_Psychiatric_Side_Effects | Psychiatric side effects, the frequency of which has not been reported | string | - |
Data Preview
| | | | | | | | | | | | | |
| --- | --- | --- | --- | --- | --- | --- | --- | --- | --- | --- | --- | --- |
| Nonproprietary Name of Drug | Drug Pharmacological Class | Proprietary Name of Drug | NDC Product Code | Indication For Use | General Side Effects | Very Common Psychiatric Side Effects | Common Psychiatric Side Effects | Uncommon Psychiatric Side Effects | Rare Psychiatric Side Effects | Very Rare Psychiatric Side Effects | Postmarketing Reports of Psychiatric Side Effects | Frequency Not Reported For Psychiatric Side Effects |
| Ezetimibe | Cholesterol absorption inhibitors | Zetia | 66582-414 | Lowers cholesterol in blood | Abdominal fullness, black tarry stools, bleeding gums, bloating | | | | | | Depression | |
| Interferon alfa-2b | Interferon alpha/ Recombinant Protein | Intron A | 0085-0539 | Hairy cell leukemia, malignant melanoma, follicular lymphoma, Kaposi's sarcoma caused by AIDS, certain types of genital warts, chronic hepatitis B or C in adults, chronic hepatitis B in children who are at least 1 year old | Acid or sour stomach; bleeding gums; blistering, crusting, irritation, itching, or reddening of the skin; body aches or pain; burning, crawling, itching, numbness, prickling, "pins and needles", or tingling feelings; change in taste, or bad, unusual, or unpleasant (after) taste; cracked, dry, or scaly skin; hair loss or thinning of the hair; irritation in the mouth; joint pain; lack or loss of strength; loss of memory; muscle or bone pain; pain or tenderness around the eyes and cheekbones; poor concentration; problems with memory; redness and swelling of the gums; stuffy or runny nose; swollen joints | Depression (up to 40%), confusion (up to 12%), insomnia (up to 12%), anxiety, emotional lability, nervousness, agitation Common (1% to 10%): Decreased libido, sleep disorder Uncommon (0.1% to 1%): Suicidal ideation, suicide attempt, suicide Rare (0.01% to 0.1%): Aggressive behavior (sometimes directed against others), psychosis (including hallucinations) Very rare (less than 0.01%): Abnormal thinking, apathy, depression aggravated, feeling of ebriety, neurosis, paroniria, personality disorder Frequency not reported: Abnormal dreaming, delirium, manic depression, mania, psychosis, mental status change, bipolar disorders Postmarketing reports: Homicidal ideation | | | | | | |
| Prednisone | Corticosteroids | Perrigo Prednisone | 10768-7085 | Various allergic disorders, skin conditions, ulcerative colitis, arthritis, lupus, psoriasis, or breathing disorders. | Aggression; agitation; blurred vision; decrease in the amount of urine; dizziness; fast, slow, pounding, or irregular heartbeat or pulse; headache; irritability; mood changes; noisy, rattling breathing; numbness or tingling in the arms or legs; pounding in the ears; shortness of breath; swelling of the fingers, hands, feet, or lower legs; trouble thinking, speaking, or walking; troubled breathing at rest; weight gain | | | | | | | Amnesia, anxiety, delirium, depression, emotional instability and irritability, euphoria, hallucinations, severe psychiatric symptoms, insomnia, long-term memory loss, mania, mood swings, neuritis, neuropathy, paresthesia, personality changes, psychiatric disorders including steroid psychoses or aggravation of preexisting psychiatric conditions, restlessness, schizophrenia, verbal memory loss, withdrawn behavior |
| Triamcinolone | Corticosteroids | Triamcinolone Acetonide | 53217-014 | Various allergic disorders, skin conditions, ulcerative colitis, arthritis, lupus, psoriasis, or breathing disorders. | Aggression; agitation; blurred vision; decrease in the amount of urine; dizziness; fast, slow, pounding, or irregular heartbeat or pulse; headache; irritability; mood changes; noisy, rattling breathing; numbness or tingling in the arms or legs; pounding in the ears; shortness of breath; swelling of the fingers, hands, feet, or lower legs; trouble thinking, speaking, or walking; troubled breathing at rest; weight gain | | | | | | | Amnesia, anxiety, delirium, depression, emotional instability and irritability, euphoria, hallucinations, severe psychiatric symptoms, insomnia, long-term memory loss, mania, mood swings, neuritis, neuropathy, paresthesia, personality changes, psychiatric disorders including steroid psychoses or aggravation of preexisting psychiatric conditions, restlessness, schizophrenia, verbal memory loss, withdrawn behavior |
| Lorazepam | Benzodiazepine | Ativan | 65084-463 | Anxiety disorders | Agitation, sedation, and tremor, dizziness, drowsiness, and hypersomnia | | Depression, emotional lability, confusion | | | | | Hallucinations, insomnia, psychosis, excitability, irritability, aggressive behavior, agitation, hostility, anxiety, vivid dreams, hyperactivity, organic disinhibition, depersonalization, apathy, excitement, feeling mad, illusion, nightmares, sleep disorders, suicide ideation, rage |
| Secobarbital | CNS depressant/ barbiturates | Seconal Sodium | 0187-4220 | Insomnia, sedative prior to anesthesia for surgery | Allergic reaction: hives; difficult breathing; swelling of your face, lips, tongue, or throat. | Drowsiness, feeling tired, "hangover" effect (drowsiness the day after a dose) headache, dizziness memory problems dry mouth upset stomach feeling restless or excited (especially in children) | | | | | | |
| Venlafaxine | SSNRI (Selective Serotonin and Norepinephrine Reuptake Inhibitor) | Effexor | 61919-938 | Major depressive disorder, anxiety, and panic disorder | Anorgasmia, asthenia, constipation, dizziness, drowsiness, insomnia, nausea, nervousness, headache, anorexia, decreased appetite, delayed ejaculation, diaphoresis, and xerostomia, abdominal pain, anxiety, blurred vision, hypertension, impotence, tremor, visual disturbance, vomiting, diarrhea, dyspepsia, increased serum cholesterol, pharyngitis, vasodilatation, weight loss, decreased libido, increased dream activity, yawning, abnormal dreams, and flatulence | Insomnia (up to 25%) | Abnormal dreams, depression, agitation, anxiety | Hallucination, derealization, apathy, hypomania | Mania | | | Suicidal ideation, suicidal behaviors, delirium, aggression |
| Topiramate | Anticonvulsant | Topamax | 61919-189 | Seizures | Anxiety, ataxia, confusion, diarrhea, diplopia, dizziness, drowsiness, dysphasia, fatigue, lack of concentration, memory impairment, nausea, nervousness, paresthesia, psychomotor disturbance, speech disturbance, depression, visual disturbance, weight loss, dysgeusia, mood changes, anorexia | Somnolence (15%), memory loss (10%), depression | Depression, difficulty with concentration/attention, anxiety psychomotor slowing, altered mood, confusion, cognitive difficulty, bradyphrenia, decreased libido, expressive language disorder, disorientation, aggression, aggression, anger, abnormal behavior | Suicidal ideation, suicide attempt, hallucination, psychotic disorder, hallucination auditory, hallucination visual, apathy, lack of spontaneous speech, sleep disorder, affect lability, restlessness, crying, dysphemia, euphoria, paranoia, perseveration, panic attack, tearfulness, reading disorder, flat affect, thinking abnormal, listlessness, middle insomnia, distractibility, early morning awakening, panic reaction, elevated mood | Mania, panic disorder, feelings of despair, hypomania | | | |
| Paroxetine | SSRIs (selective serotonin reuptake inhibitor) | Paxil | 60505-0402 | Depression, obsessive-compulsive disorder, anxiety disorders, post-traumatic stress disorder (PTSD), and premenstrual dysphoric disorder (PMDD) | Asthenia, constipation, diarrhea, dizziness, drowsiness, ejaculatory disorder, erectile dysfunction, insomnia, male genital disease, nausea, headache, decreased libido, delayed ejaculation, diaphoresis, and xerostomia | Insomnia | Abnormal dreams, agitation, anxiety, depersonalization, depression, drugged feeling, emotional lability, lack of emotion, nervousness | Abnormal thinking, alcohol abuse, bruxism, euphoria, hallucinations, hostility, lack of emotion, manic reaction, neurosis, paranoid reaction | Abnormal electroencephalogram, antisocial reaction, bulimia, delirium, delusions, drug dependence, hysteria, irritability, manic-depressive reaction, panic attacks, psychosis, psychotic depression, stupor, withdrawal syndrome | | | Suicidal ideation and behavior |
| Paroxetine | SSRIs (selective serotonin reuptake inhibitor) | Pexeva | 61786-603 | Depression, obsessive-compulsive disorder, anxiety disorders, post-traumatic stress disorder (PTSD), and premenstrual dysphoric disorder (PMDD) | Asthenia, constipation, diarrhea, dizziness, drowsiness, ejaculatory disorder, erectile dysfunction, insomnia, male genital disease, nausea, headache, decreased libido, delayed ejaculation, diaphoresis, and xerostomia | Insomnia | Abnormal dreams, agitation, anxiety, depersonalization, depression, drugged feeling, emotional lability, lack of emotion, nervousness | Abnormal thinking, alcohol abuse, bruxism, euphoria, hallucinations, hostility, lack of emotion, manic reaction, neurosis, paranoid reaction | Abnormal electroencephalogram, antisocial reaction, bulimia, delirium, delusions, drug dependence, hysteria, irritability, manic-depressive reaction, panic attacks, psychosis, psychotic depression, stupor, withdrawal syndrome | | | Suicidal ideation and behavior |