Others titles
OECD Countries Surgical Cases Statistics
OECD Health Care Services Utilization Indicators By Treatment
Keywords
OECD Health Statistics
OECD Health Services Utilization
Surgery Statistics
Day Surgery
Ambulatory Surgery
Inpatient Surgery
Outpatient Surgery
Rate Of Surgical Cases
Number Of Surgical Cases
OECD Surgery Procedures By Day Inpatient And Outpatient Cases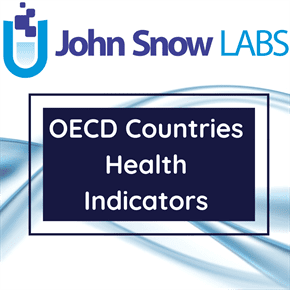 This dataset contains indicators for surgical procedures broken-down by day cases, inpatient and outpatient cases, in country members OECD (The Organization for Economic Co-operation and Development) and for countries in accession negotiations with OECD. The indicators values cover the period 1990-2016.
Log in to download
Complexity
Get The Data
For getting access to data download links please read and accept the end-user license agreement.
Your Data License
Research

Non-Commercial, Share-Alike, Attribution

Free Forever

Commercial

Commercial Use, Remix & Adapt, White Label Log in to download
Description
The dataset is provided by OECD (The Organization for Economic Co-operation and Development) whose mission is to promote policies that will improve the economic and social well-being of people around the world. OECD's work is based on continued monitoring of events in member countries as well as outside OECD area, and includes regular projections of short and medium-term economic developments. The OECD Secretariat collects and analyses data, after which committees discuss policy regarding this information, the Council makes decisions, and then governments implement recommendations. The OECD Health Datasets offers the most comprehensive source of comparable statistics on health and health systems across OECD countries. It is an essential tool to carry out comparative analyses and draw lessons from international comparisons of diverse health systems.
According to OECD definition surgical procedures are the medical interventions involving an incision with instruments usually performed in an operating theater and normally involving anesthesia and/or respiratory assistance. Surgical procedures can be performed either as inpatient cases, day cases or, in certain instances, as outpatient cases. The inclusion and exclusion criteria are as follows:
– Inclusion criteria
– Procedures performed in outpatient departments in hospitals
– Procedures performed in emergency departments
– Procedures performed outside hospitals (ambulatory sector)
– Exclusion criteria
– Day cases
– Inpatient cases
The surgical procedures for which the indicators are calculated are the following:
– Appendectomy
– Caesarean section
– Cataract surgery
– Cholecystectomy
– Coronary artery bypass graft
– Hip replacement
– Hysterectomy
– Laparoscopic appendectomy
– Laparoscopic cholecystectomy
– Laparoscopic hysterectomy
– Laparoscopic repair of Inguinal hernia
– Open prostatectomy
– Partial excision of mammary gland
– Repair of inguinal hernia
– Secondary hip replacement
– Stem cell transplantation
– Tonsillectomy
– Total knee replacement
– Total mastectomy
– Transluminal coronary angioplasty
– Transplantation of kidney
– Transurethral prostatectomy
Time series are completed based on national data for selected years.
Breaks in the time-related continuity of data on which the indicators values are based are specified in the content of dataset. There are also specified the cases were the methodology used for data collection was different or if the values are estimated.
About this Dataset
Data Info
| | |
| --- | --- |
| Date Created | 2017-06-30 |
| Last Modified | 2017-06-30 |
| Version | 2017-06-30 |
| Update Frequency | Irregular |
| Temporal Coverage | 1990-2016 |
| Spatial Coverage | OECD Members and Partners Countries |
| Source | John Snow Labs; The Organization for Economic Co-operation and Development; |
| Source License URL | |
| Source License Requirements | N/A |
| Source Citation | N/A |
| Keywords | OECD Health Statistics, OECD Health Services Utilization, Surgery Statistics, Day Surgery, Ambulatory Surgery, Inpatient Surgery, Outpatient Surgery, Rate Of Surgical Cases, Number Of Surgical Cases |
| Other Titles | OECD Countries Surgical Cases Statistics, OECD Health Care Services Utilization Indicators By Treatment |
Data Fields
| Name | Description | Type | Constraints |
| --- | --- | --- | --- |
| Year | The year corresponding to the specified country and indicator value | date | required : 1 |
| Country | The name of the country member of OECD or in accession negotiations with OECD | string | required : 1 |
| Country_Abbreviation | The abbreviated name of the country member of OECD or in accession negotiations with OECD | string | required : 1 |
| Country_Status | Specifies whether the country is member or partner of OECD or has an accession agreement with OECD | string | enum : Array ( [0] => OECD member [1] => Accession agreement ) required : 1 |
| Indicator_Category | Specifies a group of indicators related to the surgical cases statistics | string | required : 1 |
| Indicator | Specifies and describes the indicator | string | required : 1 |
| Surgical_Procedure | One of the surgical procedures listed in Description | string | required : 1 |
| Gender | The gender of the population group to which the value of the indicator is corresponding | string | enum : Array ( [0] => Males [1] => Females [2] => Both genders ) |
| Value | The calculated or estimated value of the indicator | number | level : Ratio |
| Additional_Notes | Additional information related to the indicator value or measurement | string | - |
Data Preview
| | | | | | | | | | |
| --- | --- | --- | --- | --- | --- | --- | --- | --- | --- |
| Year | Country | Country Abbreviation | Country Status | Indicator Category | Indicator | Surgical Procedure | Gender | Value | Additional Notes |
| 2000 | Australia | AUS | OECD member | Surgical day cases | Number of surgical cases | Cataract surgery | Both genders | 113012 | |
| 2001 | Australia | AUS | OECD member | Surgical day cases | Number of surgical cases | Cataract surgery | Both genders | 124992 | |
| 2002 | Australia | AUS | OECD member | Surgical day cases | Number of surgical cases | Cataract surgery | Both genders | 137525 | |
| 2003 | Australia | AUS | OECD member | Surgical day cases | Number of surgical cases | Cataract surgery | Both genders | 143807 | |
| 2004 | Australia | AUS | OECD member | Surgical day cases | Number of surgical cases | Cataract surgery | Both genders | 158441 | |
| 2005 | Australia | AUS | OECD member | Surgical day cases | Number of surgical cases | Cataract surgery | Both genders | 165239 | |
| 2006 | Australia | AUS | OECD member | Surgical day cases | Number of surgical cases | Cataract surgery | Both genders | 168954 | |
| 2007 | Australia | AUS | OECD member | Surgical day cases | Number of surgical cases | Cataract surgery | Both genders | 180473 | |
| 2008 | Australia | AUS | OECD member | Surgical day cases | Number of surgical cases | Cataract surgery | Both genders | 188702 | |
| 2009 | Australia | AUS | OECD member | Surgical day cases | Number of surgical cases | Cataract surgery | Both genders | 197369 | |