Others titles
OECD Countries Surgical Patient Safety Data
OECD Obstetric Trauma And Post Operative Complications Data
Keywords
OECD Health Care Quality Indicators
Patient Safety
Sentinel Events
Foreign Body Left During Procedure
Surgical Complications
Obstetric Trauma
Post Operative Wound Dehiscence
Post Operative Pulmonary Embolism
Post Operative Sepsis
Post Operative Deep Vein Thrombosis
OECD Surgical Patients Safety Indicators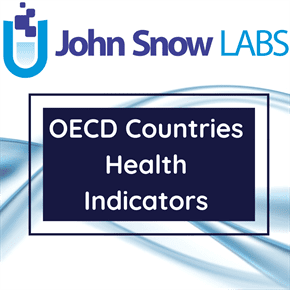 This dataset contains internationally comparable indicators of the surgical patients safety for country members of OECD (The Organization for Economic Co-operation and Development). The indicators values cover the period 2009-2017.
Log in to download
Complexity
Get The Data
For getting access to data download links please read and accept the end-user license agreement.
Your Data License
Research

Non-Commercial, Share-Alike, Attribution

Free Forever

Commercial

Commercial Use, Remix & Adapt, White Label Log in to download
Description
The OECD (The Organization for Economic Co-operation and Development) mission is to promote policies that will improve the economic and social well-being of people around the world. OECD's work is based on continued monitoring of events in member countries as well as outside OECD area, and includes regular projections of short and medium-term economic developments. The OECD Secretariat collects and analyses data, after which committees discuss policy regarding this information, the Council makes decisions, and then governments implement recommendations. The OECD Health Datasets offers the most comprehensive source of comparable statistics on health and health systems across OECD countries. It is an essential tool to carry out comparative analyses and draw lessons from international comparisons of diverse health systems.
Capturing the patients' perspective of health care is becoming increasingly important as health systems strive to be more responsive to the needs of the people using their services. The HCQI (Health Care Quality Indicators) project has identified measurement of patient experiences as a priority for indicator development and quality improvement. To explore the possibilities for cross-national comparison of patient experiences, the OECD commissioned the Norwegian Knowledge Centre for the Health Services to perform a review of the use of national and international surveys to measure patient experiences. Based on this review and the outcomes of further consultation with country experts, academics in the field and key international partners, the HCQI project developed a population-based survey, and undertook the cognitive testing of the questionnaire and a pilot data collection. Patient experience indicators have been collected for international reporting. The HCQI project continues to focus on learning and sharing developments on national systems for measuring and reporting patient experiences including Patient-Reported Outcome Measures (PROMs) and experiences with integrated care and safety and to improve quality of indicators for international reporting. This work moved forward in collaboration with key organizations and country experts, including the Commonwealth Fund and the WHO.
Robust comparison of performance with peers is fundamental to securing improvement. Two types of patient safety event can be distinguished for this purpose: never or sentinel events, those events that should never occur, such as failure to remove surgical foreign bodies at the end of a procedure; and adverse events, such as post-operative sepsis, which can not be avoided in all cases given the high-risk nature of some procedures, although increased incidence at an aggregate level may indicate a systemic problem.
The HCQI collects internationally comparable data on both types of event. At present, patient safety HCQI include rates of:
– Retained surgical device or fragment
– Post-operative wound dehiscence
– Post-operative pulmonary embolism or deep vein thrombosis
– Post-operative sepsis
– Obstetric trauma
All surgical cases belong to the population group of age 15 years and over.
Surgical complications are defined as the number of discharges with ICD codes for complication in any secondary diagnosis field for the "surgical admission" and any diagnosis field for any subsequent related re-admission within 30 days, divided by the total number of discharges for patients aged 15 and older. The indicator rates have not been adjusted by the average number of secondary diagnoses, given a strong positive correlation between the number of secondary diagnoses and indicator rates reported by countries was not evident in the most recent data.
The two obstetric trauma indicators are defined as the proportion of instrument assisted/non-assisted vaginal deliveries with third- and fourth-degree obstetric trauma codes in any diagnosis and procedure field. Therefore, any differences in the definition of principal and secondary diagnoses have no influence on the calculated rates. Several differences in data reporting across countries may influence the calculated rates of obstetric patient safety indicators. These relate primarily to differences in coding practice and data sources. Some countries report the obstetric trauma rates based on administrative hospital data and others based on obstetric register data.
Retained surgical item or unretrieved device fragment indicator is calculated based on the following formula:
– Numerator: discharges among cases defined in the denominator with ICD code for foreign body left in during procedure in a secondary diagnosis field during the surgical episode (see ICD codes below) and in any diagnosis field during readmissions within 30 days of the surgery. If the date of surgery is not available, then 30 days from the admission date for the first surgical episode
– Denominator: all surgical and medical discharges meeting the inclusion and exclusion rules
A fundamental challenge in international comparison of patient safety indicators centers on the quality of the underlying data. Variations in how countries record diagnoses and procedures and define hospital admissions can affect calculation of rates. To ensure a better comparison between countries OECD used an alternative measurement method for all admissions based statistics.
About this Dataset
Data Info
| | |
| --- | --- |
| Date Created | 2017-11-10 |
| Last Modified | 2019-12-09 |
| Version | 2019-12-09 |
| Update Frequency | Irregular |
| Temporal Coverage | 2009-2017 |
| Spatial Coverage | OECD Members and Partners Countries |
| Source | John Snow Labs; The Organization for Economic Co-operation and Development; |
| Source License URL | |
| Source License Requirements | N/A |
| Source Citation | N/A |
| Keywords | OECD Health Care Quality Indicators, Patient Safety, Sentinel Events, Foreign Body Left During Procedure, Surgical Complications, Obstetric Trauma, Post Operative Wound Dehiscence, Post Operative Pulmonary Embolism, Post Operative Sepsis, Post Operative Deep Vein Thrombosis |
| Other Titles | OECD Countries Surgical Patient Safety Data, OECD Obstetric Trauma And Post Operative Complications Data |
Data Fields
| Name | Description | Type | Constraints |
| --- | --- | --- | --- |
| Year | The year corresponding to the specified surgical patient safety indicator value for a country | date | required : 1 |
| Country | The name of the country member OECD or in accession negotiations with OECD | string | required : 1 |
| Country_Abbreviation | The abbreviated name of the country member of OECD or in accession negotiations with OECD | string | required : 1 |
| Indicator_Category | Specifies a group of indicators related to the surgical patient safety | string | enum : Array ( [0] => Obstetric trauma [1] => Sentinel events [2] => Operative and post-operative complications ) required : 1 |
| Safety_Indicator | Specifies the surgical patient safety indicator | string | required : 1 |
| Complication_Or_Sentinel_Event_ICD_10_Codes | Specifies patient safety event ICD-10 codes described in the indicator measurement methodology | string | - |
| Measurement_Method | Describes how the indicator is measured | string | required : 1 |
| Gender | Specifies the gender of the demographic group for which the indicator is measured | string | enum : Array ( [0] => Females [1] => Both genders ) required : 1 |
| Indicator_Value | The estimated value of the indicator for the specified population group, year and country | number | level : Ratio |
Data Preview
| | | | | | | | | |
| --- | --- | --- | --- | --- | --- | --- | --- | --- |
| Year | Country | Country Abbreviation | Indicator Category | Safety Indicator | Complication Or Sentinel Event ICD 10 Codes | Measurement Method | Gender | Indicator Value |
| 2010 | Australia | AUS | Obstetric trauma | Obstetric trauma during vaginal delivery with instrument | O70.2, O70.3 | Crude rate per 100 vaginal deliveries | Females | 8 |
| 2011 | Australia | AUS | Obstetric trauma | Obstetric trauma during vaginal delivery with instrument | O70.2, O70.3 | Crude rate per 100 vaginal deliveries | Females | 8 |
| 2012 | Australia | AUS | Obstetric trauma | Obstetric trauma during vaginal delivery with instrument | O70.2, O70.3 | Crude rate per 100 vaginal deliveries | Females | 7 |
| 2010 | Australia | AUS | Obstetric trauma | Obstetric trauma during vaginal delivery without instrument | O70.2, O70.3 | Crude rate per 100 vaginal deliveries | Females | 2 |
| 2011 | Australia | AUS | Obstetric trauma | Obstetric trauma during vaginal delivery without instrument | O70.2, O70.3 | Crude rate per 100 vaginal deliveries | Females | 2 |
| 2012 | Australia | AUS | Obstetric trauma | Obstetric trauma during vaginal delivery without instrument | O70.2, O70.3 | Crude rate per 100 vaginal deliveries | Females | 2 |
| 2009 | Belgium | BEL | Obstetric trauma | Obstetric trauma during vaginal delivery with instrument | O70.2, O70.3 | Crude rate per 100 vaginal deliveries | Females | 3 |
| 2010 | Belgium | BEL | Obstetric trauma | Obstetric trauma during vaginal delivery with instrument | O70.2, O70.3 | Crude rate per 100 vaginal deliveries | Females | 3 |
| 2011 | Belgium | BEL | Obstetric trauma | Obstetric trauma during vaginal delivery with instrument | O70.2, O70.3 | Crude rate per 100 vaginal deliveries | Females | 3 |
| 2012 | Belgium | BEL | Obstetric trauma | Obstetric trauma during vaginal delivery with instrument | O70.2, O70.3 | Crude rate per 100 vaginal deliveries | Females | 3 |