Others titles
Medicare Outpatient Utilization and Payment Data 2020
Medicare Outpatient Payment Charges Data 2020
Keywords
Outpatient Charges
Outpatient Payment Amount
Utilization and Payment Data
Outpatient Utilization Payments
Healthcare Utilization 2020
Outpatient Utilization
Medicare Utilization and Payment Data
Outpatient Utilization and Payment Data 2020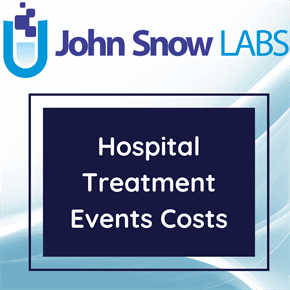 The dataset includes estimated hospital-specific charges for select Ambulatory Payment Classification (APC) Groups paid under the Medicare Outpatient Prospective Payment System (OPPS) for Calendar Year 2020.
Log in to download
Complexity
Get The Data
For getting access to data download links please read and accept the end-user license agreement.
Your Data License
Research

Non-Commercial, Share-Alike, Attribution

Free Forever

Commercial

Commercial Use, Remix & Adapt, White Label Log in to download
Description
The Outpatient Utilization and Payment Data Public Use File includes data on Medicare fee-for-service beneficiaries from Medicare Outpatient Prospective Payment System (OPPS) providers within 49 of the 50 United States and District of Columbia (excluding Maryland) with a known Hospital Referral Region (HRR) who are billing for select APCs. The utilization and spending data is aggregated to the following levels: a) the provider identifier, and b) Ambulatory Payment Classification (APC) Group. The provider identifier is the numeric CMS Certification Number (CCN) assigned to a Medicare certified facility. There can be multiple records for a given provider identifier based on the number of distinct APC codes that were billed. APCs are the main unit of payment under the OPPS. CMS assigns individual services (Healthcare Common Procedure Coding System [HCPCS] codes) to APCs based on similar clinical characteristics and similar costs. The payment rate and copayment calculated for an APC apply to each service within the APC. For utilization, the number of outpatient services billed by the provider and used in the analysis for each APC is provided. In addition, the provider's average total estimated submitted charges and average total payments within APC are also provided. Total payments consist of Medicare payments and beneficiary cost-share payments. The Medicare payment amount includes the APC payment amount, the beneficiary Part B coinsurance amount and the beneficiary deductible amount. For these APCs, the estimated average charges and the average Medicare payments are provided at the individual hospital level. The actual charges at an individual hospital for an individual service within these APC groups may differ.
About this Dataset
Data Info
| | |
| --- | --- |
| Date Created | 2016-06-23 |
| Last Modified | 2022-09-30 |
| Version | 2022-09-30 |
| Update Frequency | Annual |
| Temporal Coverage | 2020 |
| Spatial Coverage | United States |
| Source | John Snow Labs; Centers For Medicare and Medicaid Services; |
| Source License URL | |
| Source License Requirements | N/A |
| Source Citation | N/A |
| Keywords | Outpatient Charges, Outpatient Payment Amount, Utilization and Payment Data, Outpatient Utilization Payments, Healthcare Utilization 2020, Outpatient Utilization, Medicare Utilization and Payment Data |
| Other Titles | Medicare Outpatient Utilization and Payment Data 2020, Medicare Outpatient Payment Charges Data 2020 |
Data Fields
| Name | Description | Type | Constraints |
| --- | --- | --- | --- |
| Provider_Id | Provider identification, The CMS Certification Number (CCN) of the provider billing for outpatient hospital services. | integer | level : Nominal |
| Provider_Name | Name of provider | string | - |
| Provider_Street_Address | Street address in which the provider is physically located. | string | - |
| City | The city in which the provider is physically located. | string | - |
| State_Abbreviation | The state in which the provider is physically located. | string | - |
| Provider_State_FIPS_Code | The Federal Information Processing Standard (FIPS) code for the state in which the provider is physically located. | string | - |
| Zip_Code | The zip code in which the provider is physically located | integer | level : Nominal |
| Provider_RUCA_Code | The Rural-Urban Commuting Area (RUCA) code for the zip code in which the provider is physically located. | number | level : Nominal |
| Provider_RUCA_Description | The description of the RUCA code. | string | - |
| Ambulatory_Payment_Classification_Codes | Ambulatory payment classification (APC) group, Code identifying the APC. APCs are a classification system where individual services (Healthcare Common Procedure Coding System [HCPCS] codes) are assigned based on similar clinical characteristics and similar costs. | integer | level : Nominal |
| Ambulatory_Payment_Classification_Description | Ambulatory payment classification (APC) group, description identifying the APC. APCs are a classification system where individual services (Healthcare Common Procedure Coding System [HCPCS] codes) are assigned based on similar clinical characteristics and similar costs. | string | - |
| Total_Beneficiaries | The number of Medicare fee-for-service beneficiaries receiving outpatient hospital services. | integer | level : Ratio |
| CAPC_Services | The number of primary HCPCS services billed by the provider for outpatient hospital services. | integer | level : Ratio |
| Average_Total_Submitted_Charges | The provider's average estimated submitted charge for services covered by Medicare for the APC. | number | level : Ratio |
| Average_Medicare_Allowed_Amount | The average of total regular payments the provider receives for the APC. | number | level : Ratio |
| Average_Medicare_Payment_Amount | The average of total regular payments the provider receives directly from Medicare. | number | level : Ratio |
| Outlier_Services | The number of comprehensive APC services with outlier payments. | integer | level : Ratio |
| Average_Medicare_Outlier_Amount | The average of outlier payments the provider receives directly from Medicare. | number | level : Ratio |
Data Preview
| | | | | | | | | | | | | | | | | | |
| --- | --- | --- | --- | --- | --- | --- | --- | --- | --- | --- | --- | --- | --- | --- | --- | --- | --- |
| Provider Id | Provider Name | Provider Street Address | City | State Abbreviation | Provider State FIPS Code | Zip Code | Provider RUCA Code | Provider RUCA Description | Ambulatory Payment Classification Codes | Ambulatory Payment Classification Description | Total Beneficiaries | CAPC Services | Average Total Submitted Charges | Average Medicare Allowed Amount | Average Medicare Payment Amount | Outlier Services | Average Medicare Outlier Amount |
| 10001 | Southeast Health Medical Center | 1108 Ross Clark Circle | Dothan | AL | 1 | 36301 | 1 | Metropolitan area core: primary flow within an urbanized area of 50,000 and greater | 5072 | Level 2 Excision/ Biopsy/ Incision and Drainage | 155 | 167 | 10371.81 | 1282.46 | 1020.33 | | |
| 10001 | Southeast Health Medical Center | 1108 Ross Clark Circle | Dothan | AL | 1 | 36301 | 1 | Metropolitan area core: primary flow within an urbanized area of 50,000 and greater | 5073 | Level 3 Excision/ Biopsy/ Incision and Drainage | 37 | 40 | 21234.22 | 2192.86 | 1751.73 | | |
| 10001 | Southeast Health Medical Center | 1108 Ross Clark Circle | Dothan | AL | 1 | 36301 | 1 | Metropolitan area core: primary flow within an urbanized area of 50,000 and greater | 5091 | Level 1 Breast/Lymphatic Surgery and Related Procedures | 24 | 25 | 24982.16 | 2883.34 | 2304.17 | | |
| 10001 | Southeast Health Medical Center | 1108 Ross Clark Circle | Dothan | AL | 1 | 36301 | 1 | Metropolitan area core: primary flow within an urbanized area of 50,000 and greater | 5092 | Level 2 Breast/Lymphatic Surgery and Related Procedures | 18 | 18 | 33303.69 | 4964.94 | 3965.9 | | |
| 10001 | Southeast Health Medical Center | 1108 Ross Clark Circle | Dothan | AL | 1 | 36301 | 1 | Metropolitan area core: primary flow within an urbanized area of 50,000 and greater | 5112 | Level 2 Musculoskeletal Procedures | 15 | 16 | 11867.74 | 1291.84 | 1031.94 | | |
| 10001 | Southeast Health Medical Center | 1108 Ross Clark Circle | Dothan | AL | 1 | 36301 | 1 | Metropolitan area core: primary flow within an urbanized area of 50,000 and greater | 5113 | Level 3 Musculoskeletal Procedures | 27 | 27 | 24832.13 | 2556.16 | 2030.07 | | |
| 10001 | Southeast Health Medical Center | 1108 Ross Clark Circle | Dothan | AL | 1 | 36301 | 1 | Metropolitan area core: primary flow within an urbanized area of 50,000 and greater | 5114 | Level 4 Musculoskeletal Procedures | 101 | 103 | 45273.07 | 5630.31 | 4497.01 | | |
| 10001 | Southeast Health Medical Center | 1108 Ross Clark Circle | Dothan | AL | 1 | 36301 | 1 | Metropolitan area core: primary flow within an urbanized area of 50,000 and greater | 5115 | Level 5 Musculoskeletal Procedures | 19 | 19 | 65789.55 | 11354.96 | 9946.96 | | |
| 10001 | Southeast Health Medical Center | 1108 Ross Clark Circle | Dothan | AL | 1 | 36301 | 1 | Metropolitan area core: primary flow within an urbanized area of 50,000 and greater | 5153 | Level 3 Airway Endoscopy | 20 | 20 | 10771.25 | 1313.76 | 1038.83 | | |
| 10001 | Southeast Health Medical Center | 1108 Ross Clark Circle | Dothan | AL | 1 | 36301 | 1 | Metropolitan area core: primary flow within an urbanized area of 50,000 and greater | 5154 | Level 4 Airway Endoscopy | 39 | 39 | 20703.46 | 2725.32 | 2165.21 | | |