Others titles
List of 5000 Most Popular Surnames in U.S.
Most Common Last Names in United States by Race
Keywords
Popular Last Names
Popular Last Names by Race
Most Popular Surnames
Census Data on Last Names
Surnames by Racial Group
Mostly Used Last Names in U.S.
Most preferred Last Names in US
Popular 5000 Last Names in the US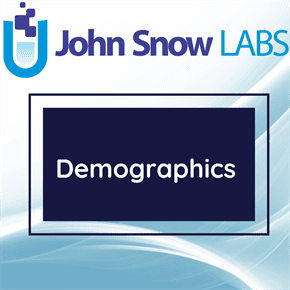 This dataset represents the 5000 popular last names in the United States. The data is split by race to show the percentages against each option.
Log in to download
Complexity
Get The Data
For getting access to data download links please read and accept the end-user license agreement.
Your Data License
Research

Non-Commercial, Share-Alike, Attribution

Free Forever

Commercial

Commercial Use, Remix & Adapt, White Label Log in to download
Description
This dataset shows the 5000 popular last names in the United States. These names are taken directly from the most recent census data.
Currently, the most popular last name in America is Smith, with a total count of 2,442,977 people who have the surname. The surname Smith occurs roughly 828 times per 100,000 people in the U.S.
Because these border changes and immigrations happened decades and centuries ago, surnames in the United States are no longer limited to just one race. Therefore someone's race can not be guessed based on their surname. For example, the name Smith, is the most popular surname in the US, and 70% of the people who have it are white, 23% are black, and the remaining 7% is made up of a variety of different races such as Asian, Pacific Islander, and Hispanic.
The point is, surnames, while coming from many different origins, no longer have anything to do with race.
About this Dataset
Data Info
| | |
| --- | --- |
| Date Created | 2022 |
| Last Modified | 2023 |
| Version | 2023 |
| Update Frequency | Irregular |
| Temporal Coverage | N/A |
| Spatial Coverage | United States |
| Source | John Snow Labs; The Decennial Census survey, the United States Census Bureau, Name Census.; |
| Source License URL | |
| Source License Requirements | N/A |
| Source Citation | N/A |
| Keywords | Popular Last Names, Popular Last Names by Race, Most Popular Surnames, Census Data on Last Names, Surnames by Racial Group, Mostly Used Last Names in U.S., Most preferred Last Names in US |
| Other Titles | List of 5000 Most Popular Surnames in U.S., Most Common Last Names in United States by Race |
Data Fields
| Name | Description | Type | Constraints |
| --- | --- | --- | --- |
| Rank | Rank of the last name by its being common. | integer | level : Ordinal |
| Name | Last name by rank. | string | - |
| Count | Number of occurrences: Estimate of the number of people with the surname in the United States. (S) means the data was suppressed for privacy. | string | - |
| Percentage_White | Non-Hispanic White Only, Percentage of people with a given surname who classified themselves as "non-hispanic white" (race) | number | level : Ratio |
| Percentage_Black | Non-Hispanic Black Only, Percentage of people with a given surname who classified themselves as "non-hispanic black" (race) | number | level : Ratio |
| Percentage_API | Non-Hispanic Asian & Pacific Islander Only, Percentage of people with a given surname who classified themselves as "non-hispanic Asian & Pacific Islander" (race) | number | level : Ratio |
| Percentage_AIAN | Non-Hispanic American Indian & Alaskan Native Only, Percentage of people with a given surname who classified themselves as "non-hispanic American Indian & Alaskan Native" (race) | number | level : Ratio |
| Percentage_Two_Or_More_Races | Non-Hispanic of 2 or More Races, Percentage of people with a given surname who classified themselves as "non-hispanic two or more races" (race) | number | level : Ratio |
| Percentage_Hispanic | Hispanic Origin, Percentage of people with a given surname who classified themselves as "Hispanic origin" (race) | number | level : Ratio |
Data Preview
| | | | | | | | | |
| --- | --- | --- | --- | --- | --- | --- | --- | --- |
| Rank | Name | Count | Percentage White | Percentage Black | Percentage API | Percentage AIAN | Percentage Two Or More Races | Percentage Hispanic |
| 1 | SMITH | 2442977 | 70.9 | 23.11 | 0.5 | 0.89 | 2.19 | 2.4 |
| 2 | JOHNSON | 1932812 | 58.97 | 34.63 | 0.54 | 0.94 | 2.56 | 2.36 |
| 3 | WILLIAMS | 1625252 | 45.75 | 47.68 | 0.46 | 0.82 | 2.81 | 2.49 |
| 4 | BROWN | 1437026 | 57.95 | 35.6 | 0.51 | 0.87 | 2.55 | 2.52 |
| 5 | JONES | 1425470 | 55.19 | 38.48 | 0.44 | 1.0 | 2.61 | 2.29 |
| 6 | GARCIA | 1166120 | 5.38 | 0.45 | 1.41 | 0.47 | 0.26 | 92.03 |
| 7 | MILLER | 1161437 | 84.11 | 10.76 | 0.54 | 0.66 | 1.77 | 2.17 |
| 8 | DAVIS | 1116357 | 62.2 | 31.6 | 0.49 | 0.82 | 2.45 | 2.44 |
| 9 | RODRIGUEZ | 1094924 | 4.75 | 0.54 | 0.57 | 0.18 | 0.18 | 93.77 |
| 10 | MARTINEZ | 1060159 | 5.28 | 0.49 | 0.6 | 0.51 | 0.22 | 92.91 |