Others titles
Disease Conditions Associated with Hip and Knee Joint Replacement Procedures
National Hospital Discharge Survey on Hip and Knee Joint Replacements
Number of Hip and Knee Replacements 2010-2011
Definition Prevalence Principal Diagnoses Hip and Knee Joint Replacement US
Principal Diagnoses Hip Definition and Knee Joint Replacement US
Principal Diagnoses Hip and Osteoarthritis Knee Joint Replacement US
Keywords
Principal Diagnoses Hip Replacement
Principal Diagnoses Knee Joint Replacement
Hip Replacement Procedures
Total Hip Replacements
Partial Hip Replacements
Hip and Knee Joint Procedures
Hip and Knee Revision Procedures
Error Data Revision Hip Replacements
Osteoarthritis of the Knee
Principal Diagnoses Hip and Knee Joint Replacement USBJI 2010-2011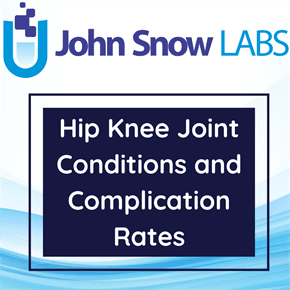 This dataset provides the associated diagnoses related to cases of total hip replacements, partial hip replacements and total knee replacements done in the United States from 2010 to 2011. This dataset can be used to provide preventive management for musculoskeletal conditions associated with hip, knee and joint replacement procedures to reduce the incidences of physical disability.
Log in to download
Complexity
Get The Data
For getting access to data download links please read and accept the end-user license agreement.
Your Data License
Research

Non-Commercial, Share-Alike, Attribution

Free Forever

Commercial

Commercial Use, Remix & Adapt, White Label Log in to download
Description
In December 2012, a study on the Global Burden of Disease and the worldwide impact of all diseases and risk factors found musculoskeletal conditions such as arthritis and back pain affect more than 1.7 billion people worldwide and resulted to increased numbers of hip and knee joint replacement procedures. These cases are the second greatest cause of disability and have the 4th greatest impact on the overall health of the world population when considering both death and disability.
The principal diagnoses associated with hip replacements varies; osteoarthritis associated with more than 80% of total hip replacements and fractures or congenital deformities being associated with more than 85% of partial hip replacements. There are some variations between diagnoses for the two databases.
About this Dataset
Data Info
| | |
| --- | --- |
| Date Created | 2013-04-23 |
| Last Modified | 2013-04-23 |
| Version | N2013-04-23 |
| Update Frequency | Never |
| Temporal Coverage | 2011 |
| Spatial Coverage | United States |
| Source | John Snow Labs; National Hospital Discharge Survey (NHDS); |
| Source License URL | |
| Source License Requirements | N/A |
| Source Citation | N/A |
| Keywords | Principal Diagnoses Hip Replacement, Principal Diagnoses Knee Joint Replacement, Hip Replacement Procedures, Total Hip Replacements, Partial Hip Replacements, Hip and Knee Joint Procedures, Hip and Knee Revision Procedures, Error Data Revision Hip Replacements, Osteoarthritis of the Knee |
| Other Titles | Disease Conditions Associated with Hip and Knee Joint Replacement Procedures, National Hospital Discharge Survey on Hip and Knee Joint Replacements, Number of Hip and Knee Replacements 2010-2011, Definition Prevalence Principal Diagnoses Hip and Knee Joint Replacement US, Principal Diagnoses Hip Definition and Knee Joint Replacement US, Principal Diagnoses Hip and Osteoarthritis Knee Joint Replacement US |
Data Fields
| Name | Description | Type | Constraints |
| --- | --- | --- | --- |
| Principal_Diagnosis | Description of the Principal Diagnosis and other conditions related to Hip and Knee Joint Replacement Procedures. Also includes the total percentage and number of cases in 000s. | string | required : 1unique : 1 |
| Percentage_Total_Hip_Replacements | Percentage of Total Hip Replacement procedures in proportion to the total number of replacement procedures in this category | number | level : Ratiorequired : 1 |
| ICD_9_CM_THR | Code for the specific Total Hip Replacement procedures done | integer | level : Nominal |
| Total_Cases_THR | Total number of Total Hip Replacement procedures per primary diagnosis | integer | level : Ratiorequired : 1 |
| Percentage_Partial_Hip_Replacements | Percentage of Partial Hip Replacement procedures in proportion to the total number of replacement procedures in this category | number | level : Ratiorequired : 1 |
| ICD_9_CM_PHR | Code for the specific Partial Hip Replacement procedure done | integer | level : Nominal |
| Total_Cases_PHR | Total number of Partial Hip Replacement procedures per primary diagnosis | integer | level : Ratiorequired : 1 |
| Notes_PHR | Explanation of an unknown error in the partial hip replacement data occurred in the NHDS 2010 data file. | string | - |
| Percentage_Total_Knee_Replacements | Percentage of Total Knee Replacement procedures in proportion to the total number of replacement procedures in this category | string | required : 1 |
| ICD_9_CM_TKR | Code for the specific Total Knee Replacement procedure done | integer | level : Nominal |
| Total_Cases_TKR | Total number of Total Knee Replacement procedures per primary diagnosis | integer | level : Ratiorequired : 1 |
Data Preview
| | | | | | | | | | | |
| --- | --- | --- | --- | --- | --- | --- | --- | --- | --- | --- |
| Principal Diagnosis | Percentage Total Hip Replacements | ICD 9 CM THR | Total Cases THR | Percentage Partial Hip Replacements | ICD 9 CM PHR | Total Cases PHR | Notes PHR | Percentage Total Knee Replacements | ICD 9 CM TKR | Total Cases TKR |
| Osteoarthritis, Primary and Secondary | 0.83 | 8151.0 | 270 | 0.01 | 8152.0 | 1 | An unknown error in the partial hip replacement data occurred in the NHDS 2010 data file. A correction for total partial hip cases was made by excluding cases with diagnosis of spine (720 724, 737, 756, 805, 806). | 0.95 | 8154.0 | 657 |
| Fracture of Neck of Femur, Femur or Lower Leg, Including Pathological Fracture and Non-union of Fracture | 0.05 | 8151.0 | 17 | 0.67 | 8152.0 | 90 | An unknown error in the partial hip replacement data occurred in the NHDS 2010 data file. A correction for total partial hip cases was made by excluding cases with diagnosis of spine (720 724, 737, 756, 805, 806). | <0.1 | 8154.0 | 1 |
| Infection | 0.06 | 8151.0 | 20 | 0.01 | 8152.0 | 1 | An unknown error in the partial hip replacement data occurred in the NHDS 2010 data file. A correction for total partial hip cases was made by excluding cases with diagnosis of spine (720 724, 737, 756, 805, 806). | 0 | 8154.0 | 1 |
| Other or Unspecified Arthropathy (joint disease) | 0.02 | 8151.0 | 7 | 0.0 | 8152.0 | 0 | An unknown error in the partial hip replacement data occurred in the NHDS 2010 data file. A correction for total partial hip cases was made by excluding cases with diagnosis of spine (720 724, 737, 756, 805, 806). | 0.01 | 8154.0 | 6 |
| Complications of internal orthopedic device | 0.01 | 8151.0 | 3 | 0.07 | 8152.0 | 9 | An unknown error in the partial hip replacement data occurred in the NHDS 2010 data file. A correction for total partial hip cases was made by excluding cases with diagnosis of spine (720 724, 737, 756, 805, 806). | 0.01 | 8154.0 | 4 |
| Rheumatoid Arthritis | 0.0 | 8151.0 | 0 | 0.0 | 8152.0 | 0 | An unknown error in the partial hip replacement data occurred in the NHDS 2010 data file. A correction for total partial hip cases was made by excluding cases with diagnosis of spine (720 724, 737, 756, 805, 806). | 0.01 | 8154.0 | 5 |
| Congenital or acquired deformities, Including Spondylolysis/Spondylolisthesis | 0.0 | 8151.0 | 0 | 0.2 | 8152.0 | 27 | An unknown error in the partial hip replacement data occurred in the NHDS 2010 data file. A correction for total partial hip cases was made by excluding cases with diagnosis of spine (720 724, 737, 756, 805, 806). | 0 | 8154.0 | 0 |
| All Other Conditions | 0.03 | | 8 | 0.05 | | 6 | | 0.03 | | 21 |
| Total (Cases in 000s) | 1.0 | | 326 | 1.0 | | 135 | | 1 | | 693 |