Others titles
Medicare Home Healthcare Outpatient Prospective Payment System 2018
Medicare Suffix for OPPS Provider Summary 2018
Medicare Doctors Provider Summary for OPPS 2018
Keywords
Outpatient Prospective Payment System
Ambulatory Payment Classification Groups
Medicare Hospital
Hospital Service Areas (HSAs)
Provider Summary of Outpatient Prospective Payment System APC 2018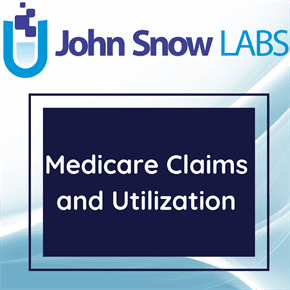 This dataset contains estimated hospital specific charges for 60 Ambulatory Payment Classification (APC) Groups paid under the Medicare Outpatient Prospective Payment System (OPPS) for Calendar Year (CY) 2018. The Medicare payment amount includes the APC payment amount, the beneficiary Part B coinsurance amount and the beneficiary deductible amount.
Log in to download
Complexity
Get The Data
For getting access to data download links please read and accept the end-user license agreement.
Your Data License
Research

Non-Commercial, Share-Alike, Attribution

Free Forever

Commercial

Commercial Use, Remix & Adapt, White Label Log in to download
Description
In response to the rapidly growing Medicare expenditures for outpatient services and large co-payments being made by Medicare beneficiaries, Congress mandated that the Centers for Medicare and Medicaid Services (CMS) develop a Hospital Outpatient Prospective Payment System (HOPPS) and reduce beneficiary co-payments. This payment system, implemented August 1, 2000, is used by CMS to reimburse for hospital outpatient services.
The hospital outpatient prospective payment system (OPPS) in place today classifies all hospital outpatient services into Ambulatory Payment Classifications (APCs). Ambulatory Payment Classifications (APCs) are CMS' grouping system developed for facility reimbursement for hospital outpatient services. All covered outpatient services to an APC group. Each group of procedure (i.e.,codes) within an APC is supposed to be "similar clinically and with regard to resource consumption." Healthcare Common Procedure Coding System codes (HCPCS codes) are assigned to APCs by CMS, and these assignments are updated at least annually (HCPCS code sets include the full Current Procedural Terminology code set).
The services assigned to any APC are considered by CMS to be clinically similar and similar in terms of the resources required to provide each service. Thus, one APC may be applied to numerous HCPCS codes, whereas any individual HCPCS code can be assigned to only one APC. Notably, many HCPCS codes are not assigned to any APC. Some are considered "packaged" into some other code, some are identified as appropriate only for the inpatient setting, and some are simply not considered by CMS to be payable under the OPPS. Thus, one must actually refer to the CMS files listing all HCPCS codes in order to determine whether the service is paid.
About this Dataset
Data Info
| | |
| --- | --- |
| Date Created | 2016-06-15 |
| Last Modified | 2021-02-09 |
| Version | 2021-02-09 |
| Update Frequency | Annual |
| Temporal Coverage | 2018 |
| Spatial Coverage | United States |
| Source | John Snow Labs; Centers for Medicare & Medicaid Services; |
| Source License URL | |
| Source License Requirements | N/A |
| Source Citation | N/A |
| Keywords | Outpatient Prospective Payment System, Ambulatory Payment Classification Groups, Medicare Hospital, Hospital Service Areas (HSAs) |
| Other Titles | Medicare Home Healthcare Outpatient Prospective Payment System 2018, Medicare Suffix for OPPS Provider Summary 2018, Medicare Doctors Provider Summary for OPPS 2018 |
Data Fields
| Name | Description | Type | Constraints |
| --- | --- | --- | --- |
| Ambulatory_Payment_Classification_Number | APCs or Ambulatory Payment Classifications are the United States government's method of paying for facility outpatient services for the Medicare (United States) program. It represents the numeric part of the APC group code. | string | - |
| Ambulatory_Payment_Classification_Group | APCs or Ambulatory Payment Classifications are the United States government's method of paying for facility outpatient services for the Medicare (United States) program. It represents the specific group for the APC. | string | required : 1 |
| Provider_Id | Centers for Medicare & Medicaid Services (CMS) certification number (CCN). Identification number of the facility within the CMS dataset. The CCN for providers and suppliers is a 6 digit number. The first 2 digits identify the State in which the provider is located. The last 4 digits identify the type of facility. | integer | level : Nominalrequired : 1 |
| Provider_Name | Name of the hospital (also referred to as the provider) | string | required : 1 |
| Provider_Street_Address | Main street address information of the hospital | string | required : 1 |
| Provider_City | Mailing city. The city in the main street address of the hospital. | string | required : 1 |
| State_Abbreviation | Two-letter state abbreviation in the mailing address of the hospital. This includes information on hospitals in: | string | required : 1 |
| Zip_Code | 5 digit postal zip code in the mailing address of the hospital. | integer | level : Nominalrequired : 1 |
| Provider_Hospital_Referral_Region_Description | Describes the hospital referral region of the provider. | string | required : 1 |
| Beneficiaries | The number of Medicare fee-for-service beneficiaries receiving outpatient hospital services. | string | - |
| Outpatient_Services | The number of outpatient services provided. | integer | level : Intervalrequired : 1 |
| Average_Estimated_Submitted_Charges_In_Dollars | Indicates the average estimated charges in US Dollars submitted to Medicare by a facility or provider. | number | level : Ratiorequired : 1 |
| Average_Total_Payments_In_Dollars | Indicates the average estimated total payments in US Dollars. | number | level : Ratiorequired : 1 |
| Average_Medicare_Payment_Amount | The average of total regular payments the provider receives directly from Medicare. It excludes special outlier payments which is reported in a separate column. | number | level : Ratiorequired : 1 |
| Outlier_Comprehensive_APC_Services | The number of comprehensive APC services with outlier payments. | number | level : Ratio |
| Average_Medicare_Outlier_Amount | The average of outlier payments the provider receives directly from Medicare. OPPS APC payment amounts are based on the average costs for a set of services. In the event that a hospital's costs for these services exceed a given threshold tied to the average APC payment, CMS must issue an outlier payment to the hospital to that service to compensate for the costly provision of service. | number | level : Ratio |
Data Preview
| | | | | | | | | | | | | | | | |
| --- | --- | --- | --- | --- | --- | --- | --- | --- | --- | --- | --- | --- | --- | --- | --- |
| Ambulatory Payment Classification Number | Ambulatory Payment Classification Group | Provider Id | Provider Name | Provider Street Address | Provider City | State Abbreviation | Zip Code | Provider Hospital Referral Region Description | Beneficiaries | Outpatient Services | Average Estimated Submitted Charges In Dollars | Average Total Payments In Dollars | Average Medicare Payment Amount | Outlier Comprehensive APC Services | Average Medicare Outlier Amount |
| 5491 | Level 1 Intraocular Procedures | 10100 | Thomas Hospital | 750 Morphy Avenue | Fairhope | AL | 36532 | AL - Mobile | 45 | 72 | 4872.7644439999995 | 1568.6569439999998 | 1235.0452779999998 | 0.0 | 0.0 |
| 5303 | Level 3 Upper GI Procedures | 30065 | Banner Desert Medical Center | 1400 South Dobson Road | Mesa | AZ | 85202 | AZ - Mesa | 23 | 25 | 27512.936 | 2737.61 | 2181.19 | | |
| 5164 | Level 4 ENT Procedures | 50006 | St Joseph Hospital | 2700 Dolbeer St | Eureka | CA | 95501 | CA - Redding | 14 | 15 | 28888.302000000003 | 2668.92 | 2126.45 | 0.0 | 0.0 |
| 5331 | Complex GI Procedures | 50039 | Enloe Medical Center | 1531 Esplanade | Chico | CA | 95926 | CA - Chico | 27 | 28 | 28115.355710000003 | 4929.13 | 3927.27 | | |
| 5302 | Level 2 Upper GI Procedures | 50077 | Scripps Mercy Hospital | 4077 5th Ave | San Diego | CA | 92103 | CA - San Diego | 68 | 92 | 10374.712609999999 | 1638.736848 | 1301.841739 | | |
| 5302 | Level 2 Upper GI Procedures | 50131 | Novato Community Hospital | 180 Rowland Way | Novato | CA | 94945 | CA - San Francisco | 12 | 12 | 12964.8575 | 2056.91 | 1638.84 | 0.0 | 0.0 |
| 5331 | Complex GI Procedures | 50225 | Adventist Health Feather River | 5974 Pentz Road | Paradise | CA | 95969 | CA - Chico | 24 | 28 | 61228.435 | 4929.234643 | 3922.146071 | | |
| 5193 | Level 3 Endovascular Procedures | 60128 | Longs Peak Hospital | 1750 E. Ken Pratt Blvd | Longmont | CO | 80504 | CO - Boulder | 15 | 16 | 70496.43625 | 10289.97 | 8949.97 | | |
| 5302 | Level 2 Upper GI Procedures | 60128 | Longs Peak Hospital | 1750 E. Ken Pratt Blvd | Longmont | CO | 80504 | CO - Boulder | 30 | 33 | 11677.72 | 1399.49 | 1115.04 | | |
| 5431 | Level 1 Nerve Procedures | 70005 | Waterbury Hospital | 64 Robbins St | Waterbury | CT | 6721 | CT - New Haven | 18 | 19 | 19520.27474 | 1825.0868420000002 | 1437.896842 | 0.0 | 0.0 |