Others titles
Restaurant Inspection Scores
Inspection Scores of Restaurants in King County
Inspection and Violation Scores in King County
Keywords
Restaurant Inspection Scores
Restaurant Geodata
Food and Health
FDhealth
Restaurant Inspections
Restaurant Inspection Scores in King County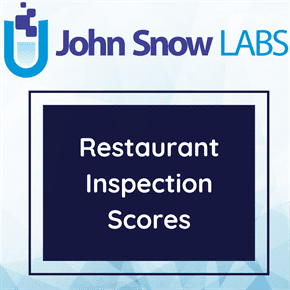 This dataset provides restaurant scores for inspections performed by the Health Department in King County, from 2006 to the present. It includes the name, location and address of the restaurants. This dataset is organized by business / inspection date / violation. Each row in this dataset is an inspection, and if an inspection at a particular business results in multiple violations there will be multiple rows for that business with the same inspection serial number.
Log in to download
Complexity
Get The Data
For getting access to data download links please read and accept the end-user license agreement.
Your Data License
Research

Non-Commercial, Share-Alike, Attribution

Free Forever

Commercial

Commercial Use, Remix & Adapt, White Label Log in to download
Description
Food establishments that sell or serve food to the public must get an annual permit and be inspected by Public Health – King County. These establishments include restaurants, food and espresso carts, coffee places, delis, the fresh food sections in grocery stores, temporary events where food is sold, and more.
There are about 11,000 permitted food service establishments in King County. The majority of these establishments have two unannounced inspections per year. While many of these food service establishments will automatically receive one special educational session on food safety annually, any restaurant may request a special educational session.
The purpose of the inspections is to assure that the food is being handled properly from preparation through serving. Inspectors observe kitchen workers' food handling practices, assure equipment is working properly, take food temperatures, inspect refrigerators and storage areas, assure water temperatures, and correct level and use of sanitizers. Any problem found is written up, and the manager is taught the correct procedure or method immediately.
There are two types of violations recorded on the inspection report: Red and Blue violations.
Red critical violations are food handling practices that, when not done properly, are most likely to lead to food-borne illnesses. These food handling practices include:
– Controlling temperature, such as cooking meats to the right temperature to kill food-borne disease germs, keeping food hot enough until it is served, and keeping food cold enough
– Cooling food properly, washing hands, and using utensils instead of bare hands on "ready to eat" food
– Storing food
– Serving practices
Blue critical violations are primarily maintenance and sanitation issues that are not likely to be the cause of a food-borne illness.
Each violation has a numerical value based on its risk of food-borne illness. Therefore, there are more points given for red critical violations than for blue violations. Whenever possible, violations found during the inspection are corrected immediately. Red critical items found during the inspection must be corrected immediately. Examples would be re-heating a food to 165° F, putting it into the refrigerator or discarding the food.
About this Dataset
Data Info
| | |
| --- | --- |
| Date Created | 2015-02-04 |
| Last Modified | 2023-10-13 |
| Version | 2023-10-13 |
| Update Frequency | Quarterly |
| Temporal Coverage | 2006-2023 |
| Spatial Coverage | King County, Washington |
| Source | John Snow Labs; Public Health King County; |
| Source License URL | |
| Source License Requirements | N/A |
| Source Citation | N/A |
| Keywords | Restaurant Inspection Scores, Restaurant Geodata, Food and Health, FDhealth, Restaurant Inspections |
| Other Titles | Restaurant Inspection Scores, Inspection Scores of Restaurants in King County, Inspection and Violation Scores in King County |
Data Fields
| Name | Description | Type | Constraints |
| --- | --- | --- | --- |
| Restaurant_Name | Name of the restaurant | string | - |
| Program_Identifier | Program identifier for the inspection | string | - |
| Inspection_Date | Date of inspection | date | - |
| Restaurant_Description | Description of restaurant | string | - |
| Address_of_Restaurant | Address where the restaurant is located | string | - |
| City | City in which the restaurant is located | string | - |
| Zip_Code | Zip code as per the address of the restaurant | string | - |
| Phone_Number | Phone number | string | - |
| Longitude | Location longitude of the restaurant | number | - |
| Latitude | Location latitude of the restaurant | number | - |
| Inspection_Business_Name | Inspection business name | string | - |
| Inspection_Type | The type of inspection | string | - |
| Inspection_Score | Total Score for a particular inspection. | integer | level : Ratio |
| Inspection_Result | Result of the inspection as per the inspection report | string | - |
| Is_Inspection_Closed_Business | Boolean field. True if the business is closed after inspection and false in case it is not closed. | boolean | - |
| Violation_Type | Two types: red and blue. Red violations are with the highest risk of causing food borne disease. One red critical violation equals an unsatisfactory inspection. These violations relate to the maintenance of the establishment and cleanliness. | string | - |
| Violation_Description | Description of violation. Inspectors check for food handling, food temperature, personal hygiene, facility and equipment maintenance and vermin control. Each violation earns a certain number of points. | string | - |
| Violation_Points | Violation points that are associated with each restaurant inspection. Violation points can range from 1 (least extensive) to 5 (most extensive). For example, the presence of one contaminated food item is a condition level 1 violation, generating 7 points. Four or more contaminated food items is a condition level 4 violation, resulting in 10 points. | integer | level : Nominal |
| Business_Id | Business ID assigned by the inspection team | string | - |
| Inspection_Serial_Number | Inspection serial number assigned by the inspection team | string | - |
| Violation_Record_Id | Record ID assigned to each violation record | string | - |
| Inspection_Grade | Grade assigned to the restaurant following an inspection | string | - |
Data Preview
| | | | | | | | | | | | | | | | | | | | | | |
| --- | --- | --- | --- | --- | --- | --- | --- | --- | --- | --- | --- | --- | --- | --- | --- | --- | --- | --- | --- | --- | --- |
| Restaurant Name | Program Identifier | Inspection Date | Restaurant Description | Address of Restaurant | City | Zip Code | Phone Number | Longitude | Latitude | Inspection Business Name | Inspection Type | Inspection Score | Inspection Result | Is Inspection Closed Business | Violation Type | Violation Description | Violation Points | Business Id | Inspection Serial Number | Violation Record Id | Inspection Grade |
| #807 TUTTA BELLA | #807 TUTTA BELLA | 2023-03-02 | Seating 0-12 - Risk Category III | 2746 NE 45TH ST | SEATTLE | 98105 | (206) 722-6400 | -122.29641470000001 | 47.66231092 | #807 TUTTA BELLA | Routine Inspection/Field Review | 20 | Unsatisfactory | False | RED | 1300 - Food contact surfaces cleaned and sanitized; no cross contamination | 15 | PR0089260 | DAJ5DTHLV | IVBTPZO0B | 1 |
| #807 TUTTA BELLA | #807 TUTTA BELLA | 2023-03-02 | Seating 0-12 - Risk Category III | 2746 NE 45TH ST | SEATTLE | 98105 | (206) 722-6400 | -122.29641470000001 | 47.66231092 | #807 TUTTA BELLA | Routine Inspection/Field Review | 20 | Unsatisfactory | False | RED | 2120 - Proper cold holding temperatures ( 42 degrees F to 45 degrees F) | 5 | PR0089260 | DAJ5DTHLV | IV5GOME67 | 1 |
| #807 TUTTA BELLA | #807 TUTTA BELLA | 2022-08-31 | Seating 0-12 - Risk Category III | 2746 NE 45TH ST | SEATTLE | 98105 | (206) 722-6400 | -122.29641470000001 | 47.66231092 | #807 TUTTA BELLA | Routine Inspection/Field Review | 10 | Unsatisfactory | False | BLUE | 3200 - Insects, rodents, animals not present; entrance controlled. | 5 | PR0089260 | DAEEWQC0L | IVQ7QYW2V | 1 |
| #807 TUTTA BELLA | #807 TUTTA BELLA | 2022-08-31 | Seating 0-12 - Risk Category III | 2746 NE 45TH ST | SEATTLE | 98105 | (206) 722-6400 | -122.29641470000001 | 47.66231092 | #807 TUTTA BELLA | Routine Inspection/Field Review | 10 | Unsatisfactory | False | RED | 0200 - Food Worker Cards current for all food workers; new food workers trained | 5 | PR0089260 | DAEEWQC0L | IV0J437H6 | 1 |
| #807 TUTTA BELLA | #807 TUTTA BELLA | 2022-01-13 | Seating 0-12 - Risk Category III | 2746 NE 45TH ST | SEATTLE | 98105 | (206) 722-6400 | -122.29641470000001 | 47.66231092 | #807 TUTTA BELLA | Routine Inspection/Field Review | 0 | Satisfactory | False | | | 0 | PR0089260 | DAWWGK08K | | 1 |
| #807 TUTTA BELLA | #807 TUTTA BELLA | 2021-01-06 | Seating 0-12 - Risk Category III | 2746 NE 45TH ST | SEATTLE | 98105 | (206) 722-6400 | -122.29641470000001 | 47.66231092 | #807 TUTTA BELLA | Routine Inspection/Field Review | 0 | Satisfactory | False | | | 0 | PR0089260 | DAUHM2FT8 | | 1 |
| 100 LB CLAM | 100 LB CLAM | 2023-09-13 | Seating 0-12 - Risk Category III | 1001 FAIRVIEW AVE N Unit 1700A | SEATTLE | 98109 | (206) 369-2978 | -122.3317269 | 47.62902129 | 100 LB CLAM | Routine Inspection/Field Review | 0 | Satisfactory | False | | | 0 | PR0085848 | DAL0BGT6O | | 2 |
| 100 LB CLAM | 100 LB CLAM | 2022-07-13 | Seating 0-12 - Risk Category III | 1001 FAIRVIEW AVE N Unit 1700A | SEATTLE | 98109 | (206) 369-2978 | -122.3317269 | 47.62902129 | 100 LB CLAM | Consultation/Education - Field | 0 | Complete | False | | | 0 | PR0085848 | DA5SXOHAS | | 2 |
| 100 LB CLAM | 100 LB CLAM | 2019-09-12 | Seating 0-12 - Risk Category III | 1001 FAIRVIEW AVE N Unit 1700A | SEATTLE | 98109 | (206) 369-2978 | -122.3317269 | 47.62902129 | 100 LB CLAM | Routine Inspection/Field Review | 0 | Incomplete | False | | | 0 | PR0085848 | DAISVPYB0 | | 2 |
| 100 LB CLAM | 100 LB CLAM | 2017-07-24 | Seating 0-12 - Risk Category III | 1001 FAIRVIEW AVE N Unit 1700A | SEATTLE | 98109 | (206) 369-2978 | -122.3317269 | 47.62902129 | 100 LB CLAM | Routine Inspection/Field Review | 25 | Unsatisfactory | False | BLUE | 3300 - Potential food contamination prevented during delivery, preparation, storage, display | 5 | PR0085848 | DAYYFZ1IJ | IV7PVOPQG | 2 |