Others titles
SSA Fiscal Year Disability Insurance Data
SSA Fiscal Year Disability Insurance Benefits
SSA Fiscal Year Processing Of Initial Disability Claims
Keywords
Disability Insurance Program
Federal Disability Insurance
Medical Disability Insurance
Social Disability Insurance
Disability Insurance Benefits
Disability Health Insurance
Disability Claim
Disability Lawyers
SSI Disability
SSDI
SSA Fiscal Year Disability Claim Data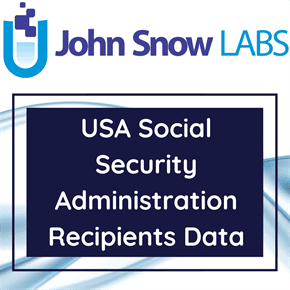 The dataset contains historical and current information about the processing of initial claims for disability benefits by the Social Security Administration (SSA). The dataset includes information from the federal fiscal year 2001 onwards concerning initial claims for disability benefits that were referred to a state agency for a disability determination.
Log in to download
Complexity
Get The Data
The data in CSV format

DOWNLOAD

Metadata in Human Readable format (PDF)

DOWNLOAD

Metadata in Machine Readable format (JSON)

DOWNLOAD
Your Data License
Research

Non-Commercial, Share-Alike, Attribution

Free Forever

Commercial

Commercial Use, Remix & Adapt, White Label Buy Subscription
Description
The Social Security Administration (SSA) has several programs which provide benefits to those who are both disabled and meet other program eligibility requirements. The process for determining whether or not a claimant is disabled is complex. Depending upon a particular claim SSA might evaluate among other factors medical evidence establishing a disabling condition, medical and vocational evidence determining the capacity for work that might remain, the availability of possibly suitable employment, and severity and length of disability. For SSA purposes a claimant is either found disabled or not disabled as SSA awards disability benefits only for long term disability and not for partial or temporary disability. Specific data elements for each state are receipts, determinations, and the number of determinations which were allowances. Additional data is present allowing the calculation for separate eligible adult and child populations their respective SSA benefit receipt rate, disability application filing and allowance rates, and percent of claims with a favorable disability determination. The dataset may be helpful to examine disability application filing trends by time and by state, state agency workloads, and disability claims outcomes.
SSA administers two different programs which pay disability benefits: Social Security Disability Insurance benefits (SSDI), and Supplemental Security Income (SSI). The disability standard for SSDI and SSI benefits are the same except for issues of blindness and for SSI Disabled Child benefits (SSI DC). Eligibility for disability benefits for both programs administered by SSA has two sets of eligibility criteria, namely disability and non-disability criteria. The state agencies' primary responsibility is to make determinations for SSA on the issue of disability for claims filed by residents of the state or similar entity. However, states with heavy workloads might transfer cases to other state agencies or to a federal component, and states with available capacity may receive transferred cases from other state agencies.
The state agencies for Maine, New York, Michigan, Washington and Montana also process SSA disability claims for residents of Canada. In addition to the fifty states a disability unit exists for the District of Columbia, Puerto Rico and Guam. The term "state agency" applies to these additional entities as well. SSA also refers to a state agency as a Disability Determination Service (DDS). Initial disability determinations for any other residents not mentioned are handled by a federal component.
Beyond the factor of disability, benefit eligibility and amount for SSDI depends primarily on the earnings of the person against which a claim is being made. In addition to being found disabled, benefit eligibility and amount for SSI benefits depends on income and resources available plus other factors such as residency and US citizenship status. While a state agency makes a determination concerning whether or not a claimant is disabled, SSA makes a separate determination as to whether all applicable non-disability eligibility requirements have been met. Both determinations must be favorable in order for disability benefits to be awarded.
The redundant columns are deleted.
File_Name: Contains the name of the file (including the extension) from which this row came, and is the same for every row in the dataset, SSA-SA-FYWL.csv
File_Version: Identifies the version of the file in which this row was found. It currently has a value of 2. File Version will be the same for every row in the dataset. The version number is incremented whenever a definitional change occurs to the dataset. Here it is 2
Update_Date: Indicates the date the data in the file was produced, whether for update or correction purposes. This date will be the same for every row in the dataset (11/10/2015)
Since the SSI program is not available in Puerto Rico all SSI Disabled Child values for Puerto Rico are shown as blanks. Data for Guam (GU) is absent.
About this Dataset
Data Info
| | |
| --- | --- |
| Date Created | 2010-20-01 |
| Last Modified | 2020-01-01 |
| Version | 2020-01-01 |
| Update Frequency | Annual |
| Temporal Coverage | 2001-2018 |
| Spatial Coverage | United States |
| Source | John Snow Labs; U.S.A. Social Security Administration; |
| Source License URL | |
| Source License Requirements | N/A |
| Source Citation | N/A |
| Keywords | Disability Insurance Program, Federal Disability Insurance, Medical Disability Insurance, Social Disability Insurance, Disability Insurance Benefits, Disability Health Insurance, Disability Claim, Disability Lawyers, SSI Disability, SSDI |
| Other Titles | SSA Fiscal Year Disability Insurance Data, SSA Fiscal Year Disability Insurance Benefits, SSA Fiscal Year Processing Of Initial Disability Claims |
Data Fields
| Name | Description | Type | Constraints |
| --- | --- | --- | --- |
| Region | For management purposes each state is a part of one of ten SSA administrative regions. In addition to the fifty states a state agency also exists for the District of Columbia, Puerto Rico and Guam. Limited data is available for Puerto Rico, and no data is available for Guam. No claims processed by a federal disability claims processing unit are included. The Region has Region Code which is one of the following ten codes. | string | - |
| State_Abbreviation | States from which SSA data is produced. The row with the combination of State plus Date is unique per dataset. | string | - |
| Date_Type | Fiscal year or SSA year | string | - |
| Date | Indicates the applicable federal fiscal year. The Date for a specific time period will be the same for every State Code in the file. | integer | - |
| Population_Age_18_To_64 | Census Data as of July 1 of the year in Date, except for the period from about November to May of each year when Census data for the most recent posted fiscal year is from the year before Date. | integer | level : Ratio |
| SSA_Disability_Beneficiaries_Age_18_To_64 | SSDI Beneficiary Data and SSI Beneficiary Data as of the end of the calendar year in Date, except for the period from about November to May of each year when SSA Disability Beneficiary Data for the most recent posted fiscal year is from the year before Date. | integer | level : Ratio |
| Percent_Of_Adult_Population_Receiving_SSA_Adult_Disability_Benefits | Disability Beneficiaries age 18-64, divided by Population age 18-64, expressed as a percentage. This is the number of persons per 100 adults receiving SSA disability benefits. | number | level : Ratio |
| Eligible_Adult_Population | Population Age 18-64, minus Disability Beneficiaries age 18-64. Adults already receiving SSA disability benefits are removed from the adult population to determine how many remaining adults could conceivably be eligible for SSA disability benefits. | integer | level : Ratio |
| Adult_Receipts | Indicates the number of adult initial claims received by a state during the designated time period. Adult claims are all SSDI and SSI claims referred to a state agency other than SSI Disabled Child claims. Concurrent SSDI and SSI cases are only counted once. Not all disability claims are referred to a state agency for a disability determination, and those claims are not counted. Not all disability claims received by a state agency result in a disability determination, and those claims are counted. | integer | level : Ratio |
| Eligible_Adult_Population_Filing_Rate_In_Percentage | Adult Receipts, divided by Eligible Adult Population, expressed as a percentage. This is the number of claims per 100 eligible adults who filed an application for disability benefits which was referred to a state agency. | number | level : Ratio |
| Favorable_Adult_Determinations | A fully or partially favorable disability finding made by a state agency for an adult initial claim. Unfavorable determinations, transfers, claims returned without a decision and anything else not a favorable determination for an adult initial claim are not included. Not all state agency favorable disability determinations result in a benefit award if the required non-disability related eligibility criteria are not also met. This is a breakout of All Adult Determinations. SSI Disabled Children are not included in this. | integer | level : Ratio |
| Eligible_Adult_Population_Allowance_Rate_In_Percentage | Favorable Adult Determinations, divided by Eligible Adult Population, expressed as a percentage. This is the number of claims per 100 eligible adults which received a favorable disability determination during the fiscal year in Date. | number | level : Ratio |
| All_Adult_Determinations | Favorable Adult Determinations, is a breakout of this. The number of unfavorable adult determinations would be this All adult determination minus Favourable adult determination. A determination is either a favorable or unfavorable decision concerning the issue of disability. Transfers, claims returned without a decision and anything else not a determination for an adult initial claim are not included. | integer | level : Ratio |
| Adult_Favorable_Determination_Rate_In_Percentage | Adult Favorable Determinations, divided by All Adult Determinations, expressed as a percentage. This is the number of claims per 100 adult disability determinations that received a favorable determination from a state agency during the fiscal year in Date. Not all state agency favorable determinations result in a benefit award if the required non-disability related eligibility criteria are not also met. | number | level : Ratio |
| Population_Under_Age_18 | Census Data as of July 1 of the year in Date, except for the period from about November to May of each year when Census data for the most recent posted fiscal year is from the year before Date. | integer | level : Ratio |
| SSI_Disabled_Child_Beneficiaries | SSA benefits for those under age 18 on account of their own disability are payable only through the SSI program. | integer | level : Ratio |
| Percent_Of_Population_Under_Age_18_Receiving_SSI_DC_Benefits | Percent of Population under age 18 Receiving SSI DC Benefits, percentage. SSI DC Beneficiaries, divided by Population under 18, expressed as a percentage. This is the number of persons per 100 children receiving SSI DC benefits. | number | level : Ratio |
| Eligible_Child_Population | Population under age 18, minus SSI Disabled Child Beneficiaries. Children already receiving SSI DC benefits are removed from the under age 18 population to determine how many remaining children could conceivably be eligible for SSA disability benefits. SSA benefits for those under age 18 on account of their own disability are payable only through the SSI program. | integer | level : Ratio |
| SSI_Disabled_Child_Receipts | Not all SSI DC disability claims are referred to a state agency for a disability determination, and those claims are not counted in this. Not all SSI DC disability claims received by a state agency result in a disability determination, and those claims are counted. | integer | level : Ratio |
| Eligible_Child_Population_Filing_Rate_In_Percentage | SSI DC Receipts, divided by Eligible Child Population, expressed as a percentage. This is the number of claims per 100 eligible children who filed an application for disability benefits which was referred to a state agency. | number | level : Ratio |
| Favorable_SSI_Disabled_Child_Determinations | A favorable determination is a fully or partially favorable finding made by a state agency. Unfavorable determinations, transfers, claims returned without a decision and anything else not a favorable determination are not included. Not all state agency favorable determinations result in a benefit award if the required non-disability related eligibility criteria are not also met. This is a breakout of All SSI Disabled Child Determinations. | integer | level : Ratio |
| Eligible_Child_Population_Allowance_Rate_In_Percentage | SSI DC Favorable Determinations, divided by Eligible Child Population. This is the number of claims per 100 eligible children which received a favorable disability determination. | number | level : Ratio |
| All_SSI_Disabled_Child_Determinations | SSA Disability Claim Workload Data for the fiscal year in Date. The number of unfavorable SSI DC determinations would be this minus Favorable_SSI_Disabled_Child_Determinations. A determination is either a favorable or unfavorable decision concerning the issue of disability. Transfers, claims returned without a decision and anything else not a determination for an SSI DC claim are not included. | integer | level : Ratio |
| SSI_Disabled_Child_Allowance_Rate_In_Percentage | Favorable SSI Disabled Child Determinations, divided by All SSI Disabled Child Determinations, expressed as a percentage. This is the number of claims per 100 SSI DC determinations that received a favorable determination from a state agency. Not all state agency favorable disability determinations result in a benefit award if the required non-disability related eligibility criteria are not also met. | number | level : Ratio |
| All_Determinations | All Adult Determinations, plus All SSI DC Determinations. Indicates the total number of initial claim determinations made by a state during the designated time period. A determination is a favorable, partially favorable or unfavorable finding made by the state agency. Determinations do not include transfers to other SSA operating units or other state agencies for additional processing, or cases returned to SSA without a determination, or adjustments made on account of error or for other reasons. | integer | level : Ratio |
| All_Favorable_Determinations | Favorable Adult Determinations, plus Favorable SSI DC Determinations. A favorable determination may be either fully favorable or partially favorable. | integer | level : Ratio |
| Favorable_Determination_Rate_In_Percentage | All Favorable Determinations, divided by All Determinations, expressed as a percentage. This is the number of claims per 100 disability determinations that received a favorable determination from a state agency. Not all state agency favorable determinations result in a benefit award if the required non-disability related eligibility criteria are not also met. | number | level : Ratio |
Data Preview
| | | | | | | | | | | | | | | | | | | | | | | | | | | |
| --- | --- | --- | --- | --- | --- | --- | --- | --- | --- | --- | --- | --- | --- | --- | --- | --- | --- | --- | --- | --- | --- | --- | --- | --- | --- | --- |
| Region | State Abbreviation | Date Type | Date | Population Age 18 To 64 | SSA Disability Beneficiaries Age 18 To 64 | Percent Of Adult Population Receiving SSA Adult Disability Benefits | Eligible Adult Population | Adult Receipts | Eligible Adult Population Filing Rate In Percentage | Favorable Adult Determinations | Eligible Adult Population Allowance Rate In Percentage | All Adult Determinations | Adult Favorable Determination Rate In Percentage | Population Under Age 18 | SSI Disabled Child Beneficiaries | Percent Of Population Under Age 18 Receiving SSI DC Benefits | Eligible Child Population | SSI Disabled Child Receipts | Eligible Child Population Filing Rate In Percentage | Favorable SSI Disabled Child Determinations | Eligible Child Population Allowance Rate In Percentage | All SSI Disabled Child Determinations | SSI Disabled Child Allowance Rate In Percentage | All Determinations | All Favorable Determinations | Favorable Determination Rate In Percentage |
| Atlanta Region | AL | Fiscal Year | 2001 | 2760170 | 211792 | 7.67 | 2548378 | 42416 | 1.66 | 15279 | 0.6 | 39021 | 39.16 | 1118057 | 25307 | 2.26 | 1092750 | 10602 | 0.97 | 4344 | 0.4 | 10879 | 39.93 | 49900 | 19623 | 39.32 |
| Atlanta Region | AL | Fiscal Year | 2002 | 2770228 | 223434 | 8.07 | 2546794 | 45172 | 1.77 | 15812 | 0.62 | 50401 | 31.37 | 1112246 | 26687 | 2.4 | 1085559 | 11780 | 1.09 | 4337 | 0.4 | 12259 | 35.38 | 62660 | 20149 | 32.16 |
| Atlanta Region | AL | Fiscal Year | 2003 | 2787370 | 232793 | 8.35 | 2554577 | 47729 | 1.87 | 13358 | 0.52 | 46283 | 28.86 | 1106767 | 27308 | 2.47 | 1079459 | 12605 | 1.17 | 4047 | 0.37 | 12565 | 32.21 | 58848 | 17405 | 29.58 |
| Atlanta Region | AL | Fiscal Year | 2004 | 2803855 | 242764 | 8.66 | 2561091 | 49115 | 1.92 | 13643 | 0.53 | 48797 | 27.96 | 1106125 | 27548 | 2.49 | 1078577 | 12881 | 1.19 | 3928 | 0.36 | 13227 | 29.7 | 62024 | 17571 | 28.33 |
| Atlanta Region | AL | Fiscal Year | 2005 | 2824057 | 253545 | 8.98 | 2570512 | 47778 | 1.86 | 13228 | 0.51 | 46690 | 28.33 | 1108325 | 28052 | 2.53 | 1080273 | 11956 | 1.11 | 3430 | 0.32 | 11868 | 28.9 | 58558 | 16658 | 28.45 |
| Atlanta Region | AL | Fiscal Year | 2006 | 2855278 | 262439 | 9.19 | 2592839 | 51055 | 1.97 | 14071 | 0.54 | 49380 | 28.5 | 1116897 | 28693 | 2.57 | 1088204 | 11843 | 1.09 | 3335 | 0.31 | 11873 | 28.09 | 61253 | 17406 | 28.42 |
| Atlanta Region | AL | Fiscal Year | 2007 | 2878957 | 269374 | 9.36 | 2609583 | 50212 | 1.92 | 13159 | 0.5 | 47422 | 27.75 | 1121284 | 29084 | 2.59 | 1092200 | 11696 | 1.07 | 3249 | 0.3 | 11649 | 27.89 | 59071 | 16408 | 27.78 |
| Atlanta Region | AL | Fiscal Year | 2008 | 2898356 | 277691 | 9.58 | 2620665 | 53663 | 2.05 | 15737 | 0.6 | 48937 | 32.16 | 1121877 | 29270 | 2.61 | 1092607 | 11641 | 1.07 | 3424 | 0.31 | 11150 | 30.71 | 60087 | 19161 | 31.89 |
| Atlanta Region | AL | Fiscal Year | 2009 | 2928795 | 290264 | 9.91 | 2638531 | 61551 | 2.33 | 18107 | 0.69 | 56749 | 31.91 | 1128864 | 29965 | 2.65 | 1098899 | 12646 | 1.15 | 3664 | 0.33 | 12080 | 30.33 | 68829 | 21771 | 31.63 |
| Atlanta Region | AL | Fiscal Year | 2010 | 2994402 | 303977 | 9.91 | 2690425 | 69540 | 2.64 | 19301 | 0.73 | 62300 | 30.98 | 1130523 | 30040 | 2.65 | 1100483 | 13587 | 1.24 | 3838 | 0.35 | 12876 | 29.81 | 75176 | 23139 | 30.78 |