Others titles
US Drug Poisoning Crude and Age Adjusted Mortality
US Drug Poisoning Mortality Rates And Demographic Characteristics
US Drug Poisoning Mortality Rates Trends
Keywords
US Drug Poisoning Deaths
State Drug Poisoning Deaths
Drug Poisoning And Age
Drug Poisoning And Gender
Drug Poisoning And Race
Drug Poisoning Crude Mortality
Drug Poisoning Age Adjusted Mortality
US And State Level Crude And Age Adjusted Drug Poisoning Mortality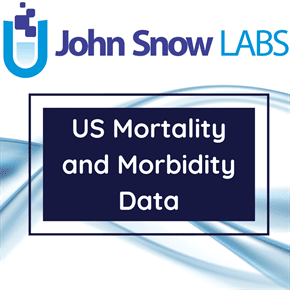 This dataset contains mortality statistics for drug poisoning in the US at country and state level starting from 1999. The mortality indicators used (crude and age-adjusted) are broken down by demographic characteristics, age, sex and race and presented along with US and state levels values.
Log in to download
Complexity
Get The Data
For getting access to data download links please read and accept the end-user license agreement.
Your Data License
Research

Non-Commercial, Share-Alike, Attribution

Free Forever

Commercial

Commercial Use, Remix & Adapt, White Label Log in to download
Description
The source of the data is the National Center for Health Statistics published by the Centers for Disease Control and Prevention. Deaths included here have the underlying cause-of-death ICD-10 codes: ICD-10, X40–X44 (unintentional), X60–X64 (suicide), X85 (homicide), or Y10–Y14 (undetermined intent). Estimates are based on the National Vital Statistics System multiple cause-of-death mortality files. Age-adjusted death rates (deaths per 100,000 U.S. standard population for 2000) are calculated using the direct method. Populations used for computing death rates for 2011–2015 are postcensal estimates based on the 2010 U.S. census. Rates for census years are based on populations enumerated in the corresponding censuses. Rates for noncensus years before 2010 are revised using updated intercensal population estimates and may differ from rates previously published.
Estimates should be interpreted with caution. This is because there are cases in which they are calculated with a numerator of 20 or less and could be considered unreliable. At the same time because of a high number of unresolved pending cases or misclassification of ICD–10 codes for unintentional poisoning as R99. For example, this issue is known to affect New Jersey in 2009 and West Virginia in 2005 and 2009 but also may affect other years and other states.
About this Dataset
Data Info
| | |
| --- | --- |
| Date Created | 2016-01-07 |
| Last Modified | 2020-06-05 |
| Version | 2020-06-05 |
| Update Frequency | Irregular |
| Temporal Coverage | 1999-2015 |
| Spatial Coverage | United States |
| Source | John Snow Labs; Centers for Disease Control and Prevention; |
| Source License URL | |
| Source License Requirements | N/A |
| Source Citation | N/A |
| Keywords | US Drug Poisoning Deaths, State Drug Poisoning Deaths, Drug Poisoning And Age, Drug Poisoning And Gender, Drug Poisoning And Race, Drug Poisoning Crude Mortality, Drug Poisoning Age Adjusted Mortality |
| Other Titles | US Drug Poisoning Crude and Age Adjusted Mortality, US Drug Poisoning Mortality Rates And Demographic Characteristics, US Drug Poisoning Mortality Rates Trends |
Data Fields
| Name | Description | Type | Constraints |
| --- | --- | --- | --- |
| Year | The year for which the statistics correspond | date | required : 1 |
| Gender | The gender of the population for which statistics correspond; statistics are the breakdown by all genders, male and female at US level; at US State level statistics are available only for all genders | string | - |
| Age | The age of population for which statistics correspond; statistics are available for the population of all ages and for age groups 0-14, 15-24, 25-34, 35-44, 45-54, 55-64, 65-74 and 75+, at US level and for all ages at US State level | string | - |
| Race_Relative_To_Hispanic_Origin | The gender of the population statistics correspond to: populations for all races and all origins, of non-Hispanic white persons, of non-Hispanic black persons and for Hispanic persons at US level and for all races and origins at US State level | string | - |
| State | The US State (including all US States - US level) for which the statistics apply | string | - |
| Number_Of_Deaths | The number of deaths of persons among population of a specific year, age, sex, race and origin, at US level or US State level | integer | level : Ratio |
| Population_Size | The size of a population in a specific year, of a specific age, sex and race and origin, at US level or US State level | integer | level : Ratio |
| Crude_Mortality_Rate | The crude mortality rate (number of deaths at 100.000 persons), in a specific year, of a specific age, sex, race and origin, in US or in a US State | number | level : Ratio |
| Standard_Error_Of_Crude_Rate | The standard error (the measure of variability used to determine the probability of the population statistic value estimated using the value determined for a sample) which corresponds to a specific crude mortality value | number | level : Ratio |
| Lower_Confidence_Limit_For_Cude_Rate | The lower limit of the confidence interval (interval of values in which, with a specific probability level, contains the real value of the population statistic value) which corresponds to a specific crude mortality value | number | level : Ratio |
| Upper_Confidence_Limit_For_Cude_Rate | The upper limit of the confidence interval (interval of values in which, with a specific probability level, contains the real value of the population statistic value) which corresponds to a specific crude mortality value | number | level : Ratio |
| Age_Adjusted_Mortality_Rate | The age adjusted mortality rate, determined using the direct method (the standard population is the US population), in a specific year, of a specific age, sex, race and origin, in US or in a US State | number | level : Ratio |
| Standard_Error_Of_Age_Adjusted_Rate | The standard error (the measure of variability used to determine the probability of the population statistic value estimated using the value determined for a sample) which corresponds to a specific age adjusted mortality value | number | level : Ratio |
| Lower_Confidence_Limit_For_Age_Adjusted_Rate | The lower limit of the confidence interval (interval of values in which, with a specific probability level, contains the real value of the population statistic value) which corresponds to a specific age adjusted mortality value | number | level : Ratio |
| Upper_Confidence_Limit_For_Age_Adjusted_Rate | The upper limit of the confidence interval (interval of values in which, with a specific probability level, contains the real value of the population statistic value) which corresponds to a specific age adjusted mortality value | number | level : Ratio |
| State_Level_Crude_Rate_Minimum_Value | The minimum value of mortality crude rate among different groups of population of a specific sex and race or origin, from a state, in a specific year | number | level : Ratio |
| US_Level_Crude_Rate | The value of mortality crude rate at US level in a specific year | number | level : Ratio |
| US_Level_Age_Adjusted_Rate | The value of mortality age adjusted rate at US level in a specific year | number | level : Ratio |
Data Preview
| | | | | | | | | | | | | | | | | | |
| --- | --- | --- | --- | --- | --- | --- | --- | --- | --- | --- | --- | --- | --- | --- | --- | --- | --- |
| Year | Gender | Age | Race Relative To Hispanic Origin | State | Number Of Deaths | Population Size | Crude Mortality Rate | Standard Error Of Crude Rate | Lower Confidence Limit For Cude Rate | Upper Confidence Limit For Cude Rate | Age Adjusted Mortality Rate | Standard Error Of Age Adjusted Rate | Lower Confidence Limit For Age Adjusted Rate | Upper Confidence Limit For Age Adjusted Rate | State Level Crude Rate Minimum Value | US Level Crude Rate | US Level Age Adjusted Rate |
| 2014 | Both Sexes | 15-24 years | All Races-All Origins | United States | 3798 | 43979821 | 8.6 | 0.1 | 8.4 | 8.9 | | | | | | 14.8 | 14.7 |
| 2012 | Male | 15-24 years | Non-Hispanic White | United States | 2137 | 12857283 | 16.6 | 0.4 | 15.9 | 17.3 | | | | | | 13.2 | 13.1 |
| 2008 | Male | Less than 15 years | Non-Hispanic Black | United States | 15 | 4687984 | 0.3 | 0.1 | 0.2 | 0.5 | | | | | | 12.0 | 11.9 |
| 2003 | Both Sexes | 35-44 years | Non-Hispanic White | United States | 6533 | 30270056 | 21.6 | 0.3 | 21.1 | 22.1 | | | | | | 8.9 | 8.9 |
| 2010 | Female | Less than 15 years | Non-Hispanic White | United States | 28 | 16460571 | 0.2 | 0.0 | 0.1 | 0.2 | | | | | | 12.4 | 12.3 |
| 2001 | Both Sexes | 45-54 years | Non-Hispanic White | United States | 3850 | 29733531 | 12.9 | 0.2 | 12.5 | 13.4 | | | | | | 6.8 | 6.8 |
| 2003 | Male | Less than 15 years | Non-Hispanic White | United States | 38 | 18562010 | 0.2 | 0.0 | 0.1 | 0.3 | | | | | | 8.9 | 8.9 |
| 2010 | Both Sexes | 15-24 years | Non-Hispanic White | United States | 3020 | 25356574 | 11.9 | 0.2 | 11.5 | 12.3 | | | | | | 12.4 | 12.3 |
| 2011 | Both Sexes | 75+ years | Hispanic | United States | 21 | 1213487 | 1.7 | 0.4 | 1.1 | 2.6 | | | | | | 13.3 | 13.2 |
| 2001 | Male | 55-64 years | Non-Hispanic Black | United States | 129 | 1100021 | 11.7 | 1.0 | 9.7 | 13.8 | | | | | | 6.8 | 6.8 |