Others titles
US Employment Forecasts By Occupations 2019-2029
US Labor Market Trends By Occupations 2019-2029
Keywords
Bureau of Labor Statistics
Occupational Outlook
Employment Projections
Labor Market Trends
Employment Forecast
'Standard Occupational Classification (SOC)
Median Annual Wage 2016
National Employment Matrix
Occupational Openings
Occupational Separations
US Employment Projections By Occupations 2019-2029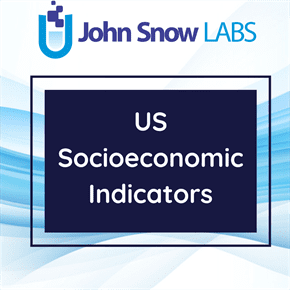 This dataset contains indicators related to employment projections by detailed occupations, workers education and training characteristics, occupational separations and openings. The occupations denominations are based on the 2016 Standard Occupational Classification.
Log in to download
Complexity
Get The Data
For getting access to data download links please read and accept the end-user license agreement.
Your Data License
Research

Non-Commercial, Share-Alike, Attribution

Free Forever

Commercial

Commercial Use, Remix & Adapt, White Label Log in to download
Description
Bureau of Labor Statistics provides projections of occupational employment, occupation within industry employment, occupational separations, and information on education by occupation. Bureau of Labor Statistics projections of industry and occupational employment are developed in a series of six interrelated steps, each of which is based on a different procedure or model and assumptions: labor force, aggregate economy, final demand (Gross Domestic Product) by consuming sector and product, industry output, industry employment, and employment and openings by occupation. The results produced by each step are key inputs to following steps, and the sequence may be repeated multiple times to allow feedback and to ensure consistency.
Labor force projections are based on expectations of the future size and composition of the population, as well as on the trends in labor force participation rates of different age, gender, race, and ethnic groups, a total of 136 separate categories. The U.S. Census Bureau prepares projections of the resident population. Wage data cover non-farm wage and salary workers and do not cover the self-employed, owners and partners in unincorporated firms, or household workers
This dataset contains only the indicators related to the occupational projections, for the occupations classified in the 2016 Standard Occupational Classification (SOC). The SOC classifies all occupations in which work is performed for pay or profit. The SOC covers all jobs in the national economy, including occupations in the public, private, and military sectors. The data for the projections related to the industry employment are not included in this dataset, although they are part of a common report based on the above mentioned steps of analysis.
About this Dataset
Data Info
| | |
| --- | --- |
| Date Created | 2017-10-26 |
| Last Modified | 2020-09-01 |
| Version | 2020-09-01 |
| Update Frequency | Biennial |
| Temporal Coverage | 2019-2029 |
| Spatial Coverage | United States |
| Source | John Snow Labs; United States Department of Labor, Bureau of Labor Statistics; |
| Source License URL | |
| Source License Requirements | N/A |
| Source Citation | N/A |
| Keywords | Bureau of Labor Statistics, Occupational Outlook, Employment Projections, Labor Market Trends, Employment Forecast, 'Standard Occupational Classification (SOC), Median Annual Wage 2016, National Employment Matrix, Occupational Openings, Occupational Separations |
| Other Titles | US Employment Forecasts By Occupations 2019-2029, US Labor Market Trends By Occupations 2019-2029 |
Data Fields
| Name | Description | Type | Constraints |
| --- | --- | --- | --- |
| Standard_Occupations_Classifications_Code | The 2016 Standard Occupational Classification code corresponding to a group or to an occupation | string | required : 1 |
| Occupations_Classification_Major_Group | First level of aggregation of the occupations according to the 2016 Standard Occupational Classification | string | required : 1 |
| Occupations_Classification_Minor_Group | Second level of aggregation of the occupations according to the 2016 Standard Occupational Classification | string | - |
| Occupations_Classification_Broad_Occupation | Third level of aggregation of the occupations according to the 2016 Standard Occupational Classification; for some occupations clusters the third level is the lowest level of aggregation | string | - |
| Group_Or_Occupation_Type | Specifies if the corresponding values are calculated for a cluster of occupations with the lowest level of aggregation ("Line item") or as a "Summary" value for another level of aggregation; at the same time specifies if the cluster of occupations is the lowest one taking into consideration the fact that for some occupations clusters the third level is the lowest level of aggregation | string | enum : Array ( [0] => Line item [1] => Summary ) required : 1 |
| Employees_Thousands_2019 | The number of employees divided by one thousand, belonging to a cluster of occupations, in the year 2019 | number | level : Ratio |
| Employees_Thousands_2029 | The projected number of employees divided by one thousand, belonging to a cluster of occupations, in the year 2029 | number | level : Ratio |
| Percent_From_Total_Employees_2019 | The percent of employees, belonging to a cluster of occupations, of the total number of employees, in the year 2019 | number | level : Ratio |
| Percent_From_Total_Employees_2029 | The percent of employees, belonging to a cluster of occupations, of the total number of employees, in the year 2029 | number | level : Ratio |
| Difference_Employees_Thousands_2029_2019 | The difference between the number of employees, belonging to a cluster of occupations, in 2029 and in 2019, divided by one thousand | number | level : Ratio |
| Difference_Of_Percent_From_Total_Employees_2029_2019 | The difference between the percent of employees, belonging to a cluster of occupations, in 2026 and in 2016, divided by one thousand | number | level : Ratio |
| Occupational_Openings_Annual_Average_Thousands_2019_2029 | The projected number of openings (positions) for workers entering the occupation, belonging to a cluster of occupations, calculated as an annual average between 2019-2029 and divided by one thousand | number | level : Ratio |
| Percent_Self_Employed_2019 | Shows how many jobs come from Current Population Survey (U.S. Census Bureau) data on unincorporated self-employed persons in their primary job for a cluster of occupations, in 2019 | number | level : Ratio |
| Median_Annual_Wage_USD_2019 | The median annual wages for wage and salary employees in each cluster of occupations | integer | level : Ratio |
| Is_Median_Annual_Wage_Equal_Or_Over_208000_USD | Specifies whether the cluster of occupations for which the median annual wage is bigger than a threshold of 208000 USD | boolean | - |
| Typical_Education_Needed_For_Entry | The typical level of education that most workers need to enter the occupation, belonging a occupation cluster | string | - |
| Work_Experience_In_A_Related_Occupation | The level of work experience in a related occupation that most workers need to enter the occupation, belonging a occupation cluster | string | enum : Array ( [0] => 5 years or more [1] => Less than 5 years [2] => None ) |
| Typical_On_The_Job_Training_Needed | The level of any additional training or preparation that is typically needed, once employed in an occupation, to attain competency in the skills needed in that occupation, belonging a occupation cluster | string | enum : Array ( [0] => None [1] => Moderate-term on-the-job training [2] => Long-term on-the-job training [3] => Short-term on-the-job training [4] => Internship/residency [5] => Apprenticeship ) |
| Occupational_Separations_Rate_Labor_Force_Exits_2019_2029 | The annual average of the percent of workers projected to leave an occupation which belongs to a occupation cluster and exit the labor force, for the 2016-2026 interval of years | number | level : Ratio |
| Occupational_Separations_Rate_Occupational_Transfers_2019_2029 | The annual average of the percent of workers projected to leave an occupation which belongs to a occupation cluster and transfer to a different occupation, for the 2019-2029 interval of years | number | level : Ratio |
| Occupational_Separations_Rate_Total_2019_2029 | The annual average of the percent of workers projected to leave an occupation which belongs to a occupation cluster and transfer to a different occupation or exit the labor force, for the 2019-2029 interval of years | number | level : Ratio |
| Occupational_Separations_Labor_Force_Exits_Thousands_2019_2029 | The annual average of the number of workers divided by one thousand, projected to leave a occupation which belongs to a occupation cluster and exit the labor force, for the 2019-2029 interval of years | number | level : Ratio |
| Occupational_Separations_Occupational_Transfers_Thousands_2019_2029 | The annual average of the number of workers divided by one thousand, projected to leave an occupation which belongs to a occupation cluster and transfer to a different occupation, for the 2019-2029 interval of years | number | level : Ratio |
| Occupational_Separations_Total_Thousands_2019_2029 | The annual average of the number of workers projected to leave an occupation which belongs to a occupation cluster and transfer to a different occupation or exit the labor force, for the 2019-2029 interval of years | number | level : Ratio |
| Is_Faster_Growing_Occupation | Specifies whether the cluster of occupations is one of the 34 of faster growing occupations until 2029, with regard to the change in number and percent of employees and to the median annual wage | boolean | required : 1 |
| Is_Occupation_With_Most_Growth | Specifies whether the cluster of occupations is one of the 34 of occupations with most growth until 2026, with regard to the change in number and percent of employees and to the median annual wage | boolean | required : 1 |
| Is_Fastest_Declining_Occupation | Specifies whether the cluster of occupations is one of the 34 of fastest declining occupations until 2026, with regard to the change in number and percent of employees and to the median annual wage | boolean | required : 1 |
| Is_Occupation_With_The_Largest_Jobs_Decline | Specifies whether the cluster of occupations is one of the 34 of occupations with the largest jobs decline until 2026, with regard to the change in number and percent of employees and to the median annual wage | boolean | required : 1 |
Data Preview
| | | | | | | | | | | | | | | | | | | | | | | | | | | | |
| --- | --- | --- | --- | --- | --- | --- | --- | --- | --- | --- | --- | --- | --- | --- | --- | --- | --- | --- | --- | --- | --- | --- | --- | --- | --- | --- | --- |
| Standard Occupations Classifications Code | Occupations Classification Major Group | Occupations Classification Minor Group | Occupations Classification Broad Occupation | Group Or Occupation Type | Employees Thousands 2019 | Employees Thousands 2029 | Percent From Total Employees 2019 | Percent From Total Employees 2029 | Difference Employees Thousands 2029 2019 | Difference Of Percent From Total Employees 2029 2019 | Occupational Openings Annual Average Thousands 2019 2029 | Percent Self Employed 2019 | Median Annual Wage USD 2019 | Is Median Annual Wage Equal Or Over 208000 USD | Typical Education Needed For Entry | Work Experience In A Related Occupation | Typical On The Job Training Needed | Occupational Separations Rate Labor Force Exits 2019 2029 | Occupational Separations Rate Occupational Transfers 2019 2029 | Occupational Separations Rate Total 2019 2029 | Occupational Separations Labor Force Exits Thousands 2019 2029 | Occupational Separations Occupational Transfers Thousands 2019 2029 | Occupational Separations Total Thousands 2019 2029 | Is Faster Growing Occupation | Is Occupation With Most Growth | Is Fastest Declining Occupation | Is Occupation With The Largest Jobs Decline |
| 00-0000 | Total, all occupations | | | Summary | 162796 | 168835 | 100 | 100 | 6039 | 4 | 17454 | 6.0 | 39810 | False | | | | 4 | 6 | 10 | 7080 | 9771 | 16850 | False | False | False | False |
| 11-0000 | Management occupations | | | Summary | 10697 | 11202 | 7 | 7 | 505 | 5 | 843 | 19.0 | 105660 | False | | | | 3 | 5 | 7 | 288 | 505 | 793 | False | False | False | False |
| 11-1000 | Management occupations | Top executives | | Summary | 2828 | 2946 | 2 | 2 | 118 | 4 | 222 | 3.0 | 103230 | False | | | | 2 | 5 | 7 | 61 | 150 | 210 | False | False | False | False |
| 11-1011 | Management occupations | Top executives | Chief executives | Line item | 288 | 259 | 0 | 0 | -29 | -10 | 14 | 24.0 | 184460 | False | Bachelor's degree | 5 years or more | None | 3 | 4 | 6 | 7 | 10 | 17 | False | False | False | False |
| 11-1021 | Management occupations | Top executives | General and operations managers | Line item | 2486 | 2630 | 2 | 2 | 144 | 6 | 204 | 1.0 | 100780 | False | Bachelor's degree | 5 years or more | None | 2 | 5 | 7 | 52 | 138 | 190 | False | True | False | False |
| 11-1031 | Management occupations | Top executives | Legislators | Line item | 54 | 57 | 0 | 0 | 3 | 6 | 4 | | 29270 | False | Bachelor's degree | Less than 5 years | None | 3 | 4 | 7 | 1 | 2 | 4 | False | False | False | False |
| 11-2000 | Management occupations | | Advertising, marketing, promotions, public relations, and sales managers | Summary | 837 | 879 | 1 | 1 | 42 | 5 | 70 | 5.0 | 128870 | False | | | | 2 | 6 | 8 | 18 | 48 | 66 | False | False | False | False |
| 11-2011 | Management occupations | Advertising, marketing, promotions, public relations, and sales managers | Advertising and promotions managers | Line item | 29 | 28 | 0 | 0 | 0 | -1 | 3 | 11.0 | 125510 | False | Bachelor's degree | Less than 5 years | None | 2 | 7 | 9 | 1 | 2 | 3 | False | False | False | False |
| 11-2020 | Management occupations | Advertising, marketing, promotions, public relations, and sales managers | Marketing and sales managers | Summary | 720 | 755 | 0 | 0 | 35 | 5 | 60 | 5.0 | 130700 | False | | | | 2 | 6 | 8 | 15 | 41 | 56 | False | False | False | False |
| 11-2021 | Management occupations | | Marketing managers | Line item | 286 | 305 | 0 | 0 | 19 | 7 | 25 | 5.0 | 136850 | False | Bachelor's degree | 5 years or more | None | 2 | 6 | 8 | 6 | 17 | 23 | False | False | False | False |