Others titles
Medicare Providers Utilization and Billing Payment Data for Physicians and Other Suppliers 2014
Prospective Payment System 2014
Doctor Utilization and Payment Data 2014
Medicare Doctors and Providers Utilization and Payment Data 2014
Medicare Billing and Providers Utilization and Payment Data for Physicians and Other Suppliers 2014
Doctors Pay and Medicare Providers Utilization and Payment Data 2014
Keywords
Medicare Doctors
Medicare Claim
Physician Services
Medicare Physicians
Medicare Find a Doctor
Medicare Providers
National Claims History (NCH)
Medicare Billing
Physician Services
Doctors Pay
Utilization and Payment Data Physician and Other Supplier 2014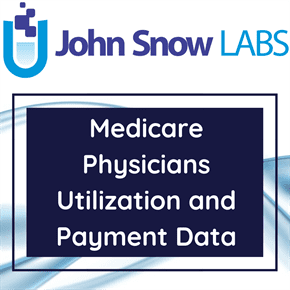 The dataset contains information on 'Provider Utilization and Payment Data Physician and Other Supplier Public Use File (PUF)' prepared by the Centers for Medicare & Medicaid Services (CMS) and organized by National Provider Identifier (NPI), Healthcare Common Procedure Coding System code, and place of service. This PUF is based on information from CMS's National Claims History (NCH) Standard Analytic Files (SAFs).
Log in to download
Complexity
Get The Data
For getting access to data download links please read and accept the end-user license agreement.
Your Data License
Research

Non-Commercial, Share-Alike, Attribution

Free Forever

Commercial

Commercial Use, Remix & Adapt, White Label Log in to download
Description
This dataset from CMS has information on services and procedures provided to Medicare beneficiaries by physicians and other healthcare professionals. The primary data source for this dataset is CMS's National Claims History (NCH) Standard Analytic Files (SAFs). The Centers for Medicare and Medicaid Services (CMS) collects data from all hospitals that provide services to Medicare beneficiaries on an ongoing basis through its fiscal intermediaries, and compiles the data for each calendar year. The Physician/Supplier SAF was used to create the Physician and Other Supplier PUF, which includes services from physicians, non-physician practitioners, laboratories, imaging, ambulances, etc. The dataset contains information on utilization and payments (Average submitted charges, Average Medicare allowed amount, Average Medicare Payment amount, Medicare standardized payment amount) on NPI. The detailed information on Physicians, Number of services and Number of HCPCS handled by physicians are also included. The number of services, providers, unique beneficiaries, per day services on unique beneficiaries are included here. Average Medicare standardized amount included in 2014 dataset.
About this Dataset
Data Info
| | |
| --- | --- |
| Date Created | 2016-04-07 |
| Last Modified | 2017-09-23 |
| Version | 2017-09-23 |
| Update Frequency | Annual |
| Temporal Coverage | 2014 |
| Spatial Coverage | United States |
| Source | John Snow Labs; Centers for Medicare and Medicaid Services; |
| Source License URL | |
| Source License Requirements | N/A |
| Source Citation | N/A |
| Keywords | Medicare Doctors, Medicare Claim, Physician Services, Medicare Physicians, Medicare Find a Doctor, Medicare Providers, National Claims History (NCH), Medicare Billing, Physician Services, Doctors Pay |
| Other Titles | Medicare Providers Utilization and Billing Payment Data for Physicians and Other Suppliers 2014, Prospective Payment System 2014, Doctor Utilization and Payment Data 2014, Medicare Doctors and Providers Utilization and Payment Data 2014, Medicare Billing and Providers Utilization and Payment Data for Physicians and Other Suppliers 2014, Doctors Pay and Medicare Providers Utilization and Payment Data 2014 |
Data Fields
| Name | Description | Type | Constraints |
| --- | --- | --- | --- |
| National_Provider_Identifier | National Provider Identifier (NPI) for the performing provider on the claim. | integer | level : Nominal |
| Last_Name_Organization_Name_Of_The_Provider | Last Name/Organization Name of the Provider- When the provider is registered in NPPES as an individual (entity type code='I'), this is the provider's last name. When the provider is registered as an organization (entity type code = 'O'), this is the organization name. | string | - |
| First_Name_Of_The_Provider | First Name of the Provider: When the provider is registered in NPPES as an individual (entity type code='I'), this is the provider's first name. When the provider is registered as an organization (entity type code = 'O'), this will be blank. | string | - |
| Middle_Initial_Of_The_Provider | Middle Initial of the Provider: When the provider is registered in NPPES as an individual (entity type code='I'), this is the provider's middle initial. When the provider is registered as an organization (entity type code = 'O'), this will be blank. | string | - |
| Credentials_Of_The_Provider | Credentials of the Provider: When the provider is registered in NPPES as an individual (entity type code='I'), these are the provider's credentials. When the provider is registered as an organization (entity type code = 'O'), this will be blank. | string | - |
| Gender_Of_The_Provider | Gender of the Provider: When the provider is registered in NPPES as an individual (entity type code='I'), this is the provider's gender. When the provider is registered as an organization (entity type code = 'O'), this will be blank. | string | - |
| Entity_Type_Of_The_Provider | Entity Type of the Provider: Type of entity reported in NPPES. An entity code of 'I' identifies providers registered as individuals and an entity type code of 'O' identifies providers registered as organizations. | string | - |
| Street_Address_1_Of_The_Provider | Street Address 1 of the Provider: The first line of the provider's street address, as reported in NPPES. | string | - |
| Street_Address_2_Of_The_Provider | Street Address 2 of the Provider: The first line of the provider's street address, as reported in NPPES. | string | - |
| City_Of_The_Provider | City of the Provider: The city where the provider is located, as reported in NPPES. | string | - |
| Zip_Code_Of_The_Provider | Zip Code of the Provider: The provider's zip code, as reported in NPPES. | string | - |
| State_Code_Of_The_Provider | State Code of the Provider- State Code: The state where the provider is located, as reported in NPPES. | string | - |
| Country_Code_Of_The_Provider | Country Code of the Provider- Country Code: The country where the provider is located, as reported in NPPES. | string | - |
| Specialty_Type_Of_The_Provider | Provider Type of the Provider- Provider Type: Derived from the provider specialty code reported on the claim. | string | - |
| Is_Medicare_Participation_Indicator | Medicare Participation Indicator: Identifies whether the provider participates in Medicare and/or accepts assignment of Medicare allowed amounts. | boolean | - |
| Place_Of_Service | Place of Service: Identifies whether the place of service submitted on the claims is a facility (value of 'F') or non-facility (value of 'O'). Non-facility is generally an office setting; however other entities are included in non-facility. See "Appendix B – Place of Service Descriptions" for the types of entities included in facility and non-facility. | string | - |
| HCPCS_Code | HCPCS Code: HCPCS code for the specific medical service furnished by the provider | string | - |
| HCPCS_Description | HCPCS Description: Description of the HCPCS code for the specific medical service furnished by the provider. | string | - |
| Is_HCPCS_Drug_Indicator | HCPCS Drug Indicator as in the ASP Drug List: Identifies whether the HCPCS code for the specific service furnished by the provider is an HCPCS listed on the Medicare Part B Drug Average Sales Price (ASP) File. | boolean | - |
| Number_Of_Services | Number of services provided; note that the metrics used to count the number provided can vary from service to service. | number | level : Ratio |
| Number_Of_Medicare_Beneficiaries | Number of distinct Medicare beneficiaries receiving the service. | integer | level : Ratio |
| Number_Of_Distinct_Medicare_Beneficiary_Per_Day_Services | Number of Distinct Medicare Beneficiary/Per Day Services- Since a given beneficiary may receive multiple services of the same type (e.g., single vs. multiple cardiac stents) on a single day, this metric removes double-counting from the line service count to identify whether a unique service occurred. | integer | level : Ratio |
| Average_Medicare_Allowed_Amount | Average of the Medicare allowed amount for the service; this figure is the sum of the amount Medicare pays, the deductible and coinsurance amounts that the beneficiary is responsible for paying, and any amounts that a third party is responsible for paying. | number | level : Ratio |
| Average_Submitted_Charge_Amount | Average Submitted Charge Amount- Average of the charges that the provider submitted for the service. | number | level : Ratio |
| Average_Medicare_Payment_Amount | Average Medicare Payment Amount- Average amount that Medicare paid after deductible and coinsurance amounts have been deducted for the line item service. | number | level : Ratio |
| Average_Medicare_Standardized_Amount | Average Medicare Standardized Amount which is the average amount that Medicare paid after beneficiary deductible and coinsurance amounts have been deducted for the line item service and after standardization of the Medicare payment has been applied. | number | level : Ratio |
Data Preview
| | | | | | | | | | | | | | | | | | | | | | | | | | |
| --- | --- | --- | --- | --- | --- | --- | --- | --- | --- | --- | --- | --- | --- | --- | --- | --- | --- | --- | --- | --- | --- | --- | --- | --- | --- |
| National Provider Identifier | Last Name Organization Name Of The Provider | First Name Of The Provider | Middle Initial Of The Provider | Credentials Of The Provider | Gender Of The Provider | Entity Type Of The Provider | Street Address 1 Of The Provider | Street Address 2 Of The Provider | City Of The Provider | Zip Code Of The Provider | State Code Of The Provider | Country Code Of The Provider | Specialty Type Of The Provider | Is Medicare Participation Indicator | Place Of Service | HCPCS Code | HCPCS Description | Is HCPCS Drug Indicator | Number Of Services | Number Of Medicare Beneficiaries | Number Of Distinct Medicare Beneficiary Per Day Services | Average Medicare Allowed Amount | Average Submitted Charge Amount | Average Medicare Payment Amount | Average Medicare Standardized Amount |
| 1003000126 | ENKESHAFI | ARDALAN | | M.D. | M | Individual | 900 SETON DR | | CUMBERLAND | 215021854 | MD | US | Internal Medicine | True | Facility | 99222 | Initial hospital inpatient care, typically 50 minutes per day | False | 357 | 341 | 357 | 141.05 | 416.55 | 107.52 | 106.73 |
| 1003000126 | ENKESHAFI | ARDALAN | | M.D. | M | Individual | 900 SETON DR | | CUMBERLAND | 215021854 | MD | US | Internal Medicine | True | Facility | 99223 | Initial hospital inpatient care, typically 70 minutes per day | False | 98 | 98 | 98 | 207.79 | 611.0 | 152.55 | 153.31 |
| 1003000126 | ENKESHAFI | ARDALAN | | M.D. | M | Individual | 900 SETON DR | | CUMBERLAND | 215021854 | MD | US | Internal Medicine | True | Facility | 99231 | Subsequent hospital inpatient care, typically 15 minutes per day | False | 104 | 65 | 104 | 40.1 | 119.0 | 30.84 | 30.71 |
| 1003000126 | ENKESHAFI | ARDALAN | | M.D. | M | Individual | 900 SETON DR | | CUMBERLAND | 215021854 | MD | US | Internal Medicine | True | Facility | 99232 | Subsequent hospital inpatient care, typically 25 minutes per day | False | 1418 | 596 | 1418 | 73.66 | 217.0 | 56.3 | 56.1 |
| 1003000126 | ENKESHAFI | ARDALAN | | M.D. | M | Individual | 900 SETON DR | | CUMBERLAND | 215021854 | MD | US | Internal Medicine | True | Facility | 99233 | Subsequent hospital inpatient care, typically 35 minutes per day | False | 175 | 104 | 175 | 106.12 | 312.0 | 82.4 | 81.61 |
| 1003000126 | ENKESHAFI | ARDALAN | | M.D. | M | Individual | 900 SETON DR | | CUMBERLAND | 215021854 | MD | US | Internal Medicine | True | Facility | 99238 | Hospital discharge day management, 30 minutes or less | False | 330 | 316 | 330 | 74.14 | 217.0 | 55.68 | 55.2 |
| 1003000126 | ENKESHAFI | ARDALAN | | M.D. | M | Individual | 900 SETON DR | | CUMBERLAND | 215021854 | MD | US | Internal Medicine | True | Facility | 99239 | Hospital discharge day management, more than 30 minutes | False | 223 | 215 | 223 | 109.55 | 322.0 | 83.71 | 83.54 |
| 1003000126 | ENKESHAFI | ARDALAN | | M.D. | M | Individual | 900 SETON DR | | CUMBERLAND | 215021854 | MD | US | Internal Medicine | True | Facility | 99291 | Critical care delivery critically ill or injured patient, first 30-74 minutes | False | 23 | 13 | 23 | 228.31 | 674.0 | 179.0 | 176.1 |
| 1003000134 | CIBULL | THOMAS | L | M.D. | M | Individual | 2650 RIDGE AVE | EVANSTON HOSPITAL | EVANSTON | 602011718 | IL | US | Pathology | True | Facility | 88304 | Pathology examination of tissue using a microscope, moderately low complexity | False | 212 | 202 | 202 | 12.16 | 115.0 | 9.09 | 8.57 |
| 1003000134 | CIBULL | THOMAS | L | M.D. | M | Individual | 2650 RIDGE AVE | EVANSTON HOSPITAL | EVANSTON | 602011718 | IL | US | Pathology | True | Facility | 88305 | Pathology examination of tissue using a microscope, intermediate complexity | False | 6760 | 4105 | 5109 | 39.81 | 170.0 | 30.31 | 28.45 |