John Snow Labs is named winner in 2020 Artificial Intelligence Excellence Award thanks to "exceptional success turning AI research into real & dependable systems for a global community"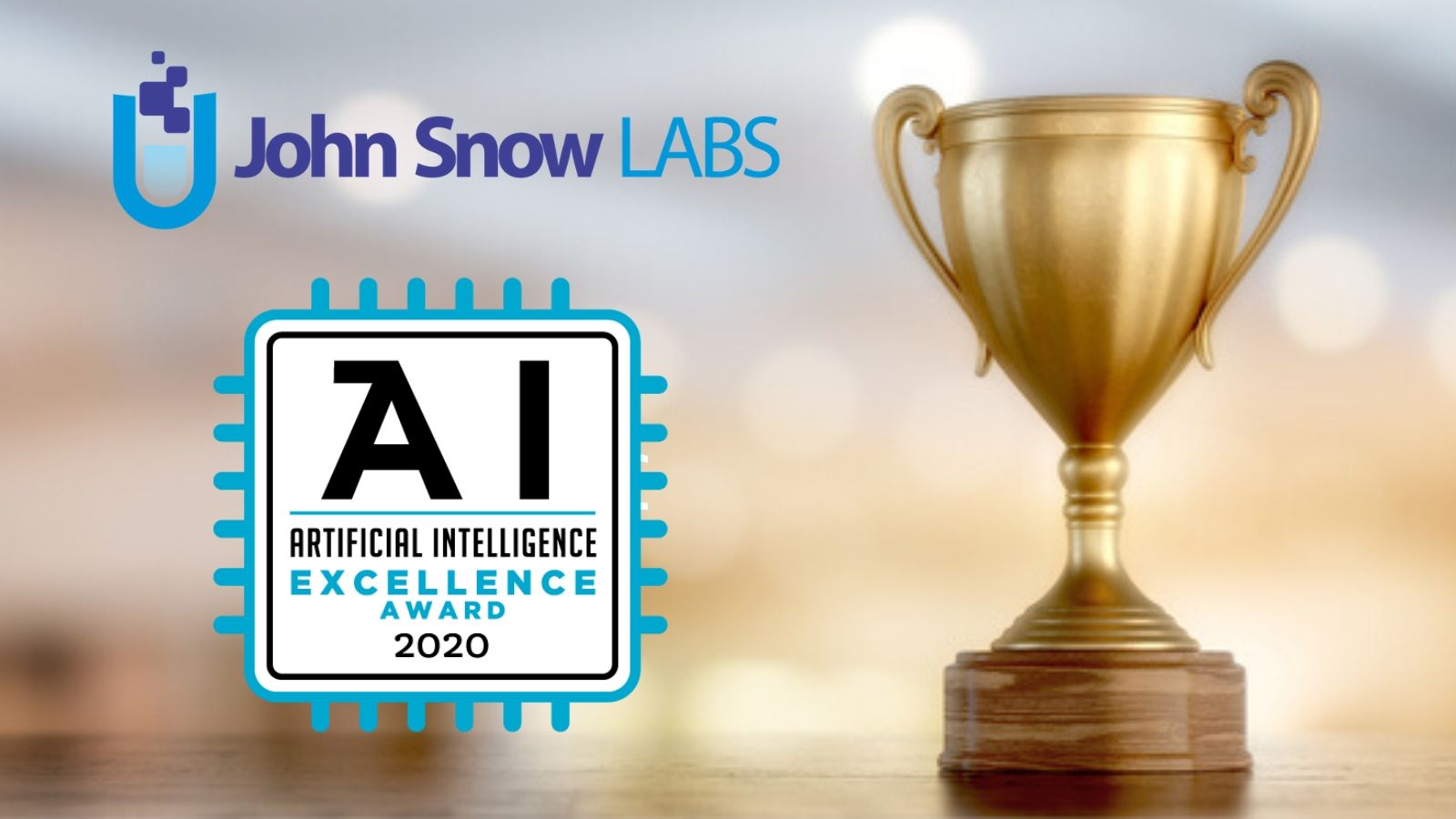 The Business Intelligence Group has announced the winners of its inaugural Artificial Intelligence Excellence Awards program. This business awards program sets out to recognize those organizations, products and people who bring Artificial Intelligence (AI) to life and apply it to solve real problems. Nominations were received and winners were chosen in all four of the categories of AI including Reactive Machines, Limited Memory, Theory of Mind, and Self-Awareness.
"We are so proud to name John Snow Labs as a 2020 winner in our Artificial Intelligence Excellence Awards program", said Maria Jimenez, chief nominations officer for Business Intelligence Group. "John Snow Labs wins our best AI product or service award thanks to exceptional success turning AI research into real & dependable systems for a global community. Congratulations to the entire team!"
John Snow Labs has been chosen as a winner because it uniquely combines an end-to-end AI platform that is enterprise-grade in the most demanding sense of the term, with an impressive roster of customer success stories in this challenging field. 
As a result of its unique set of capabilities, the AI Platform has attracted a number of Fortune 500 companies who use it as the basis for their own enterprise AI platform (by extending, branding, and integrating it into the rest of their software architecture) – as well as small companies and start-ups who need to get to market fast with a proven, end-to-end solution. This AI Platform can be deployed on a new cluster in as little as two hours – although John Snow Labs bundles it with a longer onboarding session that includes training and personalized design & architecture sessions.
John Snow Labs also offers turnkey services that combine licensing its Healthcare AI Platform with custom development of machine learning, deep learning, or python natural language processing models that address the needs of specific customers. Such projects are usually done by a joint team that combines data scientists & engineers from John Snow Labs and the customer team – so that in addition to getting to market quickly, the customer's team gains hands-on expertise and on-the-job training in using the platform on a daily basis. 
"We are honored by this award and the industry recognition it represents. This cements our commitment to make our customers highly successful adopters of AI, especially in the high-compliance industries of healthcare and life science. We will keep making sure they have the best tools, practices, and technology in this fast-evolving space".
 
"Our customers consider us not just as a software provider but also as a managed service – that continuously keeps track of the fast-evolving AI landscape and adds the best innovations to their toolbox. Every quarter the definition of an AI platform keeps expanding and our product keeps up with it" explained Ali Naqvi, AI Platform product manager at John Snow Labs.
John Snow Labs firmly believes that AI will have a tremendous impact on 21st-century healthcare, life science, and human well-being. With this strong conviction, the company is all poised to break new grounds and help organizations realize the potential of AI in the years to come.