Others titles
Medicare Drug Events Files 2008
Prescription Drug Events 2008
Medicare BSA Prescription Drug Events 2008
Keywords
BSA Prescription Drug Events PUF Files 2008
BSA Prescription Drug
Drug Events PUF
Drug Events Data
BSA Drug Particulars
Medicare Drug Events
Medicare Prescription Drug Events 2008
Drug Information
BSA Prescription Drug Events PUF 2008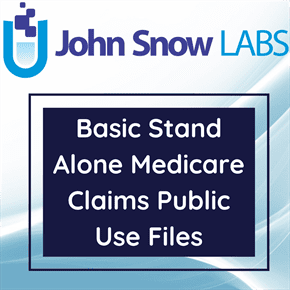 The dataset BSA Prescription Drug Events (PDE) PUF has information from 2008 Medicare prescription drug claims. The CMS 2008 BSA PDE PUF is an event-level file in which each record is a claim incurred by a 5% sample of Medicare beneficiaries. Demographic and claim-related variables provided in this PUF. The CMS 2008 PDE PUF contains thirteen variables: A primary record (i.e., event) key indexing the events and twelve analytic variables.
Log in to download
Complexity
Get The Data
For getting access to data download links please read and accept the end-user license agreement.
Your Data License
Research

Non-Commercial, Share-Alike, Attribution

Free Forever

Commercial

Commercial Use, Remix & Adapt, White Label Log in to download
Description
The CMS 2008 BSA PDE PUF originates from a 5% simple random sample of beneficiaries drawn (without replacement) from the 100% Beneficiary Summary File for reference year 2008. The CMS 2008 PDE PUF contains thirteen variables. One of the analytic variables, strength of the drug, is provided in two pieces, (a) a numeric variable and (b) a text variable indicating the units. As they can be treated as one variable, there are eleven (11) rather than twelve (12) analytic variables, in addition to the claim ID.
The 100% Beneficiary Summary File is created annually and contains demographic, entitlement and enrolment data for beneficiaries:
– Who were documented as being alive for some part of the reference year of the Beneficiary Summary File, and
– Who were entitled to Medicare benefits during the reference year, and
– Who were enrolled in the Medicare Part A and/or Part B for at least one month in the reference year
The 5% sample of prescription drug events is created by collecting the prescription drug events for the beneficiaries in the 5% random sample of beneficiaries. The 5% random sample contains approximately 2.4 million beneficiaries. To create the CMS 2008 BSA PDE PUF, all claims that belong to those 2.4 million beneficiaries are collected. As part of the PUF preparation steps, some claims are excluded/suppressed from the CMS 2008 BSA PDE PUF.
The initial 5% sample of beneficiaries contains 2,392,893 beneficiaries. Out of the 2,392,893 beneficiaries, there are 1,265,691 beneficiaries with at least one prescription drug event, and the remaining 1,127,202 beneficiaries do not have any prescription drug events in 2008. To protect the privacy of Medicare beneficiaries, a total of 1,575,000 events incurred by 388,734 beneficiaries are suppressed from the PUF, leaving 50,325,988 events incurred by 1,264,083 beneficiaries in the CMS 2008 BSA PDE PUF. Suppressing an event may or may not exclude a beneficiary from the PUF. The exclusion of a beneficiary depends on whether or not the beneficiary has one or more additional events remaining in the PUF. Consequently, not all 388,734 beneficiaries are excluded.
About this Dataset
Data Info
| | |
| --- | --- |
| Date Created | 2011 |
| Last Modified | 2013-04-03 |
| Version | 2013-04-03 |
| Update Frequency | Biennial |
| Temporal Coverage | 2008 |
| Spatial Coverage | United States |
| Source | John Snow Labs; Centers for Medicare & Medicaid Services; |
| Source License URL | |
| Source License Requirements | N/A |
| Source Citation | N/A |
| Keywords | BSA Prescription Drug Events PUF Files 2008, BSA Prescription Drug, Drug Events PUF, Drug Events Data, BSA Drug Particulars, Medicare Drug Events, Medicare Prescription Drug Events 2008, Drug Information |
| Other Titles | Medicare Drug Events Files 2008, Prescription Drug Events 2008, Medicare BSA Prescription Drug Events 2008 |
Data Fields
| Name | Description | Type | Constraints |
| --- | --- | --- | --- |
| ID | The cryptographic event ID; as this is an event-level dataset, each row on the file has a unique value that cannot be used to link to any other data files released by CMS or other sources and can be used as a random number, representing random draws from a uniform distribution | string | maxLength : 20 |
| Gender | The beneficiary's gender | string | enum : Array ( [0] => Male [1] => Female ) |
| Age | The beneficiary's age, reported in six age groups | string | enum : Array ( [0] => Under 65 years old [1] => 65-69 years old [2] => 70-74 years old [3] => 75-79 years old [4] => 80-84 years old [5] => 85 years old and over ) |
| Drug_Code | This is a set of 1,022 possible codes, numbered 0 - 1,021, which identifies the drug name; 0 values meaning Unknown/Missing have been deleted | integer | level : Ratio |
| Drug_Strength_Code | This is a set of 665 possible codes, numbered 0 - 664, which indicates the strength of the drug; 0 values meaning Unknown/Missing have been deleted | integer | level : Ratio |
| Drug_Strength_Units | This is a set of 46 possible codes, numbered 0 - 45, which indicates the unit of strength (milligrams, milliliters, etc); 0 values meaning Unknown/Missing have been deleted | integer | level : Ratio |
| Drug_Dose_Code | This is a set of 71 possible codes, numbered 0 - 70, which indicates the form of the drug, such as oral tablet, oral capsule, etc; 0 values meaning Unknown/Missing have been deleted | integer | level : Ratio |
| Drug_Class_Code | This is a set of 28 possible codes, numbered 0 - 27. It indicates the class of the drug, such as cardiovascular medications, central nervous system medications, etc; 0 values meaning Unknown/Missing have been deleted | integer | level : Ratio |
| Drug_Quantity_Dispensed | The amount of drug that is dispensed in terms of units, grams, milliliters, etc | integer | level : Ratio |
| No_Of_Days_Drug_Supply | The number of days' supply for the dispensed drug | string | enum : Array ( [0] => 1-7 days [1] => 8-14 days [2] => 15-21 days [3] => 22-29 days [4] => 30-59 days [5] => 60-89 days [6] => 90 or more days ) |
| Drug_Cost | The entire cost of the prescription based on the sum of ingredient cost paid, dispensing fee paid, and total amount attributed to sales tax | number | - |
| Drug_Cost_Patient_Paid | Indicates how much of the total drug cost the beneficiary paid that is not reimbursed by a third party (e.g., co-payments, coinsurance, deductible or other patient pay amounts) | string | enum : Array ( [0] => Patient did not pay any amount [1] => Patient paid an amount greater than $0 but less than the total drug cost [2] => Patient paid the total drug cost ) |
| Drug_Type | Indicates whether the type of the drug is generic or brand name | string | enum : Array ( [0] => Brand name [1] => Generic name ) |
Data Preview
| | | | | | | | | | | | | |
| --- | --- | --- | --- | --- | --- | --- | --- | --- | --- | --- | --- | --- |
| ID | Gender | Age | Drug Code | Drug Strength Code | Drug Strength Units | Drug Dose Code | Drug Class Code | Drug Quantity Dispensed | No Of Days Drug Supply | Drug Cost | Drug Cost Patient Paid | Drug Type |
| PDE-000000432E55F933 | Male | 65-69 years old | 259 | 391 | 3 | 13 | | 30 | 30-59 days | 10.0 | Patient paid an amount greater than $0 but less than the total drug cost | Generic name |
| PDE-0000005B958A9466 | Female | 75-79 years old | 423 | 421 | 3 | 13 | 26.0 | 30 | 30-59 days | 70.0 | Patient paid an amount greater than $0 but less than the total drug cost | Brand name |
| PDE-00000102D704D59E | Female | 75-79 years old | 211 | 375 | 3 | 9 | 12.0 | 30 | 30-59 days | 150.0 | Patient paid an amount greater than $0 but less than the total drug cost | Brand name |
| PDE-0000010EC12CAC12 | Male | Under 65 years old | 812 | 327 | 3 | 41 | 3.0 | 30 | 30-59 days | 600.0 | Patient paid an amount greater than $0 but less than the total drug cost | Brand name |
| PDE-0000011F15B4D417 | Female | 65-69 years old | 283 | 198 | 4 | 41 | 9.0 | 30 | 30-59 days | 10.0 | Patient paid an amount greater than $0 but less than the total drug cost | Generic name |
| PDE-0000017423A44550 | Male | 75-79 years old | 32 | 273 | 3 | 41 | 9.0 | 30 | 30-59 days | 20.0 | Patient paid an amount greater than $0 but less than the total drug cost | Brand name |
| PDE-0000020BF1F161CE | Female | 65-69 years old | 336 | 471 | 18 | 39 | 12.0 | 500 | 8-14 days | 20.0 | Patient paid an amount greater than $0 but less than the total drug cost | Brand name |
| PDE-0000020EC491801E | Female | 85 years old and over | 303 | 161 | 3 | 41 | 2.0 | 25 | 22-29 days | 10.0 | Patient did not pay any amount | Generic name |
| PDE-000002B17F7CD3A4 | Female | Under 65 years old | 316 | 175 | 39 | 17 | 14.0 | 10 | 22-29 days | 90.0 | Patient did not pay any amount | Brand name |
| PDE-000002CBAFCCEEE8 | Female | Under 65 years old | 562 | 175 | 3 | 41 | 8.0 | 30 | 30-59 days | | Patient paid an amount greater than $0 but less than the total drug cost | Generic name |