Others titles
Discharge Status for Adults Undergoing Hip or Knee Joint Replacement Procedures
National Hospital Discharge Survey on Hip and Knee Joint Replacement Procedures
Total Number of Hip and Knee Replacements 2010
Discharge Status for Adults 18 to 65 Hip and Recovery Knee Replacements 2010
Discharge Status for Adults 18 to 65 Hip and Knee Joint Replacements 2010
Discharge Status for Adults 18 to 65 Hip and Knee Meniscus Replacements 2010
Keywords
Hip Replacements
Hip Replacement Complications
Total Hip Replacements
Partial Hip Replacements
Total Knee Replacements
Replacement Procedures
Hip and Knee Conditions
Recovery from Knee Replacement
Knee Joint Condition
Meniscus
Discharge Status for Adults 18-65 Hip and Knee Replacements USBJI 2010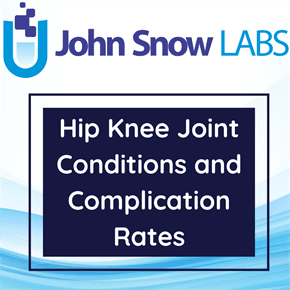 Most adults with total hip and revision hip replacements are routinely discharged home, but 20% to 30% are discharged to long-term care. Slightly higher rates of persons age 65 years and older go to long-term care. Among patients who undergo a partial hip replacement, nearly half (45%) go to long-term care, with three out of five who are 65 years and older with a partial hip replacement doing so. This dataset showcases about this study results.
Log in to download
Complexity
Get The Data
For getting access to data download links please read and accept the end-user license agreement.
Your Data License
Research

Non-Commercial, Share-Alike, Attribution

Free Forever

Commercial

Commercial Use, Remix & Adapt, White Label Log in to download
Description
In the past, doctors reserved hip replacement surgery primarily for people over 60 years of age. The thinking was that older people typically are less active and put less stress on the artificial hip than do younger people. In more recent years, however, doctors have found that hip replacement surgery can be very successful in younger people as well. New technology has improved the artificial parts, allowing them to withstand more stress and strain and last longer.
This data provides a comparison in the number of cases between the young adults ages 18 and above and elderly people ages 65 and above. It shows the high and low percentages of cases that may be a helpful data to show the success rate of such procedures and the common practices in hip and knee replacement procedures in 2010.
About this Dataset
Data Info
| | |
| --- | --- |
| Date Created | N/A |
| Last Modified | 2013-04-23 |
| Version | 2013-04-23 |
| Update Frequency | Never |
| Temporal Coverage | 2011 |
| Spatial Coverage | United States |
| Source | John Snow Labs; National Hospital Discharge Survey (NHDS); |
| Source License URL | |
| Source License Requirements | N/A |
| Source Citation | N/A |
| Keywords | Hip Replacements, Hip Replacement Complications, Total Hip Replacements, Partial Hip Replacements, Total Knee Replacements, Replacement Procedures, Hip and Knee Conditions, Recovery from Knee Replacement, Knee Joint Condition, Meniscus |
| Other Titles | Discharge Status for Adults Undergoing Hip or Knee Joint Replacement Procedures, National Hospital Discharge Survey on Hip and Knee Joint Replacement Procedures, Total Number of Hip and Knee Replacements 2010, Discharge Status for Adults 18 to 65 Hip and Recovery Knee Replacements 2010, Discharge Status for Adults 18 to 65 Hip and Knee Joint Replacements 2010, Discharge Status for Adults 18 to 65 Hip and Knee Meniscus Replacements 2010 |
Data Fields
| Name | Description | Type | Constraints |
| --- | --- | --- | --- |
| Discharge_Status | Description of the discharge status after a Hip or Knee Replacement Procedure. Also includes the total number of cases for both ages 18 & above and 65 & above. | string | required : 1 |
| Age | Age group of the patient (18 years & above or 65 years & above) who underwent Hip or Knee Replacement Procedure. | string | required : 1 |
| Total_Hip_Replacement_Cases | Number of Total Hip Replacement Cases (in 000s) | number | level : Ratiorequired : 1 |
| Percentage_THR | Percentage of Total Hip Replacement procedures in proportion to the total number of replacement cases for ages 18 & above and 65 & above. | number | level : Ratiorequired : 1 |
| ICD_9_CM_THR | Code for the specific Total Hip Replacement procedure done | number | level : Nominal |
| Partial_Hip_Replacement_Cases | Number of Partial Hip Replacement Cases (in 000s) | number | level : Ratiorequired : 1 |
| Percentage_PHR | Percentage of Partial Hip Replacement procedures in proportion to the total number of replacement cases for ages 18 & above and 65 & above. | number | level : Ratiorequired : 1 |
| ICD_9_CM_PHR | Code for the specific Partial Hip Replacement procedure done | number | level : Nominal |
| Notes | Explanation of an unknown error in the partial hip replacement data occurred in the NHDS 2010 data file. | string | - |
| Revision_Hip_Replacement_Cases | Number of Revision Hip Replacement Cases (in 000s) | number | level : Ratiorequired : 1 |
| Percentage_RHR | Percentage of Revision Hip Replacement procedures in proportion to the total number of replacement cases for ages 18 & above and 65 & above. | number | level : Ratiorequired : 1 |
| ICD_9_CM_RHR | Code for the specific Revision Hip Replacement procedure done | string | - |
| Total_Knee_Replacement_Cases | Number of Total Knee Replacement Cases (in 000s) | number | level : Ratiorequired : 1 |
| Percentage_TKR | Percentage of Total Knee Replacement procedures in proportion to the total number of replacement cases for ages 18 & above and 65 & above. | number | level : Ratiorequired : 1 |
| ICD_9_CM_TKR | Code for the specific Total Knee Replacement procedure done | number | level : Nominal |
| Revision_Knee_Replacement_Cases | Number of Revision Knee Replacement Cases (in 000s) | number | level : Ratiorequired : 1 |
| Percentage_RKR | Percentage of Revision Knee Replacement procedures in proportion to the total number of replacement cases for ages 18 & above and 65 & above. | number | level : Ratiorequired : 1 |
| ICD_9_CM_RKR | Code for the specific Revision Knee Replacement procedure done | string | - |
| All_Hip_and_Knee_Replacements_Cases | Number of All Hip and Knee Replacement Cases (in 000s) | number | level : Ratiorequired : 1 |
| Percentage_AHKR | Percentage of All Hip and Knee Replacement procedures in proportion to the total number of replacement cases for ages 18 & above and 65 & above. | number | level : Ratiorequired : 1 |
Data Preview
| | | | | | | | | | | | | | | | | | | | |
| --- | --- | --- | --- | --- | --- | --- | --- | --- | --- | --- | --- | --- | --- | --- | --- | --- | --- | --- | --- |
| Discharge Status | Age | Total Hip Replacement Cases | Percentage THR | ICD 9 CM THR | Partial Hip Replacement Cases | Percentage PHR | ICD 9 CM PHR | Notes | Revision Hip Replacement Cases | Percentage RHR | ICD 9 CM RHR | Total Knee Replacement Cases | Percentage TKR | ICD 9 CM TKR | Revision Knee Replacement Cases | Percentage RKR | ICD 9 CM RKR | All Hip and Knee Replacements Cases | Percentage AHKR |
| Routine Discharge Home | 18 and above | 192.4 | 0.59 | 81.51 | 42.3 | 0.32 | 81.52 | An unknown error in the partial hip replacement data occurred in the NHDS 2010 data file. A correction for total partial hip cases was made by excluding cases with diagnosis of spine (720 724, 737, 756, 805, 806) | 24.4 | 0.51 | 81.53, 00.70-00.73 | 417.8 | 0.61 | 81.54 | 38.3 | 0.59 | 81.55, 00.80-00.84 | 718.6 | 0.57 |
| Discharged/ Transferred to Short-Term Facility | 18 and above | 22.8 | 0.07 | 81.51 | 7.6 | 0.06 | 81.52 | An unknown error in the partial hip replacement data occurred in the NHDS 2010 data file. A correction for total partial hip cases was made by excluding cases with diagnosis of spine (720 724, 737, 756, 805, 806) | 6.5 | 0.14 | 81.53, 00.70-00.73 | 44.2 | 0.06 | 81.54 | 3.1 | 0.05 | 81.55, 00.80-00.84 | 84.8 | 0.07 |
| Discharged/ Transferred to Long-Term Care Institution | 18 and above | 69.5 | 0.21 | 81.51 | 60.3 | 0.45 | 81.52 | An unknown error in the partial hip replacement data occurred in the NHDS 2010 data file. A correction for total partial hip cases was made by excluding cases with diagnosis of spine (720 724, 737, 756, 805, 806) | 13.1 | 0.28 | 81.53, 00.70-00.73 | 149.1 | 0.22 | 81.54 | 19.7 | 0.3 | 81.55, 00.80-00.84 | 310.0 | 0.25 |
| Unknown/ Other Discharge Status | 18 and above | 41.4 | 0.13 | 81.51 | 23.7 | 0.18 | 81.52 | An unknown error in the partial hip replacement data occurred in the NHDS 2010 data file. A correction for total partial hip cases was made by excluding cases with diagnosis of spine (720 724, 737, 756, 805, 806) | 3.5 | 0.07 | 81.53, 00.70-00.73 | 79.4 | 0.12 | 81.54 | 4.1 | 0.06 | 81.55, 00.80-00.84 | 151.8 | 0.12 |
| Total Cases 18 and above (in 000s) | 18 and above | 326.1 | 1.0 | | 133.9 | 1.0 | | | 47.5 | 1.0 | | 690.5 | 1.0 | | 65.2 | 1.0 | | 1265.2 | 1.0 |
| Routine Discharge Home | 65 and above | 81.3 | 0.48 | 81.51 | 11.1 | 0.11 | 81.52 | An unknown error in the partial hip replacement data occurred in the NHDS 2010 data file. A correction for total partial hip cases was made by excluding cases with diagnosis of spine (720 724, 737, 756, 805, 806) | 12.9 | 0.43 | 81.53, 00.70-00.73 | 187.4 | 0.5 | 81.54 | 19.1 | 0.54 | 81.55, 00.80-00.84 | 310.8 | 0.44 |
| Discharged/ Transferred to Short-Term Facility | 65 and above | 17.0 | 0.1 | 81.51 | 7.4 | 0.08 | 81.52 | An unknown error in the partial hip replacement data occurred in the NHDS 2010 data file. A correction for total partial hip cases was made by excluding cases with diagnosis of spine (720 724, 737, 756, 805, 806) | 5.6 | 0.18 | 81.53, 00.70-00.73 | 32.5 | 0.09 | 81.54 | 2.4 | 0.07 | 81.55, 00.80-00.84 | 64.7 | 0.09 |
| Discharged/ Transferred to Long-Term Care Institution | 65 and above | 49.2 | 0.29 | 81.51 | 57.5 | 0.59 | 81.52 | An unknown error in the partial hip replacement data occurred in the NHDS 2010 data file. A correction for total partial hip cases was made by excluding cases with diagnosis of spine (720 724, 737, 756, 805, 806) | 9.8 | 0.32 | 81.53, 00.70-00.73 | 110.1 | 0.3 | 81.54 | 12.4 | 0.35 | 81.55, 00.80-00.84 | 237.6 | 0.34 |
| Unknown/ Other Discharge Status | 65 and above | 20.5 | 0.12 | 81.51 | 21.6 | 0.22 | 81.52 | An unknown error in the partial hip replacement data occurred in the NHDS 2010 data file. A correction for total partial hip cases was made by excluding cases with diagnosis of spine (720 724, 737, 756, 805, 806) | 2.2 | 0.07 | 81.53, 00.70-00.73 | 43.3 | 0.12 | 81.54 | 1.8 | 0.05 | 81.55, 00.80-00.84 | 90.0 | 0.13 |
| Total Cases 65 and above (in 000s) | 65 and above | 167.9 | 1.0 | | 97.6 | 1.0 | | | 30.5 | 1.0 | | 373.3 | 1.0 | | 35.7 | 1.0 | | 703.1 | 1.0 |