Others titles
Comparative Toxicogenomics Terms of the Vocabulary
Comparative Toxicogenomics Database Gene Expression Vocabulary
Keywords
Taxogenomics
Gene Disease Association
Gene Chemical Pathways
Activity of Genes Vocabulary
Mechanism of Chemicals
Gene and Disease Relationship
Comparative Toxicogenomics Database
Chemical and Disease Inferences
Gene Nomenclature
Gene Definitions
Gene Expression Vocabulary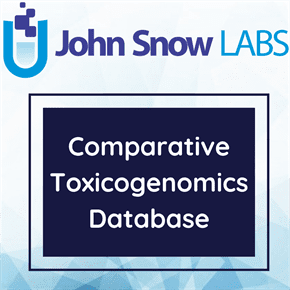 This dataset contains the terms of the vocabulary used in the Comparative Toxicogenomics Database (CTD) to describe the activity of genes inferred to have an interaction with a chemical or disease. The dataset contains different types of standardized identifications for the gene to provide a cross-platform compatibility making able to identify the gene and its characteristics in major scientific databases.
Log in to download
Complexity
Get The Data
For getting access to data download links please read and accept the end-user license agreement.
Your Data License
Research

Non-Commercial, Share-Alike, Attribution

Free Forever

Commercial

Commercial Use, Remix & Adapt, White Label Log in to download
Description
The Comparative Toxicogenomics Database (CTD) purpose is to provide a tool to generate new hypotheses on the mechanism of chemicals in the development of diseases by collecting curated data reported in the scientific literature on chemicals, genes and diseases and making inferences on the relationships of these three elements.
The CTD datasets can be used to create a tool for input of queries to obtain inferred relationships between genes, chemicals and diseases and the significance of the inferences. When a query is run, the terms on this dataset are displayed in the output generated for genes related to a chemical.
About this Dataset
Data Info
| | |
| --- | --- |
| Date Created | 2004-01-20 |
| Last Modified | 2023-10-27 |
| Version | 2023-10 |
| Update Frequency | Monthly |
| Temporal Coverage | N/A |
| Spatial Coverage | N/A |
| Source | John Snow Labs; Comparative Toxicogenomics Database; |
| Source License URL | |
| Source License Requirements | Publicly available and free for research application but citation is required. Permission asked for commercial uses |
| Source Citation | Publicly available and free for research application but citation is required. Permission asked for commercial uses |
| Keywords | Taxogenomics, Gene Disease Association, Gene Chemical Pathways, Activity of Genes Vocabulary, Mechanism of Chemicals, Gene and Disease Relationship, Comparative Toxicogenomics Database, Chemical and Disease Inferences, Gene Nomenclature, Gene Definitions |
| Other Titles | Comparative Toxicogenomics Terms of the Vocabulary, Comparative Toxicogenomics Database Gene Expression Vocabulary |
Data Fields
| Name | Description | Type | Constraints |
| --- | --- | --- | --- |
| Gene_Symbol | Short-form abbreviation of the name of the gene interacting with the chemical. The approved symbols for human genes are collected in the HUGO Gene Nomenclature Committee database; each name and symbol is unique for every gene and can be applied for other species. | string | - |
| Gene_Name | Name of the gene. | string | - |
| Gene_ID | Unique identifier for the gene of the National Center for Biotechnology Information (NCBI)'s Entrez Gene database. This Entrez Gene unique integer can be browsed in the Entrez system online to find nomenclature, sequence, products and other specific details of the gene. The identifier is species specific, a gene ID of a human gene can't be applied to the same gene of a different species. | integer | level : Nominal |
| Alternative_Gene_ID | Alternative NCBI Gene identifiers; ('|'-delimited list). | string | - |
| Synonyms | Other names for gene. ('|'-delimited list) | string | - |
| Bio_Grid_ID | Identification number of the gene in the BioGRID database. The Biological General Repository for Interaction Datasets (BioGRID) is a public database that archives and disseminates genetic and protein interaction data from model organisms and humans. BioGRID currently holds over 1,400,000 interactions curated from both high-throughput datasets and individual focused studies, as derived from over 57,000 publications in the primary literature. ('|'-delimited list) | string | - |
| PharmGKB_IDs | Identification number of the gene in the PharmGKB database. The PharmGKB is a pharmacogenomics knowledge resource that encompasses clinical information including dosing guidelines and drug labels, potentially clinically actionable gene-drug associations and genotype-phenotype relationships. PharmGKB collects, curates and disseminates knowledge about the impact of human genetic variation on drug responses. ('|'-delimited list) | string | - |
| UniProt_IDs | Identification number of the gene in the UniProt database. The Universal Protein Resource (UniProt) is a comprehensive resource for protein sequence and gene annotation data. ('|'-delimited list) | string | - |
Data Preview
| | | | | | | | |
| --- | --- | --- | --- | --- | --- | --- | --- |
| Gene Symbol | Gene Name | Gene ID | Alternative Gene ID | Synonyms | Bio Grid ID | PharmGKB IDs | UniProt IDs |
| = | 16S ribosomal RNA | 73953399.0 | | NQW33_mgr01 | | | |
| 03B03F | DNA segment, 03B03F (Research Genetics) | 27777.0 | | | | | |
| 03B03R | DNA segment, 03B03R (Research Genetics) | 27778.0 | | | | | |
| 03.MMHAP34FRA.SEQ | DNA segment, 03.MMHAP34FRA.seq | 53288.0 | | | | | |
| 064YA | | 5658107.0 | | | | | |
| 102G4T7 | DNA segment, 102g4T7 | 56573.0 | | | | | |
| 106I22-SP6 | DNA segment, 106I22-Sp6 | 53159.0 | | | | | |
| 109F12R | DNA segment, 102F12R | 56574.0 | | | | | |
| 10A1.1.S | retrotransposon-like element 10A1 gene 1 S homeolog | 379519.0 | | 10a1.1|Xretpos | | | |
| 10RIBBFT | Backfat at tenth rib | 407484.0 | 100322921|100326046|100326095|100326256|100328128|100529885|100529886|100530249|100530360|100530450|100884666|100884812|100884853|100884926|407504|407596 | 10THRIB|Backfat thickness at 10th rib | | | |