Others titles
Global Burden of Disease Study 2016 (GBD 2016) Healthcare Access and Quality Index Based on Amenable Mortality 1990–2016
Global Life Expectancy by Gender 1970 to 2016
Global Life Expectancy at Birth 1970 to 2016
Global Age-Standardized Death Rates 1970 to 2016
Global Death Rates 1970 to 2016
Keywords
Life Expectancy
Average Life Expectancy
Life Expectancy Calculator
Death Rates
Age-Standardized Death Rates
Life Expectancy by Age
Healthcare Access
Global Life Expectancy 1970 to 2016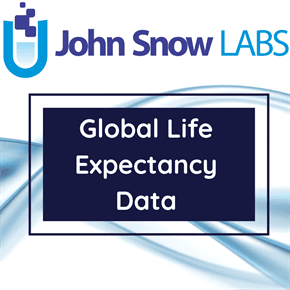 This dataset provides estimates of life expectancy at birth and at 65 years of age and 95% uncertainty interval estimates by location, male, female and both sexes combined, 1970, 1975, 1980, 1985, 1990, 1995, 2000, 2005, 2010, 2016. This age-specific mortality dataset is used to enable health systems to target interventions for the older adult populations.
Log in to download
Complexity
Get The Data
For getting access to data download links please read and accept the end-user license agreement.
Your Data License
Research

Non-Commercial, Share-Alike, Attribution

Free Forever

Commercial

Commercial Use, Remix & Adapt, White Label Log in to download
Description
This dataset is from Global Burden of Disease Study 2016 (GBD 2016) estimates of age-specific and sex-specific all-cause mortality between 1970 and 2016 for 195 countries and territories and at the subnational level for the five countries with a population greater than 200 million in 2016.
Detailed assessments of mortality patterns, particularly age-specific mortality, in this dataset, the under 5 years of age, are useful in enabling health systems to target interventions to specific population groups.
Results of the study showed that Life expectancy at age 65 years increased in almost all countries from 1970 to 2016, and these
increases typically occurred across successive decades, a trend with significant implications for health care, health insurance, and social security systems across all levels of Sustainable Development Indicators (SDI). Given the large fraction of the world's population that will probably survive into these age groups, more research and policy attention on the determinants of mortality and health at these ages is warranted.
The study is published in The Lancet in September 2017 in "Global, regional, and national under-5 mortality, adult mortality, age-specific mortality, and life expectancy, 1970-2016: a systematic analysis for the Global Burden of Disease Study 2016".
About this Dataset
Data Info
| | |
| --- | --- |
| Date Created | 2017-09-14 |
| Last Modified | 2017-09-14 |
| Version | 2017-09-14 |
| Update Frequency | Never |
| Temporal Coverage | 1970-01-01 to 2016-12-31 |
| Spatial Coverage | World |
| Source | John Snow Labs; Institute for Health Metrics and Evaluation (IHME), Global Health Data Exchange; |
| Source License URL | |
| Source License Requirements | N/A |
| Source Citation | N/A |
| Keywords | Life Expectancy, Average Life Expectancy, Life Expectancy Calculator, Death Rates, Age-Standardized Death Rates, Life Expectancy by Age, Healthcare Access |
| Other Titles | Global Burden of Disease Study 2016 (GBD 2016) Healthcare Access and Quality Index Based on Amenable Mortality 1990–2016, Global Life Expectancy by Gender 1970 to 2016, Global Life Expectancy at Birth 1970 to 2016, Global Age-Standardized Death Rates 1970 to 2016, Global Death Rates 1970 to 2016 |
Data Fields
| Name | Description | Type | Constraints |
| --- | --- | --- | --- |
| Geography | Geography which includes global, regional, national, and selected subnational where age-standardized risk-standardized death rates for male and females were estimated from 1970 to 2016 | string | - |
| Life_Expectancy_At_Birth_Both_1970 | Estimated life expectancy at birth in both males and females in 1970 | number | level : Ratio |
| Life_Expectancy_At_Birth_Both_1970_LI | Lower limit of estimated life expectancy at birth in both males and females in 1970 | number | level : Ratio |
| Life_Expectancy_At_Birth_Both_1970_UI | Upper limit of estimated life expectancy at birth in both males and females in 1970 | number | level : Ratio |
| Life_Expectancy_At_Birth_Both_1975 | Estimated life expectancy at birth in both males and females in 1975 | number | level : Ratio |
| Life_Expectancy_At_Birth_Both_1975_LI | Lower limit of estimated life expectancy at birth in both males and females in 1975 | number | level : Ratio |
| Life_Expectancy_At_Birth_Both_1975_UI | Upper limit of estimated life expectancy at birth in both males and females in 1975 | number | level : Ratio |
| Life_Expectancy_At_Birth_Both_1980 | Estimated life expectancy at birth in both males and females in 1980 | number | level : Ratio |
| Life_Expectancy_At_Birth_Both_1980_LI | Lower limit of estimated life expectancy at birth in both males and females in 1980 | number | level : Ratio |
| Life_Expectancy_At_Birth_Both_1980_UI | Upper limit of estimated life expectancy at birth in both males and females in 1980 | number | level : Ratio |
| Life_Expectancy_At_Birth_Both_1985 | Estimated life expectancy at birth in both males and females in 1985 | number | level : Ratio |
| Life_Expectancy_At_Birth_Both_1985_LI | Lower limit of estimated life expectancy at birth in both males and females in 1985 | number | level : Ratio |
| Life_Expectancy_At_Birth_Both_1985_UI | Upper limit of estimated life expectancy at birth in both males and females in 1985 | number | level : Ratio |
| Life_Expectancy_At_Birth_Both_1990 | Estimated life expectancy at birth in both males and females in 1990 | number | level : Ratio |
| Life_Expectancy_At_Birth_Both_1990_LI | Lower limit of estimated life expectancy at birth in both males and females in 1990 | number | level : Ratio |
| Life_Expectancy_At_Birth_Both_1990_UI | Upper limit of estimated life expectancy at birth in both males and females in 1990 | number | level : Ratio |
| Life_Expectancy_At_Birth_Both_1995 | Estimated life expectancy at birth in both males and females in 1995 | number | level : Ratio |
| Life_Expectancy_At_Birth_Both_1995_LI | Lower limit of estimated life expectancy at birth in both males and females in 1995 | number | level : Ratio |
| Life_Expectancy_At_Birth_Both_1995_UI | Upper limit of estimated life expectancy at birth in both males and females in 1995 | number | level : Ratio |
| Life_Expectancy_At_Birth_Both_2000 | Estimated life expectancy at birth in both males and females in 2000 | number | level : Ratio |
| Life_Expectancy_At_Birth_Both_2000_LI | Lower limit of estimated life expectancy at birth in both males and females in 2000 | number | level : Ratio |
| Life_Expectancy_At_Birth_Both_2000_UI | Upper limit of estimated life expectancy at birth in both males and females in 2000 | number | level : Ratio |
| Life_Expectancy_At_Birth_Both_2005 | Estimated life expectancy at birth in both males and females in 2005 | number | level : Ratio |
| Life_Expectancy_At_Birth_Both_2005_LI | Lower limit of estimated life expectancy at birth in both males and females in 2005 | number | level : Ratio |
| Life_Expectancy_At_Birth_Both_2005_UI | Upper limit of estimated life expectancy at birth in both males and females in 2005 | number | level : Ratio |
| Life_Expectancy_At_Birth_Both_2010 | Estimated life expectancy at birth in both males and females in 2010 | number | level : Ratio |
| Life_Expectancy_At_Birth_Both_2010_LI | Lower limit of estimated life expectancy at birth in both males and females in 2010 | number | level : Ratio |
| Life_Expectancy_At_Birth_Both_2010_UI | Upper limit of estimated life expectancy at birth in both males and females in 2010 | number | level : Ratio |
| Life_Expectancy_At_Birth_Both_2016 | Estimated life expectancy at birth in both males and females in 2016 | number | level : Ratio |
| Life_Expectancy_At_Birth_Both_2016_LI | Lower limit of estimated life expectancy at birth in both males and females in 2016 | number | level : Ratio |
| Life_Expectancy_At_Birth_Both_2016_UI | Upper limit of estimated life expectancy at birth in both males and females in 2016 | number | level : Ratio |
| Life_Expectancy_At_Birth_Male_1970 | Estimated life expectancy at birth in males in 1970 | number | level : Ratio |
| Life_Expectancy_At_Birth_Male_1970_LI | Lower limit of estimated life expectancy at birth in males in 1970 | number | level : Ratio |
| Life_Expectancy_At_Birth_Male_1970_UI | Upper limit of estimated life expectancy at birth in males in 1970 | number | level : Ratio |
| Life_Expectancy_At_Birth_Male_1975 | Estimated life expectancy at birth in males in 1975 | number | level : Ratio |
| Life_Expectancy_At_Birth_Male_1975_LI | Lower limit of estimated life expectancy at birth in males in 1975 | number | level : Ratio |
| Life_Expectancy_At_Birth_Male_1975_UI | Upper limit of estimated life expectancy at birth in males in 1975 | number | level : Ratio |
| Life_Expectancy_At_Birth_Male_1980 | Estimated life expectancy at birth in males in 1980 | number | level : Ratio |
| Life_Expectancy_At_Birth_Male_1980_LI | Lower limit of estimated life expectancy at birth in males in 1980 | number | level : Ratio |
| Life_Expectancy_At_Birth_Male_1980_UI | Upper limit of estimated life expectancy at birth in males in 1980 | number | level : Ratio |
| Life_Expectancy_At_Birth_Male_1985 | Estimated life expectancy at birth in males in 1985 | number | level : Ratio |
| Life_Expectancy_At_Birth_Male_1985_LI | Lower limit of estimated life expectancy at birth in males in 1985 | number | level : Ratio |
| Life_Expectancy_At_Birth_Male_1985_UI | Upper limit of estimated life expectancy at birth in males in 1985 | number | level : Ratio |
| Life_Expectancy_At_Birth_Male_1990 | Estimated life expectancy at birth in males in 1990 | number | level : Ratio |
| Life_Expectancy_At_Birth_Male_1990_LI | Lower limit of estimated life expectancy at birth in males in 1990 | number | level : Ratio |
| Life_Expectancy_At_Birth_Male_1990_UI | Upper limit of estimated life expectancy at birth in males in 1990 | number | level : Ratio |
| Life_Expectancy_At_Birth_Male_1995 | Estimated life expectancy at birth in males in 1995 | number | level : Ratio |
| Life_Expectancy_At_Birth_Male_1995_LI | Lower limit of estimated life expectancy at birth in males in 1995 | number | level : Ratio |
| Life_Expectancy_At_Birth_Male_1995_UI | Upper limit of estimated life expectancy at birth in males in 1995 | number | level : Ratio |
| Life_Expectancy_At_Birth_Male_2000 | Estimated life expectancy at birth in males in 2000 | number | level : Ratio |
| Life_Expectancy_At_Birth_Male_2000_LI | Lower limit of estimated life expectancy at birth in males in 2000 | number | level : Ratio |
| Life_Expectancy_At_Birth_Male_2000_UI | Upper limit of estimated life expectancy at birth in males in 2000 | number | level : Ratio |
| Life_Expectancy_At_Birth_Male_2005 | Estimated life expectancy at birth in males in 2005 | number | level : Ratio |
| Life_Expectancy_At_Birth_Male_2005_LI | Lower limit of estimated life expectancy at birth in males in 2005 | number | level : Ratio |
| Life_Expectancy_At_Birth_Male_2005_UI | Upper limit of estimated life expectancy at birth in males in 2005 | number | level : Ratio |
| Life_Expectancy_At_Birth_Male_2010 | Estimated life expectancy at birth in males in 2010 | number | level : Ratio |
| Life_Expectancy_At_Birth_Male_2010_LI | Lower limit of estimated life expectancy at birth in males in 2010 | number | level : Ratio |
| Life_Expectancy_At_Birth_Male_2010_UI | Upper limit of estimated life expectancy at birth in males in 2010 | number | level : Ratio |
| Life_Expectancy_At_Birth_Male_2016 | Estimated life expectancy at birth in males in 2016 | number | level : Ratio |
| Life_Expectancy_At_Birth_Male_2016_LI | Lower limit of estimated life expectancy at birth in males in 2016 | number | level : Ratio |
| Life_Expectancy_At_Birth_Male_2016_UI | Upper limit of estimated life expectancy at birth in males in 2016 | number | level : Ratio |
| Life_Expectancy_At_Birth_Female_1970 | Estimated life expectancy at birth in females in 1970 | number | level : Ratio |
| Life_Expectancy_At_Birth_Female_1970_LI | Lower limit of estimated life expectancy at birth in females in 1970 | number | level : Ratio |
| Life_Expectancy_At_Birth_Female_1970_UI | Upper limit of estimated life expectancy at birth in females in 1970 | number | level : Ratio |
| Life_Expectancy_At_Birth_Female_1975 | Estimated life expectancy at birth in females in 1975 | number | level : Ratio |
| Life_Expectancy_At_Birth_Female_1975_LI | Lower limit of estimated life expectancy at birth in females in 1975 | number | level : Ratio |
| Life_Expectancy_At_Birth_Female_1975_UI | Upper limit of estimated life expectancy at birth in females in 1975 | number | level : Ratio |
| Life_Expectancy_At_Birth_Female_1980 | Estimated life expectancy at birth in females in 1980 | number | level : Ratio |
| Life_Expectancy_At_Birth_Female_1980_LI | Lower limit of estimated life expectancy at birth in females in 1980 | number | level : Ratio |
| Life_Expectancy_At_Birth_Female_1980_UI | Lower limit of estimated lifeLife expectancy at birth in females in 1980 | number | level : Ratio |
| Life_Expectancy_At_Birth_Female_1985 | Estimated life expectancy at birth in females in 1985 | number | level : Ratio |
| Life_Expectancy_At_Birth_Female_1985_LI | Lower limit of estimated life expectancy at birth in females in 1985 | number | level : Ratio |
| Life_Expectancy_At_Birth_Female_1985_UI | Upper limit of estimated life expectancy at birth in females in 1985 | number | level : Ratio |
| Life_Expectancy_At_Birth_Female_1990 | Estimated life expectancy at birth in females in 1990 | number | level : Ratio |
| Life_Expectancy_At_Birth_Female_1990_LI | Lower limit of estimated life expectancy at birth in females in 1990 | number | level : Ratio |
| Life_Expectancy_At_Birth_Female_1990_UI | Upper limit of estimated life expectancy at birth in females in 1990 | number | level : Ratio |
| Life_Expectancy_At_Birth_Female_1995 | Estimated life expectancy at birth in females in 1995 | number | level : Ratio |
| Life_Expectancy_At_Birth_Female_1995_LI | Lower limit of estimated life expectancy at birth in females in 1995 | number | level : Ratio |
| Life_Expectancy_At_Birth_Female_1995_UI | Upper limit of estimated life expectancy at birth in females in 1995 | number | level : Ratio |
| Life_Expectancy_At_Birth_Female_2000 | Estimated life expectancy at birth in females in 2000 | number | level : Ratio |
| Life_Expectancy_At_Birth_Female_2000_LI | Lower limit of estimated life expectancy at birth in females in 2000 | number | level : Ratio |
| Life_Expectancy_At_Birth_Female_2000_UI | Upper limit of estimated life expectancy at birth in females in 2000 | number | level : Ratio |
| Life_Expectancy_At_Birth_Female_2005 | Estimated life expectancy at birth in females in 2005 | number | level : Ratio |
| Life_Expectancy_At_Birth_Female_2005_LI | Lower limit of estimated life expectancy at birth in females in 2005 | number | level : Ratio |
| Life_Expectancy_At_Birth_Female_2005_UI | Upper limit of estimated life expectancy at birth in females in 2005 | number | level : Ratio |
| Life_Expectancy_At_Birth_Female_2010 | Estimated life expectancy at birth in females in 2010 | number | level : Ratio |
| Life_Expectancy_At_Birth_Female_2010_LI | Lower limit of estimated life expectancy at birth in females in 2010 | number | level : Ratio |
| Life_Expectancy_At_Birth_Female_2010_UI | Upper limit of estimated life expectancy at birth in females in 2010 | number | level : Ratio |
| Life_Expectancy_At_Birth_Female_2016 | Estimated life expectancy at birth in females in 2016 | number | level : Ratio |
| Life_Expectancy_At_Birth_Female_2016_LI | Lower limit of estimated life expectancy at birth in females in 2016 | number | level : Ratio |
| Life_Expectancy_At_Birth_Female_2016_UI | Upper limit of estimated life expectancy at birth in females in 2016 | number | level : Ratio |
| Life_Expectancy_At_65_Both_1970 | Estimated life expectancy at 65 years in both males and females in 1970 | number | level : Ratio |
| Life_Expectancy_At_65_Both_1970_LI | Lower limit of estimated life expectancy at 65 years in both males and females in 1970 | number | level : Ratio |
| Life_Expectancy_At_65_Both_1970_UI | Upper limit of estimated life expectancy at 65 years in both males and females in 1970 | number | level : Ratio |
| Life_Expectancy_At_65_Both_1975 | Estimated life expectancy at 65 years in both males and females in 1975 | number | level : Ratio |
| Life_Expectancy_At_65_Both_1975_LI | Lower limit of estimated life expectancy at 65 years in both males and females in 1975 | number | level : Ratio |
| Life_Expectancy_At_65_Both_1975_UI | Upper limit of estimated life expectancy at 65 years in both males and females in 1975 | number | level : Ratio |
| Life_Expectancy_At_65_Both_1980 | Estimated life expectancy at 65 years in both males and females in 1980 | number | level : Ratio |
| Life_Expectancy_At_65_Both_1980_LI | Lower limit of estimated life expectancy at 65 years in both males and females in 1980 | number | level : Ratio |
| Life_Expectancy_At_65_Both_1980_UI | Upper limit of estimated life expectancy at 65 years in both males and females in 1980 | number | level : Ratio |
| Life_Expectancy_At_65_Both_1985 | Estimated life expectancy at 65 years in both males and females in 1985 | number | level : Ratio |
| Life_Expectancy_At_65_Both_1985_LI | Lower limit of estimated life expectancy at 65 years in both males and females in 1985 | number | level : Ratio |
| Life_Expectancy_At_65_Both_1985_UI | Upper limit of estimated life expectancy at 65 years in both males and females in 1985 | number | level : Ratio |
| Life_Expectancy_At_65_Both_1990 | Estimated life expectancy at 65 years in both males and females in 1990 | number | level : Ratio |
| Life_Expectancy_At_65_Both_1990_LI | Lower limit of estimated life expectancy at 65 years in both males and females in 1990 | number | level : Ratio |
| Life_Expectancy_At_65_Both_1990_UI | Upper limit of estimated life expectancy at 65 years in both males and females in 1990 | number | level : Ratio |
| Life_Expectancy_At_65_Both_1995 | Estimated life expectancy at 65 years in both males and females in 1995 | number | level : Ratio |
| Life_Expectancy_At_65_Both_1995_LI | Lower limit of estimated life expectancy at 65 years in both males and females in 1995 | number | level : Ratio |
| Life_Expectancy_At_65_Both_1995_UI | Upper limit of estimated life expectancy at 65 years in both males and females in 1995 | number | level : Ratio |
| Life_Expectancy_At_65_Both_2000 | Estimated life expectancy at 65 years in both males and females in 2000 | number | level : Ratio |
| Life_Expectancy_At_65_Both_2000_LI | Lower limit of estimated life expectancy at 65 years in both males and females in 2000 | number | level : Ratio |
| Life_Expectancy_At_65_Both_2000_UI | Upper limit of estimated life expectancy at 65 years in both males and females in 2000 | number | level : Ratio |
| Life_Expectancy_At_65_Both_2005 | Estimated life expectancy at 65 years in both males and females in 2005 | number | level : Ratio |
| Life_Expectancy_At_65_Both_2005_LI | Lower limit of estimated life expectancy at 65 years in both males and females in 2005 | number | level : Ratio |
| Life_Expectancy_At_65_Both_2005_UI | Upper limit of estimated life expectancy at 65 years in both males and females in 2005 | number | level : Ratio |
| Life_Expectancy_At_65_Both_2010 | Estimated life expectancy at 65 years in both males and females in 2010 | number | level : Ratio |
| Life_Expectancy_At_65_Both_2010_LI | Lower limit of estimated life expectancy at 65 years in both males and females in 2010 | number | level : Ratio |
| Life_Expectancy_At_65_Both_2010_UI | Upper limit of estimated life expectancy at 65 years in both males and females in 2010 | number | level : Ratio |
| Life_Expectancy_At_65_Both_2016 | Estimated life expectancy at 65 years in both males and females in 2016 | number | level : Ratio |
| Life_Expectancy_At_65_Both_2016_LI | Lower limit of estimated life expectancy at 65 years in both males and females in 2016 | number | level : Ratio |
| Life_Expectancy_At_65_Both_2016_UI | Upper limit of estimated life expectancy at 65 years in both males and females in 2016 | number | level : Ratio |
| Life_Expectancy_At_65_Male_1970 | Estimated life expectancy at 65 years in males in 1970 | number | level : Ratio |
| Life_Expectancy_At_65_Male_1970_LI | Lower limit of estimated life expectancy at 65 years in males in 1970 | number | level : Ratio |
| Life_Expectancy_At_65_Male_1970_UI | Upper limit of estimated life expectancy at 65 years in males in 1970 | number | level : Ratio |
| Life_Expectancy_At_65_Male_1975 | Estimated life expectancy at 65 years in males in 1975 | number | level : Ratio |
| Life_Expectancy_At_65_Male_1975_LI | Lower limit of estimated life expectancy at 65 years in males in 1975 | number | level : Ratio |
| Life_Expectancy_At_65_Male_1975_UI | Upper limit of estimated life expectancy at 65 years in males in 1975 | number | level : Ratio |
| Life_Expectancy_At_65_Male_1980 | Estimated life expectancy at 65 years in males in 1980 | number | level : Ratio |
| Life_Expectancy_At_65_Male_1980_LI | Lower limit of estimated life expectancy at 65 years in males in 1980 | number | level : Ratio |
| Life_Expectancy_At_65_Male_1980_UI | Upper limit of estimated life expectancy at 65 years in males in 1980 | number | level : Ratio |
| Life_Expectancy_At_65_Male_1985 | Estimated life expectancy at 65 years in males in 1985 | number | level : Ratio |
| Life_Expectancy_At_65_Male_1985_LI | Lower limit of estimated life expectancy at 65 years in males in 1985 | number | level : Ratio |
| Life_Expectancy_At_65_Male_1985_UI | Upper limit of estimated life expectancy at 65 years in males in 1985 | number | level : Ratio |
| Life_Expectancy_At_65_Male_1990 | Estimated life expectancy at 65 years in males in 1990 | number | level : Ratio |
| Life_Expectancy_At_65_Male_1990_LI | Lower limit of estimated life expectancy at 65 years in males in 1990 | number | level : Ratio |
| Life_Expectancy_At_65_Male_1990_UI | Upper limit of estimated life expectancy at 65 years in males in 1990 | number | level : Ratio |
| Life_Expectancy_At_65_Male_1995 | Estimated life expectancy at 65 years in males in 1995 | number | level : Ratio |
| Life_Expectancy_At_65_Male_1995_LI | Lower limit of estimated life expectancy at 65 years in males in 1995 | number | level : Ratio |
| Life_Expectancy_At_65_Male_1995_UI | Upper limit of estimated life expectancy at 65 years in males in 1995 | number | level : Ratio |
| Life_Expectancy_At_65_Male_2000 | Estimated life expectancy at 65 years in males in 2000 | number | level : Ratio |
| Life_Expectancy_At_65_Male_2000_LI | Lower limit of estimated life expectancy at 65 years in males in 2000 | number | level : Ratio |
| Life_Expectancy_At_65_Male_2000_UI | upper limit of estimated life expectancy at 65 years in males in 2000 | number | level : Ratio |
| Life_Expectancy_At_65_Male_2005 | Estimated life expectancy at 65 years in males in 2005 | number | level : Ratio |
| Life_Expectancy_At_65_Male_2005_LI | Lower limit of estimated life expectancy at 65 years in males in 2005 | number | level : Ratio |
| Life_Expectancy_At_65_Male_2005_UI | Upper limit of estimated life expectancy at 65 years in males in 2005 | number | level : Ratio |
| Life_Expectancy_At_65_Male_2010 | Estimated life expectancy at 65 years in males in 2010 | number | level : Ratio |
| Life_Expectancy_At_65_Male_2010_LI | Lower limit of estimated life expectancy at 65 years in males in 2010 | number | level : Ratio |
| Life_Expectancy_At_65_Male_2010_UI | Upper limit of estimated life expectancy at 65 years in males in 2010 | number | level : Ratio |
| Life_Expectancy_At_65_Male_2016 | Estimated life expectancy at 65 years in males in 2016 | number | level : Ratio |
| Life_Expectancy_At_65_Male_2016_LI | Lower limit of estimated life expectancy at 65 years in males in 2016 | number | level : Ratio |
| Life_Expectancy_At_65_Male_2016_UI | Upper limit of estimated life expectancy at 65 years in males in 2016 | number | level : Ratio |
| Life_Expectancy_At_65_Female_1970 | Estimated life expectancy at 65 years in females in 1970 | number | level : Ratio |
| Life_Expectancy_At_65_Female_1970_LI | Lower limit of estimated life expectancy at 65 years in females in 1970 | number | level : Ratio |
| Life_Expectancy_At_65_Female_1970_UI | Upper limit of estimated life expectancy at 65 years in females in 1970 | number | level : Ratio |
| Life_Expectancy_At_65_Female_1975 | Estimated life expectancy at 65 years in females in 1975 | number | level : Ratio |
| Life_Expectancy_At_65_Female_1975_LI | Lower limit of estimated life expectancy at 65 years in females in 1975 | number | level : Ratio |
| Life_Expectancy_At_65_Female_1975_UI | Upper limit of estimated life expectancy at 65 years in females in 1975 | number | level : Ratio |
| Life_Expectancy_At_65_Female_1980 | Estimated life expectancy at 65 years in females in 1980 | number | level : Ratio |
| Life_Expectancy_At_65_Female_1980_LI | Lower limit of estimated life expectancy at 65 years in females in 1980 | number | level : Ratio |
| Life_Expectancy_At_65_Female_1980_UI | Upper limit of estimated life expectancy at 65 years in females in 1980 | number | level : Ratio |
| Life_Expectancy_At_65_Female_1985 | Estimated life expectancy at 65 years in females in 1985 | number | level : Ratio |
| Life_Expectancy_At_65_Female_1985_LI | Lower limit of estimated life expectancy at 65 years in females in 1985 | number | level : Ratio |
| Life_Expectancy_At_65_Female_1985_UI | Upper limit of estimated life expectancy at 65 years in females in 1985 | number | level : Ratio |
| Life_Expectancy_At_65_Female_1990 | Estimated life expectancy at 65 years in females in 1990 | number | level : Ratio |
| Life_Expectancy_At_65_Female_1990_LI | Lower limit of estimated life expectancy at 65 years in females in 1990 | number | level : Ratio |
| Life_Expectancy_At_65_Female_1990_UI | Upper limit of estimated life expectancy at 65 years in females in 1990 | number | level : Ratio |
| Life_Expectancy_At_65_Female_1995 | Estimated life expectancy at 65 years in females in 1995 | number | level : Ratio |
| Life_Expectancy_At_65_Female_1995_LI | Lower limit of estimated life expectancy at 65 years in females in 1995 | number | level : Ratio |
| Life_Expectancy_At_65_Female_1995_UI | Upper limit of estimated life expectancy at 65 years in females in 1995 | number | level : Ratio |
| Life_Expectancy_At_65_Female_2000 | Estimated life expectancy at 65 years in females in 2000 | number | level : Ratio |
| Life_Expectancy_At_65_Female_2000_LI | Lower limit of estimated life expectancy at 65 years in females in 2000 | number | level : Ratio |
| Life_Expectancy_At_65_Female_2000_UI | Upper limit of estimated life expectancy at 65 years in females in 2000 | number | level : Ratio |
| Life_Expectancy_At_65_Female_2005 | Estimated life expectancy at 65 years in females in 2005 | number | level : Ratio |
| Life_Expectancy_At_65_Female_2005_LI | Lower limit of Estimated life expectancy at 65 years in females in 2005 | number | level : Ratio |
| Life_Expectancy_At_65_Female_2005_UI | Upper limit of estimated life expectancy at 65 years in females in 2005 | number | level : Ratio |
| Life_Expectancy_At_65_Female_2010 | Estimated life expectancy at 65 years in females in 2010 | number | level : Ratio |
| Life_Expectancy_At_65_Female_2010_LI | Lower limit of estimated life expectancy at 65 years in females in 2010 | number | level : Ratio |
| Life_Expectancy_At_65_Female_2010_UI | Upper limit of estimated life expectancy at 65 years in females in 2010 | number | level : Ratio |
| Life_Expectancy_At_65_Female_2016 | Estimated life expectancy at 65 years in females in 2016 | number | level : Ratio |
| Life_Expectancy_At_65_Female_2016_LI | Lower limit of estimated life expectancy at 65 years in females in 2016 | number | level : Ratio |
| Life_Expectancy_At_65_Female_2016_UI | Upper limit of estimated life expectancy at 65 years in females in 2016 | number | level : Ratio |
Data Preview
| | | | | | | | | | | | | | | | | | | | | | | | | | | | | | | | | | | | | | | | | | | | | | | | | | | | | | | | | | | | | | | | | | | | | | | | | | | | | | | | | | | | | | | | | | | | | | | | | | | | | | | | | | | | | | | | | | | | | | | | | | | | | | | | | | | | | | | | | | | | | | | | | | | | | | | | | | | | | | | | | | | | | | | | | | | | | | | | | | | | | |
| --- | --- | --- | --- | --- | --- | --- | --- | --- | --- | --- | --- | --- | --- | --- | --- | --- | --- | --- | --- | --- | --- | --- | --- | --- | --- | --- | --- | --- | --- | --- | --- | --- | --- | --- | --- | --- | --- | --- | --- | --- | --- | --- | --- | --- | --- | --- | --- | --- | --- | --- | --- | --- | --- | --- | --- | --- | --- | --- | --- | --- | --- | --- | --- | --- | --- | --- | --- | --- | --- | --- | --- | --- | --- | --- | --- | --- | --- | --- | --- | --- | --- | --- | --- | --- | --- | --- | --- | --- | --- | --- | --- | --- | --- | --- | --- | --- | --- | --- | --- | --- | --- | --- | --- | --- | --- | --- | --- | --- | --- | --- | --- | --- | --- | --- | --- | --- | --- | --- | --- | --- | --- | --- | --- | --- | --- | --- | --- | --- | --- | --- | --- | --- | --- | --- | --- | --- | --- | --- | --- | --- | --- | --- | --- | --- | --- | --- | --- | --- | --- | --- | --- | --- | --- | --- | --- | --- | --- | --- | --- | --- | --- | --- | --- | --- | --- | --- | --- | --- | --- | --- | --- | --- | --- | --- | --- | --- | --- | --- | --- | --- |
| Geography | Life Expectancy At Birth Both 1970 | Life Expectancy At Birth Both 1970 LI | Life Expectancy At Birth Both 1970 UI | Life Expectancy At Birth Both 1975 | Life Expectancy At Birth Both 1975 LI | Life Expectancy At Birth Both 1975 UI | Life Expectancy At Birth Both 1980 | Life Expectancy At Birth Both 1980 LI | Life Expectancy At Birth Both 1980 UI | Life Expectancy At Birth Both 1985 | Life Expectancy At Birth Both 1985 LI | Life Expectancy At Birth Both 1985 UI | Life Expectancy At Birth Both 1990 | Life Expectancy At Birth Both 1990 LI | Life Expectancy At Birth Both 1990 UI | Life Expectancy At Birth Both 1995 | Life Expectancy At Birth Both 1995 LI | Life Expectancy At Birth Both 1995 UI | Life Expectancy At Birth Both 2000 | Life Expectancy At Birth Both 2000 LI | Life Expectancy At Birth Both 2000 UI | Life Expectancy At Birth Both 2005 | Life Expectancy At Birth Both 2005 LI | Life Expectancy At Birth Both 2005 UI | Life Expectancy At Birth Both 2010 | Life Expectancy At Birth Both 2010 LI | Life Expectancy At Birth Both 2010 UI | Life Expectancy At Birth Both 2016 | Life Expectancy At Birth Both 2016 LI | Life Expectancy At Birth Both 2016 UI | Life Expectancy At Birth Male 1970 | Life Expectancy At Birth Male 1970 LI | Life Expectancy At Birth Male 1970 UI | Life Expectancy At Birth Male 1975 | Life Expectancy At Birth Male 1975 LI | Life Expectancy At Birth Male 1975 UI | Life Expectancy At Birth Male 1980 | Life Expectancy At Birth Male 1980 LI | Life Expectancy At Birth Male 1980 UI | Life Expectancy At Birth Male 1985 | Life Expectancy At Birth Male 1985 LI | Life Expectancy At Birth Male 1985 UI | Life Expectancy At Birth Male 1990 | Life Expectancy At Birth Male 1990 LI | Life Expectancy At Birth Male 1990 UI | Life Expectancy At Birth Male 1995 | Life Expectancy At Birth Male 1995 LI | Life Expectancy At Birth Male 1995 UI | Life Expectancy At Birth Male 2000 | Life Expectancy At Birth Male 2000 LI | Life Expectancy At Birth Male 2000 UI | Life Expectancy At Birth Male 2005 | Life Expectancy At Birth Male 2005 LI | Life Expectancy At Birth Male 2005 UI | Life Expectancy At Birth Male 2010 | Life Expectancy At Birth Male 2010 LI | Life Expectancy At Birth Male 2010 UI | Life Expectancy At Birth Male 2016 | Life Expectancy At Birth Male 2016 LI | Life Expectancy At Birth Male 2016 UI | Life Expectancy At Birth Female 1970 | Life Expectancy At Birth Female 1970 LI | Life Expectancy At Birth Female 1970 UI | Life Expectancy At Birth Female 1975 | Life Expectancy At Birth Female 1975 LI | Life Expectancy At Birth Female 1975 UI | Life Expectancy At Birth Female 1980 | Life Expectancy At Birth Female 1980 LI | Life Expectancy At Birth Female 1980 UI | Life Expectancy At Birth Female 1985 | Life Expectancy At Birth Female 1985 LI | Life Expectancy At Birth Female 1985 UI | Life Expectancy At Birth Female 1990 | Life Expectancy At Birth Female 1990 LI | Life Expectancy At Birth Female 1990 UI | Life Expectancy At Birth Female 1995 | Life Expectancy At Birth Female 1995 LI | Life Expectancy At Birth Female 1995 UI | Life Expectancy At Birth Female 2000 | Life Expectancy At Birth Female 2000 LI | Life Expectancy At Birth Female 2000 UI | Life Expectancy At Birth Female 2005 | Life Expectancy At Birth Female 2005 LI | Life Expectancy At Birth Female 2005 UI | Life Expectancy At Birth Female 2010 | Life Expectancy At Birth Female 2010 LI | Life Expectancy At Birth Female 2010 UI | Life Expectancy At Birth Female 2016 | Life Expectancy At Birth Female 2016 LI | Life Expectancy At Birth Female 2016 UI | Life Expectancy At 65 Both 1970 | Life Expectancy At 65 Both 1970 LI | Life Expectancy At 65 Both 1970 UI | Life Expectancy At 65 Both 1975 | Life Expectancy At 65 Both 1975 LI | Life Expectancy At 65 Both 1975 UI | Life Expectancy At 65 Both 1980 | Life Expectancy At 65 Both 1980 LI | Life Expectancy At 65 Both 1980 UI | Life Expectancy At 65 Both 1985 | Life Expectancy At 65 Both 1985 LI | Life Expectancy At 65 Both 1985 UI | Life Expectancy At 65 Both 1990 | Life Expectancy At 65 Both 1990 LI | Life Expectancy At 65 Both 1990 UI | Life Expectancy At 65 Both 1995 | Life Expectancy At 65 Both 1995 LI | Life Expectancy At 65 Both 1995 UI | Life Expectancy At 65 Both 2000 | Life Expectancy At 65 Both 2000 LI | Life Expectancy At 65 Both 2000 UI | Life Expectancy At 65 Both 2005 | Life Expectancy At 65 Both 2005 LI | Life Expectancy At 65 Both 2005 UI | Life Expectancy At 65 Both 2010 | Life Expectancy At 65 Both 2010 LI | Life Expectancy At 65 Both 2010 UI | Life Expectancy At 65 Both 2016 | Life Expectancy At 65 Both 2016 LI | Life Expectancy At 65 Both 2016 UI | Life Expectancy At 65 Male 1970 | Life Expectancy At 65 Male 1970 LI | Life Expectancy At 65 Male 1970 UI | Life Expectancy At 65 Male 1975 | Life Expectancy At 65 Male 1975 LI | Life Expectancy At 65 Male 1975 UI | Life Expectancy At 65 Male 1980 | Life Expectancy At 65 Male 1980 LI | Life Expectancy At 65 Male 1980 UI | Life Expectancy At 65 Male 1985 | Life Expectancy At 65 Male 1985 LI | Life Expectancy At 65 Male 1985 UI | Life Expectancy At 65 Male 1990 | Life Expectancy At 65 Male 1990 LI | Life Expectancy At 65 Male 1990 UI | Life Expectancy At 65 Male 1995 | Life Expectancy At 65 Male 1995 LI | Life Expectancy At 65 Male 1995 UI | Life Expectancy At 65 Male 2000 | Life Expectancy At 65 Male 2000 LI | Life Expectancy At 65 Male 2000 UI | Life Expectancy At 65 Male 2005 | Life Expectancy At 65 Male 2005 LI | Life Expectancy At 65 Male 2005 UI | Life Expectancy At 65 Male 2010 | Life Expectancy At 65 Male 2010 LI | Life Expectancy At 65 Male 2010 UI | Life Expectancy At 65 Male 2016 | Life Expectancy At 65 Male 2016 LI | Life Expectancy At 65 Male 2016 UI | Life Expectancy At 65 Female 1970 | Life Expectancy At 65 Female 1970 LI | Life Expectancy At 65 Female 1970 UI | Life Expectancy At 65 Female 1975 | Life Expectancy At 65 Female 1975 LI | Life Expectancy At 65 Female 1975 UI | Life Expectancy At 65 Female 1980 | Life Expectancy At 65 Female 1980 LI | Life Expectancy At 65 Female 1980 UI | Life Expectancy At 65 Female 1985 | Life Expectancy At 65 Female 1985 LI | Life Expectancy At 65 Female 1985 UI | Life Expectancy At 65 Female 1990 | Life Expectancy At 65 Female 1990 LI | Life Expectancy At 65 Female 1990 UI | Life Expectancy At 65 Female 1995 | Life Expectancy At 65 Female 1995 LI | Life Expectancy At 65 Female 1995 UI | Life Expectancy At 65 Female 2000 | Life Expectancy At 65 Female 2000 LI | Life Expectancy At 65 Female 2000 UI | Life Expectancy At 65 Female 2005 | Life Expectancy At 65 Female 2005 LI | Life Expectancy At 65 Female 2005 UI | Life Expectancy At 65 Female 2010 | Life Expectancy At 65 Female 2010 LI | Life Expectancy At 65 Female 2010 UI | Life Expectancy At 65 Female 2016 | Life Expectancy At 65 Female 2016 LI | Life Expectancy At 65 Female 2016 UI |
| Global | 58.4 | 57.9 | 58.9 | 60.4 | 60.0 | 60.8 | 62.1 | 61.8 | 62.4 | 63.7 | 63.5 | 64.0 | 65.1 | 64.9 | 65.3 | 65.7 | 65.5 | 65.9 | 66.8 | 66.6 | 67.0 | 68.4 | 68.1 | 68.6 | 70.3 | 70.0 | 70.6 | 72.5 | 72.1 | 72.8 | 56.3 | 55.6 | 57.0 | 58.2 | 57.7 | 58.7 | 59.9 | 59.5 | 60.3 | 61.4 | 61.1 | 61.7 | 62.7 | 62.4 | 63.0 | 63.2 | 62.9 | 63.5 | 64.4 | 64.1 | 64.6 | 65.9 | 65.6 | 66.1 | 67.8 | 67.4 | 68.1 | 69.8 | 69.3 | 70.2 | 60.5 | 60.2 | 60.9 | 62.6 | 62.3 | 62.9 | 64.4 | 64.1 | 64.7 | 66.0 | 65.8 | 66.3 | 67.6 | 67.3 | 67.8 | 68.3 | 68.1 | 68.5 | 69.4 | 69.2 | 69.6 | 71.0 | 70.8 | 71.2 | 73.0 | 72.8 | 73.3 | 75.3 | 75.0 | 75.6 | 13.6 | 13.5 | 13.6 | 13.9 | 13.9 | 14.0 | 14.2 | 14.1 | 14.2 | 14.4 | 14.4 | 14.5 | 14.7 | 14.7 | 14.8 | 14.9 | 14.8 | 14.9 | 15.3 | 15.2 | 15.3 | 15.8 | 15.8 | 15.9 | 16.6 | 16.5 | 16.6 | 17.2 | 17.1 | 17.3 | 12.5 | 12.4 | 12.5 | 12.7 | 12.7 | 12.8 | 12.9 | 12.8 | 13.0 | 13.1 | 13.1 | 13.2 | 13.3 | 13.3 | 13.4 | 13.5 | 13.4 | 13.6 | 13.9 | 13.8 | 14.0 | 14.5 | 14.4 | 14.5 | 15.1 | 15.1 | 15.2 | 15.7 | 15.6 | 15.8 | 14.5 | 14.4 | 14.5 | 14.9 | 14.8 | 15.0 | 15.3 | 15.2 | 15.4 | 15.5 | 15.5 | 15.6 | 15.9 | 15.8 | 16.0 | 16.1 | 16.0 | 16.2 | 16.5 | 16.4 | 16.6 | 17.1 | 17.0 | 17.2 | 17.8 | 17.8 | 17.9 | 18.6 | 18.4 | 18.7 |
| High SDI | 70.9 | 70.7 | 71.1 | 72.2 | 72.1 | 72.4 | 73.6 | 73.5 | 73.7 | 74.7 | 74.7 | 74.8 | 75.8 | 75.7 | 75.9 | 76.7 | 76.6 | 76.7 | 77.9 | 77.9 | 78.0 | 79.0 | 79.0 | 79.1 | 80.1 | 80.1 | 80.2 | 80.7 | 80.6 | 80.9 | 67.6 | 67.4 | 67.9 | 68.8 | 68.6 | 69.0 | 70.1 | 70.0 | 70.2 | 71.3 | 71.2 | 71.4 | 72.3 | 72.2 | 72.4 | 73.3 | 73.2 | 73.4 | 74.8 | 74.7 | 74.9 | 76.1 | 76.0 | 76.1 | 77.3 | 77.2 | 77.4 | 78.1 | 77.8 | 78.3 | 74.2 | 73.9 | 74.4 | 75.6 | 75.5 | 75.8 | 77.1 | 77.0 | 77.2 | 78.1 | 78.0 | 78.2 | 79.1 | 79.0 | 79.2 | 80.0 | 79.9 | 80.1 | 80.9 | 80.9 | 81.0 | 81.9 | 81.8 | 82.0 | 82.9 | 82.8 | 83.0 | 83.4 | 83.2 | 83.6 | 14.5 | 14.4 | 14.5 | 15.0 | 15.0 | 15.1 | 15.7 | 15.7 | 15.8 | 16.2 | 16.2 | 16.3 | 16.9 | 16.8 | 16.9 | 17.4 | 17.4 | 17.5 | 18.1 | 18.1 | 18.1 | 18.9 | 18.9 | 19.0 | 19.7 | 19.7 | 19.8 | 20.1 | 20.0 | 20.2 | 12.7 | 12.6 | 12.8 | 13.1 | 13.0 | 13.2 | 13.6 | 13.6 | 13.7 | 14.1 | 14.1 | 14.2 | 14.8 | 14.7 | 14.8 | 15.3 | 15.3 | 15.4 | 16.1 | 16.0 | 16.1 | 17.0 | 17.0 | 17.1 | 17.9 | 17.8 | 17.9 | 18.4 | 18.2 | 18.5 | 16.0 | 15.9 | 16.1 | 16.6 | 16.6 | 16.7 | 17.4 | 17.3 | 17.5 | 17.9 | 17.8 | 18.0 | 18.6 | 18.5 | 18.6 | 19.1 | 19.0 | 19.2 | 19.7 | 19.7 | 19.8 | 20.5 | 20.5 | 20.6 | 21.3 | 21.2 | 21.4 | 21.7 | 21.5 | 21.8 |
| High-middle SDI | 65.0 | 64.5 | 65.6 | 66.7 | 66.3 | 67.1 | 67.6 | 67.1 | 68.0 | 69.0 | 68.7 | 69.4 | 70.0 | 69.6 | 70.3 | 69.3 | 69.0 | 69.7 | 70.9 | 70.5 | 71.2 | 72.2 | 71.9 | 72.6 | 74.7 | 74.4 | 74.9 | 76.4 | 75.5 | 77.2 | 61.8 | 61.1 | 62.4 | 63.3 | 62.8 | 63.9 | 63.9 | 63.4 | 64.5 | 65.6 | 65.1 | 66.0 | 66.4 | 65.9 | 66.9 | 65.4 | 64.9 | 66.0 | 67.0 | 66.5 | 67.6 | 68.5 | 68.0 | 69.0 | 71.2 | 70.8 | 71.7 | 73.1 | 72.0 | 74.1 | 68.1 | 67.6 | 68.6 | 69.9 | 69.5 | 70.4 | 71.1 | 70.6 | 71.5 | 72.4 | 72.0 | 72.8 | 73.6 | 73.2 | 73.9 | 73.4 | 73.1 | 73.8 | 74.9 | 74.5 | 75.3 | 76.2 | 75.7 | 76.5 | 78.2 | 77.8 | 78.5 | 79.8 | 78.6 | 80.8 | 14.4 | 14.3 | 14.6 | 14.6 | 14.5 | 14.8 | 14.6 | 14.5 | 14.8 | 14.8 | 14.7 | 15.0 | 15.1 | 14.9 | 15.3 | 14.7 | 14.5 | 14.9 | 15.2 | 15.0 | 15.3 | 15.7 | 15.5 | 15.8 | 16.8 | 16.6 | 16.9 | 17.7 | 17.1 | 18.1 | 12.9 | 12.7 | 13.1 | 13.1 | 12.9 | 13.2 | 12.9 | 12.8 | 13.1 | 13.2 | 13.0 | 13.4 | 13.4 | 13.2 | 13.6 | 13.0 | 12.8 | 13.2 | 13.5 | 13.3 | 13.7 | 14.0 | 13.8 | 14.2 | 15.1 | 14.9 | 15.3 | 15.9 | 15.4 | 16.3 | 15.4 | 15.2 | 15.7 | 15.7 | 15.4 | 15.9 | 15.8 | 15.6 | 16.1 | 16.0 | 15.7 | 16.2 | 16.3 | 16.1 | 16.6 | 16.0 | 15.8 | 16.2 | 16.6 | 16.3 | 16.8 | 17.1 | 16.8 | 17.3 | 18.2 | 18.0 | 18.4 | 19.2 | 18.3 | 19.9 |
| Middle SDI | 58.8 | 58.1 | 59.5 | 61.5 | 61.0 | 61.9 | 63.2 | 62.8 | 63.6 | 65.1 | 64.8 | 65.5 | 66.6 | 66.4 | 66.9 | 67.9 | 67.7 | 68.1 | 69.1 | 69.0 | 69.3 | 70.6 | 70.4 | 70.8 | 72.3 | 72.1 | 72.5 | 74.2 | 73.9 | 74.4 | 57.3 | 56.4 | 58.1 | 59.9 | 59.4 | 60.4 | 61.4 | 61.0 | 61.8 | 63.1 | 62.7 | 63.5 | 64.4 | 64.1 | 64.8 | 65.5 | 65.2 | 65.8 | 66.6 | 66.4 | 66.9 | 68.0 | 67.8 | 68.3 | 69.6 | 69.3 | 69.8 | 71.2 | 70.9 | 71.6 | 60.4 | 59.8 | 61.0 | 63.2 | 62.7 | 63.6 | 65.2 | 64.7 | 65.6 | 67.3 | 66.9 | 67.6 | 69.1 | 68.8 | 69.4 | 70.6 | 70.3 | 70.8 | 71.9 | 71.7 | 72.1 | 73.4 | 73.2 | 73.6 | 75.3 | 75.1 | 75.5 | 77.4 | 77.1 | 77.7 | 13.3 | 13.2 | 13.4 | 13.6 | 13.5 | 13.8 | 13.6 | 13.5 | 13.7 | 13.8 | 13.7 | 13.9 | 13.9 | 13.8 | 14.0 | 14.2 | 14.1 | 14.3 | 14.6 | 14.5 | 14.6 | 15.2 | 15.1 | 15.2 | 15.9 | 15.8 | 16.0 | 16.7 | 16.6 | 16.8 | 12.9 | 12.8 | 13.0 | 13.0 | 12.9 | 13.2 | 12.8 | 12.7 | 12.9 | 12.9 | 12.8 | 13.0 | 12.7 | 12.6 | 12.9 | 13.0 | 12.9 | 13.1 | 13.3 | 13.2 | 13.5 | 13.9 | 13.8 | 14.0 | 14.5 | 14.4 | 14.6 | 15.1 | 14.9 | 15.2 | 13.7 | 13.5 | 13.9 | 14.1 | 13.9 | 14.3 | 14.3 | 14.1 | 14.5 | 14.7 | 14.5 | 14.8 | 14.9 | 14.8 | 15.1 | 15.3 | 15.1 | 15.4 | 15.7 | 15.6 | 15.9 | 16.4 | 16.3 | 16.5 | 17.2 | 17.1 | 17.4 | 18.3 | 18.1 | 18.4 |
| Low-middle SDI | 49.8 | 49.0 | 50.6 | 52.3 | 51.6 | 53.0 | 55.2 | 54.7 | 55.7 | 57.2 | 56.7 | 57.6 | 59.0 | 58.6 | 59.4 | 60.1 | 59.7 | 60.5 | 61.3 | 61.0 | 61.7 | 63.1 | 62.7 | 63.5 | 65.4 | 65.0 | 65.8 | 67.8 | 67.3 | 68.3 | 49.0 | 47.9 | 50.0 | 51.5 | 50.6 | 52.4 | 54.4 | 53.8 | 55.1 | 56.4 | 55.8 | 56.9 | 58.1 | 57.6 | 58.6 | 59.1 | 58.6 | 59.5 | 60.1 | 59.7 | 60.6 | 61.7 | 61.2 | 62.1 | 63.7 | 63.2 | 64.2 | 65.9 | 65.3 | 66.5 | 50.7 | 50.1 | 51.3 | 53.2 | 52.6 | 53.9 | 56.0 | 55.5 | 56.5 | 58.0 | 57.6 | 58.4 | 60.0 | 59.5 | 60.4 | 61.2 | 60.8 | 61.6 | 62.6 | 62.3 | 63.0 | 64.6 | 64.2 | 65.0 | 67.2 | 66.8 | 67.6 | 69.9 | 69.4 | 70.4 | 11.4 | 11.2 | 11.5 | 11.7 | 11.6 | 11.8 | 12.1 | 12.0 | 12.2 | 12.4 | 12.2 | 12.5 | 12.6 | 12.5 | 12.7 | 12.8 | 12.7 | 12.9 | 13.1 | 13.0 | 13.2 | 13.6 | 13.5 | 13.7 | 14.1 | 13.9 | 14.2 | 14.6 | 14.5 | 14.8 | 11.3 | 11.1 | 11.5 | 11.6 | 11.4 | 11.7 | 11.9 | 11.8 | 12.1 | 12.2 | 12.0 | 12.3 | 12.3 | 12.2 | 12.5 | 12.5 | 12.3 | 12.6 | 12.7 | 12.5 | 12.8 | 13.1 | 12.9 | 13.2 | 13.4 | 13.3 | 13.6 | 13.9 | 13.7 | 14.1 | 11.4 | 11.3 | 11.6 | 11.8 | 11.6 | 12.0 | 12.2 | 12.1 | 12.4 | 12.5 | 12.4 | 12.7 | 12.9 | 12.7 | 13.0 | 13.1 | 13.0 | 13.3 | 13.5 | 13.3 | 13.7 | 14.1 | 13.9 | 14.3 | 14.7 | 14.5 | 14.9 | 15.4 | 15.1 | 15.6 |
| Low SDI | 47.4 | 46.3 | 48.6 | 48.9 | 48.1 | 49.6 | 50.2 | 49.6 | 50.8 | 51.2 | 50.5 | 51.8 | 52.5 | 52.0 | 52.9 | 53.0 | 52.5 | 53.4 | 53.9 | 53.5 | 54.4 | 56.5 | 56.0 | 57.0 | 58.8 | 57.9 | 59.6 | 63.0 | 62.3 | 63.7 | 46.5 | 45.0 | 48.0 | 47.9 | 47.0 | 49.0 | 49.1 | 48.3 | 50.0 | 50.0 | 49.1 | 50.9 | 51.2 | 50.6 | 51.8 | 51.9 | 51.3 | 52.5 | 53.0 | 52.4 | 53.5 | 55.7 | 55.1 | 56.3 | 57.7 | 56.7 | 58.7 | 61.8 | 60.9 | 62.7 | 48.4 | 47.5 | 49.4 | 49.8 | 49.1 | 50.5 | 51.2 | 50.7 | 51.8 | 52.4 | 51.8 | 53.0 | 53.7 | 53.3 | 54.2 | 54.1 | 53.6 | 54.6 | 54.9 | 54.5 | 55.4 | 57.3 | 56.8 | 57.8 | 59.9 | 59.1 | 60.6 | 64.3 | 63.5 | 65.0 | 11.1 | 10.9 | 11.3 | 11.3 | 11.1 | 11.4 | 11.4 | 11.3 | 11.6 | 11.6 | 11.4 | 11.7 | 11.7 | 11.5 | 11.8 | 11.7 | 11.5 | 11.9 | 11.9 | 11.7 | 12.1 | 12.3 | 12.1 | 12.5 | 12.7 | 12.4 | 12.9 | 13.3 | 13.1 | 13.5 | 11.2 | 11.0 | 11.5 | 11.4 | 11.1 | 11.6 | 11.5 | 11.2 | 11.8 | 11.6 | 11.4 | 11.9 | 11.7 | 11.5 | 12.0 | 11.9 | 11.6 | 12.1 | 12.0 | 11.8 | 12.3 | 12.4 | 12.2 | 12.6 | 12.7 | 12.4 | 13.0 | 13.3 | 12.9 | 13.6 | 11.0 | 10.7 | 11.3 | 11.2 | 10.9 | 11.4 | 11.4 | 11.1 | 11.6 | 11.5 | 11.3 | 11.7 | 11.6 | 11.4 | 11.8 | 11.6 | 11.4 | 11.8 | 11.8 | 11.5 | 12.0 | 12.2 | 11.9 | 12.5 | 12.6 | 12.4 | 13.0 | 13.3 | 13.0 | 13.6 |
| High-income | 70.7 | 70.5 | 70.8 | 72.1 | 72.0 | 72.2 | 73.8 | 73.7 | 73.8 | 75.0 | 74.9 | 75.1 | 76.0 | 76.0 | 76.1 | 77.0 | 76.9 | 77.0 | 78.2 | 78.1 | 78.2 | 79.3 | 79.2 | 79.3 | 80.3 | 80.3 | 80.4 | 80.9 | 80.8 | 81.1 | 67.4 | 67.2 | 67.7 | 68.7 | 68.5 | 68.9 | 70.3 | 70.2 | 70.4 | 71.6 | 71.5 | 71.7 | 72.6 | 72.5 | 72.8 | 73.6 | 73.5 | 73.7 | 75.1 | 75.0 | 75.2 | 76.3 | 76.2 | 76.4 | 77.6 | 77.5 | 77.7 | 78.3 | 78.0 | 78.5 | 74.0 | 73.7 | 74.2 | 75.4 | 75.3 | 75.6 | 77.1 | 77.0 | 77.2 | 78.3 | 78.2 | 78.4 | 79.3 | 79.2 | 79.4 | 80.2 | 80.1 | 80.3 | 81.1 | 81.0 | 81.2 | 82.1 | 82.0 | 82.2 | 83.0 | 82.9 | 83.1 | 83.5 | 83.3 | 83.7 | 14.6 | 14.5 | 14.6 | 15.1 | 15.1 | 15.2 | 15.9 | 15.8 | 15.9 | 16.4 | 16.3 | 16.4 | 17.1 | 17.0 | 17.1 | 17.6 | 17.6 | 17.7 | 18.3 | 18.2 | 18.3 | 19.1 | 19.1 | 19.1 | 19.8 | 19.8 | 19.9 | 20.2 | 20.2 | 20.3 | 12.8 | 12.7 | 12.8 | 13.2 | 13.1 | 13.2 | 13.8 | 13.7 | 13.9 | 14.3 | 14.2 | 14.3 | 15.0 | 14.9 | 15.0 | 15.5 | 15.4 | 15.5 | 16.2 | 16.2 | 16.3 | 17.1 | 17.1 | 17.2 | 18.0 | 17.9 | 18.0 | 18.5 | 18.3 | 18.6 | 16.1 | 16.0 | 16.2 | 16.7 | 16.6 | 16.8 | 17.5 | 17.5 | 17.6 | 18.1 | 18.0 | 18.2 | 18.8 | 18.7 | 18.8 | 19.3 | 19.3 | 19.4 | 19.9 | 19.9 | 20.0 | 20.7 | 20.7 | 20.8 | 21.4 | 21.4 | 21.5 | 21.8 | 21.7 | 21.9 |
| High-income North America | 70.9 | 70.8 | 71.0 | 72.5 | 72.4 | 72.6 | 74.0 | 74.0 | 74.1 | 74.9 | 74.8 | 75.0 | 75.6 | 75.6 | 75.7 | 76.2 | 76.1 | 76.2 | 77.2 | 77.1 | 77.3 | 77.9 | 77.9 | 78.0 | 79.0 | 79.0 | 79.1 | 79.2 | 79.0 | 79.3 | 67.3 | 67.1 | 67.4 | 68.7 | 68.6 | 68.8 | 70.3 | 70.2 | 70.4 | 71.4 | 71.3 | 71.5 | 72.1 | 72.0 | 72.3 | 72.9 | 72.8 | 73.0 | 74.5 | 74.4 | 74.6 | 75.4 | 75.3 | 75.5 | 76.6 | 76.5 | 76.7 | 76.8 | 76.5 | 77.0 | 74.8 | 74.7 | 74.9 | 76.4 | 76.3 | 76.5 | 77.8 | 77.7 | 77.9 | 78.4 | 78.3 | 78.5 | 79.0 | 78.9 | 79.1 | 79.3 | 79.2 | 79.4 | 79.8 | 79.7 | 79.9 | 80.4 | 80.3 | 80.5 | 81.4 | 81.3 | 81.5 | 81.5 | 81.3 | 81.7 | 15.1 | 15.0 | 15.1 | 15.9 | 15.8 | 15.9 | 16.6 | 16.5 | 16.6 | 16.8 | 16.8 | 16.9 | 17.3 | 17.3 | 17.4 | 17.5 | 17.5 | 17.6 | 17.9 | 17.9 | 17.9 | 18.6 | 18.6 | 18.7 | 19.4 | 19.4 | 19.5 | 19.6 | 19.4 | 19.7 | 13.1 | 13.0 | 13.2 | 13.6 | 13.6 | 13.7 | 14.3 | 14.2 | 14.3 | 14.6 | 14.5 | 14.7 | 15.2 | 15.1 | 15.2 | 15.5 | 15.5 | 15.6 | 16.2 | 16.1 | 16.3 | 17.1 | 17.0 | 17.2 | 18.0 | 17.9 | 18.0 | 18.2 | 18.1 | 18.3 | 16.9 | 16.9 | 17.0 | 17.8 | 17.7 | 17.9 | 18.5 | 18.4 | 18.6 | 18.7 | 18.6 | 18.8 | 19.1 | 19.0 | 19.2 | 19.2 | 19.1 | 19.2 | 19.3 | 19.2 | 19.3 | 19.9 | 19.8 | 19.9 | 20.6 | 20.5 | 20.7 | 20.7 | 20.6 | 20.9 |
| Canada | 72.6 | 72.3 | 72.8 | 73.5 | 73.3 | 73.8 | 75.2 | 74.9 | 75.4 | 76.5 | 76.2 | 76.7 | 77.4 | 77.2 | 77.7 | 78.1 | 77.9 | 78.3 | 79.3 | 79.0 | 79.5 | 80.2 | 80.0 | 80.4 | 81.3 | 81.1 | 81.6 | 81.9 | 81.5 | 82.2 | 69.3 | 68.9 | 69.7 | 70.0 | 69.7 | 70.4 | 71.7 | 71.4 | 72.1 | 73.2 | 72.8 | 73.5 | 74.2 | 73.9 | 74.5 | 75.1 | 74.8 | 75.4 | 76.6 | 76.3 | 76.9 | 77.8 | 77.6 | 78.1 | 79.1 | 78.8 | 79.4 | 79.8 | 79.3 | 80.2 | 76.2 | 75.9 | 76.5 | 77.3 | 77.0 | 77.6 | 78.9 | 78.5 | 79.2 | 79.8 | 79.5 | 80.2 | 80.6 | 80.3 | 80.9 | 81.0 | 80.7 | 81.3 | 81.8 | 81.5 | 82.1 | 82.5 | 82.3 | 82.8 | 83.4 | 83.2 | 83.7 | 83.9 | 83.5 | 84.3 | 15.6 | 15.5 | 15.8 | 16.0 | 15.9 | 16.2 | 16.8 | 16.6 | 16.9 | 17.2 | 17.1 | 17.4 | 17.7 | 17.6 | 17.9 | 18.0 | 17.9 | 18.2 | 18.6 | 18.5 | 18.8 | 19.4 | 19.3 | 19.6 | 20.3 | 20.1 | 20.4 | 20.6 | 20.4 | 20.9 | 13.8 | 13.6 | 14.0 | 14.0 | 13.8 | 14.2 | 14.6 | 14.4 | 14.8 | 15.0 | 14.8 | 15.2 | 15.5 | 15.3 | 15.7 | 15.9 | 15.7 | 16.1 | 16.7 | 16.5 | 16.9 | 17.7 | 17.5 | 17.9 | 18.7 | 18.5 | 18.9 | 19.1 | 18.8 | 19.4 | 17.5 | 17.3 | 17.7 | 18.0 | 17.8 | 18.2 | 18.8 | 18.6 | 19.1 | 19.2 | 19.0 | 19.5 | 19.7 | 19.5 | 19.9 | 19.9 | 19.6 | 20.1 | 20.3 | 20.1 | 20.5 | 20.9 | 20.7 | 21.1 | 21.6 | 21.4 | 21.8 | 22.0 | 21.7 | 22.3 |
| Greenland | 63.3 | 62.4 | 64.1 | 62.0 | 61.1 | 62.9 | 61.4 | 60.6 | 62.3 | 60.8 | 60.0 | 61.6 | 61.4 | 60.3 | 62.4 | 64.0 | 63.1 | 64.9 | 65.0 | 64.2 | 65.9 | 66.0 | 65.2 | 66.8 | 68.3 | 67.4 | 69.3 | 70.0 | 67.9 | 72.0 | 60.4 | 59.1 | 61.7 | 59.8 | 58.6 | 60.9 | 58.1 | 56.9 | 59.3 | 57.8 | 56.6 | 58.9 | 57.7 | 56.3 | 59.1 | 61.3 | 60.0 | 62.5 | 63.0 | 61.8 | 64.1 | 64.2 | 63.1 | 65.4 | 66.6 | 65.3 | 67.8 | 67.8 | 64.7 | 70.6 | 66.6 | 65.4 | 67.8 | 64.5 | 63.4 | 65.7 | 65.6 | 64.4 | 66.8 | 64.5 | 63.3 | 65.6 | 66.1 | 64.7 | 67.5 | 67.2 | 65.9 | 68.5 | 67.5 | 66.4 | 68.7 | 68.2 | 67.1 | 69.5 | 70.3 | 69.2 | 71.6 | 72.8 | 70.4 | 75.6 | 11.0 | 10.6 | 11.3 | 10.1 | 9.8 | 10.5 | 10.1 | 9.8 | 10.5 | 9.8 | 9.5 | 10.1 | 10.1 | 9.8 | 10.5 | 10.5 | 10.2 | 10.9 | 10.8 | 10.4 | 11.1 | 10.9 | 10.6 | 11.3 | 12.1 | 11.6 | 12.6 | 12.9 | 11.9 | 13.9 | 10.1 | 9.7 | 10.6 | 9.7 | 9.3 | 10.1 | 9.1 | 8.7 | 9.5 | 8.9 | 8.6 | 9.3 | 8.9 | 8.5 | 9.4 | 9.7 | 9.3 | 10.1 | 10.2 | 9.8 | 10.6 | 10.3 | 9.9 | 10.7 | 11.4 | 10.8 | 11.9 | 11.9 | 10.6 | 13.3 | 11.7 | 11.2 | 12.3 | 10.5 | 10.1 | 11.1 | 11.0 | 10.5 | 11.5 | 10.5 | 10.1 | 11.0 | 11.3 | 10.7 | 11.9 | 11.3 | 10.8 | 12.0 | 11.3 | 10.9 | 11.9 | 11.6 | 11.1 | 12.2 | 12.9 | 12.2 | 13.6 | 14.2 | 12.8 | 15.9 |