Others titles
National Survey on Drug Use and Health Illicit Drug Use
National Survey on Illicit Drug Use
Keywords
Illicit Drug Use
NSDUH
National Survey on Drug Use and Health
Substance Abuse
Drug Addiction
NSDUH Illicit Drug Use by Age and State 2014 to 2016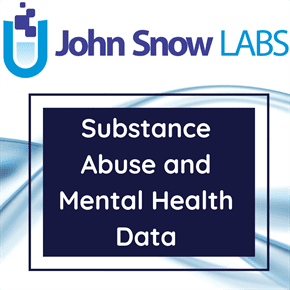 The National Survey on Drug Use and Health (NSDUH) Illicit Drug Use dataset includes illicit drug use among individuals aged 12 or older, by State and Substate Region: Percentages, Annual Averages Based on 2014, 2015, and 2016 NSDUHs.
Log in to download
Complexity
Get The Data
For getting access to data download links please read and accept the end-user license agreement.
Your Data License
Research

Non-Commercial, Share-Alike, Attribution

Free Forever

Commercial

Commercial Use, Remix & Adapt, White Label Log in to download
Description
Illicit Drugs include marijuana/hashish, cocaine (including crack), heroin, or prescription-type psychotherapeutics used nonmedically, including data from original methamphetamine questions but not including new methamphetamine items added in 2007 and 2008.
Substate, state, and census region estimates, along with the 95 percent confidence (credible) intervals, are based on a survey-weighted hierarchical Bayes estimation approach and are generated by Markov Chain Monte Carlo techniques.
For the "Total U.S." row, design-based (direct) estimates and corresponding 95 percent confidence intervals are given.
The column labeled "Map Group" can be used to distinguish substate regions included in the maps from other substate regions.
About this Dataset
Data Info
| | |
| --- | --- |
| Date Created | 2016-07-25 |
| Last Modified | 2018-06-13 |
| Version | 2018-06-13 |
| Update Frequency | Irregular |
| Temporal Coverage | 2014-2016 |
| Spatial Coverage | United States |
| Source | John Snow Labs; U.S. Substance Abuse and Mental Health Services Administration; |
| Source License URL | |
| Source License Requirements | N/A |
| Source Citation | N/A |
| Keywords | Illicit Drug Use, NSDUH, National Survey on Drug Use and Health, Substance Abuse, Drug Addiction |
| Other Titles | National Survey on Drug Use and Health Illicit Drug Use, National Survey on Illicit Drug Use |
Data Fields
| Name | Description | Type | Constraints |
| --- | --- | --- | --- |
| Order | Order of the US state or substate region. | integer | level : Nominalrequired : 1 |
| State | Us State name | string | required : 1 |
| Substate_Region | Us substate region name | string | required : 1 |
| Small_Area_Estimate_Of_Marijuana_Past_Month_Use | Marijuana use in the past month among individuals aged 12 or older percentage estimate | number | level : Ratiorequired : 1 |
| Ci_Lower_Limit_Of_Marijuana_Past_Month_Use | Marijuana use in the past month among individuals aged 12 or older confidence interval lower limit percentage estimate | number | level : Ratiorequired : 1 |
| Ci_Upper_Limit_Of_Marijuana_Past_Month_Use | Marijuana use in the past month among individuals aged 12 or older confidence interval upper limit percentage estimate | number | level : Ratiorequired : 1 |
| Small_Area_Estimate_Of_Marijuana_Past_Year_Use | Marijuana use in the past year among individuals aged 12 or older percentage estimate | number | level : Ratiorequired : 1 |
| Ci_Lower_Limit_Of_Marijuana_Past_Year_Use | Marijuana use in the past year among individuals aged 12 or older confidence interval lower limit percentage estimate | number | level : Ratiorequired : 1 |
| Ci_Upper_Limit_Of_Marijuana_Past_Year_Use | Marijuana use in the past year among individuals aged 12 or older confidence interval upper limit percentage estimate | number | level : Ratiorequired : 1 |
| Small_Area_Estimate_Of_Marijuana_First_Use | Marijuana first use in the past month among individuals aged 12 or older percentage estimate | number | level : Ratiorequired : 1 |
| Ci_Lower_Limit_Of_Marijuana_First_Use | Marijuana first use in the past month among individuals aged 12 or older confidence interval lower limit percentage estimate | number | level : Ratiorequired : 1 |
| Ci_Upper_Limit_Of_Marijuana_First_Use | Marijuana first use in the past month among individuals aged 12 or older confidence interval upper limit percentage estimate | number | level : Ratiorequired : 1 |
| Small_Area_Estimate_Of_Cocaine_Use | Cocaine use in the past year among individuals aged 12 or older percentage estimate | number | level : Ratiorequired : 1 |
| Ci_Lower_Limit_Of_Cocaine_Use | Cocaine use in the past year among individuals aged 12 or older confidence interval lower limit percentage estimate | number | level : Ratiorequired : 1 |
| Ci_Upper_Limit_Of_Cocaine_Use | Cocaine use in the past year among individuals aged 12 or older confidence interval upper limit percentage estimate | number | level : Ratiorequired : 1 |
| Map_Group | It can be used to distinguish substate regions included in the maps from other substate regions. In the "Map Group" column, a "1" represents the national estimate, a "2" represents the census region estimates, a "3" represents the state-level estimates, a "4" represents the substate/aggregate region-level estimates included in the maps, and a "5" represents the other substate/aggregate region-level estimates that are not included in the maps. | integer | level : Nominalenum : Array ( [0] => 1 [1] => 2 [2] => 3 [3] => 4 [4] => 5 ) required : 1 |
Data Preview
| | | | | | | | | | | | | | | | |
| --- | --- | --- | --- | --- | --- | --- | --- | --- | --- | --- | --- | --- | --- | --- | --- |
| Order | State | Substate Region | Small Area Estimate Of Marijuana Past Month Use | Ci Lower Limit Of Marijuana Past Month Use | Ci Upper Limit Of Marijuana Past Month Use | Small Area Estimate Of Marijuana Past Year Use | Ci Lower Limit Of Marijuana Past Year Use | Ci Upper Limit Of Marijuana Past Year Use | Small Area Estimate Of Marijuana First Use | Ci Lower Limit Of Marijuana First Use | Ci Upper Limit Of Marijuana First Use | Small Area Estimate Of Cocaine Use | Ci Lower Limit Of Cocaine Use | Ci Upper Limit Of Cocaine Use | Map Group |
| 1 | Total United States | Total United States | 8.53 | 8.35 | 8.71 | 13.55 | 13.32 | 13.79 | 1.95 | 1.89 | 2.01 | 1.8 | 1.72 | 1.88 | 1 |
| 2 | Northeast | Northeast | 9.53 | 9.1 | 9.98 | 14.86 | 14.31 | 15.43 | 2.06 | 1.96 | 2.16 | 2.25 | 2.06 | 2.45 | 2 |
| 3 | Midwest | Midwest | 8.14 | 7.8 | 8.49 | 12.86 | 12.39 | 13.35 | 2.02 | 1.93 | 2.11 | 1.43 | 1.3 | 1.57 | 2 |
| 4 | South | South | 7.03 | 6.74 | 7.34 | 11.66 | 11.24 | 12.09 | 1.7 | 1.63 | 1.77 | 1.53 | 1.42 | 1.65 | 2 |
| 5 | West | West | 10.48 | 10.06 | 10.92 | 16.19 | 15.64 | 16.76 | 2.24 | 2.12 | 2.35 | 2.23 | 2.05 | 2.42 | 2 |
| 6 | Alabama | Alabama | 5.25 | 4.46 | 6.18 | 9.43 | 8.34 | 10.64 | 1.47 | 1.29 | 1.67 | 1.19 | 0.85 | 1.66 | 3 |
| 7 | Alabama | Region 1 | 5.1 | 3.97 | 6.54 | 9.55 | 7.92 | 11.47 | 1.41 | 1.15 | 1.73 | 0.87 | 0.53 | 1.42 | 4 |
| 8 | Alabama | Region 2 | 5.54 | 4.37 | 7.01 | 10.39 | 8.67 | 12.4 | 1.63 | 1.33 | 2.0 | 1.69 | 1.07 | 2.66 | 4 |
| 9 | Alabama | Region 3 | 5.09 | 3.86 | 6.69 | 8.42 | 6.72 | 10.51 | 1.4 | 1.12 | 1.75 | 1.09 | 0.62 | 1.89 | 4 |
| 10 | Alabama | Region 4 | 5.16 | 3.99 | 6.66 | 8.71 | 7.02 | 10.76 | 1.38 | 1.12 | 1.71 | 0.95 | 0.53 | 1.67 | 4 |