Others titles
Behavioral Health Risk Factors Levels In OECD Countries And Partners
OECD Behavioral Health Risk Factors Levels Data
Keywords
OECD Health Statistics
OECD Health Indicators
OECD Countries
Behavioral Health Risk Factors
Alcohol Consumption Per Capita
Smoking Statistics
Daily Fat Intake
Daily Sugar Intake
Daily Calorie Intake
Daily Protein Intake
OECD Behavioral Health Risk Factors Exposure Levels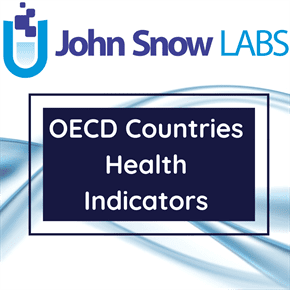 This dataset contains statistics regarding the levels of exposure (consumption) to tobacco, alcohol, foods, macronutrients and calories for country members and partners of OECD (The Organization for Economic Co-operation and Development) and for countries in accession negotiations with OECD. The exposure levels to health risk or protection factors statistics cover the period 1960-2018.
Log in to download
Complexity
Get The Data
For getting access to data download links please read and accept the end-user license agreement.
Your Data License
Research

Non-Commercial, Share-Alike, Attribution

Free Forever

Commercial

Commercial Use, Remix & Adapt, White Label Log in to download
Description
The dataset is provided by OECD (The Organization for Economic Co-operation and Development) whose mission is to promote policies that will improve the economic and social well-being of people around the world. OECD's work is based on continued monitoring of events in member countries as well as outside OECD area, and includes regular projections of short and medium-term economic developments. The OECD Secretariat collects and analyses data, after which committees discuss policy regarding this information, the Council makes decisions, and then governments implement recommendations. The OECD Health Databases offers the most comprehensive source of comparable statistics on health and health systems across OECD countries. It is an essential tool to carry out comparative analyses and draw lessons from international comparisons of diverse health systems.
The quantity of tobacco consumed represents the annual consumption of tobacco items (e.g. cigarettes, cigars) in grams per person aged 15 years old or more. The methodology to convert tobacco items into grams may differ across countries. Typically a cigarette weighs approximately 1 gram of which the tobacco content can vary between 65-100% depending on the type of cigarette; a cigar weighs approximately 2 grams and contains a similar proportion of tobacco as a cigarette. Time series are completed based on national data for selected years. On the other side, the number of cigarettes smoked by a smoker per day is based on survey data (self-reported) provided by every country.
The alcohol consumption data are based on the annual consumption of pure alcohol in liters, per person, aged 15 years old and over. Methodology to convert alcoholic drinks to pure alcohol may differ across countries. Typically beer is weighted as 4-5%, wine as 11-16% and spirits as 40% of pure alcohol equivalent. The primary source of data is World Health Organization (WHO) through the Global Information System on Alcohol and Health (GISAH). Other countries have supplied data directly. According to WHO GISAH methodology for collecting data about alcohol consumption specifies the recorded alcohol per capita (persons 15 years and older) consumption of pure alcohol is calculated as the sum of beverage specific alcohol consumption of pure alcohol (beer, wine, spirits, other) from different sources, as follows:
– The first priority in the decision tree is given to government statistics
– Second are country-specific alcohol industry statistics in the public domain (Canadean, International Wine and Spirit Research, International Organisation of Vine and Wine, Wine Institute, historically World Drink Trends)
– And third is the Food and Agriculture Organization of the United Nations' statistical database
In order to make the conversion into liters of pure alcohol, the alcohol content (% alcohol by volume) is
considered to be as follows:
– Beer (barley beer 5%)
– Wine (grape wine 12%, must of grape 9%, vermouth 16%)
– Spirits (distilled spirits 40%; spirit-like 30%)
– And others (sorghum, millet, maize beers 5%; cider 5%; fortified wine 17% and 18%; fermented wheat and fermented rice 9%; other fermented beverages 9%)
All food related statistics are based on data from Food and Agriculture Organization of the United Nations.
Breaks in the time-related continuity of data on which the calculated indicators values are based are specified in the content of dataset. There are also specified the cases were the methodology used for data collection was different or if the values are estimated.
About this Dataset
Data Info
| | |
| --- | --- |
| Date Created | 2017-06-30 |
| Last Modified | 2020-11-15 |
| Version | 2020-11-15 |
| Update Frequency | Irregular |
| Temporal Coverage | 1960-2018 |
| Spatial Coverage | OECD Members and Partners Countries |
| Source | John Snow Labs; The Organization for Economic Co-operation and Development; |
| Source License URL | |
| Source License Requirements | N/A |
| Source Citation | N/A |
| Keywords | OECD Health Statistics, OECD Health Indicators, OECD Countries, Behavioral Health Risk Factors, Alcohol Consumption Per Capita, Smoking Statistics, Daily Fat Intake, Daily Sugar Intake, Daily Calorie Intake, Daily Protein Intake |
| Other Titles | Behavioral Health Risk Factors Levels In OECD Countries And Partners, OECD Behavioral Health Risk Factors Levels Data |
Data Fields
| Name | Description | Type | Constraints |
| --- | --- | --- | --- |
| Year | The year corresponding to the specified health risk or protection factor indicator level | date | required : 1 |
| Country | The name of the country member or partner of OECD or in accession negotiations with OECD | string | required : 1 |
| Country_Abbreviation | The abbreviated name of the country member or partner of OECD or in accession negotiations with OECD | string | required : 1 |
| Country_Status | Specifies whether the country is member or partner of OECD or has an accession agreement with OECD | string | enum : Array ( [0] => OECD member [1] => OECD partner [2] => Accession agreement ) required : 1 |
| Health_Risk_Or_Protection_Factor | Specifies the health risk factors or the category of health risk/protection factors | string | enum : Array ( [0] => Alcohol use [1] => Eating habits [2] => Smoking ) required : 1 |
| Health_Risk_Or_Protection_Factor_Indicator | Specifies the indicator through which is measured the health risk/protection factor | string | enum : Array ( [0] => Alcohol consumption [1] => Total fat supply [2] => Total protein supply [3] => Total calories supply [4] => Sugar supply [5] => Fruits supply [6] => Vegetables supply [7] => Tobacco consumption ) required : 1 |
| Indicator_Description | Describes how the indicator is measured | string | enum : Array ( [0] => Litres per capita [1] => Grammes per capita per day [2] => Kilocalories per capita per day [3] => Kilos per capita per year [4] => Cigarettes per smoker per day [5] => Grammes per capita ) required : 1 |
| Age | Specifies the age of the population group for which the behavioral health risk/protection factor indicator was measured | string | enum : Array ( [0] => 15 years and over [1] => All ages ) required : 1 |
| Calculated_Health_Risk_or_Protection_Value | The calculated or estimated value of the indicator | number | level : Ratio |
| Primary_Data_Type | Specifies if the primary data was quantitative or qualitative data | string | enum : Array ( [0] => Quantitative [1] => Qualitative ) required : 1 |
| Additional_Notes | Additional information related to the indicator value or measurement | string | - |
Data Preview
No data for preview