Others titles
US Health Care And Social Assistance Industry Sector Indicators 2012
US Health And Social Care Establishments Economic Indicators 2012
Keywords
Economic Census Data
Economic Indicators
Health Care Sector
Social Assistance Sector
Types Of Health Care Establishments
Number Of Health Care Establishments
Receipts And Revenues
Number Of Paid Employees
Annual Payroll
Operating Expenses
US Economic Census Health Care And Social Assistance 2012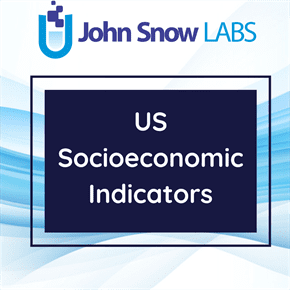 This dataset contains key industry statistics for Health Care and Social Assistance sector provided by the Economic Census 2012 at country, state, county and county equivalent area level. The statistics are for all types of health care and social assistance establishments classified according to The North American Industry Classification System (NAICS).
Log in to download
Complexity
Get The Data
For getting access to data download links please read and accept the end-user license agreement.
Your Data License
Research

Non-Commercial, Share-Alike, Attribution

Free Forever

Commercial

Commercial Use, Remix & Adapt, White Label Log in to download
Description
The Economic Census is the U.S. Government's official five-year measure of American business and the economy. It is conducted by the U.S. Census Bureau, and response is required by law. As part of the U.S.Census Bureau's mission to measure America's economy, the last Economic Census was conducted for the year ending December 2012.
The economic census results are based on a complete enumeration of all known employer establishments in some sectors and a sample of establishments in sectors like Health Care and Social Assistance (includes only establishments of firms with payroll). Economy Wide Key Statistics compiles four key statistics for every industry and geographic area: number of establishments, sales and receipts, annual payroll, and number of employees.
The Health Care and Social Assistance industry sector comprises establishments providing health care and social assistance for individuals. The sector includes both health care and social assistance because it is sometimes difficult to distinguish between the boundaries of these two activities. The industries in this sector are arranged on a continuum starting with those establishments providing medical care exclusively, continuing with those providing health care and social assistance, and finally finishing with those providing only social assistance. The services provided by establishments in this sector are delivered by trained professionals. All industries in the sector share this commonality of process, namely, labor inputs of health practitioners or social workers with the requisite expertise. Many of the industries in the sector are defined based on the educational degree held by the practitioners included in the industry. Excluded from this sector are aerobic classes in Sub-sector 713, Amusement, Gambling and Recreation Industries and non-medical diet and weight reducing centers in Sub-sector 812, Personal and Laundry Services. Although these can be viewed as health services, these services are not typically delivered by health practitioners.
The values of the following economic measures receipts/revenue, operating expenses (OPEX) and annual payroll are divided by 1,000.
The pay period is the standard period chosen to assess employment related indicators. The purpose of the employment survey is to measure the number of public employees and their payrolls at a point in time (i.e., March) according to a detailed cross-classification by function and type of employee (full- or part-time). Beginning with the 1997 survey, the reference period was modified from October to March. Because of this, at present, data are collected for the one pay period that includes March 12 (regardless of the period's length).
Receipts/revenue is the dollar volume measure for service establishments of firms subject to federal income tax and is based on gross receipts from customers or clients for services provided, from the use of facilities, and from merchandise sold in the census year, whether or not payment was received in the census year. For service establishments operating on a commission basis, receipts can include commissions, fees, and other operating income, but not gross billings and sales. Receipts/revenue does not include sales and other taxes collected directly from customers or clients and paid directly to a local, state, or federal tax agency, gross receipts of departments or concessions operated by others and amounts transferred to operating funds from capital or reserve funds.
The operating expenses (OPEX) include: payroll, employee benefits, interest, rent, payroll taxes, cost of supplies used for operation, depreciation expenses, fund-raising expenses, contracted or purchased services, other expenses charged to operations during 2012. Operating expenses doesn't include: outlays for the purchase of real estate, construction and all other capital improvements, funds invested, assessments or dues paid to the parent or other chapters of the same organization, fund-raising organizations, funds transferred to charities and other.
The annual payroll consists of all forms of compensation such as salaries, wages, commissions, dismissal pay, bonuses, vacation allowances, sick-leave pay, and employee contributions to qualified pension plans paid during the year to all employees and reported on Internal Revenue Service (IRS) Form 941 as taxable Medicare Wages and tips. Payrolls of departments or concessions operated by other companies at the establishment are not included as well as, for the unincorporated businesses, profit or other compensation of proprietors or partners.
About this Dataset
Data Info
| | |
| --- | --- |
| Date Created | 2015-11-24 |
| Last Modified | 2016-08-17 |
| Version | 2016-08-17 |
| Update Frequency | Quinquennial |
| Temporal Coverage | 2012 |
| Spatial Coverage | United States |
| Source | John Snow Labs; United States Census Bureau; |
| Source License URL | |
| Source License Requirements | N/A |
| Source Citation | N/A |
| Keywords | Economic Census Data, Economic Indicators, Health Care Sector, Social Assistance Sector, Types Of Health Care Establishments, Number Of Health Care Establishments, Receipts And Revenues, Number Of Paid Employees, Annual Payroll, Operating Expenses |
| Other Titles | US Health Care And Social Assistance Industry Sector Indicators 2012, US Health And Social Care Establishments Economic Indicators 2012 |
Data Fields
| Name | Description | Type | Constraints |
| --- | --- | --- | --- |
| Geo_ID | The ID provided by US Census Bureau to identify the data, containing a geographic component and the FIPS (Federal Information Processing Standards) code | string | required : 1 |
| FIPS_Code | The FIPS code consisting of 2 digits for states and 5 digits for counties and county equivalent areas | integer | level : Nominal |
| Geographic_Level | The geographic level to which statistics corresponds | string | enum : Array ( [0] => United States [1] => State [2] => County [3] => County equivalent area ) required : 1 |
| State | The name of the US state including District of Columbia | string | - |
| State_Abbreviation | The abbreviated name of US state or District of Columbia | string | - |
| County_Or_Equivalent_Area_Name | The name of the county or of the equivalent area (Census Area, Borough, Parish, City or Municipality) | string | - |
| NAICS_Code_2012 | The 2012 North American Industry Classification System (NAICS) code of the Health Care and Social Assistance sector or sub-sector | integer | level : Nominalrequired : 1 |
| NAICS_Code_Description | The title of the sector and sub-sector according to the 2012 North American Industry Classification System corresponding to the NAICS code | string | required : 1 |
| Operation_Or_Tax_Status_Code | The code used for the classification of establishments by whether the business is subject to or exempt from federal income taxes | string | required : 1 |
| Operation_Or_Tax_Status_Code_Description | The description of the code used for the classification of establishments by whether the business is subject to or exempt from federal income taxes | string | enum : Array ( [0] => All establishments [1] => Establishments subject to federal income tax [2] => Establishments exempt from federal income tax ) required : 1 |
| Number_Of_Establishments | The number of establishments corresponding to a industry sector or sub-sector in the geographical area | integer | level : Ratio |
| Receipts_Or_Revenue | The receipts/revenue amount of dollars divided by 1000 provided for the corresponding establishments | number | level : Ratio |
| Opex | The operating expenses amount of dollars divided by 1000 provided for the corresponding establishments | number | level : Ratio |
| Annual_Payroll | The annual payroll amount of dollars divided by 1000 provided for the corresponding establishments | number | level : Ratio |
| First_Quarter_Payroll | The first quarter payroll amount of dollars divided by 1000 for the corresponding establishments | number | level : Ratio |
| Paid_Employees_For_Pay_Period_Number | The number of full-time and part-time employees, including salaried officers and executives of corporations, who were on the payroll during the pay period including March 12 | integer | level : Ratio |
| Paid_Employees_For_Pay_Period_Interval | The interval provided for the number of full-time and part-time employees, including salaried officers and executives of corporations, who were on the payroll during the pay period including March 12 | string | - |
| Percent_Receipts_Or_Revenue_Administrative_Records | Percent of total sales/receipts/revenue obtained from administrative records of other federal agencies | number | level : Ratio |
| Percent_Receipts_Or_Revenue_Estimated | Percent of total sales/receipts/revenue that was imputed based on historic data, administrative data, industry averages, or other statistical methods | number | level : Ratio |
Data Preview
| | | | | | | | | | | | | | | | | | | |
| --- | --- | --- | --- | --- | --- | --- | --- | --- | --- | --- | --- | --- | --- | --- | --- | --- | --- | --- |
| Geo ID | FIPS Code | Geographic Level | State | State Abbreviation | County Or Equivalent Area Name | NAICS Code 2012 | NAICS Code Description | Operation Or Tax Status Code | Operation Or Tax Status Code Description | Number Of Establishments | Receipts Or Revenue | Opex | Annual Payroll | First Quarter Payroll | Paid Employees For Pay Period Number | Paid Employees For Pay Period Interval | Percent Receipts Or Revenue Administrative Records | Percent Receipts Or Revenue Estimated |
| 0100000US | | United States | | | | 62 | Health care and social assistance | A | All establishments | 831303 | 2040441203 | | 801239522 | 193150898 | 18414757 | | 12.9 | 5.9 |
| 0100000US | | United States | | | | 62 | Health care and social assistance | T | Establishments subject to federal income tax | 690525 | 1008744636 | | 409811943 | 95934650 | 9542138 | | 23.1 | 8.2 |
| 0100000US | | United States | | | | 62 | Health care and social assistance | Y | Establishments exempt from federal income tax | 140778 | 1031696567 | 971549442.0 | 391427579 | 97216248 | 8872619 | | 3.0 | 3.7 |
| 0100000US | | United States | | | | 621 | Ambulatory health care services | A | All establishments | 582948 | 814094061 | | 339715933 | 78548983 | 6474999 | | 24.5 | 8.1 |
| 0100000US | | United States | | | | 621 | Ambulatory health care services | T | Establishments subject to federal income tax | 562696 | 736498154 | | 306169678 | 70287496 | 5687621 | | 26.7 | 8.4 |
| 0100000US | | United States | | | | 621 | Ambulatory health care services | Y | Establishments exempt from federal income tax | 20252 | 77595907 | 70985733.0 | 33546255 | 8261487 | 787378 | | 3.7 | 4.9 |
| 0100000US | | United States | | | | 6211 | Offices of physicians | A | All establishments | 220890 | 402215220 | | 178658803 | 39838023 | 2235407 | | 27.5 | 9.3 |
| 0100000US | | United States | | | | 6211 | Offices of physicians | T | Establishments subject to federal income tax | 220890 | 402215220 | | 178658803 | 39838023 | 2235407 | | 27.5 | 9.3 |
| 0100000US | | United States | | | | 62111 | Offices of physicians | A | All establishments | 220890 | 402215220 | | 178658803 | 39838023 | 2235407 | | 27.5 | 9.3 |
| 0100000US | | United States | | | | 62111 | Offices of physicians | T | Establishments subject to federal income tax | 220890 | 402215220 | | 178658803 | 39838023 | 2235407 | | 27.5 | 9.3 |