Others titles
United States Adult Life Expectancy by County 1987-2007
US Life Expectancy by County 1987-2007
US Adult Life Expectancy by County 1987-2007
Keywords
Life Expectancy
Life Span
Average Life Expectancy
Average Human Death Age
Life Expectancy by Year
Life Expectancy at Birth
Age Expectancy
Life Expectancy by State
Life Expectancy by County
Life Expectancy Rate
US Life Expectancy 1987 to 2007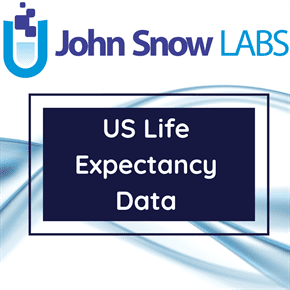 This dataset provides estimates for life expectancy from January 1, 1987, through December 31, 2007, in the United States.
Log in to download
Complexity
Get The Data
For getting access to data download links please read and accept the end-user license agreement.
Your Data License
Research

Non-Commercial, Share-Alike, Attribution

Free Forever

Commercial

Commercial Use, Remix & Adapt, White Label Log in to download
Description
The data on this dataset was from study results were published on June 15, 2011, in "Falling behind: life expectancy in US counties from 1987 to 2007 in an international context".
This study was conducted to account for disparities in health outcomes that can be seen more clearly in the context of how progress in each county compares to international trends. Results of this study showed that the US has extremely large geographic and racial disparities, with some communities having life expectancies already well behind those of the best-performing nations.
The 3,141 US counties were merged into 2,357 clusters for this research. This was done to counties with fewer than 7,000 males or 7,000 females were joined with neighboring counties in the same state of similar size, income, and percent of the population reported as black or Native American until the cutoff was met. Within the dataset, counties in the same cluster have the same results.
Results of this study showed that across US counties, life expectancy in 2007 ranged from 65.9 to 81.1 years for men and 73.5 to 86.0 years for women. County life expectancy for black men ranges from 59.4 to 77.2 years while for black women, the range is 69.6 to 82.6 years. Between 2000 and 2007, 80% (men) and 91% (women) of American counties fell in standing against the international life expectancy standard. In conclusion, the US has extremely large life expectancy disparities and efforts should be made to address these issues.
About this Dataset
Data Info
| | |
| --- | --- |
| Date Created | 2011 |
| Last Modified | 2017-09-06 |
| Version | 2017-09-06 |
| Update Frequency | Never |
| Temporal Coverage | 1987-01-01 to 2007-12-31 |
| Spatial Coverage | United States |
| Source | John Snow Labs; Institute for Health Metrics and Evaluation (IHME), Global Health Data Exchange; |
| Source License URL | |
| Source License Requirements | N/A |
| Source Citation | N/A |
| Keywords | Life Expectancy, Life Span, Average Life Expectancy, Average Human Death Age, Life Expectancy by Year, Life Expectancy at Birth, Age Expectancy, Life Expectancy by State, Life Expectancy by County, Life Expectancy Rate |
| Other Titles | United States Adult Life Expectancy by County 1987-2007, US Life Expectancy by County 1987-2007, US Adult Life Expectancy by County 1987-2007 |
Data Fields
| Name | Description | Type | Constraints |
| --- | --- | --- | --- |
| State | US state where adult life expectancy was estimated from January 1, 1987, through December 31, 2007, in the United States | string | - |
| County | US county where adult life expectancy was estimated from January 1, 1987, through December 31, 2007, in the United States | string | - |
| FIPS_Code | FIPS county code is a five-digit Federal Information Processing Standards (FIPS) code which uniquely identifies counties and county equivalents in the United States | integer | level : Nominal |
| Year | Year when adult life expectancy was estimated from January 1, 1987, through December 31, 2007, in the United States | date | - |
| Male_Life_Expectancy_in_Years | Male adult life expectancy in years from January 1, 1987, through December 31, 2007, in the United States | number | level : Ratio |
| Years_Behind_International_Frontier_Male | Years behind life expectancy in a county for males compared to international life expectancy "frontier" defined as the average life expectancy of the 10 countries with the lowest mortality for each year from 1950 to 2010 | string | - |
| Female_Life_Expectancy_in_Years | Female adult life expectancy in years from January 1, 1987, through December 31, 2007, in the United States | number | level : Ratio |
| Years_Behind_International_Frontier_Female | Years behind life expectancy in a county for females compared to international life expectancy "frontier" defined as the average life expectancy of the 10 countries with the lowest mortality for each year from 1950 to 2010 | string | - |
| White_Male_Life_Expectancy_in_Years | White male adult life expectancy in years from January 1, 1987, through December 31, 2007, in the United States | number | level : Ratio |
| White_Female_Life_Expectancy_in_Years | White female adult life expectancy in years from January 1, 1987, through December 31, 2007, in the United States | number | level : Ratio |
| Black_Male_Life_Expectancy_in_Years | Black male adult life expectancy in years from January 1, 1987, through December 31, 2007, in the United States | number | level : Ratio |
| Black_Female_Life_Expectancy_in_Years | Black female adult life expectancy in years from January 1, 1987, through December 31, 2007, in the United States | number | level : Ratio |
| Closest_Ranked_Countries_for_Male_Life_Expectancy_Higher | Closest ranked countries with higher male adult life expectancy | string | - |
| Closest_Ranked_Countries_for_Female_Life_Expectancy_Higher | Closest ranked countries with higher female adult life expectancy | string | - |
| Closest_Ranked_Countries_for_Male_Life_Expectancy_Lower | Closest ranked countries with lower male adult life expectancy | string | - |
| Closest_Ranked_Countries_for_Female_Life_Expectancy_Lower | Closest ranked countries with lower female adult life expectancy | string | - |
| Rank_Male | Ranking of male life expectancy in a county compared to counties in the US | integer | level : Ratio |
| Rank_Female | Ranking of male life expectancy in a county compared to counties in the US | integer | level : Ratio |
| Male_Life_Expectancy_Change_1987_to_2007_in_Years | Male adult life expectancy change in 1987 to 2007 in years | number | level : Ratio |
| Female_Life_Expectancy_Change_1987_to_2007_in_Years | Female adult life expectancy change in 1987 to 2007 in years | number | level : Ratio |
| Male_Life_Expectancy_Change_1987_to_1997_in_Years | Male adult life expectancy change in 1987 to 1997 in years | number | level : Ratio |
| Female_Life_Expectancy_Change_1987_to_1997_in_Years | Female adult life expectancy change in 1987 to 1997 in years | number | level : Ratio |
| Male_Life_Expectancy_Change_1997_to_2007_in_Years | Male adult life expectancy change in 1997 to 2007 in years | number | level : Ratio |
| Female_Life_Expectancy_Change_1997_to_2007_in_Years | Female adult life expectancy change in 1987 to 2007 in years | number | level : Ratio |
Data Preview
| | | | | | | | | | | | | | | | | | | | | | | | |
| --- | --- | --- | --- | --- | --- | --- | --- | --- | --- | --- | --- | --- | --- | --- | --- | --- | --- | --- | --- | --- | --- | --- | --- |
| State | County | FIPS Code | Year | Male Life Expectancy in Years | Years Behind International Frontier Male | Female Life Expectancy in Years | Years Behind International Frontier Female | White Male Life Expectancy in Years | White Female Life Expectancy in Years | Black Male Life Expectancy in Years | Black Female Life Expectancy in Years | Closest Ranked Countries for Male Life Expectancy Higher | Closest Ranked Countries for Female Life Expectancy Higher | Closest Ranked Countries for Male Life Expectancy Lower | Closest Ranked Countries for Female Life Expectancy Lower | Rank Male | Rank Female | Male Life Expectancy Change 1987 to 2007 in Years | Female Life Expectancy Change 1987 to 2007 in Years | Male Life Expectancy Change 1987 to 1997 in Years | Female Life Expectancy Change 1987 to 1997 in Years | Male Life Expectancy Change 1997 to 2007 in Years | Female Life Expectancy Change 1997 to 2007 in Years |
| ALABAMA | AUTAUGA | 1001 | 1987 | 69.2 | '32 | 77.4 | '12 | 70.3 | 78.5 | | 73.4 | Chile,Guadeloupe,Panama,United Arab Emirates,Virgin Islands, U.S. | Austria,Costa Rica,Netherlands Antilles,New Zealand,Virgin Islands, U.S. | Albania,Bahrain,Guam,Jamaica,Macedonia, the Former Yugoslav Republic of | Guadeloupe,Israel,Malta,Montenegro,Portugal | 2684 | 2661 | 3.7 | 0.6 | 1.5 | 0.8 | 2.2 | -0.2 |
| ALABAMA | AUTAUGA | 1001 | 1988 | 69.3 | '32 | 77.3 | '14 | 70.5 | 78.4 | 64.3 | 73.3 | Bahrain,Chile,Guam,Panama,United Arab Emirates | Guadeloupe,Ireland,Israel,Malta,Netherlands Antilles | Albania,Jamaica,Macedonia, the Former Yugoslav Republic of,Serbia,Uruguay | Barbados,Cuba,Mayotte,Reunion,Slovenia | 2646 | 2691 | 3.7 | 0.6 | 1.5 | 0.8 | 2.2 | -0.2 |
| ALABAMA | AUTAUGA | 1001 | 1989 | 69.8 | '25 | 77.5 | '14 | 71.0 | 78.6 | 64.7 | 73.5 | Belize,Chile,Portugal,Puerto Rico,United Arab Emirates | Ireland,Israel,Malta,Netherlands Antilles,Portugal | Albania,Bahrain,Guam,Macedonia, the Former Yugoslav Republic of,Panama | Barbados,Mayotte,Reunion,Singapore,Slovenia | 2522 | 2637 | 3.7 | 0.6 | 1.5 | 0.8 | 2.2 | -0.2 |
| ALABAMA | AUTAUGA | 1001 | 1990 | 69.7 | '27 | 77.7 | '14 | 71.0 | 78.7 | 64.4 | 73.6 | Bahrain,Belize,Chile,Guam,Puerto Rico | Costa Rica,Denmark,Ireland,Malta,Portugal | Albania,French Guiana,Macedonia, the Former Yugoslav Republic of,Panama,Serbia | Barbados,Mayotte,Netherlands Antilles,Reunion,Singapore | 2585 | 2590 | 3.7 | 0.6 | 1.5 | 0.8 | 2.2 | -0.2 |
| ALABAMA | AUTAUGA | 1001 | 1991 | 70.0 | '25 | 77.7 | '15 | 71.2 | 78.8 | 64.5 | 73.5 | Bahrain,Belize,Chile,Guam,Portugal | Denmark,Ireland,Malta,Mayotte,Reunion | French Guiana,Macedonia, the Former Yugoslav Republic of,Panama,Puerto Rico,Slovenia | Barbados,Kuwait,Netherlands Antilles,Singapore,Slovenia | 2534 | 2616 | 3.7 | 0.6 | 1.5 | 0.8 | 2.2 | -0.2 |
| ALABAMA | AUTAUGA | 1001 | 1992 | 70.2 | '24 | 77.8 | '16 | 71.4 | 78.9 | 64.7 | 73.7 | Aruba,Bahrain,Belize,Guam,Portugal | Ireland,Malta,Mayotte,Reunion,Singapore | French Guiana,Oman,Panama,Puerto Rico,Slovenia | Barbados,Denmark,Kuwait,Netherlands Antilles,Slovenia | 2521 | 2622 | 3.7 | 0.6 | 1.5 | 0.8 | 2.2 | -0.2 |
| ALABAMA | AUTAUGA | 1001 | 1993 | 70.4 | '23 | 78.2 | '15 | 71.6 | 79.2 | 64.9 | 74.0 | Aruba,Bahrain,Belize,Guam,Portugal | Ireland,Mayotte,Portugal,Reunion,Singapore | French Guiana,Macedonia, the Former Yugoslav Republic of,Oman,Panama,Slovenia | Barbados,Chile,Denmark,Netherlands Antilles,Slovenia | 2482 | 2475 | 3.7 | 0.6 | 1.5 | 0.8 | 2.2 | -0.2 |
| ALABAMA | AUTAUGA | 1001 | 1994 | 70.1 | '27 | 78.1 | '17 | 71.3 | 79.1 | 64.3 | 73.9 | French Guiana,Guam,Oman,Panama,Slovenia | Ireland,Mayotte,Portugal,Reunion,Singapore | Czech Republic,Macedonia, the Former Yugoslav Republic of,Mayotte,Mexico,Reunion | Barbados,Chile,Denmark,Netherlands Antilles,Slovenia | 2619 | 2523 | 3.7 | 0.6 | 1.5 | 0.8 | 2.2 | -0.2 |
| ALABAMA | AUTAUGA | 1001 | 1995 | 70.1 | '28 | 78.2 | '17 | 71.3 | 79.2 | 64.2 | 74.0 | Czech Republic,Grenada,Mexico,Oman,Slovenia | Ireland,Mayotte,Portugal,Reunion,Singapore | Croatia,Macedonia, the Former Yugoslav Republic of,Mayotte,Reunion,Uruguay | Barbados,Chile,Denmark,Kuwait,Slovenia | 2662 | 2470 | 3.7 | 0.6 | 1.5 | 0.8 | 2.2 | -0.2 |
| ALABAMA | AUTAUGA | 1001 | 1996 | 70.5 | '26 | 78.0 | '19 | 71.7 | 79.0 | 64.7 | 73.8 | Czech Republic,Grenada,Mexico,Panama,Slovenia | Chile,Denmark,Ireland,Reunion,Slovenia | Croatia,Macedonia, the Former Yugoslav Republic of,Mayotte,Reunion,Uruguay | Barbados,Brunei Darussalam,Korea, Republic of,Kuwait,Netherlands Antilles | 2582 | 2576 | 3.7 | 0.6 | 1.5 | 0.8 | 2.2 | -0.2 |