Others titles
Substance Abuse and Mental Health Services Administration SAMHSA
Mental Health Treatment Locator
Keywords
Mental Health Services
Mental Health
Mental Health Treatment Facilities
Mental Health Treatment Facilities And Programs
Mental Health Clinics
Inpatient Mental Health Facilities
Mental Health Help
Mental Health Treatment
US Mental Health Treatment Facilities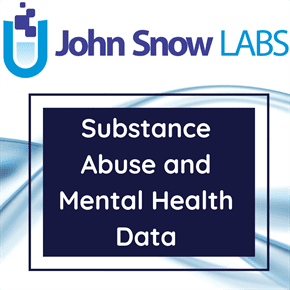 The Substance Abuse and Mental Health Services Administration (SAMHSA) provides on-line resource for locating mental health treatment facilities and programs. The Mental Health Treatment Locator section of the Behavioral Health Treatment Services Locator lists facilities providing mental health services to persons with mental illness.
Log in to download
Complexity
Get The Data
For getting access to data download links please read and accept the end-user license agreement.
Your Data License
Research

Non-Commercial, Share-Alike, Attribution

Free Forever

Commercial

Commercial Use, Remix & Adapt, White Label Log in to download
Description
This dataset includes data on public mental health facilities that are funded by their State Mental Health Agency (SMHA) or other State agency or department Mental health treatment facilities administered by the Department of Veterans Affairs, Private for-profit and non-profit mental health facilities that are licensed by the State or accredited by a national accreditation organization.
The Mental Health Treatment Locator does not include facilities whose primary or only focus is the provision of services to persons with Mental Retardation (MR), Developmental Disability (DD), and Traumatic Brain Injuries (TBI); facilities that provide treatment exclusively to persons with mental illness who are incarcerated, and mental health professionals in private practice (individual) or in a small group practice not licensed or certified as a mental health clinic or (community) mental health center.
SAMHSA endeavors to keep the Locator current. All information in the Locator is updated annually based on facility responses to SAMHSA's National Mental Health Services Survey (N-MHSS). New facilities are added monthly and updates to facility names, addresses, telephone numbers and services are made weekly, if facilities inform SAMHSA of changes.
About this Dataset
Data Info
| | |
| --- | --- |
| Date Created | 2013-10-05 |
| Last Modified | 2013-10-11 |
| Version | 2013-10-11 |
| Update Frequency | Quarterly |
| Temporal Coverage | N/A |
| Spatial Coverage | United States |
| Source | John Snow Labs; Department of Health & Human Services; |
| Source License URL | |
| Source License Requirements | N/A |
| Source Citation | N/A |
| Keywords | Mental Health Services, Mental Health, Mental Health Treatment Facilities, Mental Health Treatment Facilities And Programs, Mental Health Clinics, Inpatient Mental Health Facilities, Mental Health Help, Mental Health Treatment |
| Other Titles | Substance Abuse and Mental Health Services Administration SAMHSA, Mental Health Treatment Locator |
Data Fields
| Name | Description | Type | Constraints |
| --- | --- | --- | --- |
| Facility_Name_1 | Name of Mental Health Facility | string | - |
| Facility_Name_2 | Name of Mental Health Facility | string | - |
| Mail_Street_1 | Mailing Street Number 1 | string | - |
| Mail_City | Mailing City | string | - |
| Location_Street_1 | Street Location 1 | string | - |
| Location_Street_2 | Street Location 2 | string | - |
| Location_City | Facility City Location | string | - |
| Location_State_Abbreviation | Facility State | string | - |
| Location_ZIP_Code | Facility Location ZIP Code | integer | level : Nominal |
| Facility_Phone | Facility Phone Number | string | - |
| Facility_Phone_2 | Facility Phone Number 1 | string | - |
| Website | Facility Website Link | string | - |
| Facility_Services_1 | Facility Services provided to Patients | string | - |
| Facility_Services_2 | Facility Services provided to Patients | string | - |
| Facility_Services_3 | Facility Services provided to Patients | string | - |
| Facility_Services_4 | Facility Services provided to Patients | string | - |
| Facility_Services_5 | Facility Services provided to Patients | string | - |
| Facility_Services_6 | Facility Services provided to Patients | string | - |
| Facility_Services_7 | Facility Services provided to Patients | string | - |
Data Preview
| | | | | | | | | | | | | | | | | | | |
| --- | --- | --- | --- | --- | --- | --- | --- | --- | --- | --- | --- | --- | --- | --- | --- | --- | --- | --- |
| Facility Name 1 | Facility Name 2 | Mail Street 1 | Mail City | Location Street 1 | Location Street 2 | Location City | Location State Abbreviation | Location ZIP Code | Facility Phone | Facility Phone 2 | Website | Facility Services 1 | Facility Services 2 | Facility Services 3 | Facility Services 4 | Facility Services 5 | Facility Services 6 | Facility Services 7 |
| Denali Family Services | | 4600 DeBarr Road | Anchorage | 1251 Muldoon Road | Suite116 | Anchorage | AK | 99504 | (907) 274-8281 | | | Outpatient or day treatment or partial hospitalization mental health facility | Outpatient or Partial Day Treatment or Partial Hospitalization; | Under age 18; Ages 18 and older; | Youth with serious emotional disturbance; Transition-aged young adults aged 18-25; Individuals with post-traumatic stress disorder; Forensic clients (referred from the court/judicial system); | ASL or other assistance for hearing impaired; Spanish; | Medicaid; Client/patient fees (i.e., out-of-pocket); Private health insurance; | |
| Anchorage Comm Mental Health Servs | Clinical Offices Tudor Facility | 2735 East Tudor Road | Anchorage | 2735 Tudor Road | | Anchorage | AK | 99507 | (907) 562-7900 | | | Outpatient or day treatment or partial hospitalization mental health facility | Outpatient or Partial Day Treatment or Partial Hospitalization; | Ages 18 and older; | Adults with serious mental illness; Forensic clients (referred from the court/judicial system); | ASL or other assistance for hearing impaired; Other Languages; | Medicaid; Medicare; Client/patient fees (i.e., out-of-pocket); Private health insurance; | Sliding fee scale (Fee is based on income and other factors); Payment assistance (Check with facility for details); |
| Alaska Childrens Services Inc | | | | 4600 Abbott Road | | Anchorage | AK | 99507 | (907) 346-2101 | | | RTC for children | Residential; | Under age 18; | Youth with serious emotional disturbance; Individuals with co-occurring mental and substance abuse disorders; Individuals with post-traumatic stress disorder; Individuals with traumatic brain injury; Lesbian, gay, bisexual, or transgendered clients; Forensic clients (referred from the court/judicial system); | Other Languages; | Medicaid; Client/patient fees (i.e., out-of-pocket); Private health insurance; | |
| North Star DeBarr RTC | | | | 1500 Debarr Circle | | Anchorage | AK | 99508 | (907) 865-7100 | | | RTC for children | Residential; | Under age 18; | Youth with serious emotional disturbance; Individuals with co-occurring mental and substance abuse disorders; Individuals with post-traumatic stress disorder; | ASL or other assistance for hearing impaired; | Crisis Intervention Team; | Medicaid; Client/patient fees (i.e., out-of-pocket); Private health insurance; |
| North Star DeBarr Hospital | | | | 2530 Debarr Road | | Anchorage | AK | 99508 | (907) 258-7575 | | | Private psychiatric hospital | Hospital inpatient; | Under age 18; | Youth with serious emotional disturbance; Individuals with post-traumatic stress disorder; | ASL or other assistance for hearing impaired; Spanish; | Crisis Intervention Team; Psychiatric Emergency Walk-In Services; | Medicaid; Client/patient fees (i.e., out-of-pocket); Private health insurance; |
| Providence Alaska Medical Center | Behavioral Health | | | 3200 Providence Drive | | Anchorage | AK | 99508 | (907) 562-2211 | | | General hospital with separate psychiatric unit | Hospital inpatient; | Under age 18; Ages 18 and older; Seniors 65 and older; | Youth with serious emotional disturbance; Transition-aged young adults aged 18-25; Adults with serious mental illness; Individuals with Alzheimer's or dementia; Individuals with co-occurring mental and substance abuse disorders; Individuals with post-traumatic stress disorder; Veterans; | ASL or other assistance for hearing impaired; | Crisis Intervention Team; Psychiatric Emergency Walk-In Services; | Medicaid; Medicare; Client/patient fees (i.e., out-of-pocket); Private health insurance; |
| Alaska Psychiatric Institute | | | | 3700 Piper Street | | Anchorage | AK | 99508 | (907) 269-7100 | | | State psychiatric hospital | Hospital inpatient; | Under age 18; Ages 18 and older; Seniors 65 and older; | Youth with serious emotional disturbance; Adults with serious mental illness; Forensic clients (referred from the court/judicial system); | ASL or other assistance for hearing impaired; | Crisis Intervention Team; Psychiatric Emergency Walk-In Services; | Medicaid; Medicare; Client/patient fees (i.e., out-of-pocket); Private health insurance; |
| Providence Health and Services | Providence Behav Medicine Group | 3200 Providence Drive | Anchorage | 3801 Lake Otis Drive | Suite 200 | Anchorage | AK | 99508 | (907) 212-6900 | | | Outpatient or day treatment or partial hospitalization mental health facility | Outpatient or Partial Day Treatment or Partial Hospitalization; | Under age 18; Ages 18 and older; Seniors 65 and older; | Medicaid; Medicare; Client/patient fees (i.e., out-of-pocket); Private health insurance; | | | |
| Anchorage Comm Mental Health Servs | | | | 4020 Folker Street | | Anchorage | AK | 99508 | (907) 563-1000 | | | Outpatient or day treatment or partial hospitalization mental health facility | Outpatient or Partial Day Treatment or Partial Hospitalization; | Under age 18; Ages 18 and older; Seniors 65 and older; | Youth with serious emotional disturbance; Transition-aged young adults aged 18-25; Adults with serious mental illness; Individuals with Alzheimer's or dementia; Individuals with co-occurring mental and substance abuse disorders; Individuals with post-traumatic stress disorder; Veterans; Forensic clients (referred from the court/judicial system); | ASL or other assistance for hearing impaired; Spanish; Other Languages; | Crisis Intervention Team; Psychiatric Emergency Walk-In Services; | Medicaid; Medicare; Client/patient fees (i.e., out-of-pocket); Private health insurance; |
| Anchorage Comm Mental Health Servs | Family Services | | | 4045 Lake Otis Parkway | | Anchorage | AK | 99508 | (907) 561-0954 | | | Outpatient or day treatment or partial hospitalization mental health facility | Outpatient or Partial Day Treatment or Partial Hospitalization; | Under age 18; Ages 18 and older; | Youth with serious emotional disturbance; Transition-aged young adults aged 18-25; Individuals with post-traumatic stress disorder; Forensic clients (referred from the court/judicial system); | ASL or other assistance for hearing impaired; | Crisis Intervention Team; | Medicaid; Medicare; Client/patient fees (i.e., out-of-pocket); Private health insurance; |