Others titles
Medicare Durable Medical Equipment, Drug and Nutritional Products and Prosthetic and Orthotic Supplies Coverage
Medicare Durable Medical Equipment Coverage
Medicare Drug and Nutritional Products Coverage
Medicare Prosthetic and Orthotic Supplies Coverage
Keywords
CMS Medicare Provider
DMEPOS Company
Referring DME Provider
Referring DMEPOS Provider
Medical Durable Medical Equipment Supplies
Medicare DMEPOS Fee Schedule
Medicare DMEPOS Requirements
Medicare Drug and Nutritional Products Suppliers
Medicare Prosthetic and Orthotic supplies
Utilization and Payment Data Medical Equipment and Supplies 2013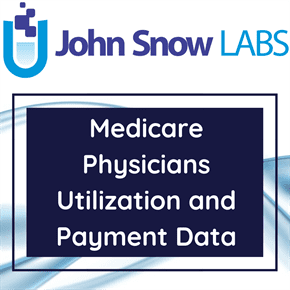 The Centers for Medicare & Medicaid Services (CMS) publishes the Provider Utilization and Payment Data: Referring Durable Medical Equipment, Prosthetics, Orthotics and Supplies (DMEPOS) Public Use File referred here as "Referring Provider DMEPOS PUF" in efforts to make the healthcare system more transparent, affordable, and accountable.
Log in to download
Complexity
Get The Data
For getting access to data download links please read and accept the end-user license agreement.
Your Data License
Research

Non-Commercial, Share-Alike, Attribution

Free Forever

Commercial

Commercial Use, Remix & Adapt, White Label Log in to download
Description
The dataset gives information on the utilization, payment (allowed amount and Medicare payment), and submitted charges organized by National Provider Identifier (NPI), Healthcare Common Procedure Coding System (HCPCS) code of DMEPOS products and services provided to Medicare beneficiaries as ordered by physicians and other healthcare professionals. The dataset is enriched with latitude and longitude for the providers. This Public Use File is based on information from CMS administrative claims data for Medicare beneficiaries enrolled in the fee-for-service program available from the CMS Chronic Condition Data Warehouse. The data set identifies individual providers who referred DMEPOS specific services using their National Provider Identifier (NPI). The Referring Provider DMEPOS PUF data allow for many types of analyses to be performed, including, for example, summary analyses by provider specialty. These new data include information on 385,915 referring providers, over 100 million claims, and $11 billion in Medicare allowed payments for 2013. Internal Medicine and Family Practice are the largest referring specialties with more than 80,000 unique providers in each specialty prescribing DMEPOS products. These providers refer an average of 36 and 38 DMEPOS products, respectively, and make referrals to a higher number of DMEPOS suppliers than most other common specialties. Some examples include wheelchairs, walkers, oxygen supplies, nebulizers, and diabetes testing supplies, as wells as other products such as enteral/parenteral nutrition, inhalation solutions, and certain chemotherapy drugs. Cardiology and Urology specialists refer fewer unique products and have fewer unique suppliers. Additionally, the data show that allowed amounts for referred DMEPOS products vary among these specialty types, from a low of $12K for Physician Assistants to a high of $156K for Pulmonary Disease specialists (likely due to the large amount of oxygen and nebulizer supplies prescribed by these specialists). The DMEPOS data can be used for geographic comparisons of costs and utilization of DMEPOS services/products and when combined with data on the number of beneficiaries enrolled in Medicare Part B coverage, per capita averages can be calculated. Nationally, the per capita allowed amount for all DMEPOS was $343.70 per enrolled beneficiary. These data include information for common inpatient and outpatient services, all physician and other supplier procedures and services, and all Part D prescriptions. Providers determine what they will charge for items, services, and procedures provided to patients and these charges are the amount that providers bill for an item, service, or procedure. The data in the Referring Provider DMEPOS PUF covers calendar year 2013 and contains final-action Part B non-institutional DMEPOS line items for the Medicare fee-for-service (FFS) population.
About this Dataset
Data Info
| | |
| --- | --- |
| Date Created | 2017-03-30 |
| Last Modified | 2017-06-08 |
| Version | 2017-06-08 |
| Update Frequency | Irregular |
| Temporal Coverage | 2013 |
| Spatial Coverage | United States |
| Source | John Snow Labs; Centers for Medicare & Medicaid Services; |
| Source License URL | |
| Source License Requirements | N/A |
| Source Citation | N/A |
| Keywords | CMS Medicare Provider, DMEPOS Company, Referring DME Provider, Referring DMEPOS Provider, Medical Durable Medical Equipment Supplies, Medicare DMEPOS Fee Schedule, Medicare DMEPOS Requirements, Medicare Drug and Nutritional Products Suppliers, Medicare Prosthetic and Orthotic supplies |
| Other Titles | Medicare Durable Medical Equipment, Drug and Nutritional Products and Prosthetic and Orthotic Supplies Coverage, Medicare Durable Medical Equipment Coverage, Medicare Drug and Nutritional Products Coverage, Medicare Prosthetic and Orthotic Supplies Coverage |
Data Fields
| Name | Description | Type | Constraints |
| --- | --- | --- | --- |
| Referring_NPI | National Provider Identifier for the referring provider on the DMEPOS claim. | string | - |
| Referring_Provider_Last_Name_Organization_Name | Last Name or Organization Name of the referring provider | string | - |
| Referring_Provider_First_Name | First Name of the Referring Provider | string | - |
| Referring_Provider_Middle_Initial | Middle Initial of the Referring Provider | string | - |
| Referring_Provider_Credentials | Credentials of the Referring Provider | string | - |
| Referring_Provider_Gender | Gender of the Referring Provider | string | - |
| Referring_Provider_Entity | Entity Type of the Referring Provider, Type of entity reported in NPPES. Entity type identifies referring providers registered as individuals or the referring providers registered as organizations. | string | - |
| Referring_Provider_Street_1 | Street Address 1 of the Referring Provider, The first line of the referring provider's street address, as reported in NPPES. | string | - |
| Referring_Provider_Street_2 | Street Address 2 of the Referring Provider, The second line of the referring provider's street address, as reported in NPPES. | string | - |
| Referring_Provider_City | City of the Referring Provider, The city where the referring provider is located, as reported in NPPES | string | - |
| Referring_Provider_State_Abbreviation | State Code of the Referring Provider, The state where the referring provider is located, as reported in NPPES | string | - |
| Referring_Provider_Zip_Code | Zip Code of the Referring Provider | string | - |
| Referring_Provider_Country_Code | Country Code of the Referring Provider | string | - |
| Referring_Provider_Specialty_Type | Specialty Type of the Referring Provider, Derived from the Medicare provider/supplier specialty code reported on all of the NPI's Part B non-institutional claims (DMEPOS and non-DMEPOS). For referring providers that have more than one Medicare specialty code reported on their claims, the Medicare specialty code associated with the largest number of services was used. | string | - |
| Referring_Provider_Specialty_Type_Flag | A flag variable that indicates the source of the Referring Provider Type: Medicare Specialty Code description and Taxonomy Code Classification description | string | - |
| Number_of_Suppliers | Number of Suppliers Rendering DMEPOS Products/Services | integer | level : Ratio |
| Number_of_Supplier_HCPCS | Number of Supplier HCPCS | integer | level : Ratio |
| Number_of_Supplier_Beneficiaries | Number of Beneficiaries Associated with Supplier DMEPOS products/services ordered by the referring provider. Beneficiary counts fewer than 11 have been suppressed to protect the privacy of Medicare beneficiaries | integer | level : Ratio |
| Number_of_Supplier_Claims | Number of Supplier DMEPOS Claims submitted by the supplier, reflecting products/services ordered by the referring provider. Aggregated records based on number_of_supplier_claims fewer than 11 are not included in the data file. | integer | level : Ratio |
| Number_of_Supplier_Services | Number of Supplier DMEPOS Services rendered by the supplier; note that the metrics used to count the number provided can vary from service to service. | integer | level : Ratio |
| Supplier_Submitted_Charges | The total charges that suppliers submitted for all DMEPOS products/services ordered by the referring provider. | number | level : Ratio |
| Supplier_Medicare_Allowed_Amount | Medicare Allowed Amounts for DMEPOS. Medicare allowed amounts include the amount Medicare pays, the deductible and coinsurance amounts that the beneficiary is responsible for paying, and any amounts that a third party is responsible for paying. | number | level : Ratio |
| Supplier_Medicare_Payment_Amount | Amount that Medicare paid after deductible and coinsurance amounts have been deducted. It is done for all supplier's DMEPOS line item products/services ordered by the referring provider. | number | level : Ratio |
| Durable_Medical_Equipment_Suppression_Indicator | A flag indicating the reason the utilization, charge and payment subtotal information for Durable Medical Equipment is suppressed. Suppressed due to Number of Durable Medical Equipment Claims between 1 and 10. Counter suppressed because the claim count from at least one of the corresponding claim count categories (Number of Prosthetic and Orthotic Claims or Number of Drug and Nutritional Products Claims) is between 1 and 10. Counter suppression prevents the disclosure of a primary suppressed value when all categories sum to the total value. | string | - |
| Number_of_Durable_Medical_Equipment_Suppliers | Number of suppliers rendering durable medical equipment products/services. A blank indicates the value is suppressed. See Durable Medical Equipment Suppression Indicator regarding suppression of data. | integer | level : Ratio |
| Number_of_Durable_Medical_Equipment_HCPCS | Total number of unique durable medical equipment HCPCS codes billed by suppliers and ordered by the referring provider. A blank indicates the value is suppressed. See Durable Medical Equipment Suppression Indicator regarding suppression of data. | integer | level : Ratio |
| Number_of_Durable_Medical_Equipment_Beneficiaries | Total number of unique beneficiaries associated with durable medical equipment claims submitted by suppliers and ordered by the referring provider. Beneficiary counts fewer than 11 have been suppressed to protect the privacy of Medicare beneficiaries. A blank indicates the value is suppressed. See Durable Medical Equipment Suppression Indicator regarding suppression of data | integer | level : Ratio |
| Number_of_Durable_Medical_Equipment_Claims | Total number of durable medical equipment claims submitted by suppliers, reflecting services ordered by the referring provider. A blank indicates the value is suppressed. See Durable Medical Equipment Suppression Indicator regarding suppression of data. | integer | level : Ratio |
| Number_of_Durable_Medical_Equipment_Services | Total durable medical equipment products/services rendered by suppliers and ordered by the referring provider. A blank indicates the value is suppressed. See Durable Medical Equipment Suppression Indicator regarding suppression of data. | integer | level : Ratio |
| Durable_Medical_Equipment_Submitted_Charges | Durable Medical Equipment Submitted Charges, The total charges that suppliers submitted for all durable medical equipment products/services ordered by the referring provider. A blank indicates the value is suppressed. See Durable Medical Equipment Suppression Indicator regarding suppression of data. | number | level : Ratio |
| Durable_Medical_Equipment_Medicare_Allowed_Amount | The Medicare allowed amount for all durable medical equipment products/services ordered by the referring provider. This figure is the sum of the amount Medicare pays, the deductible and coinsurance amounts that the beneficiary is responsible for paying, and any amounts that a third party is responsible for paying. A blank indicates the value is suppressed. See Durable Medical Equipment Suppression Indicator regarding suppression of data. | number | level : Ratio |
| Durable_Medical_Equipment_Medicare_Payment_Amount | Amount that Medicare paid after deductible and coinsurance amounts have been deducted for all supplier's durable medical equipment line item products/services ordered by the referring provider. A blank indicates the value is suppressed. | number | level : Ratio |
| Prosthetic_And_Orthotic_Suppression_Indicator | A flag indicating the reason the utilization, charge and payment subtotal information for Durable Medical Equipment is suppressed. Suppressed due to Number of Durable Medical Equipment Claims between 1 and 10. Counter suppressed because the claim count from at least one of the corresponding claim count categories (Number of Prosthetic and Orthotic Claims or Number of Drug and Nutritional Products Claims) is between 1 and 10. Counter suppression prevents the disclosure of a primary suppressed value when all categories sum to the total value. | string | - |
| Number_of_Prosthetic_and_Orthotic_Suppliers | Number of suppliers rendering prosthetic and orthotic products/services. A blank indicates the value is suppressed. See Prosthetic and Orthotic Suppression Indicator regarding suppression of data. | integer | level : Ratio |
| Number_of_Prosthetic_and_Orthotic_HCPCS | Total number of unique prosthetic and orthotic HCPCS codes billed by suppliers and ordered by the referring provider. A blank indicates the value is suppressed. See Prosthetic and Orthotic Suppression Indicator regarding suppression of data. | integer | level : Ratio |
| Number_of_Prosthetic_and_Orthotic_Beneficiaries | Total number of unique beneficiaries associated with prosthetic and orthotic claims submitted by suppliers and ordered by the referring provider. Beneficiary counts fewer than 11 have been suppressed to protect the privacy of Medicare beneficiaries. A blank indicates the value is suppressed. See Prosthetic and Orthotic Suppression Indicator regarding suppression of data. | integer | level : Ratio |
| Number_of_Prosthetic_and_Orthotic_Claims | Total number of prosthetic and orthotic claims submitted by suppliers, reflecting products/services ordered by the referring provider. A blank indicates the value is suppressed. See Prosthetic and Orthotic Suppression Indicator regarding suppression of data. | integer | level : Ratio |
| Number_of_Prosthetic_and_Orthotic_Services | Total prosthetic and orthotic products/services rendered by suppliers and ordered by the referring provider. A blank indicates the value is suppressed. See Prosthetic and Orthotic Suppression Indicator regarding suppression of data. | integer | level : Ratio |
| Prosthetic_and_Orthotic_Submitted_Charges | The total charges that suppliers submitted for all prosthetic and orthotic products/services ordered by the referring provider. A blank indicates the value is suppressed. See Prosthetic and Orthotic Suppression Indicator regarding suppression of data. | number | level : Ratio |
| Prosthetic_and_Orthotic_Medicare_Allowed_Amount | The Medicare allowed amount for all prosthetic and orthotic products/services ordered by the referring provider. This figure is the sum of the amount Medicare pays, the deductible and coinsurance amounts that the beneficiary is responsible for paying, and any amounts that a third party is responsible for paying. A blank indicates the value is suppressed. See Prosthetic and Orthotic Suppression Indicator regarding suppression of data. | number | level : Ratio |
| Prosthetic_and_Orthotic_Medicare_Payment_Amount | Amount that Medicare paid after deductible and coinsurance amounts have been deducted for all supplier prosthetic and orthotic line item products/services ordered by the referring provider. A blank indicates the value is suppressed. See Prosthetic and Orthotic Suppression Indicator regarding suppression of data. | number | level : Ratio |
| Drug_And_Nutritional_Suppression_Indicator | A flag indicating the reason the utilization, charge and payment subtotal information for Durable Medical Equipment is suppressed. Suppressed due to Number of Durable Medical Equipment Claims between 1 and 10. Counter suppressed because the claim count from at least one of the corresponding claim count categories (Number of Prosthetic and Orthotic Claims or Number of Drug and Nutritional Products Claims) is between 1 and 10. Counter suppression prevents the disclosure of a primary suppressed value when all categories sum to the total value. | string | - |
| Number_of_Drug_and_Nutritional_Products_Suppliers | Number of suppliers rendering drug and nutritional products/services. A blank indicates the value is suppressed. See Drug and Nutritional Suppression Indicator regarding suppression of data. | integer | level : Ratio |
| Number_of_Drug_and_Nutritional_Products_HCPCS | Total number of unique drug and nutritional product. HCPCS codes billed by suppliers and ordered by the referring provider. A blank indicates the value is suppressed. See Drug and Nutritional Suppression Indicator regarding suppression of data. | integer | level : Ratio |
| Number_of_Drug_and_Nutritional_Products_Beneficiaries | Total number of unique beneficiaries associated with drug and nutritional product claims submitted by suppliers and ordered by the referring provider. Beneficiary counts fewer than 11 have been suppressed to protect the privacy of Medicare beneficiaries. A blank indicates the value is suppressed. See Drug and Nutritional Suppression Indicator regarding suppression of data | integer | level : Ratio |
| Number_of_Drug_and_Nutritional_Products_Claims | Total number of drug and nutritional product claims submitted by suppliers, reflecting services ordered by the referring provider. A blank indicates the value is suppressed. See Drug and Nutritional Suppression Indicator regarding suppression of data. | integer | level : Ratio |
| Number_of_Drug_and_Nutritional_Products_Services | Total drug and nutritional products/services rendered by suppliers and ordered by the referring provider. A blank indicates the value is suppressed. See Drug and Nutritional Suppression Indicator regarding suppression of data. | integer | level : Rato |
| Drug_and_Nutritional_Products_Submitted_Charges | The total charges that suppliers submitted for drug and nutritional products/services ordered by the referring provider. A blank indicates the value is suppressed. See Drug and Nutritional Suppression Indicator regarding suppression of data. | number | level : Ratio |
| Drug_and_Nutritional_Products_Medicare_Allowed_Amount | The Medicare allowed amount for drug and nutritional products/services ordered by the referring provider. This figure is the sum of the amount Medicare pays, the deductible and coinsurance amounts that the beneficiary is responsible for paying, and any amounts that a third party is responsible for paying. A blank indicates the value is suppressed. See Drug and Nutritional Suppression Indicator regarding suppression of data. | number | level : Ratio |
| Drug_and_Nutritional_Products_Medicare_Payment_Amount | Amount that Medicare paid suppliers after deductible and coinsurance amounts have been deducted for drug and nutritional line item products/services ordered by the referring provider. A blank indicates the value is suppressed. See Drug and Nutritional Suppression Indicator regarding suppression of data. | number | level : Ratio |
Data Preview
| | | | | | | | | | | | | | | | | | | | | | | | | | | | | | | | | | | | | | | | | | | | | | | | | | |
| --- | --- | --- | --- | --- | --- | --- | --- | --- | --- | --- | --- | --- | --- | --- | --- | --- | --- | --- | --- | --- | --- | --- | --- | --- | --- | --- | --- | --- | --- | --- | --- | --- | --- | --- | --- | --- | --- | --- | --- | --- | --- | --- | --- | --- | --- | --- | --- | --- | --- |
| Referring NPI | Referring Provider Last Name Organization Name | Referring Provider First Name | Referring Provider Middle Initial | Referring Provider Credentials | Referring Provider Gender | Referring Provider Entity | Referring Provider Street 1 | Referring Provider Street 2 | Referring Provider City | Referring Provider State Abbreviation | Referring Provider Zip Code | Referring Provider Country Code | Referring Provider Specialty Type | Referring Provider Specialty Type Flag | Number of Suppliers | Number of Supplier HCPCS | Number of Supplier Beneficiaries | Number of Supplier Claims | Number of Supplier Services | Supplier Submitted Charges | Supplier Medicare Allowed Amount | Supplier Medicare Payment Amount | Durable Medical Equipment Suppression Indicator | Number of Durable Medical Equipment Suppliers | Number of Durable Medical Equipment HCPCS | Number of Durable Medical Equipment Beneficiaries | Number of Durable Medical Equipment Claims | Number of Durable Medical Equipment Services | Durable Medical Equipment Submitted Charges | Durable Medical Equipment Medicare Allowed Amount | Durable Medical Equipment Medicare Payment Amount | Prosthetic And Orthotic Suppression Indicator | Number of Prosthetic and Orthotic Suppliers | Number of Prosthetic and Orthotic HCPCS | Number of Prosthetic and Orthotic Beneficiaries | Number of Prosthetic and Orthotic Claims | Number of Prosthetic and Orthotic Services | Prosthetic and Orthotic Submitted Charges | Prosthetic and Orthotic Medicare Allowed Amount | Prosthetic and Orthotic Medicare Payment Amount | Drug And Nutritional Suppression Indicator | Number of Drug and Nutritional Products Suppliers | Number of Drug and Nutritional Products HCPCS | Number of Drug and Nutritional Products Beneficiaries | Number of Drug and Nutritional Products Claims | Number of Drug and Nutritional Products Services | Drug and Nutritional Products Submitted Charges | Drug and Nutritional Products Medicare Allowed Amount | Drug and Nutritional Products Medicare Payment Amount |
| 1003000126 | ENKESHAFI | ARDALAN | | M.D. | M | Individual | 900 SETON DR | | CUMBERLAND | MD | 215021854 | US | Internal Medicine | Medicare Specialty Code description | 7 | 13 | 18.0 | 51 | 2600 | 18894.85 | 11850.37 | 9339.25 | | 7 | 11 | 17.0 | 46 | 140 | 14526.85 | 7482.37 | 5889.63 | Suppressed | | | | | | | | | Suppressed | | | | | | | | |
| 1003000142 | KHALIL | RASHID | | M.D. | M | Individual | 4126 N HOLLAND SYLVANIA RD | SUITE 220 | TOLEDO | OH | 436233536 | US | Anesthesiology | Medicare Specialty Code description | 2 | 2 | | 12 | 12 | 2831.04 | 1581.74 | 1240.09 | | 2 | 2 | | 12 | 12 | 2831.04 | 1581.74 | 1240.09 | | | | | | | 0.0 | 0.0 | 0.0 | | | | | | | 0.0 | 0.0 | 0.0 |
| 1003000407 | GIRARDI | DAVID | J | D.O. | M | Individual | 456 MAGEE AVE | | PATTON | PA | 166681219 | US | Family Practice | Medicare Specialty Code description | 14 | 17 | 23.0 | 67 | 6466 | 14667.99 | 6828.85 | 5222.64 | | 13 | 13 | 21.0 | 58 | 3415 | 8282.57 | 4312.68 | 3294.57 | Suppressed | | | | | | | | | Suppressed | | | | | | | | |
| 1003000522 | WEIGAND | FREDERICK | J | MD | M | Individual | 1565 SAXON BLVD STE 202 | | DELTONA | FL | 327255836 | US | Family Practice | Medicare Specialty Code description | 50 | 62 | 69.0 | 235 | 4662 | 93940.7 | 52868.32 | 40982.44 | | 44 | 34 | 65.0 | 224 | 4064 | 38961.82 | 17286.6 | 13151.55 | | 7.0 | 25.0 | | 11.0 | 205.0 | 48459.88 | 34472.86 | 27067.76 | | 7.0 | 3.0 | | 22.0 | 393.0 | 6519.0 | 1108.86 | 763.13 |
| 1003000530 | SEMONCHE | AMANDA | M | DO | F | Individual | 1021 PARK AVE | SUITE 203 | QUAKERTOWN | PA | 18951 | US | Internal Medicine | Medicare Specialty Code description | 25 | 32 | 29.0 | 90 | 390 | 18335.55 | 10021.31 | 7792.84 | | 21 | 22 | 25.0 | 81 | 182 | 13323.1 | 6299.03 | 4907.13 | Suppressed | | | | | | | | | Suppressed | | | | | | | | |
| 1003000720 | HERNANDEZ | OTNIEL | | DNP, FNP | M | Individual | 4410 W 16TH AVE | SUITE 56 | HIALEAH | FL | 330127100 | US | Nurse Practitioner | Medicare Specialty Code description | 9 | 7 | 11.0 | 49 | 205 | 3948.64 | 2090.32 | 1411.49 | | 9 | 6 | 11.0 | 49 | 203 | 3882.64 | 2024.32 | 1385.62 | Suppressed | | | | | | | | | Suppressed | | | | | | | | |
| 1003000902 | LOHANO | JAIVANTI | | MD | F | Individual | 2215 PORTLAND AVE | | LOUISVILLE | KY | 402121033 | US | Family Practice | Medicare Specialty Code description | 36 | 44 | 30.0 | 177 | 1984 | 56000.97 | 26327.15 | 20111.26 | | 32 | 37 | 28.0 | 169 | 1939 | 49358.18 | 21345.76 | 16265.76 | Suppressed | | | | | | | | | Counter Suppressed | | | | | | | | |
| 1003000936 | STELLINGWORTH | MARK | A | MD | M | Individual | 8 RICHLAND MEDICAL PARK DR | SUITE 100 | COLUMBIA | SC | 292038005 | US | Cardiology | Medicare Specialty Code description | 5 | 12 | | 35 | 128 | 9062.53 | 5941.93 | 4677.38 | | 5 | 12 | | 35 | 128 | 9062.53 | 5941.93 | 4677.38 | | | | | | | 0.0 | 0.0 | 0.0 | | | | | | | 0.0 | 0.0 | 0.0 |
| 1003001132 | VIGGIANELLI | MICHAEL | A | MD | M | Individual | HWY 1 CALIFORNIA MENS COLONY | | SAN LUIS OBISPO | CA | 934090001 | US | Family Practice | Medicare Specialty Code description | 8 | 13 | | 20 | 47 | 6507.85 | 2458.58 | 1509.22 | | 8 | 13 | | 20 | 47 | 6507.85 | 2458.58 | 1509.22 | | | | | | | 0.0 | 0.0 | 0.0 | | | | | | | 0.0 | 0.0 | 0.0 |
| 1003001363 | STEVENS | CHARLES | | M.D. | M | Individual | 1665 S IMPERIAL AVE STE D | | EL CENTRO | CA | 922434247 | US | Anesthesiology | Medicare Specialty Code description | 8 | 29 | 175.0 | 249 | 295 | 301050.59 | 158155.79 | 124563.09 | | 7 | 23 | 40.0 | 94 | 139 | 57395.59 | 35776.23 | 28186.36 | | 3.0 | 6.0 | 146.0 | 155.0 | 156.0 | 243655.0 | 122379.56 | 96376.73 | | | | | | | 0.0 | 0.0 | 0.0 |