Registration is Now Open for the Free, Virtual Conference, Covering Best Practices and Advances in Natural Language Processing for Healthcare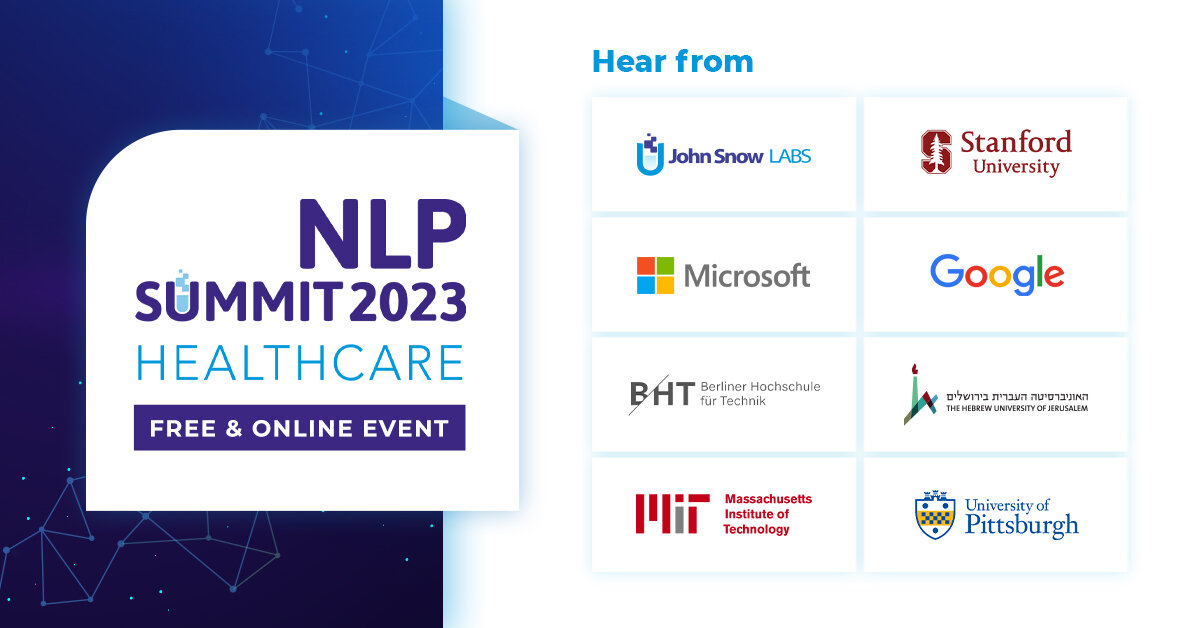 John Snow Labs, the healthcare AI and NLP company and developer of the Spark NLP library, today announced the lineup of keynote speakers for its annual Healthcare NLP Summit, taking place April 4-5. Now in its third year, the NLP Summit is the world's largest gathering for the applied Natural Language Processing (NLP) community. The free, virtual event comprises two days of immersive, industry-focused content including over 30 technical sessions focused on NLP applications in healthcare and life sciences.
This year's program covers topics from measuring and mitigating bias in NLP models, large language models and generative AI for healthcare, and no-code tools that enable medical domain experts to train and tune models, to few- and zero-shot learning for diagnosis risk and prevention. Presented by leading experts in the AI and healthcare space, this year's keynote speakers include:
Elliot Bolton, Center for Research on Foundation Models at Stanford
Betty van Aken, Berlin University of Applied Sciences
Tao Qin Senior, Renqian Luo, and Yingce Xia, Microsoft Research
Roy Schwartz, Hebrew University of Jerusalem
Veysel Kocaman and David Talby, John Snow Labs
Sercan Ari and Jinsung Yoon, Google
Monica Agrawal, MIT
Yanshan Wang, University of Pittsburgh
"It's been another year of explosive growth for AI and NLP, and the need for sharing knowledge and establishing best practices to ensure the ethical and responsible use of the technology is paramount," said David Talby, CTO, John Snow Labs. "There are few industries as important or sensitive as healthcare, and the Healthcare NLP Summit aims to bridge the gap between the hype and real world applications of safe, efficient, and production-ready clinical NLP."
In addition to the exciting speaker lineup, live Q&A sessions, networking opportunities, and live training & certification workshops, John Snow Labs will announce its new LangTest Library at the show. With the goal of building safer, more reliable, and more equitable AI, the LangTest Library is an open-source community project committed to making responsible AI a reality for data scientists. More details on the LangTest Library and how to get started will be available in April, as well as in a keynote session titled, "Introducing the Open-Source Testing Library for NLP Models."
To register for the free Healthcare NLP Summit, visit: https://www.nlpsummit.org/#register.
Follow @JohnSnowLabs or #NLPSummit on Twitter for the latest news and updates.