Others titles
Trends in Hip and Knee Joint Replacement Procedures
National Hospital Discharge Survey on Hip and Knee Joint Replacement Procedures
Trends in Mean Hospital Charges for Hip and Knee Joint Replacement Procedures
Trends in Total Hospital Charges for Hip and Knee Joint Replacement Procedures
Mean Total Hospital Charges Hip Knee Replacement US
Mean Total Hospital Charges Recovery From Hip Knee Joint Replacement US
Mean Total Hospital Charges Hip Knee Joint Total Replacement US
Keywords
Hip Replacement Procedures
Total Hip Replacements
Partial Hip Replacements
Total Knee Replacements
Knee Replacement
Total Replacement
ICD-9-CM 81.51
ICD-9-CM 81.52
ICD-9-CM 81.53
ICD-9-CM 81.54
Hip Replacement Cost
Mean Total Hospital Charges Hip Knee Joint Replacement USBJI 1998-2011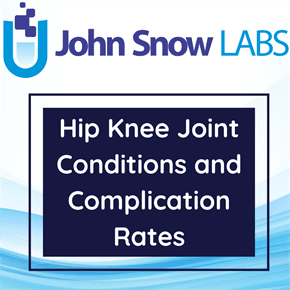 This dataset discusses that in spite of shorter hospital stays, mean hospital charges from 1998 through 2011 steadily increased for all hip replacements. Data is from CPI Inflation Calculator, Bureau of Labor Statistics and the United States Department of Labor.
Log in to download
Complexity
Get The Data
For getting access to data download links please read and accept the end-user license agreement.
Your Data License
Research

Non-Commercial, Share-Alike, Attribution

Free Forever

Commercial

Commercial Use, Remix & Adapt, White Label Log in to download
Description
Revision hip replacements are the most expensive, while total hip replacements are the least expensive. Total hospitalization charges for all hip replacements have tripled (in constant 2011 dollars) from $8.9 billion in 1998 to $27.8 billion in 2011, led by charges for total hip replacements. Average charges are based on individual record discharges.
The fees included may vary from patient to patient, but generally include hospital room, supplies, medications, laboratory fees, and care staff, such as nurses. They generally do not include professional fees (doctors) and non-covered charges. In a small proportion of the discharge cases, professional fees (doctors) are not removed from total charges because the data source cannot provide the information. Emergency charges incurred prior to admission to the hospital may be included in total charges.
About this Dataset
Data Info
| | |
| --- | --- |
| Date Created | 2013-10-29 |
| Last Modified | 2013-10-29 |
| Version | 2013-10-29 |
| Update Frequency | Never |
| Temporal Coverage | 1998 to 2011 |
| Spatial Coverage | United States |
| Source | John Snow Labs; CPI Inflation Calculator, Bureau of Labor Statistics, United States Department of Labor; |
| Source License URL | |
| Source License Requirements | N/A |
| Source Citation | N/A |
| Keywords | Hip Replacement Procedures, Total Hip Replacements, Partial Hip Replacements, Total Knee Replacements, Knee Replacement, Total Replacement, ICD-9-CM 81.51, ICD-9-CM 81.52, ICD-9-CM 81.53, ICD-9-CM 81.54, Hip Replacement Cost |
| Other Titles | Trends in Hip and Knee Joint Replacement Procedures, National Hospital Discharge Survey on Hip and Knee Joint Replacement Procedures, Trends in Mean Hospital Charges for Hip and Knee Joint Replacement Procedures, Trends in Total Hospital Charges for Hip and Knee Joint Replacement Procedures, Mean Total Hospital Charges Hip Knee Replacement US, Mean Total Hospital Charges Recovery From Hip Knee Joint Replacement US, Mean Total Hospital Charges Hip Knee Joint Total Replacement US |
Data Fields
| Name | Description | Type | Constraints |
| --- | --- | --- | --- |
| Procedure | Description of specific Hip and Knee replacement procedures, and their total cost. | string | required : 1unique : 1 |
| ICD_9_CM | Classification of the specific ICD-9 CM code | number | level : Nominalunique : 1 |
| Notes | Special notes and other ICD 9 CM codes for specific Hip and Knee Joint replacement procedures. | string | - |
| Mean_Charges_USD_1998 | Total mean or average charges per hospitalization for Joint Replacements in 1998 | number | - |
| Hospitalization_Charges_Billions_USD_1998 | Total hospitalization charges for Joint Replacements (in billions) in 1998 | number | required : 1 |
| Mean_Charges_USD_1999 | Total mean or average charges per hospitalization for Joint Replacements in 1999 | number | - |
| Hospitalization_Charges_Billions_USD_1999 | Total hospitalization charges for Joint Replacements (in billions) in 1999 | number | required : 1 |
| Mean_Charges_USD_2000 | Total mean or average charges per hospitalization for Joint Replacements in 2000 | number | - |
| Hospitalization_Charges_Billions_USD_2000 | Total hospitalization charges for Joint Replacements (in billions) in 2000 | number | required : 1 |
| Mean_Charges_USD_2001 | Total mean or average charges per hospitalization for Joint Replacements in 2001 | number | - |
| Hospitalization_Charges_Billions_USD_2001 | Total hospitalization charges for Joint Replacements (in billions) in 2001 | number | required : 1 |
| Mean_Charges_USD_2002 | Total mean or average charges per hospitalization for Joint Replacements in 2002 | number | - |
| Hospitalization_Charges_Billions_USD_2002 | Total hospitalization charges for Joint Replacements (in billions) in 2002 | number | required : 1 |
| Mean_Charges_USD_2003 | Total mean or average charges per hospitalization for Joint Replacements in 2003 | number | - |
| Hospitalization_Charges_Billions_USD_2003 | Total hospitalization charges for Joint Replacements (in billions) in 2003 | number | required : 1 |
| Mean_Charges_USD_2004 | Total mean or average charges per hospitalization for Joint Replacements in 2004 | number | - |
| Hospitalization_Charges_Billions_USD_2004 | Total hospitalization charges for Joint Replacements (in billions) in 2004 | number | required : 1 |
| Mean_Charges_USD_2007 | Total mean or average charges per hospitalization for Joint Replacements in 2007 | number | - |
| Hospitalization_Charges_Billions_USD_2007 | Total hospitalization charges for Joint Replacements (in billions) in 2007 | number | required : 1 |
| Mean_Charges_USD_2011 | Total mean or average charges per hospitalization for Joint Replacements in 2011 | number | - |
| Hospitalization_Charges_Billions_USD_2011 | Total hospitalization charges for Joint Replacements (in billions) in 2011 | number | required : 1 |
Data Preview
| | | | | | | | | | | | | | | | | | | | | |
| --- | --- | --- | --- | --- | --- | --- | --- | --- | --- | --- | --- | --- | --- | --- | --- | --- | --- | --- | --- | --- |
| Procedure | ICD 9 CM | Notes | Mean Charges USD 1998 | Hospitalization Charges Billions USD 1998 | Mean Charges USD 1999 | Hospitalization Charges Billions USD 1999 | Mean Charges USD 2000 | Hospitalization Charges Billions USD 2000 | Mean Charges USD 2001 | Hospitalization Charges Billions USD 2001 | Mean Charges USD 2002 | Hospitalization Charges Billions USD 2002 | Mean Charges USD 2003 | Hospitalization Charges Billions USD 2003 | Mean Charges USD 2004 | Hospitalization Charges Billions USD 2004 | Mean Charges USD 2007 | Hospitalization Charges Billions USD 2007 | Mean Charges USD 2011 | Hospitalization Charges Billions USD 2011 |
| Total Hip Replacement | 81.51 | | 30400.0 | 4.65 | 31054.0 | 4.91 | 33963.0 | 5.23 | 34293.0 | 6.44 | 38761.0 | 7.39 | 42787.0 | 8.27 | 44059.0 | 9.93 | 49362.0 | 12.47 | 56000.0 | 17.17 |
| Partial Hip Replacement | 81.52 | Other codes 00.70-00.73 | 30400.0 | 3.13 | 31054.0 | 3.23 | 33963.0 | 3.43 | 35563.0 | 3.79 | 40011.0 | 4.19 | 42787.0 | 4.37 | 46441.0 | 4.73 | 53484.0 | 5.55 | 62800.0 | 6.62 |
| Revision Hip Replacement | 81.53 | | 37300.0 | 1.15 | 41855.0 | 1.34 | 41801.0 | 1.36 | 43184.0 | 1.68 | 48764.0 | 1.84 | 55012.0 | 2.04 | 54776.0 | 2.01 | 54460.0 | 8.93 | 79500.0 | 4.02 |
| Total Knee Replacement | 81.54 | | 29000.0 | 7.4 | 29704.0 | 7.65 | 31350.0 | 8.13 | 33023.0 | 10.24 | 36260.0 | 12.28 | 37897.0 | 13.91 | 39296.0 | 16.98 | 45022.0 | 24.82 | 52100.0 | 33.61 |
| Revision Knee Replacement | 81.55 | Other codes 00.80-00.84 | 33100.0 | 0.74 | 33754.0 | 0.85 | 39188.0 | 0.91 | 38104.0 | 1.08 | 43762.0 | 1.26 | 51345.0 | 1.8 | 50013.0 | 1.76 | 59776.0 | 2.69 | 77700.0 | 4.86 |
| Total Hip and Knee Replacement Cost | | | | 17.06 | | 17.98 | | 19.06 | | 23.23 | | 26.97 | | 30.39 | | 35.41 | | 54.46 | | 66.29 |