We're hugely thrilled to announce the immediate availability of the new major version of the Healthcare AI Platform. This release raises the bar on the industry's only "cleanroom" AI platform that is designed for high-compliance industries where PHI or PII data is analyzed: 
Runs in a complete air-gap manner: without Internet access 

All computation is done within the platform. No data, models, or code leave the cluster 

Runs on your infrastructure. Nothing gets sent to a third party 

Central identity management, single sign-on, and key management 
The trick, of course, is to achieve all that without trading off the key benefits of cloud services: 
Elastic: scales from 5 to 5,000 machines without downtime 

Fully managed, out-of-the-box data science notebooks, model serving, data integration, data processing pipelines, visualization, and dashboards

Central security, monitoring, logging, and management tools 
The Healthcare AI Platform is automatically deployed in 2-4 hours on a cluster of your choice – on any cloud or on-premise cluster, anywhere in the world – as one fully managed Kubernetes cluster. 
"Data science teams in high-compliance industries often have to make hard trade-off between having access to state-of-the-art libraries and tools; the convenience of managed services, elasticity and scale offered by cloud providers, while adhering to the highest bar of security, privacy, and compliance. Our goal with the Healthcare AI Platform is to deliver on all three areas without compromise", said Ali Naqvi, lead platform product manager at John Snow Labs. 
The same platform was recognized last year by CIO Applications as its AI Platform of the Year thanks to a combination of cutting-edge AI technology and proven customer success. The platform is deployed and actively used by multiple Fortune 500 healthcare, life science, and health IT companies to build, deploy, and operate real-world data science systems. 
This new release includes over 140 new features and enhancements. Roughly half of them are focused on enhanced security & compliance. The other half adds new productivity features for data scientists and data analysts. As always, this release also updates all of the healthcare-specific datasets, medical terminologies, natural language processing pipelines, and pre-trained deep learning models that are included to jumpstart healthcare & pharma AI projects. 
Contact us for a live demo or trial version of the Healthcare AI Platform. 
Healthcare AI Platform Q2 2020 Release: Major Enhancement & New Features
Identity
& Access
Manage
ment
Single sign-on for all new components 

Two-Factor Authentication 

Password formats & password strength policies 

Password expiration policies 

Support for temporary passwords 

Support for password-less authentication and multiple credentials per user 

Signed and Encrypted ID Token Support 

Fine-grained authorization & authentication controls 
For SecOps:
Security Hardening
New image vulnerability scanners are in use and previous ones have been upgraded 

Dynamic deep image inspection and vulnerability scanning of Docker containers has been implemented 

Tens of thousands of vulnerabilities in underlying open-source packages have been resolved 

Distro-less images (initial rollout): These images contain only your application and its runtime dependencies. They do not contain package managers, shells or other standard Linux programs, drastically reducing what an attacker can do even on a compromised host.  
For DevOps:
Scaling &
Kubernetes
Operations
Upgraded to Kubernetes 1.17 with GPU support 

Support for allocating GPU's to specific users or services 

Support for pod priority and preemption 

Support for pod readiness gates 

Hardened the discovery of Kubernetes role-based access controls 

Scalability & fault tolerance for the visualization & dashboarding services 

Fault tolerance for the identity & access management database 
For Data Scientists:
Managed
Notebooks
New built-in HTML viewer 

Find & replace 

Find & go to line in the CSV viewer 

Enhanced node structure in the JSON tree viewer 

Drag & drop between console & notebook cells 

Notebook cell tags 

Presentation mode for notebooks 

Added a "Restart Kernel and Run All Cells…" button 

Added a status bar 

Better performance, especially for large notebooks 

New keyboard shortcuts for navigation and better tooltips 

Pasting cell attachments and dragging attachments from the file browser 
For Data Analysts: Managed Visualization & Dashboards
Alerting! Visually configure when and how to receive alerts on data changes 

Alert monitors can be scheduled and based on either structured or unstructured data queries 

Alert notifications supported via Slack, email, or webhooks  

Responsive dashboards 

Improved time picker & time filter selector 

Document based access control 

Index based access control 

New user interface to access security configuration, access control, and logs 
For Application Developers: Managed
Model
Serving
Update all base images to apply latest Python, TensorFlow, and other library versions 

Package, publish and serve PyTorch models 

Package, publish and serve Spark NLP 2.5 models 

Configurable & separate model registry for published & deployed models 

Model query server for deployed models now supports Kubernetes-based configurable scaling, recovery, and failover across a cluster 

Model packaging & publishing includes single sign-on and role-based access
WEBINAR: Hardening a Cleanroom AI Platform to allow model training & inference on Protected Health Information
Artificial intelligence projects in high-compliance industries, like healthcare and life science, often require processing Protected Health Information (PHI). This may happen because the nature of the projects does not allow full de-identification in advance. In such scenarios, the alternative is to create an "AI cleanroom" – an isolated, hardened, air-gap environment where the work happens.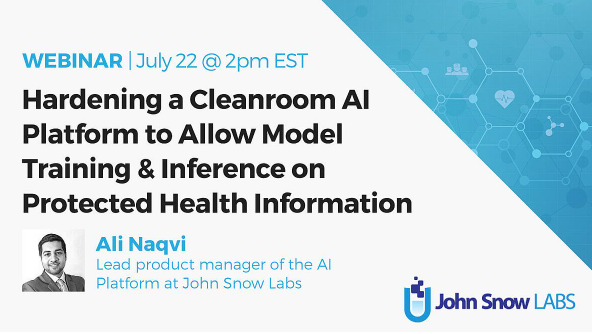 Join us on July 22nd at 2 PM ET for a live webinar that will:
Present the architecture of such a Cleanroom AI Platform, which has been actively used by Fortune 500 companies for the past three years.

Survey the hundreds of DevOps & SecOps features requires to realize such a platform – from multi-factor authentication and point-to-point encryption to vulnerability scanning and network isolation.

Explain how a Kubernetes-based architecture enables "Cleanroom AI" without giving up on the main benefits of cloud computing: elasticity, scalability, turnkey deployment, and a fully managed environment.